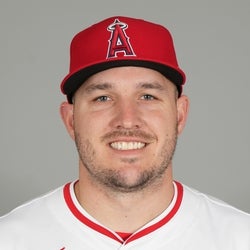 Rest-of-Season Projections
2023 Fantasy Outlook
Despite missing 43 games, Trout smacked an even 40 homers in 2022, tying Pete Alonso for third in baseball. The missed time was the result of a rare back condition called costovertebral dysfunction, but he returned to hit 16 of those aforementioned 40 homers in his final 40 games (.308/.370/.686 in that span). Running seems to be a thing of the past, as Trout attempted just one steal last season and has a total of four stolen bases over the past three seasons, but there's no doubt the hitting skills are still elite. Eliminate running from the equation and the only variable is health; we should realistically bake in roughly a month of missed time, but Trout can do more in 130 games than most can contribute over a 150-game season. He's headed to the Hall of Fame one day, and Trout is still a ways from his twilight years.
Read Past Outlooks
$Signed a 10-year, $363.5 million contract extension with the Angels in March of 2019.

Trout went 1-for-4 with a two-run home run in Wednesday's victory over the Red Sox.
ANALYSIS
For the second straight game Trout smacked a homer to bring his season total to 12. Despite the homers, Trout hasn't had a great May, slashing just .227/.318/.440. Trout has been so consistently good throughout his career that his .891 OPS in 2023 would be the lowest since his debut season in 2011.
Read More News
Batting Stats
2023
2022
2021
2020
2019
2018
2017
2023 MLB Game Log

Calculate Stats Over Time
Just click on any two dates.
Scoring
FanDuel
DraftKings
Yahoo DFS
Loading Batting Game Log...
2022 MLB Game Log

Calculate Stats Over Time
Just click on any two dates.
Scoring
FanDuel
DraftKings
Yahoo DFS
Loading Batting Game Log...
2021 MLB Game Log

Calculate Stats Over Time
Just click on any two dates.
Scoring
FanDuel
DraftKings
Yahoo DFS
Loading Batting Game Log...
2020 MLB Game Log

Calculate Stats Over Time
Just click on any two dates.
Scoring
FanDuel
DraftKings
Yahoo DFS
Loading Batting Game Log...
2019 MLB Game Log

Calculate Stats Over Time
Just click on any two dates.
Scoring
FanDuel
DraftKings
Yahoo DFS
Loading Batting Game Log...
2018 MLB Game Log

Calculate Stats Over Time
Just click on any two dates.
Scoring
FanDuel
DraftKings
Yahoo DFS
Loading Batting Game Log...
2017 MLB Game Log

Calculate Stats Over Time
Just click on any two dates.
Scoring
FanDuel
DraftKings
Yahoo DFS
Loading Batting Game Log...
Minor League Game Log

Calculate Stats Over Time
Just click on any two dates.
Loading Minor League Batting Game Log...
Batting Order Slot Breakdown
#1
#2
#3
#4
#5
#6
#7
#8
#9
#1
#2
#3
#4
#5
#6
#7
#8
#9
Left/Right Batting Splits
OPS
PA
HR
RBI
AVG
Since 2021

vs Left

.952
240
11
26
.302
Since 2021

vs Right

1.003
618
49
100
.286
2023

vs Left

.826
55
2
5
.308
2023

vs Right

.926
158
10
23
.269
2022

vs Left

1.058
138
9
19
.310
2022

vs Right

.976
361
31
61
.273
2021

vs Left

.762
47
0
2
.265
2021

vs Right

1.224
99
8
16
.361
More Splits

→

View More Split Stats
Home/Away Batting Splits
OPS
PA
HR
RBI
AVG
Since 2021

Home

1.062
409
32
65
.311
Since 2021

Away

.923
449
28
61
.271
2023

Home

.799
105
6
16
.258
2023

Away

1.001
108
6
12
.303
2022

Home

1.153
234
21
38
.330
2022

Away

.865
265
19
42
.243
2021

Home

1.171
70
5
11
.333
2021

Away

1.019
76
3
7
.333
More Splits

→

View More Split Stats
Stat Review
How does Mike Trout compare to other hitters?
This section compares his stats with all batting seasons from the previous three seasons (minimum 400 plate appearances)*. The bar represents the player's percentile rank. For example, if the bar is halfway across, then the player falls into the 50th percentile for that stat and it would be considered average.
* Exit Velocity and Barrels/PA % are benchmarked against 2019 data (min 400 PA) and Hard Hit Rate is benchmarked against last season's data (min 400 PA).
See here for more exit velocity/barrels stats
plus an explanation of current limitations with that data set.
BB/K

Walk to strikeout ratio

BB Rate

The percentage of plate appearances resulting in a walk.

K Rate

The percentage of plate appearances resulting in a strikeout.

BABIP

Batting average on balls in play. Measures how many of a batter's balls in play go for hits.

ISO

Isolated Power. Slugging percentage minus batting average. A computation used to measure a batter's raw power.

AVG

Batting average. Hits divided by at bats.

OBP

On Base Percentage. A measure of how often a batters reaches base. Roughly equal to number of times on base divided by plate appearances.

SLG

Slugging Percentage. A measure of the batting productivity of a hitter. It is calculated as total bases divided by at bats.

OPS

On base plus slugging. THe sum of a batter's on-base percentage and slugging percentage.

wOBA

Weighted on-base average. Measures a player's overall offensive contributions per plate appearance. wOBA combines all the different aspects of hitting into one metric, weighting each of them in proportion to their actual run value.

Exit Velocity

The speed of the baseball as it comes off the bat, immediately after a batter makes contact.

Hard Hit Rate

A measure of contact quality from Sports Info Solutions. This stat explains what percentage of batted balls were hit hard vs. medium or soft.

Barrels/PA

The percentage of plate appearances where a batter had a batted ball classified as a Barrel. A Barrel is a batted ball with similar exit velocity and launch angle to past ones that led to a minimum .500 batting average and 1.500 slugging percentage.

Expected BA

Expected Batting Average.

Expected SLG

Expected Slugging Percentage.

Sprint Speed

The speed of a runner from home to first, in feet per second.

Ground Ball %

The percentage of balls put in play that are on the ground.

Line Drive %

The percentage of balls put in play that are line drives.

Fly Ball %

The percentage of balls put in play that are fly balls.
Advanced Batting Stats
Loading Advanced Batting Stats...
Games By Position
Defensive Stats
Loading Games Played by Position...
Loading MLB Defensive Stats...
Batted Ball Stats
Loading Batted Ball Stats...
Stats Vs Upcoming Pitchers
Our full team depth charts are reserved for RotoWire subscribers.
Subscribe Now
Recent RotoWire Articles Featuring Mike Trout
See More
Past Fantasy Outlooks
2022
2021
2020
2019
2018
2017
2016
2015
2014
2013
2012
2011
2010
Drafting Trout in the first round has been a no-brainer for close to a decade now, but is that still the case heading into 2022? Take the name away and the fact is he's averaged just 106 games played over the past four full seasons around some health issues, most notably a torn UCL in his thumb in 2017 and the strained right calf this past season. Granted 2021 marked the first time he's played in fewer than 114 games over a full campaign, but Trout's running has waned as well, with the outfielder finishing with two steals last year after swiping a lone base in 2020 (meaning he's stolen three bases in his last 89 regular-season games). Speed is usually the first skill to go as a player enters his 30s, and he's Mike Freakin' Trout, he does not need stolen bases to be great. We know he's headed to Cooperstown one day, but the missed time and the decline in running are valid concerns in regards to his fantasy value for this upcoming season.
Amidst an unprecedented 2020 season, Trout remained one of baseball's great constants, putting together another MVP-caliber campaign for a disappointing Angels squad. Sure, his numbers slipped a bit -- Trout's .993 OPS was his lowest in four seasons -- but that was still sixth best in baseball. The advanced metrics were all elite, too, as the megastar's xSLG (.613), hard-hit rate (55.1%) and average exit velocity (93.7 mph) each ranked in the 97th percentile or higher. From a fantasy standpoint, Trout did not disappoint, tying for fourth in the league with 17 homers and sixth with 46 RBI. Perhaps the only letdown was that Trout stole one base after notching double-digit steals for eight straight seasons. That's enough to keep him from being the consensus first overall pick in rotisserie drafts, but Trout still holds the title of Best Player in the Game and is a worthy top-three selection in all formats.
For the first time in a few years, Trout will not be the consensus first overall pick in drafts as Christian Yelich and Ronald Acuna Jr. will challenge him for the top spot. His rate stats remain the best in the league but Trout has averaged only 129 games the past three years. Plus, there are concerns Trout will not run enough to keep up with Yelich and Acuna. He's still just 28 years old and the last time Trout posted an 11-steal season (2015), he followed it with 30, 24 and 22 before dipping to 11 in 2019. As mentioned, Trout's production on a rate basis is unmatched, as he's slashed .303/.447/.634 the past three campaigns. His 2019 season ended in early September with soreness in his right foot, requiring a surgical procedure to relieve the pain. Trout will be back to full health in the spring but for some is an injury risk. It's hard to believe, but many will be settling for Trout with the third pick.
Trout remains the best overall talent in the game of baseball and should be the first overall player taken in any draft and the most expensive player purchased in any auction. If we could place animated GIFs into player capsules, a mic drop would be the only thing needed to describe what Trout brings to the table. He has raised his on-base percentage five consecutive seasons, and each of the past three has been over .400. There is nothing he does not excel at as he continues to accept his walks when the league does not want to pitch to him, and he is 46-for-his-last-52 in stolen-base attempts. There have been 38 players in the history of baseball who have at least 250 home runs and 200 stolen bases over the course of their career. Trout needs 10 home runs and 11 steals to join that list in 2019, and will have made the list before his 28th birthday. 1.1; set it and forget it.
For the first time in his career, Trout required a stint on the DL in 2017 after he tore the UCL in his left thumb in late May. He missed 39 games as a result of the injury, but showed no lingering effects of the ailment after returning to the lineup following the All-Star break. Over his final 67 games, Trout hit .285/.429/.552, with 17 homers, 36 RBI, 12 steals, and a 58:48 BB:K in 301 plate appearances, a pace that would have made him a 40-homer, 30-steal player over a full 162-game season. The per-game production was once again at an MVP level, and it's hard to believe that he's still just 26 years old. Since the second half of the 2017 season, the Angels have upgraded the supporting cast around Trout, and his run-production numbers could tick up slightly in 2018 as a result. Even if he's no longer the unanimous choice as the No. 1 overall pick in drafts, he's still on the short list of players in the conversation.
It's possible we haven't seen Trout's best season yet. Granted, this can be said of all 25-year-old players but no others have been putting up MVP-caliber campaigns since they were 20, winning in 2014 and again in 2016. Most impressive is that Trout's strikeout and walk rates have improved each of the last two years, further cementing the league's best floor. The concern over dwindling steals was assuaged last season as Trout swiped 30 for the first time since 2013. His power dropped, but when 29 homers is a disappointment, the bar is set high. The outfielder is a lock for over 100 runs, averaging 116 the past five seasons while a threat to drive home 100 teammates. Others are legitimately in the conversation but pegging Trout with the first overall pick or spending top auction dollars is absolutely warranted. No one else has the combination of his super-high floor...with upside.
How does one write anything new about the best player in the game today? He has scored 100 or more runs in every full season in which he has played and has driven in at least 90 runs in the last three seasons despite the challenges in front of him and behind him in the lineup. He does strike out above the league average rate, but fell a duck snort or two shy of hitting over .300 for the third time in four seasons. There is the issue of his stolen base total declining each of the past four seasons, but that has been offset by the growth in power production. Seriously, there is nothing we could put into this block that could or even should stop you from using the first overall pick on him or dropping $40-plus on him in an auction format. You're going to get what you pay for and that's his true value.
After finishing second in the MVP voting to Miguel Cabrera in each of the previous two seasons, Trout took home the hardware for what may have been his worst performance in the big leagues in 2014. His numbers weren't bad by any stretch of the imagination, as he tallied a career-high 36 home runs and a .939 OPS, but he led the American League in strikeouts while tallying a career-low batting average (.287) and on-base percentage (.377). The strikeouts in particular did not sit well with Trout, as he admitted that he swung at a lot of high pitches in 2014. However, it was actually Trout's contact rate on pitches in the zone that took a tumble last year, as he made contact on swings at pitches in the zone just 85.1% of the time, compared to an 89.0% mark in 2013. While the strikeouts are a bit concerning, it's difficult to bet against Trout having another monster season in 2015, considering what he accomplished despite a career-high 26.1% strikeout rate last season.
At the end of last season, many wondered whether Trout could repeat his fabulous 2012 campaign. As it turns out, the phenom outfielder actually improved upon his numbers in 2013, increasing his walk rate from 10.5% to an outstanding 15.4%, and finishing the season with a final batting line of .323/.432/.557, good for an almost other-worldly 179 OPS+. The main concern from Trout's 2012 breakout seemed to center on his seemingly unsustainable .383 BABIP, but he was able to defy logic once again, posting a .376 BABIP in 2013. While this number, too, seems like it should decline, it may be that his baseline is such that the number proves to be one of skill thanks to his combination of elite power and speed, rather than good fortune. Trout was once again denied the AL MVP award in 2013, but the 22-year-old looks like he's going to be the one of the best players in the game for many years to come, regardless of how much hardware he has to show for it. He will no doubt be among the first players taken in nearly all 2014 fantasy drafts.
You've probably heard about Trout's rookie season by now, but just in case, let's provide a quick reminder: He produced a .326/.399/.564 batting line with 30 homers, a league-leading 129 runs scored, 83 RBI, and a league-leading 49 steals. He did all of that while playing Gold Glove-caliber defense (although he somehow didn't win the award) and despite spending the first month of the season in the minors. His skill set can best be defined as "flawless", although if you had to pick one flaw he could perhaps strike out a bit less often. Of course, he's still only 21 years old, and based on his minor league numbers and age, there is reason to believe that Trout could cut down on his 21.8 percent strikeout rate going forward. He'll need to do that in order to be an annual competitor for the batting title since his .383 BABIP is probably unsustainable even for an incredible once-in-a-generation talent like Trout. Getting away from the nit-picking, his combination of speed and power is unmatched and he'll be the odds-on favorite to win the AL stolen base crown this year, as well as the co-favorite (along with Miguel Cabrera) to take home MVP honors. Outside of a possible regression in batting average, there is nothing to indicate that Trout is headed for a sophomore slump, and he should live up to his promise as a first-round fantasy pick if he stays heallthy.
Trout tore up Double-A Arkansas last season with a .958 OPS and 33 stolen bases - numbers that are even more impressive when considering he was just 19. Trout also appeared in 40 games with the Angels last season, and while he hit just .220, he showed the skills that make him one of baseball's best prospects. Trout could probably start in the majors this year, but given the numbers crunch in the outfield and at DH, he'll almost certainly open 2012 in the minors. If he opens at Triple-A Salt Lake, watch out - his numbers could be even better in the hitter-friendly Pacific Coast League.
Angels fans certainly have a reason to be excited about the future after looking at Trout's minor league numbers. In his first full season of professional ball, Trout hit .341/.428/.490 with 47 extra-base hits - including 10 homers - and 56 steals in 131 games. The Angels will be careful not to rush Trout since he will not turn 20 until August, but it is clear he is a star in the making. Expect him to begin this season with Double-A Arkansas.
The best of the Angels' No. 1 picks in 2009, Trout is already the organization's top prospect, a polished hitter with good speed. The primary questions about him are how much power will he have and whether he'll play center field or an outfield corner? He won't sniff the majors until 2013, so he's only a play in leagues with deep minor-league systems, but he's a strong play in those formats.
More Fantasy News