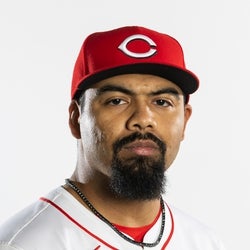 60-Day IL
Injury Knee
Est. Return 5/31/2023
Rest-of-Season Projections
2023 Fantasy Outlook
Santillan surprisingly earned the first save of the 2022 MLB season. The Reds didn't deploy him as a traditional closer, but was one of their highest leverage relievers early in the season. He finished with four saves and six holds across 21 appearances before a lower back strain ended his campaign in mid-June. Santillan threw both his slider and 96.2 mph fastball equally, but the latter was hammered to a .350 BA and .475 SLG despite adding 1.2 mph on the pitch, on average. The right-hander previously threw a changeup to left-handed hitters in 2021, but didn't have success with it and removed it from his arsenal last year. Despite a fairly secure high leverage role when healthy, Santillan is too risky of a spec for 2023 drafts. He's a WHIP liability with a career 4.7 BB/9 and is coming off a lengthy injury.
Read Past Outlooks
$Signed a one-year contract with the Reds in March of 2022.

ANALYSIS
Santillan had finally been making some progress as he works his way back from back, knee and hamstring problems, but now he's had another setback. His future status is uncertain.
Read More News
Pitching Stats
Loading Pitching Stats...
2023 MLB Game Log

Calculate Stats Over Time
Just click on any two dates.
Scoring
FanDuel
DraftKings
Yahoo DFS
Loading Pitching Game Log...
2022 MLB Game Log

Calculate Stats Over Time
Just click on any two dates.
Scoring
FanDuel
DraftKings
Yahoo DFS
Loading Pitching Game Log...
2021 MLB Game Log

Calculate Stats Over Time
Just click on any two dates.
Scoring
FanDuel
DraftKings
Yahoo DFS
Loading Pitching Game Log...
Minor League Game Log

Calculate Stats Over Time
Just click on any two dates.
Loading Minor League Pitching Game Log...
Left/Right Pitching Splits
BAA
K
BB
H
HR
Since 2021

vs Left

.276
27
19
27
2
Since 2021

vs Right

.221
50
14
30
6
2023

vs Left

0
0
0
0
0
2023

vs Right

0
0
0
0
0
2022

vs Left

.344
6
8
11
0
2022

vs Right

.267
15
4
12
1
2021

vs Left

.242
21
11
16
2
2021

vs Right

.198
35
10
18
5
More Splits

→

View More Split Stats
Home/Away Pitching Splits
ERA
WHIP
IP
K/9
BB/9
Since 2021

Home

3.89
1.54
37.0
11.9
5.6
Since 2021

Away

3.46
1.27
26.0
9.7
3.5
2023

Home

0
0
0
0
0
2023

Away

0
0
0
0
0
2022

Home

7.88
2.63
8.0
10.1
10.1
2022

Away

3.86
1.20
11.2
9.3
2.3
2021

Home

2.79
1.24
29.0
12.4
4.3
2021

Away

3.14
1.33
14.1
10.0
4.4
More Splits

→

View More Split Stats
Prospect Rankings History
Advanced Pitching Stats
Loading Advanced Pitching Stats...
Loading MLB Defensive Stats...
Our full team depth charts are reserved for RotoWire subscribers.
Subscribe Now
Recent RotoWire Articles Featuring Tony Santillan
See More
Past Fantasy Outlooks
2022
2021
2020
2019
2018
2017
Santillan had been developed as a starter throughout his minor league career before getting the call to the majors in 2021, and first was deployed as a starter before shifting to the bullpen over the last two months of the season. He found more success as a reliever, posting a 2.36 ERA over 26.2 innings in that role, striking out 36 batters in that span. After getting stretched out at the beginning of camp in order to compete for a starter's job, Santillan was moved to the bullpen again late in spring training and manager David Bell announced that he would be used in high-leverage situations. With Lucas Sims on the IL to begin the season, those high-leverage situations include possible save chances, as was the case on Opening Day, though Santillan won't be used as a traditional closer.
It looked like Santillan had an outside chance to debut in 2019 after he reached Double-A in 2018 at age 21, totaling 62.1 innings at that level and pitching to a 3.61 ERA. We're still waiting. His second go-around at Double-A did not go as well, and while he was in the Reds' 60-player pool throughout the shortened 2020 season, he was never summoned from the alternate site. The Reds may be looking to trade a starter or two and most teams need at least eight starters to get through a normal season. This year will be anything but normal, and Santillan will almost certainly make his debut since he's on the 40-man roster. It will be sink-or-swim for the right-hander.
While Santillan appeared to have a chance to debut last season, pitching ended up being the Reds' strength at the big-league level and Santillan didn't do his part in forcing the issue. In fact, he didn't even pitch well enough to reach Triple-A. The big problem was the free passes, as Santillan's walk rate nearly doubled to 11.6% in his repeat of the Double-A level. The 6-foot-3, 240-pound righty spent time on the injured list with a shoulder injury and went on to make two additional trips to the IL over the final couple months. Santillan was a second-round pick (49th overall) in 2015 and some sites have slapped a 50 on his future value. However, the swing and miss has been lacking despite a good fastball/slider combo -- Santillan hasn't even cracked a 23 K% since Low-A ball -- and at this point it's fair to wonder whether his future lies in the bullpen. Santillan is fringe even in deep dynasty leagues.
With a highly-successful season split between High-A and Double-A, Santillan solidified his standing as one of the top pitching prospects in the Reds' organization. At age 21, Santillan cruised to a 2.70 ERA in 86.2 innings with High-A Daytona to earn a promotion to Pensacola in early July. His home-run rate more than doubled after the move up, but his walk rate held firm (6.0%) and he added to his strikeout rate, bumping it from 20.2% to 22.8% with the jump in levels. Santillan's blistering fastball is his best weapon -- he throws it in the upper-90s with movement. His slider and changeup both flash plus as well, and at 6-foot-3, 240 pounds, he looks capable of handling a significant workload. The Reds are starved for quality starting pitching, but they won't rush Santillan's development. Look for him to start this season at Triple-A Louisville before perhaps advancing to the big-league rotation at some point during the summer months.
Santillan's high-90s fastball is a monster pitch, and even when his control was well below-average (in 2016), that heater pointed to a big-league future in relief, where he would likely sit around 98-100 mph. His slider and changeup can each flash plus, which is another big mark in his favor, although he needs to gain more consistency with each of his secondaries. For evaluators who saw Santillan on the right day (when he was locating), he looked like a future frontline arm. He had two 10-strikeout games, needing 6.1 innings for one and six innings for the other. However, he also had six four-walk games and one five-walk game, taking the loss in five of those seven outings. His command needs to get to at least fringe-average and preferably average for him to profile as a No. 3 starter who strikes out over a batter per inning. If the command comes, he could be a fantasy force. If it doesn't, he would still have a chance to be a high-leverage reliever. He will head to High-A this season.
The narrative entering the season with Santillan was that he would need to make huge improvements with his control and changeup to realize his potential as a mid-rotation starter who strikes out a batter per inning. The 9.8 percent walk rate he posted in the Pioneer League was a big step in the right direction, but he then proceeded to walk 17.4 percent of the batters he faced after a promotion to the Midwest League. The changeup is a feel pitch, and he was not going to develop an average one overnight, so the most immediate concern is whether he can throw significantly more strikes in a return to Low-A Dayton. Santillan's double-plus fastball and hammer curveball are not going anywhere, so a high-leverage relief role remains his realistic floor. He turns 20 on April 15, affording him plenty of time to make the necessary improvements, but the most likely outcome is that yet another high-upside Reds pitching prospect winds up in the bullpen.
More Fantasy News