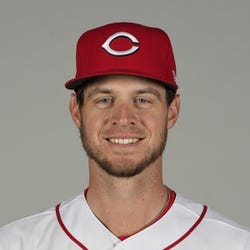 10-Day IL
Injury Illness
Est. Return 6/3/2023
Rest-of-Season Projections
2023 Fantasy Outlook
Myers was limited to 77 games in 2022 due to a knee injury, and the Padres unsurprisingly declined his $20 million club option for 2023. He posted a .261/.315/.398 slash line with seven home runs and 41 RBI, and it's the first time since 2014, and only the second time in his big-league career, that he slugged below .400. Myers split his playing time between first base, the corner outfield and designated hitter last season, and he was a bit better defensively after he struggled over the past few years. Now entering his age-33 campaign, Myers still has a slightly-above-average bat and could be a decent depth fantasy option, especially since he signed with the Reds and should have an everyday spot in the lineup and will play half his games at hitter-friendly Great American Ball Park.
Read Past Outlooks
$Signed a one-year, $7.5 million contract with the Reds in December of 2022. Contract includes $12 million mutual option ($1.5 million buyout) for 2024.

Placed on IL with kidney stones
Myers was placed on the 10-day injured list by the Reds on Friday with kidney stones,
Mark Sheldon of MLB.com
reports.
ANALYSIS
It helps explain why Myers hasn't started a game in a few days. Presumably, he should be ready to go when his 10 days are up.
Stuart Fairchild
has been playing right field of late and
Will Benson
has been recalled to take Myers' spot on the roster.
Read More News
Batting Stats
2023
2022
2021
2020
2019
2018
2017
2023 MLB Game Log

Calculate Stats Over Time
Just click on any two dates.
Scoring
FanDuel
DraftKings
Yahoo DFS
Loading Batting Game Log...
2022 MLB Game Log

Calculate Stats Over Time
Just click on any two dates.
Scoring
FanDuel
DraftKings
Yahoo DFS
Loading Batting Game Log...
2021 MLB Game Log

Calculate Stats Over Time
Just click on any two dates.
Scoring
FanDuel
DraftKings
Yahoo DFS
Loading Batting Game Log...
2020 MLB Game Log

Calculate Stats Over Time
Just click on any two dates.
Scoring
FanDuel
DraftKings
Yahoo DFS
Loading Batting Game Log...
2019 MLB Game Log

Calculate Stats Over Time
Just click on any two dates.
Scoring
FanDuel
DraftKings
Yahoo DFS
Loading Batting Game Log...
2018 MLB Game Log

Calculate Stats Over Time
Just click on any two dates.
Scoring
FanDuel
DraftKings
Yahoo DFS
Loading Batting Game Log...
2017 MLB Game Log

Calculate Stats Over Time
Just click on any two dates.
Scoring
FanDuel
DraftKings
Yahoo DFS
Loading Batting Game Log...
Minor League Game Log

Calculate Stats Over Time
Just click on any two dates.
Loading Minor League Batting Game Log...
Batting Order Slot Breakdown
#1
#2
#3
#4
#5
#6
#7
#8
#9
#1
#2
#3
#4
#5
#6
#7
#8
#9
Left/Right Batting Splits
OPS
PA
HR
RBI
AVG
Since 2021

vs Left

.772
276
11
37
.254
Since 2021

vs Right

.693
651
16
79
.244
2023

vs Left

.452
36
1
4
.171
2023

vs Right

.571
105
2
8
.196
2022

vs Left

.815
100
6
22
.264
2022

vs Right

.659
186
1
19
.259
2021

vs Left

.828
140
4
11
.271
2021

vs Right

.746
360
13
52
.250
More Splits

→

View More Split Stats
Home/Away Batting Splits
OPS
PA
HR
RBI
AVG
Since 2021

Home

.693
470
12
55
.235
Since 2021

Away

.738
457
15
61
.259
2023

Home

.670
78
3
10
.217
2023

Away

.383
63
0
2
.155
2022

Home

.588
141
3
18
.208
2022

Away

.830
145
4
23
.309
2021

Home

.761
251
6
27
.256
2021

Away

.772
249
11
36
.255
More Splits

→

View More Split Stats
Stat Review
How does Wil Myers compare to other hitters?
This section compares his stats with all batting seasons from the previous three seasons (minimum 400 plate appearances)*. The bar represents the player's percentile rank. For example, if the bar is halfway across, then the player falls into the 50th percentile for that stat and it would be considered average.
* Exit Velocity and Barrels/PA % are benchmarked against 2019 data (min 400 PA) and Hard Hit Rate is benchmarked against last season's data (min 400 PA).
See here for more exit velocity/barrels stats
plus an explanation of current limitations with that data set.
BB/K

Walk to strikeout ratio

BB Rate

The percentage of plate appearances resulting in a walk.

K Rate

The percentage of plate appearances resulting in a strikeout.

BABIP

Batting average on balls in play. Measures how many of a batter's balls in play go for hits.

ISO

Isolated Power. Slugging percentage minus batting average. A computation used to measure a batter's raw power.

AVG

Batting average. Hits divided by at bats.

OBP

On Base Percentage. A measure of how often a batters reaches base. Roughly equal to number of times on base divided by plate appearances.

SLG

Slugging Percentage. A measure of the batting productivity of a hitter. It is calculated as total bases divided by at bats.

OPS

On base plus slugging. THe sum of a batter's on-base percentage and slugging percentage.

wOBA

Weighted on-base average. Measures a player's overall offensive contributions per plate appearance. wOBA combines all the different aspects of hitting into one metric, weighting each of them in proportion to their actual run value.

Exit Velocity

The speed of the baseball as it comes off the bat, immediately after a batter makes contact.

Hard Hit Rate

A measure of contact quality from Sports Info Solutions. This stat explains what percentage of batted balls were hit hard vs. medium or soft.

Barrels/PA

The percentage of plate appearances where a batter had a batted ball classified as a Barrel. A Barrel is a batted ball with similar exit velocity and launch angle to past ones that led to a minimum .500 batting average and 1.500 slugging percentage.

Expected BA

Expected Batting Average.

Expected SLG

Expected Slugging Percentage.

Sprint Speed

The speed of a runner from home to first, in feet per second.

Ground Ball %

The percentage of balls put in play that are on the ground.

Line Drive %

The percentage of balls put in play that are line drives.

Fly Ball %

The percentage of balls put in play that are fly balls.
Advanced Batting Stats
Loading Advanced Batting Stats...
Games By Position
Defensive Stats
Loading Games Played by Position...
Loading MLB Defensive Stats...
Batted Ball Stats
Loading Batted Ball Stats...
Stats Vs Upcoming Pitchers
Our full team depth charts are reserved for RotoWire subscribers.
Subscribe Now
Recent RotoWire Articles Featuring Wil Myers
See More
Past Fantasy Outlooks
2022
2021
2020
2019
2018
2017
2016
2015
2014
2013
2012
2011
Myers now has nine seasons of major-league experience, and has been an above-average offensive player in seven of the nine seasons. Last season's numbers look disappointing compared to his peak Padres years, yet his 109 wRC+ tell us his production was nine percent better than the league average. Myers continues to be accepting of his walks and his strikeout rate has mostly stabilized to something slightly worse than the league average after the 2019 outlier year. Speaking of outliers, his 2020 efforts gave us false hope for 2021 -- he hit just two more homers in nearly 300 more plate appearances. His Statcast profile paints a rather grim backdrop to what is the final guaranteed year of Myers' contract. He could play motivated for the club to pick up his option, but more than likely Myers will leave San Diego by the end of next year, one way or another. He need his chances to compile to provide real fantasy value.
While it was only 55 games, Myers' 2020 was a career year as he slashed .288/.353/.606 and ranked 15th in MLB with a 154 wRC+. His Statcast numbers tell the story in the power department; Myers upped his hard-hit rate by over four ticks to 45.8% while registering a career-high 14.8% barrel rate and 91.0 mph average exit velocity en route to a 95th-percentile .588 xSLG. Accordingly, the veteran posted a 13.2 AB/HR -- easily the best of his career. Myers also reduced his strikeout rate considerably, dropping 2019's ugly 34.2 K% to a more acceptable 25.7%. The lone disappointment in terms of rotisserie was the fact that Myers stole only two bases, but there is potential for a bounce-back considering his 85th-percentile sprint speed and San Diego's run-happy approach. Where Myers goes in fantasy drafts will largely depend on the level of confidence managers have that the turnaround is sustainable.
Amassing just 490 plate appearances in 155 games seems odd. However, scanning Myers' game log reveals 63 contests with fewer than three plate appearances, 37 of which were one or fewer. Myers was frequently either lifted early or used as a pinch hitter. He was not deserving of regular action, posting his worst season since 2015. That said, Myers did record double-digit homers and steals for the fourth straight season, most useful as a streamer in daily leagues. Fueling Myers' disappointing season was a career-worst 34.3 K%. He was rescued by an inflated .344 BABIP, not supported by a 47th percentile average exit velocity. Myers' defense is passable in left field and he is still owed over $67 million over the next three years, so he should once again get more playing time than his production would otherwise warrant. He's worth a late speculative pick, hoping he reverts his contact rate to previous levels.
Myers had a 2018 season filled with injury, from an early oblique issue to a foot problem, and even had a batting practice ball hit him in the face at one point in the season. Around the injuries, he was right in line with his advanced offensive numbers from the 2017 season, albeit in 300 fewer plate appearances. Despite the injuries, Myers had a 90.3 mph average exit velocity in 2018, his highest mark since such data has been made publicly available. His average launch angle dropped from 15 degrees in 2017 to 9 degrees in 2018, yet he was able to maintain his 18% home-run-to-flyball ratio. The issue is not hard contact, as he makes plenty of that, but that he did not hit as many flyballs last year. The injuries can certainly be blamed for part of that, and him getting back to lofting as he did in 2017 could get him back to the levels of run production we saw in 2016 and 2017. With better health, the steals should return as well.
Myers really didn't get worse in 2017, the Padres did. He repeated his 2016 power breakout, but his run and RBI totals fell because the San Diego lineup was simply not good. Myers lost a bit in batting average as he posted the worst strikeout rate of his young career (27.7 percent), but he upped his walk rate to a career-high 10.8 percent. The 20 steals from first base for a second consecutive season are a nice plus, and that should continue as long as management continues its aggressive policy with the running game in its attempt to manufacture runs without enough power up and down the lineup. Myers was one of seven players in 2017 to drive in fewer than 75 runs despite hitting at least 30 homers, and that could happen again if San Diego does not improve its roster. Hopefully he will curb his contact issues from 2017 and not hurt your batting average too much.
Myers played a career-high 157 games, after two injury-plagued seasons in 2014 and 2015 when he logged just 147 games combined, and the results were better than perhaps anyone could have imagined. Narrowly missing the 30-homer, 30-steal club, and falling just short of 100 runs scored and 100 RBI, Myers was a profitable piece for fantasy owners in 2016, while serving as the Padres' best offensive player. Of some concern, however, is that he faded in the second half. Myers hit 19 of his 28 homers in his first 87 games, while hitting nine in his last 70 contests, and his strikeout rate jumped from 20.6 percent in the first half to 27.6 percent in the second half, while his OPS fell from .873 to .697. Overall, Myers displayed improved skills in many facets, using the opposite field more frequently, and posting a career-low 8.0 percent swinging-strike rate that bodes well for his chances of maintaining something more in line with his first-half strikeout rate going forward, and the Padres' aggressive tendencies on the basepaths seem unlikely to change this season.
Myers dealt with a wrist injury for most of the 2015 season and it ended up limiting him to just 60 games, leaving his three-year career high in games played at 88. Myers was an above-average hitter when healthy, as he recorded 22 extra-base hits (eight home runs) and a .253/.336/.427 batting line, solidly above league average given his home field of Petco Park. But the breakout we're waiting for from Myers has yet to show up. The former top prospect is just 25, however, and his 37-homer season in the minor leagues came just four years ago. The wrist injury will be the main question for his 2016 season. Will he be able to say on the field? And if so, will the wrist injury sap his power? Myers isn't a contact hitter — he has struck out at least 20 percent of the time in every season of his career — so he needs to hit for big power to live up to his top prospect billing.
The theory of the sophomore slump has mostly been disproven, but Myers tried his best to undo all of that research in 2014. His season was cut short by an injury after he collided with Desmond Jennings in the outfield, but he was not exactly setting the world on fire before the injury. He spent most of the season chasing pitches up and chasing ones away while trying to hit everything 500 feet. Most of his plate appearances resembled those of someone who had done little homework and was just relying on natural talent. He admitted later in the season that perhaps he took too much for granted after his successful minor league career and AL Rookie of the Year campaign in 2013. Hopefully a re-dedication to his career will get him back to the guy we saw in 2013 because those skills are all there. He will look to get back on track in Year 3 with San Diego, after the Rays traded him to the Padres as part of a blockbuster deal in December.
After starting the year with Triple-A Durham, Myers made his much-anticipated debut in the middle of June and the slugging began. An elite prospect acquired in the offseason trade of James Shields to the Royals, he helped lead the Tampa Bay offense to the postseason en route to the AL Rookie of the Year Award. After his call to the majors, the Rays put together a 52-36 record in games in which he appeared. In those 88 games, he hit .293/.354/.478 with 13 homers, 23 doubles and 53 RBI. He hit all over the batting order from second through sixth with the Rays shuffling lineups and matchups. He still has a slight tendency to strike out, with 93 on the year with the Rays, but his aggressiveness swinging at the first pitch shows as a useful tool, as eight of his 13 long balls came on first-pitch swings. Myers and teammate Evan Longoria will be fixtures in the middle of the order in Tampa Bay for a long time and he will quickly be establishing his spot as one of the better power-hitting corner outfielders in all of baseball.
With a number of 2012 Minor League Player of the Year trophies on his mantle, Myers enters this season with enormous expectations. The 22-year-old left-handed slugger opened the year at Double-A Northwest Arkansas, but found himself quickly promoted after opening the year with a .351/.421/.739 line, 11 doubles, 13 home runs and an eye-popping .388 ISO over 135 at-bats. His move to Triple-A produced similar results as he went on to hit .304 with another 24 home runs all while maintaining a walk rate above 10 percent. His aggressiveness at the plate still causes him to strikeout a little too often (140 times in 134 games), but it is also that type of drive that allows him to hit with such power. Traded to Tampa Bay in a blockbuster deal in December, it's only a matter of time before he's given a chance to lock down a place in the heart of the Rays' batting order as the team's everyday right fielder.
At 21, Myers is among the top prospects in not only the Royals system, but in the entire American League. At Double-A Northwest Arkansas he hit .254/.353/.393 with eight home runs and nine stolen bases. While that might not sound like much, it should be noted that Myers was making a defensive switch from catcher to outfielder and dealing with an infection in his knee early in the season. His lack of power is a bit of a concern, but he's still young with time to grow into his body. Owners would be wise to track his progress in the minors as a promotion may come as soon as late 2012.
Myers has had no problem adjusting to minor league pitching out of high school and looks to be an excellent hitting prospect. He just needs to progress in his defensive game behind the plate. If he's able to put that part of his game on par with his bat, he could be looking at a 2012 callup. With Myers, the bat is good enough that the Royals will move him out from behind the plate if needed. Invest now if he's still available in your keeper league.
More Fantasy News