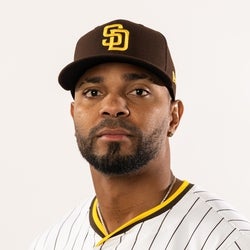 Rest-of-Season Projections
2023 Fantasy Outlook
Bogaerts has been consistently productive without an impressive Statcast page. Last season, he again parlayed outstanding plate coverage into a solid campaign, posting a 134 wRC+, the second highest of his career. Bogaerts' homers usually emanate from turning on mistakes, but he was unable to do it as often in 2022, perhaps due to lingering shoulder and other assorted woes. The drop in power was mitigated by a .362 BABIP, above his career .336 mark. However, it was driven by a .356 BABIP on grounders, over 50 points above his career norm. Defense has always been an issue, but last season Bogaerts vowed to improve, and he did, finishing third for the AL Gold Glove at shortstop. Bogaerts opted out of his contract and landed a massive 11-year deal with San Diego. His skills will play anywhere, but there is no denying this is a downgrade in park factors for the right-handed hitter. Nagging injuries have been an issue, but Bogaerts is still one of the best fantasy shortstops.
Read Past Outlooks
$Bogaerts signed an 11-year, $280 million contract with the Padres in December 2022.

ANALYSIS
Bogaerts missed Saturday's game while dealing with wrist soreness, but the 30-year-old shortstop will return to hit cleanup against the Yankees for Sunday's series finale.
Ha-Seong Kim
moves back to third base with Bogaerts back in the lineup.
Read More News
Batting Stats
2023
2022
2021
2020
2019
2018
2017
2023 MLB Game Log

Calculate Stats Over Time
Just click on any two dates.
Scoring
FanDuel
DraftKings
Yahoo DFS
Loading Batting Game Log...
2022 MLB Game Log

Calculate Stats Over Time
Just click on any two dates.
Scoring
FanDuel
DraftKings
Yahoo DFS
Loading Batting Game Log...
2021 MLB Game Log

Calculate Stats Over Time
Just click on any two dates.
Scoring
FanDuel
DraftKings
Yahoo DFS
Loading Batting Game Log...
2020 MLB Game Log

Calculate Stats Over Time
Just click on any two dates.
Scoring
FanDuel
DraftKings
Yahoo DFS
Loading Batting Game Log...
2019 MLB Game Log

Calculate Stats Over Time
Just click on any two dates.
Scoring
FanDuel
DraftKings
Yahoo DFS
Loading Batting Game Log...
2018 MLB Game Log

Calculate Stats Over Time
Just click on any two dates.
Scoring
FanDuel
DraftKings
Yahoo DFS
Loading Batting Game Log...
2017 MLB Game Log

Calculate Stats Over Time
Just click on any two dates.
Scoring
FanDuel
DraftKings
Yahoo DFS
Loading Batting Game Log...
Minor League Game Log

Calculate Stats Over Time
Just click on any two dates.
Loading Minor League Batting Game Log...
Batting Order Slot Breakdown
#1
#2
#3
#4
#5
#6
#7
#8
#9
#1
#2
#3
#4
#5
#6
#7
#8
#9
Left/Right Batting Splits
OPS
PA
HR
RBI
AVG
Since 2021

vs Left

.856
424
13
57
.303
Since 2021

vs Right

.825
1029
32
114
.291
2023

vs Left

.591
66
2
6
.200
2023

vs Right

.831
153
5
13
.285
2022

vs Left

1.038
145
4
21
.382
2022

vs Right

.774
486
11
52
.286
2021

vs Left

.818
213
7
30
.284
2021

vs Right

.887
390
16
49
.301
More Splits

→

View More Split Stats
Home/Away Batting Splits
OPS
PA
HR
RBI
AVG
Since 2021

Home

.895
721
29
111
.312
Since 2021

Away

.774
732
16
60
.278
2023

Home

.815
112
4
11
.286
2023

Away

.695
107
3
8
.228
2022

Home

.886
322
10
48
.317
2022

Away

.779
309
5
25
.297
2021

Home

.937
287
15
52
.316
2021

Away

.796
316
8
27
.275
More Splits

→

View More Split Stats
Stat Review
How does Xander Bogaerts compare to other hitters?
This section compares his stats with all batting seasons from the previous three seasons (minimum 400 plate appearances)*. The bar represents the player's percentile rank. For example, if the bar is halfway across, then the player falls into the 50th percentile for that stat and it would be considered average.
* Exit Velocity and Barrels/PA % are benchmarked against 2019 data (min 400 PA) and Hard Hit Rate is benchmarked against last season's data (min 400 PA).
See here for more exit velocity/barrels stats
plus an explanation of current limitations with that data set.
BB/K

Walk to strikeout ratio

BB Rate

The percentage of plate appearances resulting in a walk.

K Rate

The percentage of plate appearances resulting in a strikeout.

BABIP

Batting average on balls in play. Measures how many of a batter's balls in play go for hits.

ISO

Isolated Power. Slugging percentage minus batting average. A computation used to measure a batter's raw power.

AVG

Batting average. Hits divided by at bats.

OBP

On Base Percentage. A measure of how often a batters reaches base. Roughly equal to number of times on base divided by plate appearances.

SLG

Slugging Percentage. A measure of the batting productivity of a hitter. It is calculated as total bases divided by at bats.

OPS

On base plus slugging. THe sum of a batter's on-base percentage and slugging percentage.

wOBA

Weighted on-base average. Measures a player's overall offensive contributions per plate appearance. wOBA combines all the different aspects of hitting into one metric, weighting each of them in proportion to their actual run value.

Exit Velocity

The speed of the baseball as it comes off the bat, immediately after a batter makes contact.

Hard Hit Rate

A measure of contact quality from Sports Info Solutions. This stat explains what percentage of batted balls were hit hard vs. medium or soft.

Barrels/PA

The percentage of plate appearances where a batter had a batted ball classified as a Barrel. A Barrel is a batted ball with similar exit velocity and launch angle to past ones that led to a minimum .500 batting average and 1.500 slugging percentage.

Expected BA

Expected Batting Average.

Expected SLG

Expected Slugging Percentage.

Sprint Speed

The speed of a runner from home to first, in feet per second.

Ground Ball %

The percentage of balls put in play that are on the ground.

Line Drive %

The percentage of balls put in play that are line drives.

Fly Ball %

The percentage of balls put in play that are fly balls.
Advanced Batting Stats
Loading Advanced Batting Stats...
Games By Position
Defensive Stats
Loading Games Played by Position...
Loading MLB Defensive Stats...
Batted Ball Stats
Loading Batted Ball Stats...
Stats Vs Upcoming Pitchers
Our full team depth charts are reserved for RotoWire subscribers.
Subscribe Now
Recent RotoWire Articles Featuring Xander Bogaerts
See More
Past Fantasy Outlooks
2022
2021
2020
2019
2018
2017
2016
2015
2014
2013
2012
2011
Bogaerts had one of his customary productive seasons, which we almost take for granted given his level of production over the years. The fact he was able to do what he did while playing through a sore wrist through most of the second half speaks to his natural abilities. Bogaerts hit .321/.385/.545 before the break but just .255/.341/.413 after the break while dealing with the injury and finally going on the injured list in early September. He continues to enjoy the comforts of Fenway Park as his home OPS was nearly 150 points higher than his road OPS in 2021. Bogaerts is an .870 OPS hitter at Fenway versus a .755 OPS hitter on the road over the course of his career. He is one of just three players (along with Freddie Freeman and Michael Brantley) to hit at least .285 in each of the past four major-league seasons, and a healthy body and retooled Boston lineup could return him to 200 or more runs-plus-RBI.
The trickle-down effect of losing your team's best player via trade and seeing one of your best hitters go into the tank had its effects in Boston, but not so much on Bogaerts. On the surface, the shortstop had another fine year, coming close to his 2019 slash line and even stealing more bases in the shortened season than he did in the entirety of 2019. Still, the trickle-down effect came in run production. If we extrapolate his stats over a full season, the runs total comes close to 2019, but the RBI are where the decline in his supporting cast really show up, as he didn't have the same traffic on the bases. That issue was exacerbated by the fact Bogaerts hit .204 with runners in scoring position, which was easily his worst effort since the 2014 season. His expected stats say things could have been worse overall as his xBA and xSLG outpaced his actuals by 40-plus points. Don't reach.
Bogaerts had a .309 BA and 141 wRC+, both of which ranked 14th among qualified hitters, and finished seventh in baseball with 227 runs-plus-RBI, more than Pete Alonso, Nolan Arenado and Juan Soto. Those kinds of numbers and categorical rankings imply an ascension to full-on superstardom, but you can poke holes into some parts of his age-27 campaign. His barrel rate dipped a bit from 2018, as did his xwOBA on contact. His xBA was .276 -- making him one of the 10 "luckiest" regulars in baseball (min. 450 PA) -- while his xSLG was a whopping 90 points below his actual SLG. He stole only four bases in six attempts after averaging 13.75 attempts per season from 2015-18. Mookie Betts is gone after being traded in February, and that will in theory take away some of the counting-stat production for Bogaerts. There's a ton to like here, but paying full price for last season's stats seems ill advised.
Bogaerts benefited from improved health in 2018, though he ended up playing the fewest games in any of his full seasons in the majors. The ankle injury that shelved him for most of April didn't inhibit him at the plate once he returned, unlike the hand issue that sapped his power in the second half of 2017. While Bogaerts may have scaled back his aggressiveness on the bases, he made up for it by setting new personal bests in home runs and RBI, with the increased slugging output supported by major rises in both his barrel (7.1%) and hard-hit (41.5%) rates. The improved batted-ball profile should provide further reason to invest in Bogaerts with confidence as he enters his age-26 campaign. Even if last year's power gains are more of an outlier, Bogaerts will retain a high floor thanks to his strong contact skills and his slotting in a Boston lineup that brings back most of the core pieces from an offense that led MLB in runs in 2018.
Bogaerts' batted-ball profile raised concerns heading into the 2017 season, and those concerns proved to be justified as he produced at a below-league-average level at the plate (96 wRC+) in his age-25 season. Granted, Bogaerts was playing through a hand injury for most of the second half and may have altered his swing mechanics. He continued to put the ball on the ground at a high rate -- roughly half the time -- and his flyball rate fell to just over 30 percent, leading to a precipitous drop in power from his career-high mark of 21 homers in 2016. He walks at a good clip and doesn't strike out much, and there is value in a 10-15 player at shortstop in any format, but right now Bogaerts is more of a second- or third-tier option at the position rather than the fantasy building block many thought he'd be already at this stage of his career.
The progression of Bogaerts took another step forward in 2016. In 2015, he earned a Silver Slugger award in the American League, but he'd hit just seven homers and had an unsustainable BABIP (.372). The expected power hadn't yet developed and we were curious to see what his numbers would look like when BABIP corrected, which it did in 2016 (.335). The results were encouraging. The 24-year-old's power bat arrived, belting 21 homers with a .152 ISO and he bumped his walk rate to 8.1 percent. Slashing a respectable .294/.356/.446, Bogaerts was a first-time All-Star and earned a second Silver Slugger award. The advanced metrics indicate more runs created and better plate discipline, but it wasn't all good in 2016. There was a continuous fall from his season high .529 slugging and .934 OPS on June 11, to .392/.717 from that point on. Bogaerts is getting closer to a breakout year, which will come when he eliminates the prolonged slumps.
Ever since Bogaerts made his debut in 2013, the baseball world has been waiting for a breakout star to emerge. It didn't happen in 2014 — he struggled for much of the season, and was moved between shortstop and third base as questions about his defense arose. But a strong finish in September suggested his full potential could be realized in 2015. As it turned out, Bogaerts only tapped into his potential last season, hitting .320/.355/.421 in 156 games while going from a -2.7 UZR in 2014 to 1.0 in 2015 in a full season at shortstop, suggesting he can stick at the position for the foreseeable future. Some of his hitting success was due to an elevated BABIP (.372, sixth in MLB), but even with a little regression cooked in he projects to hit for a high average again this season. The big question is what his power ceiling is, and when he will be ready to reach it. He certainly won't come cheap for owners who gamble on the power surge coming in 2016.
Bogaerts entered the 2014 season with high expectations coming off his preternatural contributions to Boston's championship team in 2013. The organization's top prospect opened the season as the team's starting shortstop, but questions about his defense emerged early. Despite that, he was one of the few players hitting in a sorry lineup through April and May. With the Red Sox needing any kind of a spark, they signed Stephen Drew and forced Bogaerts to shift to third base. This chain of events was followed by a summer stretch in which Bogaerts' offense went idle. He hit just .161 from June through August and struck out in 26.5% of his plate appearances, compared to 20.5% the rest of the season. The position change was cited by some as the trigger for the drop-off, but it was more likely a result of pitchers catching up to him and feeding him a steady diet of sliders. He eventually made adjustments and had a strong September, but is still unclear what happened to his ability to work the count -- his walk rate dropped from 11.2% in April/May to 3.8% his plate appearances after June. The plan calls for Bogaerts to start at shortstop in 2015 and he should stay there all season with free-agent addition Pablo Sandoval manning the hot corner.
Bogaerts played at three levels of the organization in 2013, including the final few months in Boston, where he earned regular playing time in the playoffs and World Series. He's the unquestioned top prospect in the organization and will have a full-time role when the upcoming campaign opens. Up until last season, Bogaerts was exclusively a shortstop, but the Red Sox had him train at third base next to Stephen Drew. It's presumed that he'll be the everyday shortstop with Drew out of the picture this year, though the Red Sox are interested in adding an infielder to the left side. His growth as a hitter in 2013 was displayed by increased patience and a knack for making in-game adjustments at the plate. The one knock on Bogaerts as a hitter was his aggressiveness, but he incorporated patience as part of his hitting plan last season, boosting his walk rate from 0.34 per game in 2012 to last year's 0.53. As we saw in the postseason, he drew some big walks in Boston's World Series run.
Bogaerts moves to the head of the organization's prospect class after a two-level year, in which he bashed 20 homers and hit .307/.373/.523 at High-A Salem and Double-A Portland. The adjustments in approach he put into practice at Low-A helped prepare him for Double-A, where he did not experience the typical struggles of a young hitter facing advanced-level pitching. He is on the fast track to Boston and will work at the major league camp during spring training. The one thing that may alter his trajectory is a position shift. Bogaerts is currently a shortstop, but he is young and his body is still developing. A position switch is not out of the question, especially if Bogaerts' power stroke continues to develop. It is not hard to envision a start at Double-A; a mid-year promotion to Triple-A; followed by a September callup.
Bogaerts made a significant splash into professional baseball in 2011, bypassing short-season ball and getting a mid-season placement at Low-A Greenville, where he hit 16 homers in 265 at-bats. The power stroke is there; he just needs to learn how to better manage his plate appearances. He's playing shortstop, and at just 19, the organization will leave him where he is for now, but his body projects to add more mass and he could find a position switch somewhere down the line. Look for him to continue to develop a plate approach at Greenville with a promotion to High-A Salem likely. He's a good name to stash away on your prospect charts.
Bogaerts, 18, was signed as an international free agent in 2009 and played in the Dominican Summer League in 2010. He's a shortstop now, but projects to add more muscle and may find himself moving to third base. He's very raw in terms of pitch recognition and plate discipline, but the Red Sox like his swing mechanics. He'll likely stay behind in extended spring training before getting a peek at Short-Season Lowell in June.
More Fantasy News