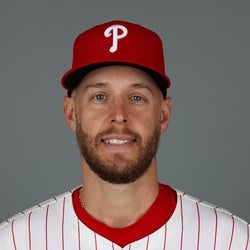 Rest-of-Season Projections
2023 Fantasy Outlook
Wheeler was barely beaten out for the National League Cy Young Award in 2021 by Corbin Burnes, and the Phillies ace responded with another impressive campaign last year. Wheeler missed a month with forearm tendinitis to take him out of the Cy Young race for 2022, but he still looked the part in 26 starts with a 2.82 ERA, 1.04 WHIP and 163:34 K:BB across 153 innings. The right-hander saw a minor dip in both his strikeout and walk rates, though his K-BB% (21.3 percent) is still the second-best figure of his eight-year career. He lost a tick off his fastball after he averaged about 97 mph over the past couple seasons, but there's not much cause for concern given he still averaged nearly 96 mph in 2022. Wheeler will turn 33 years old in May, but he's established himself as an ace the past couple years and has shown no signs of slowing down.
Read Past Outlooks
$Signed a five-year, $118 million contract with the Phillies in December of 2019.

Falls flat versus Washington
Wheeler did not factor into the decision Friday, allowing seven runs on eight hits and one walk over 3.2 innings during an 8-7 loss to Washington. He struck out three.
ANALYSIS
Wheeler struck out 12 over eight scoreless innings last time out, but he fell flat versus Washington, allowing a season-high seven earned runs and tying his season low with three strikeouts. The right-hander currently holds a 4.33 ERA, which would be his highest mark since 2017 with the Mets, but his 79:16 K:BB and 1.21 WHIP over 68.2 innings suggest Wheeler has been the recipient of some bad luck. The veteran will look to bounce back next time out, which is tentatively scheduled for a favorable matchup versus Detroit.
Read More News
Pitching Stats
Loading Pitching Stats...
2023
2022
2021
2020
2019
2018
2017
2023 MLB Game Log

Calculate Stats Over Time
Just click on any two dates.
Scoring
FanDuel
DraftKings
Yahoo DFS
Loading Pitching Game Log...
2022 MLB Game Log

Calculate Stats Over Time
Just click on any two dates.
Scoring
FanDuel
DraftKings
Yahoo DFS
Loading Pitching Game Log...
2021 MLB Game Log

Calculate Stats Over Time
Just click on any two dates.
Scoring
FanDuel
DraftKings
Yahoo DFS
Loading Pitching Game Log...
2020 MLB Game Log

Calculate Stats Over Time
Just click on any two dates.
Scoring
FanDuel
DraftKings
Yahoo DFS
Loading Pitching Game Log...
2019 MLB Game Log

Calculate Stats Over Time
Just click on any two dates.
Scoring
FanDuel
DraftKings
Yahoo DFS
Loading Pitching Game Log...
2018 MLB Game Log

Calculate Stats Over Time
Just click on any two dates.
Scoring
FanDuel
DraftKings
Yahoo DFS
Loading Pitching Game Log...
2017 MLB Game Log

Calculate Stats Over Time
Just click on any two dates.
Scoring
FanDuel
DraftKings
Yahoo DFS
Loading Pitching Game Log...
Minor League Game Log

Calculate Stats Over Time
Just click on any two dates.
Loading Minor League Pitching Game Log...
Pitching Appearances Breakdown
How many pitches does Zack Wheeler generally throw?
What part of the game does Zack Wheeler generally pitch?
% Games Reaching Innings Threshold
% Games By Number of Innings Pitched
Left/Right Pitching Splits
BAA
K
BB
H
HR
Since 2021

vs Left

.220
250
62
180
18
Since 2021

vs Right

.226
238
34
181
16
2023

vs Left

.283
34
10
36
3
2023

vs Right

.218
44
6
31
2
2022

vs Left

.201
83
23
54
7
2022

vs Right

.240
80
11
71
6
2021

vs Left

.213
133
29
90
8
2021

vs Right

.218
114
17
79
8
More Splits

→

View More Split Stats
Home/Away Pitching Splits
ERA
WHIP
IP
K/9
BB/9
Since 2021

Home

2.38
0.91
238.1
10.2
1.8
Since 2021

Away

3.84
1.22
196.2
10.0
2.2
2023

Home

3.53
1.12
35.2
9.3
2.8
2023

Away

5.18
1.30
33.0
11.5
1.4
2022

Home

1.85
0.88
78.0
9.7
2.0
2022

Away

3.84
1.20
75.0
9.5
2.0
2021

Home

2.38
0.87
124.2
10.8
1.4
2021

Away

3.35
1.20
88.2
9.9
2.6
More Splits

→

View More Split Stats
Stat Review
How does Zack Wheeler compare to other starting pitchers?
This section compares his stats with all starting pitcher seasons from the previous three seasons (minimum 120 innings)*. The bar represents the player's percentile rank. For example, if the bar is halfway across, then the player falls into the 50th percentile for that stat and it would be considered average.
* Exit Velocity, Barrels/BBE %, Balls Hit 95+ MPH %, and Spin Rate are benchmarked against 2019 data (min 120 IP).
See here for more exit velocity/barrels stats
plus an explanation of current limitations with that data set.
K/BB

Strikeout to walk ratio.

K/9

Average strikeouts per nine innings.

BB/9

Average walks per nine innings.

HR/9

Average home runs allowed per nine innings.

Fastball

Average fastball velocity.

ERA

Earned run average. The average earned runs allowed per nine innings.

WHIP

Walks plus hits per inning pitched.

BABIP

Batting average on balls in play. Measures how many balls in play against a pitcher go for hits.

GB/FB

Groundball to flyball ratio. The higher the number, the more likely a pitcher is to induce groundballs.

Left On Base

The percentage of base runners that a pitcher strands on base over the course of a season.

Exit Velocity

The speed of the baseball as it comes off the bat, immediately after a batter makes contact.

Barrels/BBE

The percentage of batted ball events resulting in a Barrel. A Barrel is a batted ball with similar exit velocity and launch angle to past ones that led to a minimum .500 batting average and 1.500 slugging percentage.

Spin Rate

Spin Rate is the rate of spin on a baseball after it is released. It is measured in revolutions per minute (rpm).

Balls Hit 95+ MPH

The percentage of batted balls hit that met or exceeded the 95 MPH threshold.

Swinging Strike

The percentage of pitches that result in a swing and a miss.
Advanced Pitching Stats
Loading Advanced Pitching Stats...
Loading MLB Defensive Stats...
Our full team depth charts are reserved for RotoWire subscribers.
Subscribe Now
Recent RotoWire Articles Featuring Zack Wheeler
See More
Past Fantasy Outlooks
2022
2021
2020
2019
2018
2017
2016
2015
2014
2013
2012
2011
2010
Wheeler's 2.92 ERA in 2020 represented a career low, but it was reasonable to doubt its repeatability given that it came in a shortened season and was paired with a career-low 18.4 K%. Rather than having his ERA rise to match his peripherals in 2021, he instead improved his ERA again to 2.78, and this time it looked fully deserved. He took a massive step forward in his strikeout rate, which came in at a career-high 29.1%, while cutting his walk rate to a career-low 5.4% and maintaining a solidly above-average 49.8% groundball rate. No other pitcher who threw at least 100 innings met all three of those rate stats, and only Clayton Kershaw came within two percentage points of all three. There's some risk here in that Wheeler has only pitched at this level once, and he's heading into his age-32 season, but that all-around excellence means he can fall off a fair amount and still remain quite good. There's some injury concern following last year's heavy workload as he dealt with shoulder soreness during the offseason, resulting in a delayed start to spring training. Wheeler won't be ready for Opening Day but isn't expected to miss much time beyond that, though it's worth keeping an eye on his status throughout the spring.
There was some concern last year that the birth of Wheeler's first child could cause him to opt out of his first season in Philadelphia. Not only did he stick around the entire campaign, however, he wound up with arguably a career year, setting career bests in ERA (2.92) and FIP (3.22) while posting his second-lowest WHIP (1.17). His underlying numbers changed fairly significantly, though, making him somewhat difficult to evaluate heading into this season. He produced a career-low 18.4 K%, down more than five ticks from his 2019 numbers, but made up for it with a career-best 5.6 BB% and a career-high 55.9% groundball rate, the latter more than 12 points higher than his 43.2% groundball rate from 2019. If he gets some of his strikeouts back while keeping his walk and groundball gains, he could take another step forward, though he could of course also lose the positive changes while not regaining any whiffs.
After throwing a career-high 195.1 innings in 2019, Wheeler declined the Mets' qualifying offer and ultimately signed a five-year, $118 million deal with the Phillies. The 29-year-old improved his average fastball velocity to 96.7 mph (fourth among qualified starters) and the pitch also had above-average spin. The slider was a plus and Wheeler leaned on his changeup a little more to strong results. He was especially impressive after the break, posting a 2.83 ERA and 5.0 BB% in his final 76.1 innings, though Wheeler once again underperformed the estimators overall. Elbow issues cost Wheeler two full years in the middle of the decade, but he did enough on the field over the past two seasons to warrant a sizable financial commitment. The Mets had a bottom-five defense last year, and with a significantly better one behind him, Wheeler should benefit. This is probably the last chance for a full-on ace breakout.
Wheeler logged 17 erratic starts in 2017, but that was an achievement, considering he was working his way back after two lost seasons due to Tommy John surgery and a subsequent flexor pronator issue. As is the case with many TJS patients, Wheeler's control didn't return until the second post-surgery season, and his velocity followed suit during his brilliant 2018. The former top prospect cut his HR/9 by more than half, maintained his almost-great K/9 and led starting pitchers (min. 500 batted-ball events) with an 84.7 average exit velocity. The Mets wisely shut him down in September to limit his innings during a meaningless season after he dazzled with a 1.8 BB/9 and 1.68 ERA in the second half. At just 28 years old, Wheeler has the potential to take another step forward in 2019. Don't bank on more starts, but Wheeler's skills are close to ace-level, and the best part is you don't have to pay an ace price.
After missing two entire seasons rehabbing from Tommy John surgery followed by a flexor strain issue, Wheeler's prognosis in 2017 was anyone's guess. After topping out at 97 mph in the spring, Wheeler broke camp as the fourth starter, starting 13 games before being sidelined with biceps tendinitis. Wheeler returned for four more outings before he was shelved again, this time with a stress reaction in his throwing arm. After setbacks in his recovery, Wheeler was shut down for good with an eye toward returning at 100 percent in 2018. For the season, Wheeler was expectedly inconsistent, especially with control. He was also victimized by the long ball, serving up 15 homers in only 86.1 stanzas. Wheeler is expected to be ready to go for spring training, where he'll again look to impress and earn a spot in the Mets' rotation. He continues to have mid-rotation upside, but remains a health and performance risk.
Wheeler underwent Tommy John surgery in March of 2015, with an anticipated return to the majors around July of the 2016 campaign. In early June, that target was moved to after the All-Star break as the one-time, top prospect was slow to work breaking pitches into his recovery. In late June, Wheeler experienced soreness in his throwing elbow which turned out to be sensory nerve irritation, treatable with a cortisone injection. The right-hander continued his rehab, finally throwing in a game for High-A St. Lucie on August 6, tossing 17 pitches with excellent velocity. However, Wheeler felt more elbow soreness and was diagnosed with a mild flexor strain. This nixed Wheeler's return in 2016 and shut him down completely until pitchers and catchers report to spring training in February. His progress is worth monitoring in the spring, but for now, Wheeler is a reserve-round flier at best.
Concerns regarding the health of Wheeler's pitching elbow began to surface late in 2014 (among Mets officials, not publicly), but doctors initially diagnosed the right-hander with tendinitis, and Wheeler himself later said that he never considered skipping a start. However, after more tenderness in spring training, Wheeler was sent for an MRI, which revealed a completely torn ulnar collateral ligament. Tommy John surgery followed, and due to the extensive damage to the ligament, Wheeler was not cleared to resume throwing on flat ground until almost six months later. He appeared on the verge of a breakout before the injury, having struck out a batter per inning with improved groundball and walk rates over 185.1 frames in 2014. We likely won't get a glimpse at Wheeler until June, making him a risky target in single-season leagues. If Wheeler comes back and continues to flash plus stuff with mid-90s heat, he could be a difference maker down the stretch, but that is what FAAB dollars are for.
Wheeler was once considered a brighter prospect than Matt Harvey. It wasn't an unreasonable position by any stretch. Inconsistency plagued Wheeler's first half of 2014. Just look at this 10-start run that began in early-May: 0, 5, 5, 2, 1, 0, 4, 4, 0, 6, and 1 earned run in 63 innings with 62 strikeouts, but just a 2.2 K:BB ratio. He found the missing consistency in the second half, allowing more than three earned just once in 15 starts from July through September. He wound up with a 2.80 ERA and 92 strikeouts in 90 innings while boosting his K:BB ratio a more palatable 2.5 mark. The biggest issue right now is the walk rate. He can't live at 10 percent and still be a frontline option, but this is the kind of profile that you bet on. Unfortunately, a potential breakout will have to wait at least one more year, as Wheeler was diagnosed with a torn UCL in March and will miss the entire 2015 campaign due to Tommy John surgery.
The Mets followed a similar approach with Wheeler as they did with Matt Harvey by having him come to camp with the team, start the year in the minors, and then promoting him during the summer. In Wheeler's case, he was called up in mid-June and quickly showed he belonged. Wheeler got better as the year wore on, and his challenge for the future is to improve his control, as walks, which have been an issue in the past, prevented him from going deep into games at times and resulted in too many baserunners. He was shut down before his last start with shoulder stiffness, and with Matt Harvey out at the time due to an elbow injury, the Mets opted to be cautious with the young stud. Wheeler, who mixes a mid-90s fastball that tops out at 97 mph with a nasty mid-70s curveball and work-in-progress changeup, should open 2014 as the Mets' No. 2 or No.3 starter.
Wheeler handled his promotion to Double-A well enough to get a taste of Buffalo at the end of the season, although his walk rate (4.4 BB/9) increased during his six-start run after the bump. The Mets have indicated plans to send him back to Triple-A for the start of 2013, following a similar development plan as Matt Harvey and making him a part of their rotation during the middle of the season. When opposing hitters make contact, they rarely hit Wheeler hard, as evidenced by an .078 ISO against last season. If he can take the necessary steps to improve his control, there is reason to believe that he can still develop into a frontline starter.
Wheeler immediately became the Mets' top prospect after he was acquired from San Francisco for Carlos Beltran in July. The sixth overall pick in 2009, Wheeler spent all of 2011 in High-A, tearing through San Jose and St. Lucie. He mixes a mid-90s fastball that tops out at 97 mph with a mid-70s nasty curveball and work-in-progress change-up that made some strides last year. Wheeler is also working on a cut-fastball, and if he can refine either the change or cutter, it would push him to possible ace status. Wheeler will likely spend all of 2012 between Double- and Triple-A before making his arrival at Citi Field in 2013.
Wheeler, the No. 6 overall pick in the 2009 draft, battled some wildness during his first year in professional baseball last season, posting a 5.9 BB/9IP ratio. However, he also recorded an impressive 10.8 K/9IP ratio as a 20-year-old in Double-A, revealing plenty of long-term upside. Wheeler also flashed a strong groundball rate and didn't allow a single home run over 58.2 innings. He's still a couple of years from contributing at the big league level, but he has the potential to be a future No. 1 starter.
San Francisco selected Wheeler in the first round of the 2009 draft, sixth overall, out of high school in Georgia. The right-hander has a plus fastball that reaches the low-to-mid 90s and a power curve. Look for the Giants to improve upon his almost non-existent changeup, as Wheeler opens 2010 in Low-A as already one of the team's better prospects.
More Fantasy News