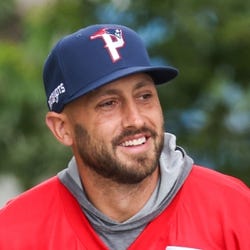 Rest-of-Season Projections
2023 Fantasy Outlook
The 37-year-old journeyman has landed in Las Vegas after spending the past three seasons with the Patriots, ultimately rejoining his former offensive coordinator and current Raiders coach Josh McDaniels, who could task Hoyer with handling primary backup duties behind starter Jimmy Garoppolo while also mentoring fourth-round rookie Aidan O'Connell. Garoppolo, whose 2022 campaign ended prematurely due to a broken foot suffered Week 13, hasn't played a full season since 2019. Hoyer made one start for the Patriots in Week 4 last season, but he left the contest after only six pass attempts due to a concussion.
Read Past Outlooks
RANKS
#

Overall
$Signed a two-year, $4.5 million contract with the Raiders in April of 2023.

Not in line for Week 4 start
ANALYSIS
With 77 appearances and 40 starts on his NFL resume, the 37-year-old Hoyer brings far more experience to the table, but O'Connell -- a rookie fourth-round pick out of Purdue -- offers more upside at this stage of his career. Even though O'Connell had been a healthy inactive for the Raiders' first three games while Hoyer served as Garoppolo's backup, the 25-year-old signal-caller impressed in the preseason and will now get the chance to show that he can replicate that success in the regular season. O'Connell could still have a short leash if he struggles early on Sunday, however, so Hoyer may end up seeing action despite remaining in the No. 2 role.
Read More News
NFL Stats
Fantasy/Red Zone Stats
See red zone opportunities inside the 20, 10 and 5-yard lines along with the percentage of time they converted the opportunity into a touchdown.
Loading Fantasy/Red Zone Stats...
Advanced NFL Stats
Loading Advanced NFL Stats...
2023
2022
2021
2020
2019
2018
2017
2016
2023 NFL Game Log

Calculate Stats Over Time
Just click on any two dates.
Scoring
Standard
PPR
Half PPR
FanDuel
DraftKings
Yahoo DFS
2022 NFL Game Log

Calculate Stats Over Time
Just click on any two dates.
Scoring
Standard
PPR
Half PPR
FanDuel
DraftKings
Yahoo DFS
2021 NFL Game Log

Calculate Stats Over Time
Just click on any two dates.
Scoring
Standard
PPR
Half PPR
FanDuel
DraftKings
Yahoo DFS
2020 NFL Game Log

Calculate Stats Over Time
Just click on any two dates.
Scoring
Standard
PPR
Half PPR
FanDuel
DraftKings
Yahoo DFS
2019 NFL Game Log

Calculate Stats Over Time
Just click on any two dates.
Scoring
Standard
PPR
Half PPR
FanDuel
DraftKings
Yahoo DFS
2018 NFL Game Log

Calculate Stats Over Time
Just click on any two dates.
Scoring
Standard
PPR
Half PPR
FanDuel
DraftKings
Yahoo DFS
2017 NFL Game Log

Calculate Stats Over Time
Just click on any two dates.
Scoring
Standard
PPR
Half PPR
FanDuel
DraftKings
Yahoo DFS
2016 NFL Game Log

Calculate Stats Over Time
Just click on any two dates.
Scoring
Standard
PPR
Half PPR
FanDuel
DraftKings
Yahoo DFS
Snap Distribution / Depth Chart
This Week's Opposing Pass Defense
How does the Chargers pass defense compare to other NFL teams this season?
The bars represents the team's percentile rank (based on QB Rating Against). The longer the bar, the better their pass defense is.
The team and position group ratings only include players that are currently on the roster and not on injured reserve. The list of players in the table only includes defenders with at least 3 attempts against them.

@ Chargers
Sunday, Oct 1st at 4:05PM
Overall QB Rating Against
100.0
Loading Opponent Pass Defense Stats...
2023 Brian Hoyer Split Stats
Loading NFL Split Stats...
How do Brian Hoyer's measurables compare to other quarterbacks?
This section compares his draft workout metrics with players at the same position. The bar represents the player's percentile rank. For example, if the bar is halfway across, then the player falls into the 50th percentile for that metric and it would be considered average.
Recent RotoWire Articles Featuring Brian Hoyer
See More
Past Fantasy Outlooks
2022
2020
2019
2018
2017
2016
2015
2014
2013
2012
2011
2010
2009
Hoyer now is in the midst of his third stint with the Patriots after signing a two-year, $4 million deal with $3 million guaranteed back in March. The 36-year-old thus is set to continue to back up 2021 first-rounder Mac Jones. Hoyer's knowledge of the team's offensive system clearly is valued by coach Bill Belichick, and his primary contributions in 2022 ideally will be as a veteran mentor. The team also rosters rookie fourth-rounder Bailey Zappe, but given Hoyer's experience as a pro starter, he'd presumably be the QB called upon first to fill in if Jones were to miss any time.
Now on his third tour of duty with the Patriots, Hoyer rejoins the team in Year 1 of the post-Tom Brady era. Heading into late June, the 34-year-old was, at least in theory, in the mix to compete for the starting QB job with second-year pro Jarrett Stidham. However, the team's addition of 2015 NFL MVP Cam Newton means that Hoyer could be the odd man out if the Patriots decide to roster just two signal callers. Since originally signing with New England back in 2009 as an undrafted free agent, Hoyer has managed to stay in the league by emerging as a capable backup, with enough savvy to manage an offense when occasionally thrust into the starter's role. In any case, Hoyer's previous experience with the franchise is plus, especially considering the unprecedented nature of the 2020 offseason.
With franchise QB Tom Brady both durable and aging gracefully, the Patriots elected to turn to fourth-round draft pick Jarrett Stidham, rather than Hoyer, as the team's top backup.
Hoyer, who originally joined the Patriots back in 2009 as an undrafted free agent, rejoined the organization last November following the trade that sent Jimmy Garoppolo to San Francisco. Now 32, the well-traveled Hoyer brings NFL starting experience (including six last season with the 49ers) and familiarity with New England's passing scheme to the table, but he'll only see meaningful regular-season snaps in the event of an injury to starter Tom Brady. The Patriots did draft Danny Etling this April, but he's not expected to supplant Hoyer as the team's No. 2 quarterback. In the event that Hoyer is pressed into action, he can't be expected to replicate Brady's elite numbers, but with offensive coordinator Josh McDaniels calling the plays and a deep group of pass-catching weapons on hand, Hoyer would be capable of putting up decent fantasy production if called upon.
Hoyer took over for an injured Jay Cutler in Week 2 last season in Chicago and proceeded to throw for 300 yards in each of his next four starts, with six TDs and no picks. In his fifth start, he broke his arm, ending his season. Now with his sixth franchise, Hoyer reunites with head coach Kyle Shanahan, who as Browns OC in 2014 presided over Hoyer's only 3,000-yard campaign. Not that Hoyer was good -- he had a 12:13 TD:INT ratio in 14 games. Still, Hoyer has his best chance for fantasy relevance in Shanahan's pass-happy offense. Free-agent addition Pierre Garcon also reunites with Shanahan, and holdover Jeremy Kerley proved capable last year. In the backfield, fourth-round pick Joe Williams and free-agent vet Tim Hightower join oft-injured Carlos Hyde. The 49ers also figure to play from behind often, giving Hoyer more opportunities.
Hoyer will enter the season as the clear backup to Jay Cutler. After throwing an equal amount of touchdowns to interceptions over his first five years in the NFL, Hoyer broke out with the Texans last year, posting a 19:7 TD:INT along with a career-high 91.4 passer rating. Despite the impressive numbers, his limitations as a passer caused him to get benched for a short time in favor of Ryan Mallett. Based on his overall performance in 2015, he'll likely be able to run the offense successfully should Cutler be forced to miss time.
After two underwhelming years in Cleveland, Hoyer signed a two-year, $10.5 million contract in March with the Texans to compete with Ryan Mallett for the starting job. While Hoyer has the bigger contract, he also has the lower ceiling. Although he's gone 10-7 as a starter since entering the league in 2009, Hoyer has completed just 56.5 percent of his passes for 7.23 YPA and a 19:19 TD:INT ratio. With the Browns last season, he ranked ninth in YPA but finished 32nd among 33 qualified quarterbacks in completion percentage, struggling mightily down the stretch with a 2:9 TD:INT ratio in his final five games. The 29-year-old is a capable backup but doesn't stand out in terms of arm strength, accuracy, size or mobility. Mallett has better raw skills but much less experience, having made the first two starts of his career last year prior to suffering a season-ending torn pectoral. Whoever wins the job will have a nice collection of skill players to work with, highlighted by DeAndre Hopkins, Cecil Shorts, third-round pick Jaelen Strong and running back Arian Foster.
Hoyer will open the year as Cleveland's starter, but he's unlikely to hold off 22nd overall pick Johnny Manziel for more than a few weeks. Returning from an October ACL tear and throwing to a WR rotation that will be without Josh Gordon, Hoyer will likely struggle when he sees the field, at which point the stage will be set for Manziel. Hoyer was somewhat effective with Gordon on the field last year, though, throwing five touchdowns compared to three interceptions.
With the jury still out on Brandon Weeden, the signing of Hoyer by the Browns sparked a bit of conversation at the time of the announcement. He received his first career start last season, though his play in his two games of action failed to change the perception he's going to be anything more than a reserve. He completed 30-of-53 passes for 330 yards, one touchdown, and two interceptions. The support behind Weeden has grown since Hoyer arrived in Cleveland and he'll battle Jason Campbell for the backup duties this season.
Hoyer, who is ticketed for free agency after this season, has developed into a trusted backup for the Patriots, but if another team suffers an injury at QB, then the Patriots could consider dangling Hoyer, if they feel that Ryan Mallett is ready to assume the No. 2 QB job. That's something that the team is presumably still evaluating, however.
Though the Patriots drafted fellow QB Ryan Mallett this past April, he's viewed as more of a developmental project than an immediate threat to Hoyer's gig as Tom Brady's top backup. In any case, Hoyer remains next in line for snaps in the event of an injury to Brady.
As an undrafted free agent, the odds were stacked against Hoyer last year, but he'll head into the 2010 season as Tom Brady's top backup once again unless the Patriots make a move to add some veteran QB depth.
Like most undrafted QBs he's a bit of a project, but he enters a Patriots' system where he has a chance to be methodically coached up. If he sticks as a rookie though, he'd either have to beat out Matt Gutierrez or settle for a spot on the practice squad.
More Fantasy News