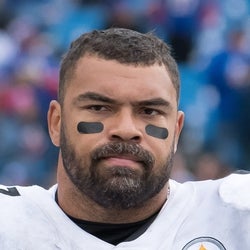 Rest-of-Season Projections
2023 Fantasy Outlook
Heyward tallied double-digit sacks for a second consecutive season last year, topping 70 tackles in three of the last four years. Entering his 13th season, the 34-year-old Heyward has played at least 15 games every season but one. While Father Time will presumably catch up at some point, Heyward has remained productive, especially when offensive lines also have to account for T.J. Watt and Alex Highsmith.
Read Past Outlooks
RANKS
#

IDP
$Signed a four-year, $65.6 million contract with the Steelers in September of 2020.

Still dealing with injury
ANALYSIS
Heyward missed six games in a row due to a groin issue before returning for the last two games. However, he was still considered questionable heading into Sunday's 23-19 win against Green Bay, in which he played a season-high 37 defensive snaps. It appears the 34-year-old is still dealing with this groin injury, and he'll now have two more practices to increase his activity level before this Sunday's division matchup against the Browns.
Read More News
NFL Stats
2023
2022
2021
2020
2019
2018
2017
2016
2023 NFL Game Log

Calculate Stats Over Time
Just click on any two dates.
2022 NFL Game Log

Calculate Stats Over Time
Just click on any two dates.
2021 NFL Game Log

Calculate Stats Over Time
Just click on any two dates.
2020 NFL Game Log

Calculate Stats Over Time
Just click on any two dates.
2019 NFL Game Log

Calculate Stats Over Time
Just click on any two dates.
2018 NFL Game Log

Calculate Stats Over Time
Just click on any two dates.
2017 NFL Game Log

Calculate Stats Over Time
Just click on any two dates.
2016 NFL Game Log

Calculate Stats Over Time
Just click on any two dates.
Snap Distribution / Depth Chart
2023 Cameron Heyward Split Stats
Loading NFL Split Stats...
Measurables Review
How do Cameron Heyward's measurables compare to other defensive ends?
This section compares his draft workout metrics with players at the same position. The bar represents the player's percentile rank. For example, if the bar is halfway across, then the player falls into the 50th percentile for that metric and it would be considered average.
Recent RotoWire Articles Featuring Cameron Heyward
See More
Past Fantasy Outlooks
2022
2021
2020
2019
2018
2017
2016
2015
2014
2013
2012
Heyward was a good player in his first six seasons with Pittsburgh, but for some reason a switch flipped in 2017 and since then he's been exceptional. After producing 25 sacks his first six seasons, Heyward has 43 in the last five. Not just that, but twice in the last three years he's surpassed 80 tackles. Decline can't be far off now that he's 33 years old, but Heyward remains a justifiable DL1 in most formats.
It's possible Heyward showed his first signs of decline in 2020, producing 29 fewer tackles than the prior season and posting his lowest sack rate since his 2012 sophomore season. Some of that might be variance, though, and his workload was reduced a bit by resting in Week 17. He now heads into this season 32 years old, but given that he's only two years removed from an 83-tackle, nine-sack season, it might not yet be time to count out Heyward, especially when offensive lines also have to worry about T.J. Watt and Stephon Tuitt.
Heyward went insane in the tackle category last year, somehow totaling 32 more tackles than the prior year (83 to 51) on just 43 more snaps (885 to 842). His previous career high was 59 tackles, so we should probably assume last year's breakout was a one-time thing, perhaps precipitated by the profound struggles of the Pittsburgh offense without Ben Roethlisberger. If Roethlisberger can bounce back from his elbow injury, the Steelers offense should score more points and force more pass attempts than in 2019, resulting in fewer tackle opportunities for Heyward. Even so, Heyward was annually right on the DL1 borderline in most IDP systems, and the fact that the Pittsburgh defense turned a corner with its pass rush last year could leave Heyward in position to offset some of his tackle decline with a shot at double-digit sacks.
Heyward is one of the league's most respected 3-4 linemen, and with Pittsburgh's pass rush taking off there is decent upside even as he passes 30 years old. Aside from a 12-sack showing in 2017, Heyward reliably produced in the 50-tackle, 7-8 sack range the last six years, and there's perhaps room for growth with that sack production, especially with front-seven prospects like T.J. Watt and Devin Bush posing major blitz threats in Pittsburgh. While there probably isn't DL1 upside, it would disappoint if Heyward isn't one of the top-earning DL2 types this year.
The son of Ironhead has only built on his father's legacy, establishing himself as an arguably better player at a more valuable position. With 12 sacks on just 787 snaps last year, Heyward took the leap from a merely 'good' 3-4 lineman to a properly feared one, and while some regression might occur, he almost certainly turned a corner in his development. Given that he normally plays 950 or more snaps during his healthy seasons, Heyward could also offset per-snap regression by simply playing more.
Heyward strung together five consecutive 16-game seasons prior to sitting out nine contests in 2016 due to a pectoral injury. He's still recovering as camp approaches, but look for him to return to the three-year average of 55.3 tackles and 6.5 sacks he's recorded during his tenure as a full-time starter for the Steelers if he's able to return to full health in time for the season opener.
Heyward has been highly consistent over the last three years, emerging as a reliable mid-tier DL2 in most formats by posting 59, 53 and 54 tackles in consecutive years while adding five, 7.5 and seven sacks in those same respective seasons. There's not much reason to think his ceiling will change anytime soon, but the same is true of his floor. If other front seven players like Tuitt, Bud Dupree and Ryan Shazier can take a step forward this year, Heyward could conceivably improve his pass-rushing numbers as the surrounding players assist with more pressure on opposing QBs.
Son of Ironhead took the next step in his development last season, making a big impact behind the line of scrimmage with career highs in tackles for loss (11) and sacks (7.5). Heyward is among the more stable D-Line IDP options, as he's locked into the lead role on the Pittsburgh defensive line and has a 50-tackle floor even if he plays only about 800 snaps. As a 3-4 end, though, Heyward might play in too much traffic for high upside as a tackler or pass rusher.
Heyward has not missed a game since being selected with the 31st overall pick in the 2011 draft and his production continues to trend in the right direction. He led the Steelers' defensive lineman in virtually every IDP statistical category last season, accumulating 59 tackles, five sacks and seven passes defensed. The team already exercied the fifth-year option on his rookie contract, so Heyward should continue to be an every-down lineman with room to grow statistically.
Heyward has been a disappointment since being selected in round one of the 2011 draft. He'll return to back-up Brett Keisel this season.
Cameron is a powerful defensive lineman that is a perfect fit for Pittsburgh's 3-4 scheme. The Steelers have the luxury of taking their time and allowing him to learn behind Brett "the Diesel" Keisel.
More Fantasy News