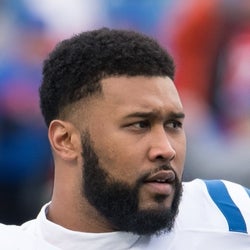 2022 Fantasy Outlook
Buckner will never be as valuable as an IDP as he is on the real football field, but he's still a conventionally valuable defensive lineman IDP. His modest sack totals restrict him to more of the low-end DL1 range of the defensive line IDP rankings. Buckner is a big snare trap in the middle of the Colts defense who frees up everyone else and still finds time to push for double- digit sacks.
Read Past Outlooks
RANKS
#

IDP
$Signed a five-year, $105 million contract with the Colts in March of 2020.

Posts another prolific campaign
Over 17 games, Buckner accumulated a career-high 74 tackles (44 solo), including eight sacks, as well as three passes defended and one fumble recovery in the 2022 season.
ANALYSIS
Buckner continued his dominant form on the interior of the Colts' defensive front, as he finished sixth among the league's defensive tackles in sacks this season. The 28-year-old also topped his previous personal best for tackles in a season from his 2018 rookie campaign with San Francisco. Buckner also maintained his extremely consistent durability, as he's missed just one regular-season game since his rookie season. The seventh-year pro is now set to make $40 million over the final two remaining seasons of his current contract with Indianapolis.
Read More News
NFL Stats
2022
2021
2020
2019
2018
2017
2016
2022 NFL Game Log

Calculate Stats Over Time
Just click on any two dates.
2021 NFL Game Log

Calculate Stats Over Time
Just click on any two dates.
2020 NFL Game Log

Calculate Stats Over Time
Just click on any two dates.
2019 NFL Game Log

Calculate Stats Over Time
Just click on any two dates.
2018 NFL Game Log

Calculate Stats Over Time
Just click on any two dates.
2017 NFL Game Log

Calculate Stats Over Time
Just click on any two dates.
2016 NFL Game Log

Calculate Stats Over Time
Just click on any two dates.
Snap Distribution / Depth Chart
2022 DeForest Buckner Split Stats
Loading NFL Split Stats...
Measurables Review
How do DeForest Buckner's measurables compare to other defensive tackles?
This section compares his draft workout metrics with players at the same position. The bar represents the player's percentile rank. For example, if the bar is halfway across, then the player falls into the 50th percentile for that metric and it would be considered average.
Recent RotoWire Articles Featuring DeForest Buckner
See More
Past Fantasy Outlooks
2021
2020
2019
2018
2017
2016
Buckner is truly a foundational talent on the defensive line, single-handedly anchoring the Indianapolis front seven and opening possibilities for the rest of the swarming Colts defense to pursue the ball. At 6-7, 291, with exceptional reach and quickness, Buckner tangles up offensive linemen and obstructs throwing lanes like few can. Despite these responsibilities, Buckner piles up numbers on his own part, too. In recent years he has reliably produced about a 60-tackle, 10-sack range for a 16-game season, and health permitting he should keep that up.
There's no way to know exactly how Buckner will fit into the Indianapolis defense, but there's no doubt that he's an elite talent on the line with unusually strong conditioning. Even as the primary concern of the offensive line on any given play, he always showed the ability to play upwards of 1,000 snaps on the interior line. With the Colts, though, it seems unlikely that he'll play much more than 800 snaps. Still, his per-snap numbers from San Francisco would project to roughly 59 tackles and 6.5 sacks per 800 snaps, so Buckner should provide DL2 utility or better in most IDP formats.
Buckner is an elite defender whose uncommon conditioning allows him to approach 1,000 snaps despite the exhausting task of anchoring the San Francisco defensive line. In his three NFL seasons, Buckner already has 201 tackles, and he really threw down the gauntlet last year by breaking out for 12 sacks on 852 snaps. Offenses have already been doing everything they can to slow Buckner, so his per-snap production is mostly sustainable even if last year was the best-case scenario for sack production. Buckner is a sound DL1 with 70-tackle, 10-sack upside.
The general rule is that defensive linemen see fewer snaps the bigger they are, with the reasonable underlying premise being that bigger linemen get more blocking attention, and thus take more of a beating. Buckner seems immune to that rule. He's a huge lineman at 6-7, 300 pounds, yet he's displayed a freakish level of conditioning and durability to play 1,000 snaps or more in a season. Any lineman who plays that much has an advantage over the field of IDPs, making him a strong bet to rank among the positional tackle leaders.
The 49ers selected Buckner seventh overall last year because he fits like a glove as an end in a 3-4 scheme at 6-7, 300, but he likely will play tackle in the 49ers' new 4-3 scheme this year. It's not ideal to be that tall and line up over guard, but Buckner is a unique enough athlete to produce anyway. He was productive as a 22-year-old rookie starter last year, posting 73 tackles despite missing one game with a foot issue. He logged a lot of plays to get there, however, playing 1,005 snaps, and it might be more realistic to project something like 900 this season.
Rookie 3-4 ends normally don't make IDP noise, but Buckner might be a different breed. A rare athlete at 6-foot-7, 291 pounds with incredible conditioning, Buckner is already a polished product and shouldn't need the acclimation time most DEs would require. He was exceptionally productive at Oregon the last two years, exceeding 80 tackles in both seasons while totaling 30 tackles for loss and 14.5 sacks in just 28 games. He's a boom-or-bust IDP consideration with a low floor, but Buckner might do a good Calais Campbell impression surprisingly early in his career.
More Fantasy News