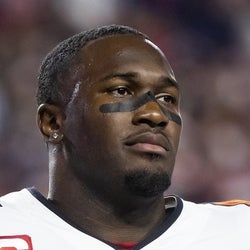 Questionable
Injury Foot
Est. Return 10/1/2023
Rest-of-Season Projections
2023 Fantasy Outlook
The speedy linebacker out of LSU hasn't matched his 2020 production the last couple years, but White has still posted strong numbers with 252 tackles and nine sacks in his last 34 games. The continued presence of Lavonte David hasn't put a damper on either as fantasy assets; both saw more than 1,000 snaps last season, and their skill sets complement each other well. The addition of first-round pick Calijah Kancey gives Todd Bowles another disruptive defender to scheme for, but it's White and David who will remain the heart of the unit for at least one more year.
Read Past Outlooks
$Signed a four-year, $29.32 million contract with the Buccaneers in July of 2019. Buccaneers exercised $11.71 million team option for 2023 in April of 2022.

White (foot) is considered
questionable
for Sunday's matchup with the Saints.
ANALYSIS
After being a nonparticipant to kick off the week, White has practiced in limited fashion the last two days. Thus, he is looking like a true game-time decision. If he ultimately does not suit up, look for
K.J. Britt
to fill in at inside linebacker alongside
Lavonte David
.
Read More News
NFL Stats
2023 NFL Game Log

Calculate Stats Over Time
Just click on any two dates.
2022 NFL Game Log

Calculate Stats Over Time
Just click on any two dates.
2021 NFL Game Log

Calculate Stats Over Time
Just click on any two dates.
2020 NFL Game Log

Calculate Stats Over Time
Just click on any two dates.
2019 NFL Game Log

Calculate Stats Over Time
Just click on any two dates.
Snap Distribution / Depth Chart
2023 Devin White Split Stats
Loading NFL Split Stats...
Measurables Review
How do Devin White's measurables compare to other linebackers?
This section compares his draft workout metrics with players at the same position. The bar represents the player's percentile rank. For example, if the bar is halfway across, then the player falls into the 50th percentile for that metric and it would be considered average.
Recent RotoWire Articles Featuring Devin White
See More
Past Fantasy Outlooks
White is a wrecking ball in every good and bad sense – he completely wrecks some plays and then whiffs himself out of frame on some others – but this style of play has mostly been fruitful for IDP investors. White's speed alone dictates that he will constantly be around the football, even if his fundamentals could use some sharpening, so a return to his pre-2021 levels of production is a reasonable expectation.
White was always an incredible athlete, but with the skills growth he showed in 2020 he looks capable of going where few linebackers ever have. With 4.42 speed on a 237-pound frame, White is unmatched in open-field pursuit, and in his second season he turned a corner as a blitzer, demonstrating double-digit sack upside in addition to his league-leading tackle upside. With mammoth nose tackle Vita Vea eating up double teams in front of him, White should remain free to make life miserable for running backs and quarterbacks.
Although he only turned 22 in February, White took a full-time workload as a rookie, playing 844 snaps in 13 games. He would have breezed past 1,000 snaps if not for a sprained MCL that cost him three games, so expect White's numbers to improve in his second season. If you take White's numbers from last year and project them over 1,000 snaps, you get about 108 tackles and three sacks. Those are modest totals and largely the victim of the effectiveness of the Buccaneers defense. Tampa Bay didn't let running backs do much with the ball last year, allowing 3.0 yards per carry and 4.17 yards per target, so teams were sometimes forced to go to the air instead. That will be an ongoing problem - the Buccaneers run defense should be suffocating again in 2020 - but the good news is the Tampa Bay pass defense should be better, reducing the incentive to throw. Even if nothing improves for White contextually, he should have more untapped IDP upside all the same. At 6-0, 237 with a 4.42-second 40, White compares athletically to someone like Bobby Wagner.
White likely was locked in for a big season anyway, but after the Jason Pierre-Paul neck injury a scenario doesn't exist where the Buccaneers withhold a three-down role. While they play different positions, reps are reps, and Tampa Bay has few options to replace them. One is free-agent acquisition Deone Bucannon, who might have been a threat to steal snaps from White at inside linebacker. It's now more likely that White, David and Bucannon play at once, rather than David and Bucannon. With truly elite athleticism, White should be an immediate standout.
More Fantasy News