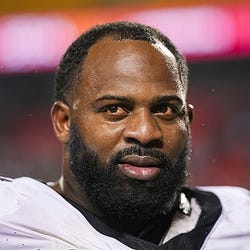 2023 Fantasy Outlook
Cox showed little signs of slowing down in his 11th season, anchoring an Eagles defense that led the NFL in fewest yards allowed per play (4.8) in 2022. His 32-year-old legs needed a bit more rest than normal, as his snap share dipped for a fourth straight year to 64.6 percent, his lowest mark since his rookie 2012 campaign, but it translated to better per-play production and similar year-end numbers. His seven sacks were the third highest of his career and most since 2018, while his 43 tackles were his best since that same season. Age comes for all players, so Cox could decline any time now, but he's shown few signs that the cliff is approaching.
Read Past Outlooks
RANKS
#

IDP
$Signed a one-year, $10 million contract with the Eagles in March of 2023.

Back in Philly on one-year deal
Cox came to terms Wednesday with the Eagles on a one-year, $10 million contract,
Adam Schefter of ESPN
reports.
ANALYSIS
Cox has spent his entire 11-year career with the Eagles and will be back for a 12th in 2023. Still effective at 32 years old, Cox registered seven sacks for the NFC champions last season while playing 65 percent of the defensive snaps.
Read More News
NFL Stats
2022
2021
2020
2019
2018
2017
2016
2022 NFL Game Log

Calculate Stats Over Time
Just click on any two dates.
2021 NFL Game Log

Calculate Stats Over Time
Just click on any two dates.
2020 NFL Game Log

Calculate Stats Over Time
Just click on any two dates.
2019 NFL Game Log

Calculate Stats Over Time
Just click on any two dates.
2018 NFL Game Log

Calculate Stats Over Time
Just click on any two dates.
2017 NFL Game Log

Calculate Stats Over Time
Just click on any two dates.
2016 NFL Game Log

Calculate Stats Over Time
Just click on any two dates.
Snap Distribution / Depth Chart
2022 Fletcher Cox Split Stats
Loading NFL Split Stats...
Measurables Review
How do Fletcher Cox's measurables compare to other defensive tackles?
This section compares his draft workout metrics with players at the same position. The bar represents the player's percentile rank. For example, if the bar is halfway across, then the player falls into the 50th percentile for that metric and it would be considered average.
Recent RotoWire Articles Featuring Fletcher Cox
See More
Past Fantasy Outlooks
2022
2021
2020
2019
2018
2017
2016
2015
2014
2013
2012
Cox is back with the Eagles after signing a one-year, $14 million contract with the team in March. The 31-year-old hasn't displayed his former level of production in recent years and finished last season with 35 tackles (25 solo), 3.5 sacks and two forced fumbles in 16 games, number that limit the starting defensive tackle's IDP utility to deeper formats.
After registering just 3.5 sacks in 2019, Cox bounced back last season with 6.5. He also put up 39-plus tackles (41, to be exact) for the eighth time in nine NFL campaigns. The 30-year-old again is a good bet to put up similar numbers in 2021, as he has failed to tally at least 40 stops and 3.5 sacks just once over the last five years.
Cox entered 2019 not fully healthy and subsequently endured one of his worst campaigns as a pro, but 40 tackles and 3.5 sacks still placed him top 20 among all defensive tackles in those categories. The ninth-year veteran enters this season still considered among the elite at his position and could increase his sack total from last year thanks to a return to health and added depth around him as the Eagles inked Javon Hargrave to a three-year deal. At the very least, the 29-year-old Cox should be good for at least 40 tackles once again, something he's done in three of the last four years.
Cox is coming off his biggest season in terms of getting in the backfield, as he notched career highs with 10.5 sacks, 34 quarterback hits, and 12 tackles for loss while playing in all 18 games (including playoffs) for the Eagles. However, he suffered a foot injury in the divisional-round loss to the Saints and hopes to be ready for training camp. Once healthy, the 28-year-old will be paired on the inside with newcomer Malik Jackson to form one of the league's top interior attacks.
The stalwart of the Eagles' defensive line missed a couple games last season with a calf injury and registered the lowest tackle total of his career with 26. If the Mississippi State product can stay healthy this season, he should see a bit of a bounce back in production.
Graham might be the better IDP option, but Cox is arguably the more important player for the Eagles' defense. He's one of the league's most disruptive linemen even at 6-4, 310, possessing a sub-4.8 40 and a freakish 7.07-second three-cone time. He was limited to 773 snaps last year while playing through an ankle injury, which no doubt affected his play to some extent, so his box score from last year can only factor so much into this year's projection. When healthy in 2015, Cox produced 71 tackles and 9.5 sacks in 982 snaps.
Cox is one of the most athletic interior linemen in the league, and he's an interesting breakout consideration as Philadelphia switches to a 4-3 scheme. Cox was quite productive as a 3-4 end, especially in 2015, but there's little doubt his rare athleticism would translate to better disruptiveness in a four-man front. With a talented end rotation, Cox should be able to overcome double-teams and continue finding ball-carriers in 2016. Chip Kelly's departure might pose a hit to Cox's play count after he logged 982 snaps in 2015, but an increase in efficiency should offset that.
Cox's upside is limited by double-teams he faces as easily the best player in the Philadelphia front seven, but he still provided mid-tier IDP production last season. Cox hit his stride in the season's second half, totaling 37 tackles and all four of his sacks in the final eight weeks. It wouldn't surprise to see him improve his sack total — he had 5.5 as a part-time player as a rookie in 2012. At 6-4, 300, with a 4.79 40, Cox is one of the league's most athletic defensive linemen. And he'll have plenty of opportunity this season, as he should match last year's 921 snaps.
Cox had a disappointing 2013 season in statistical terms, struggling in the second half of the year after getting off to an encouraging start. He's one of the league's best athletic specimens and will definitely start at end for Philadelphia. Hopefully he'll be able to take full advantage of his athletic gifts in his third year.
Although Cox fell to the 12th pick of last year's draft, he probably belonged in the top eight. He finished his rookie year with 39 tackles and 5.5 sacks on just 511 snaps, and that count could rise significantly in 2013. His rookie rate of production projects to about 57 tackles and eight sacks on 750 snaps, which could be ballpark for him. The former Mississippi State star also had 56 tackles and five sacks in 12 games during his final year of college.
Cox is a superb athlete for a 6-foot-4, 298-pounder, and he should in the near future turn into one of the NFL's best interior linemen. For the short term, however, his snaps figure to be limited, because the Eagles are extremely deep on the defensive line.
More Fantasy News