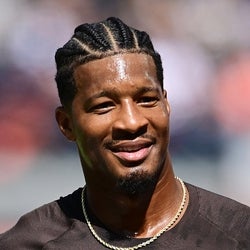 Rest-of-Season Projections
2023 Fantasy Outlook
Winston once seemed like a long-term option at quarterback for the Saints after spending one year as the understudy to Drew Brees. But Winston battled back fractures early last season, leading him to lose the starting job to Andy Dalton after Week 3 for the remainder of the campaign. With Derek Carr signed to a four-year, $150 million contract this offseason, Winston's time in New Orleans looked to be over before he agreed to a restructured contract in March. As a result, the 29-year-old Winston will enter the 2023 season as a backup alongside dual-threat veteran Taysom Hill and rookie fourth-rounder Jake Haener.
Read Past Outlooks
RANKS
#

Overall
$Signed a two-year, $28 million contract with the Saints in March of 2022.

Set to remain in backup role
Winston is expected to remain the Saints' backup quarterback Sunday against the Buccaneers with
Derek Carr
(shoulder) listed as questionable but in line to start the Week 4 game,
Ian Rapoport of NFL Network
reports.
ANALYSIS
Carr suffered an AC joint sprain in his throwing shoulder after he was slammed to the turf by the Packers'
Rashan Gary
in the third quarter of the Saints' Week 3 loss to Green Bay. Winston came on in relief of Carr and completed 10 of 16 pass attempts for 101 yards, but he didn't produce any scoring drives as the Saints squandered a 17-0 lead. Though Carr initially appeared in line to miss at least one game due to the injury, he returned to practice in a limited capacity Friday and took all the first-team reps during Saturday's walk-through. Barring a late setback in pregame warmups, Carr looks poised to start without limitations, keeping Winston in his usual No. 2 role.
Read More News
NFL Stats
Fantasy/Red Zone Stats
See red zone opportunities inside the 20, 10 and 5-yard lines along with the percentage of time they converted the opportunity into a touchdown.
Loading Fantasy/Red Zone Stats...
Advanced NFL Stats
How do Jameis Winston's 2023 advanced stats compare to other quarterbacks?
This section compares his advanced stats with players at the same position. The bar represents the player's percentile rank.
The longer the bar, the better it is for the player.
Bad Pass %

The percentage of passes that were considered to be poorly thrown.

Avg Target Depth

The average number of yards thrown per pass by the quarterback – including incomplete passes.

Sack Rate

The percentage of dropbacks where the quartback was sacked. The longer the bar below, the more often they are sacked relative to other QBs.

Avg Receiver YAC

The average number of yards after the catch that receivers gained on passes thrown by this quarterback.

Receiver Drop %

The percentage of passes dropped by receivers on passes thrown by this quarterback. The longer the bar, the more sure-handed his receivers have been.
Loading Advanced NFL Stats...
2023
2022
2021
2020
2019
2018
2017
2016
2023 NFL Game Log

Calculate Stats Over Time
Just click on any two dates.
Scoring
Standard
PPR
Half PPR
FanDuel
DraftKings
Yahoo DFS
2022 NFL Game Log

Calculate Stats Over Time
Just click on any two dates.
Scoring
Standard
PPR
Half PPR
FanDuel
DraftKings
Yahoo DFS
2021 NFL Game Log

Calculate Stats Over Time
Just click on any two dates.
Scoring
Standard
PPR
Half PPR
FanDuel
DraftKings
Yahoo DFS
2020 NFL Game Log

Calculate Stats Over Time
Just click on any two dates.
Scoring
Standard
PPR
Half PPR
FanDuel
DraftKings
Yahoo DFS
2019 NFL Game Log

Calculate Stats Over Time
Just click on any two dates.
Scoring
Standard
PPR
Half PPR
FanDuel
DraftKings
Yahoo DFS
2018 NFL Game Log

Calculate Stats Over Time
Just click on any two dates.
Scoring
Standard
PPR
Half PPR
FanDuel
DraftKings
Yahoo DFS
2017 NFL Game Log

Calculate Stats Over Time
Just click on any two dates.
Scoring
Standard
PPR
Half PPR
FanDuel
DraftKings
Yahoo DFS
2016 NFL Game Log

Calculate Stats Over Time
Just click on any two dates.
Scoring
Standard
PPR
Half PPR
FanDuel
DraftKings
Yahoo DFS
Snap Distribution / Depth Chart
This Week's Opposing Pass Defense
How does the Buccaneers pass defense compare to other NFL teams this season?
The bars represents the team's percentile rank (based on QB Rating Against). The longer the bar, the better their pass defense is.
The team and position group ratings only include players that are currently on the roster and not on injured reserve. The list of players in the table only includes defenders with at least 3 attempts against them.

vs Buccaneers
Sunday, Oct 1st at 1:00PM
Overall QB Rating Against
72.7
Loading Opponent Pass Defense Stats...
2023 Jameis Winston Split Stats
Loading NFL Split Stats...
How do Jameis Winston's measurables compare to other quarterbacks?
This section compares his draft workout metrics with players at the same position. The bar represents the player's percentile rank. For example, if the bar is halfway across, then the player falls into the 50th percentile for that metric and it would be considered average.
Recent RotoWire Articles Featuring Jameis Winston
See More
Past Fantasy Outlooks
2022
2021
2020
2019
2018
2017
2016
2015
After winning the starting job in camp last year, Winston played relatively well before a Week 8 ACL injury ended his season. Remarkably for him, he had thrown just three interceptions and had 14 TD passes. Accuracy was a work in progress — his 66.5 on-target percentage ranked 37th of 38 QBs (min. 150 attempts) — but he went downfield at a good clip (8.3-yard aDOT, 7th) and at least stopped turning the ball over temporarily. This year, Winston won't have to compete for the starting job, as Taysom Hill moved to tight end. He'll also have much better receiving options and should average far more than last year's 23.2 pass attempts per game. Michael Thomas is expected back after missing last season with an ankle injury, and the team signed Jarvis Landry shortly after drafting downfield threat Chris Olave 11th overall. RB Alvin Kamara gives Winston four quality targets, though the offensive line took a hit with LT Terron Armstead leaving for Miami. The biggest change is the retirement of coach Sean Peyton. Dennis Allen, promoted from defensive coordinator, is the new head coach, with Pete Carmichael staying on as offensive coordinator. According to the Saints, Winston is on track with his knee injury to be ready for Week 1, but he likely won't run as much this year. If he continues to protect the ball, he'll be a viable option in two-QB leagues.
Following his year-long sabbatical on the Saints' bench and a preseason competition with Taysom Hill, Winston is ready for the starting job with Drew Brees retired in New Orleans. Last season, when Brees missed four games with injury, Hill got the call over Winston, who thew 11 passes all year (though he had the team's best pass of the season - a 56-yard TD in the playoffs vs. his old team, the Bucs). Hill didn't do much as the starter, and whoever is starting this season could share snaps with the other. Winston is the more traditional QB and has a stronger arm, but his drawback, of course, is decision-making and errant throws - e.g., 30 interceptions in 2019. If a year of tutelage under Brees and coach Sean Payton cured Winston of his penchant for chucking any pass into the tightest of windows, he would seem to have the advantage as a pocket passer. A free agent this offseason, Winston re-signed on a one-year deal with the Saints, presumably because he liked his chances to start. To maximize fantasy value, though, Winston needs a more aggressive offense than what the Saints ran under the noodle-armed Brees (the team attempted a mere 18 passes of 20-plus yards last season). But Alvin Kamara is the team's only proven pass catcher who will be healthy for Week 1, as the Saints lost Jared Cook and Emmanuel Sanders in the offseason and now have Michael Thomas rehabbing from summer ankle surgery.
Even with all his turnovers, Winston was a top-5 fantasy quarterback last season, thanks to a league-leading 5,104 yards and 33 touchdown passes. Alas, NFL teams aren't as accommodating as fantasy leagues, which is why the Buccaneers finally cut bait. Winston, who fumbled 12 times and lost five in addition to his 30 interceptions, led the league with 35 giveaways (by 12), second most in the NFL since 1992. He is the only quarterback in NFL history other than Fran Tarkenton to win the passing yardage crown and throw at least 30 interceptions. Tarkenton had the good sense to retire after he did it, making Winston the first QB since 1979 to not to return to the team with whom he won the passing title the year before. Winston is now the backup in New Orleans on one-year deal that gives him a chance for career reboot under the tutelage of Drew Brees and coach Sean Payton. Perhaps playing in the Saints system will improve his decision making, as it relies on short-to-intermediate high-percentage throws, rather than airing it out - Winston attempted a league-leading 152 passes longer than 15 yards last season; the Saints attempted exactly half that. Winston also had corrective eye surgery in the offseason for nearsightedness, which at least means he'll be able to read the scoreboard now (not that eye surgery is foolproof). But even if Brees gets hurt, there's no guarantee Winston would get the snaps with Taysom Hill itching for a bigger role. Check back after Winston's gap year.
Winston was suspended the first three games last year, during which time Ryan Fitzpatrick set the NFL on fire. Winston took over when Fitzpatrick inevitably imploded, only to lose the starting job again - after throwing 10 interceptions in four games - for three weeks midseason. After replacing Fitzgerald again in Week 11, Winston finally settled into a nice groove, throwing multiple touchdown passes in five of his last seven games. In that span, he completed 64.3 percent of his passes with 7.9 YPA, 13 touchdowns, four interceptions and three 300-yard games. Winston led the league in average depth of target at 11.3 yards, but his bad pass percentage was fourth highest at 22.8 percent, and his 3.7 INT rate was third highest. That's Winston in a nutshell - a strong arm and aggressive mentality, but prone to mistakes and turnovers. He had 17 turnovers last season (14 INT, 3 fumbles lost), third most in the league despite playing only 11 games. Since he came into the league in 2015, no player has more turnovers than Winston's 76. The Buccaneers led the league in passing under coach Dirk Koetter, but that didn't help him keep his job at season's end. In steps Bruce Arians, who likes to push the ball downfield as much as Koetter. Winston has to learn a new offense, but he should have just as many opportunities to make big plays. Fitzpatrick is gone, so he won't loom over Winston's shoulder again, and the 25-year-old quarterback still has plenty of playmakers between Mike Evans, Chris Godwin, O.J. Howard and Cameron Brate.
Winston improved his accuracy and efficiency last season, posting career highs in completion percentage and YPA. But his downfield passing is still holding him back from taking that next step, specifically deep throws beyond 30 yards. On attempts of 21-30 yards, Winston ranked 13th in completion percentage with four touchdowns and one interception. On attempts of more than 30 yards, Winston completed just three of 21 passes (14.3 percent), ranking 26th in the league among 29 qualified passers. DeSean Jackson was supposed to help with the downfield game, but he came away with career lows in yards per catch and yards per target. Coach Dirk Koetter seemed to blame Winston this offseason when he said he made a tape of plays where Jackson was open but didn't get the ball. Winston was hampered by a shoulder injury for an uncertain number of weeks before missing three games midseason. When he returned, he posted an 8.7 YPA in the last five games, completing 67.2 percent of his passes and averaging 317 yards per game. Perhaps the shoulder was a bigger deal than he let on. In any event, Winston has plenty of weapons to target, including WR Mike Evans. This year he might even get a running game after the Bucs drafted Ronald Jones II in the second round. But Winston is suspended for the first three games of the season, so he won't get to work within this new reality until Week 4.
Winston turned in another serviceable season, improving marginally from his rookie year. He increased his passing touchdowns by six while giving back five rushing touchdowns. But while 4,000 yards and nearly 30 touchdowns are, of course, noteworthy, Winston needs to improve his accuracy and decision making to reach his potential. His YPA and completion percentage are mediocre at best, and he's thrown 33 picks in two years. He also fumbled 10 times last year, losing six. Specifically, his downfield passing needs work after he posted 9.6 YPA (24th) with six interceptions, third most in the league, on passes more than 20 yards last season. That aspect of his game should at least improve this year with the addition of burner DeSean Jackson, who gives the strong-armed Winston a deep threat he hasn't had. Jackson's speed should also attract more safety help, opening the field for No. 1 receiver Mike Evans and the tight end combo of Cameron Brate and rookie O.J. Howard. Coach Dirk Koetter said this offseason he wants to take advantage of Winston's skills throwing on the run and introduce more designed rollouts for the quarterback. Perhaps that will get him in space to add rushing yards as well. In any event, it's time for Winston to prove he's a franchise quarterback.
The first overall pick in the 2015 draft, Winston put together a fairly impressive rookie season, starting all 16 games for the Buccaneers while joining Andrew Luck and Cam Newton as the only rookies in NFL history to throw for more than 4,000 yards. He also proved to be surprisingly valuable on the ground, with his six rushing TDs second only to Newton's 10 among all quarterbacks, though he only ranked 11th in rushing yards (210). Winston's excellent instincts are his primary asset, as he was sacked just 27 times (tied for 19th in the league) and showed an uncanny knack for keeping plays alive, often using his size to stay upright while waiting for a route to develop. He also possesses a big arm capable of stretching the field, and while the hitch in his delivery does slow his release time, similar QBs such as Ben Roethlisberger and Philip Rivers have worked around mechanical quirks. Winston's decision making could also use some work, but his best chance for improvement in 2016 could come simply through better health in his supporting cast. Mike Evans, Vincent Jackson and Austin Seferian-Jenkins all missed time with injuries, and if they can stay on the field more consistently Winston's efficiency shouId rise.
The first overall pick in this year's draft, Winston will start from Day 1. He has excellent physical tools — above-average arm strength, a soft touch, elite anticipation. At 6-4, 231, he is strong in the pocket and has already played in a pro-style offense at Florida State, which, the Bucs hope, will hasten his transition to the NFL. Character, of course, is his biggest red flag, and only time will tell on that account. For being the worst team in football last year, the Buccaneers have some impressive offensive weapons, which should help Winston's development. Wide receivers Vincent Jackson and Mike Evans, both 6-5, each surpassed 1,000 yards receiving last year and give Winston big targets downfield and in the red zone. Tight end Austin Seferian-Jenkins, another 6-5 target, is expected to have a bigger role this year after being limited by injuries as a rookie. The Buccaneers used their two second-round picks on linemen Donovan Smith and Ali Marpet to revamp an offensive line that allowed 52 sacks last year, third most in the league. Winston should also benefit from the up-tempo offense run by new offensive coordinator Dirk Koetter, whose teams in Atlanta averaged 631 pass attempts (2nd) and also threw the fourth-most red-zone passes (240) over the last three seasons.
More Fantasy News