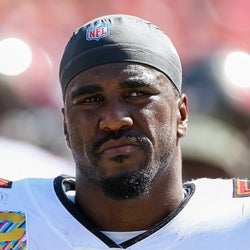 2023 Fantasy Outlook
There was no outlook written for Lavonte David in 2023. Check out the latest news below for more on his current fantasy value.
RANKS
#

IDP
$Signed a one-year, $7 million contract with the Buccaneers in March of 2023.

ANALYSIS
The 33-year-old linebacker started all 17 games last season, finishing with his most tackles (124) since 2015 and his most sacks (three) since 2018. Pro Football Focus even graded David third among off-ball linebackers (85.1 score), though teammate
Devin White
had better IDP numbers while grading out 74th of 81 qualifiers (43.7). Both are viable candidates to lead the Bucs in tackles in 2013, but White's superior speed and pass rushing makes him the more attractive IDP option even if he's not quite as reliable from snap to snap as Tampa Bay's elder statesman in the linebacking corps.
Read More News
NFL Stats
2022
2021
2020
2019
2018
2017
2016
2022 NFL Game Log

Calculate Stats Over Time
Just click on any two dates.
2021 NFL Game Log

Calculate Stats Over Time
Just click on any two dates.
2020 NFL Game Log

Calculate Stats Over Time
Just click on any two dates.
2019 NFL Game Log

Calculate Stats Over Time
Just click on any two dates.
2018 NFL Game Log

Calculate Stats Over Time
Just click on any two dates.
2017 NFL Game Log

Calculate Stats Over Time
Just click on any two dates.
2016 NFL Game Log

Calculate Stats Over Time
Just click on any two dates.
Snap Distribution / Depth Chart
2022 Lavonte David Split Stats
Loading NFL Split Stats...
Measurables Review
How do Lavonte David's measurables compare to other linebackers?
This section compares his draft workout metrics with players at the same position. The bar represents the player's percentile rank. For example, if the bar is halfway across, then the player falls into the 50th percentile for that metric and it would be considered average.
Recent RotoWire Articles Featuring Lavonte David
See More
Past Fantasy Outlooks
2022
2021
2020
2019
2018
2017
2016
2015
2014
2013
2012
Since the Buccaneers selected David in the second round of the 2012 Draft, he's regularly put up 100 tackles per campaign, but he fell just shy of that threshold (97, to be exact) in 2021. It didn't help that he missed five contests due to ankle and foot sprains, but he exited last year with a clean bill of health after posting 13 total tackles in Tampa Bay's two playoff games. Entering his age-32 season, David again should be good for triple-digit tackles, assuming he avoids the injury bug.
Although his best days are likely behind him, David remains one of the NFL's top linebackers. That's why the Buccaneers had no qualms giving him a two-year, $25 million contract extension, even with age 32 waiting for him after the season. Strong in all phases of defensive play, David is capable of sacks and interceptions despite lacking in those categories in recent years. With a 1,100-snap workload likely waiting for him, 120-plus tackles should be the expectation otherwise, which would mark his ninth season of triple-digit tackles in 10 NFL seasons.
David remains one of the top linebackers in the league, even years after establishing himself as an All-Decade defender, and he should have at least a couple more good seasons in store. The Buccaneers defense conceded nothing at all to opposing running backs, allowing just 3.0 yards per carry and 4.17 yards per target, and David's play was a leading reason why. Unfortunately, the Tampa Bay run defense was so strong it resulted in limited tackle opportunities for David. Teams attempted a league-low 300 running back attempts against Tampa, and he accumulated 123 tackles on a mammoth workload of 1,160 snaps. David used to breeze past 140 tackles on fewer than 1,000 snaps, so you can see how much the tackle rate dwindled. Success might burden David again somewhat in 2020 - the Buccaneers run defense looks infallible - but his skill and workload assure him a high floor at least.
Kwon Alexander stole a lot of tackles from David in recent years, but with Alexander gone, it's time for David to reestablish himself as an LB1 contender. An All-Decade talent since 2012, David opened his career with 139, 145, 146 and 147 tackles in his first four years, also totaling 13 sacks and nine interceptions in that span. Last year's 120 tackles is his highest total since, but bet the over in 2019, and expect him to remain a unique threat as a blitzer, interceptor and and even fumble producer (18 FF, 13 FR since 2013).
As much as teammate Kwon Alexander is the superior IDP option, David remains the most feared linebacker in Tampa by real-life standards. His days of averaging 140-plus tackles per year appear gone for now due to a change in positional tasks, but David was still on a 125-tackle pace if not for a shoulder injury limiting him to 13 games last year, and no one makes plays like David does. He's an outstanding blitzer (18 career sacks), and he's a turnover machine with 10 interceptions and 17 forced fumbles in six years. There is big upside here despite his relatively quiet last two years.
David had one of the most puzzling seasons in recent memory last year, as the former tackle machine finished with just 87 stops after averaging more than 140 tackles per season in the four prior years. David was effective in real life --- the Buccaneers defense thrived, and he was a menace behind the line of scrimmage, posting five sacks and four forced fumbles. His usage in Tampa Bay's scheme clearly changed, and it's possible that low-upside usage continues, but David's prolonged history of extremely high tackle volume makes last year appear the more likely aberration.
Few players in the league carry the quality guarantee that David does, as he's produced at an elite level with remarkable consistency in his four NFL seasons. His lowest tackle total in that span was 139 as a rookie, peaking with 147 in 2015. Het active both as a pass rusher and in coverage, totaling 13 sacks and nine interceptions in 62 games. With 32 career passes defended, David could see his interception rate increase if the Tampa pass rush improves. The additions of DEs Robert Ayers (free agency) and Noah Spence (second-round pick) give hope on that front.
If there is a linebacker rival to Luke Kuechly, David might be the most formidable contender. He averaged 10.5 tackles per game last year, posting 147 stops despite missing two games due to a concussion and a hamstring injury. David is rangy, instinctive and aggressive, dominating against the run with top-grade abilities as a blitzer and in coverage. However, his weakside role last year in Lovie Smith's 4-3 defense contributed to a big drop in both sacks and interceptions, as he was used in fewer passing situations and played a career-low 919 snaps. Considering the Bucs were 21st in sacks last season and had seven fewer interceptions than in 2013, it wouldn't surprise if David was again used as a weapon on passing downs instead of almost exclusively as a run stopper.
David has been remarkably productive in his first two seasons, following up a 139-tackle rookie season with an enormous 2013, increasing his tackle total to 145 while adding seven sacks and five interceptions. When it comes to dominating in tackles, sacks and interceptions, David might be the best linebacker in the league. Although he seems likely to hover in the 135 to 145-tackle range and is therefore unlikely to challenge players like Vontaze Burfict and Luke Kuechly in that regard, David is one of the top-tier options when it comes to making plays in coverage and as a pass rusher. New coach Lovie Smith is among the brightest defensive coaches in the game, and it would be rather surprising if he didn't recognize David's sack and interception potential and scheme in ways to capitalize accordingly. After all, it was under Smith's watch that Brian Urlacher enjoyed some of his most successful seasons in the NFL. Urlacher posted at least five sacks in three of his first four years under Smith before injuries began to take their toll.
Like Luke Kuechly and Bobby Wagner, David emerged as one of the league's elite linebackers as a rookie last year, finishing with 139 tackles (112 solo), two sacks and an interception, and he's locked in for a three-down role again in 2013. It's likely no coincidence Tampa Bay fielded the league's top run defense when David arrived from Nebraska, as the rangy linebacker was a menace at and behind the line of scrimmage. David deserves a boost in the rankings if your league accounts for tackles for loss ("stuffs") as he finished last year with 16.5 stops behind the line of scrimmage. David had 24.5 tackles for loss in his 27 games at Nebraska, so this trend won't slow anytime soon. Fellow linebackers Mason Foster and Jonathan Casillas are not threats to eat into David's snap or tackle counts either.
He barely looks like 225 pounds when he's on the field, but David's standout athleticism, refined technique and rare instincts have him locked into the Tampa Bay starting defense, and if his college career is any indication, good IDP production awaits. He finished his two seasons at Nebraska with 285 tackles (150 solo) in 27 games, as well as 11.5 sacks and 24.5 tackles for loss. He's obviously unproven as a rookie, but David is a sensible later-round investment and could be among the league tackle leaders early in his career.
More Fantasy News