This article is part of our MLB Observations series.
My NFBC Main Event draft just took place this afternoon, a $1700 buy-in, 15-team league with a $150,000 grand prize. I drew the fifth pick.
Here are the results: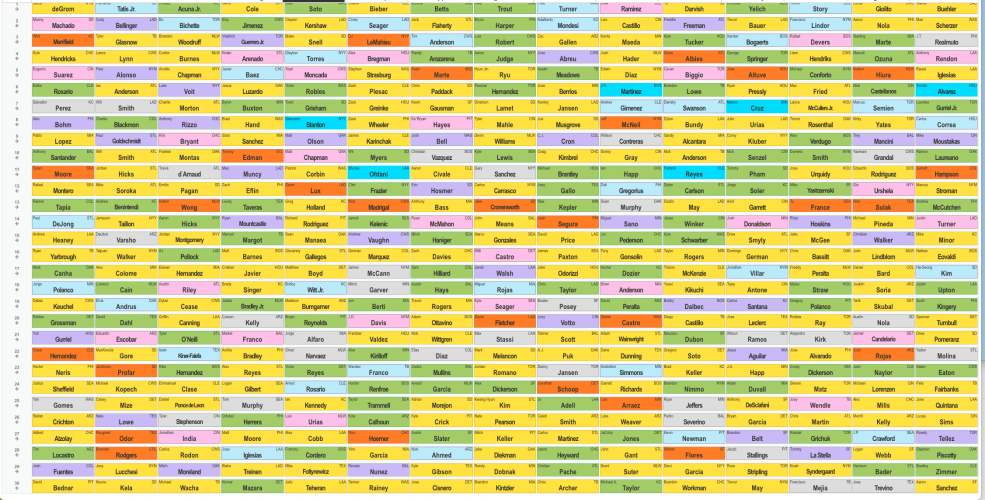 To enlarge image, click here.
Before I get into the specifics I have to say this was one of the more enjoyable drafts I've done. I vowed to toss ADP into the trash bin (to the greatest extent practicable) and I did that, taking players I wanted throughout. (I was still conscious of ADP to an extent, but as long as there was a chance the player I liked best wouldn't return to me, I took him without regard for how much later I might have gotten him if things broke my way.)
Surprisingly, since almost every pick I made was expensive relative to ADP, it made roster construction easier, not harder. Halfway through the draft I had my saves, steals, power and aces. I spent the last half of the draft, mostly adding pitching and outfield depth.
1.5 Juan Soto -- It was between Soto and Mookie Betts, and I went with the younger player who might not have hit his ceiling yet.
2.11 Clayton Kershaw -- Thought I'd be deciding between Kershaw and Jack Flaherty, made up my mind to take Flaherty, only to see him go two picks before me. So I took Kershaw.
3.5 Blake Snell -- I had vowed to get pitchers in Rounds 2 and 3, assuming Tyler Glasnow or Snell would be there, but after Shawn Childs took Glasnow at 3.2, and Team 3 took Brandon Woodruff, I was at the mercy if Team 4 to leave me the last pitcher I saw as a third-round value. Luckily he took Vlad Guerrero (who I also like) and I was left with Snell.
4.11 Gleyber Torres -- I have Torres everywhere, as a perfect last year's bum. A good player in the prime of his career, hitting in a loaded lineup. I would have taken Alex Bregman though, but I missed him by one pick. Something I discovered about Bregman today -- the hamstring injury he had this winter is not on the same leg as the one he had last summer.
5.5 Yoan Moncada -- I jumped him a full round, but he wasn't coming back me (if ADP were to be believed), and he was the player I liked best. Another prime player hitting in a good park and good lineup.
6.11 Victor Robles -- I probably set the all-time high for him, but he's healthy, stealing bases this spring and might hit leadoff. He probably would have lasted until 7.5, but I looked at my options and realized I'd be most upset if he were taken in the interim, so I didn't take the chance.
7.5 Trent Grisham -- He's battling a Grade 1 hamstring strain which is the only reason he lasted this long. Between him and Robles, and with contributions from Soto and Moncada, I should be set in steals. I thought about Kenley Jansen who is by far the best-priced elite closer, but I chose to stick to my guns and punt closers until after Round 10.
8.11 Giancarlo Stanton -- I took him narrowly over Matt Olson, even though I needed a first baseman. I get Stanton every year, just never at this price. Hopefully he can play 140 games and hit 45 homers.
9.5 Matt Olson -- I was surprised to see him still there, and I picked him immediately. Between Stanton, Olson, Torres and Soto, power shouldn't be a problem.
10.11 Matt Chapman -- He's a good player, and he seems healthy after offseason surgery.
11.5 Patrick Corbin -- A veteran starter/last year's bum on a good team. I needed some pitching depth after Kershaw and Snell.
12.11 Gavin Lux -- It looks like he'll be a regular at second base after a good spring. He's a massive prospect and at the right age to break out.
13.5 Greg Holland -- He's my favorite of the Tier 3 closers, almost certainly getting the job to start the year, and the Royals aren't a complete joke.
14.11 Richard Rodriguez -- Another likely closer on a bad team. But bad teams win games by smaller margins.
15.5 Sean Manaea -- His velocity is way up this spring, and he's pitching in the right park.
16.11 Giovanny Gallegos -- I expect him to open the season as the Cardinals closer, and I'm not sure he ever gives up the job, even when Jordan Hicks is completely healthy.
17.5 Matthew Boyd -- Boyd is discounted because he was terrible last year. But he was pitching hurt and is healthy now. A deadened ball would especially help a homer-prone fly-baller like Boyd, too.
18.11 Bobby Witt, Jr. -- I made this pick about 10 minutes after he was officially sent down. Oh well. Just remember they sent Mike Trout down his rookie year too. I've heard people comment that it makes no sense to draft someone who only played in Rookie ball, but that was in 2019, not 2020. Just because we don't have a bunch of Double-A stats for him doesn't mean he wasn't developing at the alternate site last year. In fact, it's widely reported he was a star at that site, and he was having a good spring. Obviously I would have waited five more rounds had I known he were demoted, but I won't sweat overpaying for my 18th rounder. (Plus I got mocked for the pick in the Draft Room which almost always bodes well for it panning out.)
19.5 Madison Bumgarner -- Apparently his velocity is back up to 90-91 this spring, as opposed to 88.4 last summer.
20.11 Bryan Reynolds -- He had a terrible two months, but was a good hitter in 2019 and has the job locked down.
21.5 Jorge Alfaro -- I needed a catcher, and he is one.
22.11 Omar Narvaez -- see Alfaro, Jorge. I did try to pick players who had shown some offensive potential at one point.
23.5 Victor Reyes -- A nice cheap source of steals who should start for the Tigers.
24.11 Amed Rosario -- I keep drafting him lately because I'm sure he'll produce if he gets to play. He hasn't looked good in the outfield, but the Indians just sent down Oscar Mercado.
25.5 Ian Kennedy -- I think he'll beat out Jose Leclerc for the closer job. Leclerc has never been good, and Kennedy has experience.
26.11 Luis Urias -- He raked in the high minors in 2019, and he's the starting third baseman in a good park.
27.5 Alex Cobb -- Apparently he touched 94 this spring, and now he's finally out of Baltimore.
28.11 Franchy Cordero -- He's ostensibly the starting left fielder for the Red Sox and has shown flashes of power and speed.
29.5 Mike Foltynewicz -- He's throwing 95 this spring, and Texas might be a pitcher's park now.
30.11 Julio Teheran -- I've always said I'd rather move to Tehran than roster Teheran, and now I've done it twice. His velocity is up, and he's in a good park too.
Roster By Position
1B Matt Olson
2B Gavin Lux
3B Yoan Moncada
CI Matt Chapman
MI Amed Rosario
OF Juan Soto/Victor Robles/Trent Grisham/Bryan Reynolds/Victor Reyes
SP Clayton Kershaw/Blake Snell/Patrick Corbin/Sean Manaea/Matthew Boyd/Madison Bumgarner
RP Greg Holland/Richard Rodriguez/Giovanny Gallegos
B: Bobby Witt/Luis Urias/Ian Kennedy/Franchy Cordero/Alex Cobb/Mike Foltynewicz/Julio Teheran