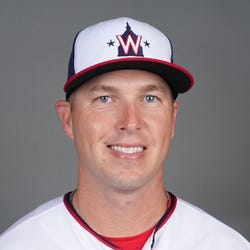 Rest-of-Season Projections
2023 Fantasy Outlook
Dickerson landed in St. Louis for 2022 and had a largely unremarkable campaign for the NL Central champions, and he finished with a .699 OPS, six homers and 36 RBI in 97 games. He had a .304/.341/.565 slash line in 2019 and a .832 OPS for his career at that point, but his bat hasn't had as much pop over the past few years. Dickerson, who will turn 34 years old in May, inked a one-year, $2.25 million deal with the Nationals, and he should open 2023 with a starting role given the club's otherwise unproven and unremarkable outfielders. He has just 81 plate appearances against left-handed pitching across the past two seasons, and that's unlikely to change while he's with Washington. Dickerson consistently hits for a solid average -- he's never batted below .245 through 10 MLB seasons -- but doesn't offer much else fantasy utility, especially as a fairly strict platoon player.
Read Past Outlooks
$Signed a one-year, $2.25 million contract with the Nationals in January of 2023.

Out of lineup versus lefty
ANALYSIS
Stone Garrett
,
Alex Call
and
Lane Thomas
will start across the outfield for the Nationals with the Diamondbacks throwing left-hander
Tommy Henry
. Dickerson has posted an overall .840 OPS when healthy this year, but he'll probably continue to sit against most lefties.
Read More News
Batting Stats
2023
2022
2021
2020
2019
2018
2017
2023 MLB Game Log

Calculate Stats Over Time
Just click on any two dates.
Scoring
FanDuel
DraftKings
Yahoo DFS
Loading Batting Game Log...
2022 MLB Game Log

Calculate Stats Over Time
Just click on any two dates.
Scoring
FanDuel
DraftKings
Yahoo DFS
Loading Batting Game Log...
2021 MLB Game Log

Calculate Stats Over Time
Just click on any two dates.
Scoring
FanDuel
DraftKings
Yahoo DFS
Loading Batting Game Log...
2020 MLB Game Log

Calculate Stats Over Time
Just click on any two dates.
Scoring
FanDuel
DraftKings
Yahoo DFS
Loading Batting Game Log...
2019 MLB Game Log

Calculate Stats Over Time
Just click on any two dates.
Scoring
FanDuel
DraftKings
Yahoo DFS
Loading Batting Game Log...
2018 MLB Game Log

Calculate Stats Over Time
Just click on any two dates.
Scoring
FanDuel
DraftKings
Yahoo DFS
Loading Batting Game Log...
2017 MLB Game Log

Calculate Stats Over Time
Just click on any two dates.
Scoring
FanDuel
DraftKings
Yahoo DFS
Loading Batting Game Log...
Minor League Game Log

Calculate Stats Over Time
Just click on any two dates.
Loading Minor League Batting Game Log...
Batting Order Slot Breakdown
#1
#2
#3
#4
#5
#6
#7
#8
#9
#1
#2
#3
#4
#5
#6
#7
#8
#9
Left/Right Batting Splits
OPS
PA
HR
RBI
AVG
Since 2021

vs Left

.533
89
0
3
.188
Since 2021

vs Right

.750
622
14
71
.281
2023

vs Left

.804
8
0
0
.286
2023

vs Right

.804
41
2
9
.270
2022

vs Left

.258
28
0
0
.077
2022

vs Right

.743
269
6
36
.286
2021

vs Left

.642
53
0
3
.234
2021

vs Right

.749
312
6
26
.277
More Splits

→

View More Split Stats
Home/Away Batting Splits
OPS
PA
HR
RBI
AVG
Since 2021

Home

.623
362
4
34
.242
Since 2021

Away

.830
349
10
40
.299
2023

Home

.602
21
0
2
.263
2023

Away

.957
28
2
7
.280
2022

Home

.555
157
2
17
.220
2022

Away

.861
140
4
19
.321
2021

Home

.684
184
2
15
.259
2021

Away

.785
181
4
14
.284
More Splits

→

View More Split Stats
Stat Review
How does Corey Dickerson compare to other hitters?
This section compares his stats with all batting seasons from the previous three seasons (minimum 400 plate appearances)*. The bar represents the player's percentile rank. For example, if the bar is halfway across, then the player falls into the 50th percentile for that stat and it would be considered average.
* Exit Velocity and Barrels/PA % are benchmarked against 2019 data (min 400 PA) and Hard Hit Rate is benchmarked against last season's data (min 400 PA).
See here for more exit velocity/barrels stats
plus an explanation of current limitations with that data set.
BB/K

Walk to strikeout ratio

BB Rate

The percentage of plate appearances resulting in a walk.

K Rate

The percentage of plate appearances resulting in a strikeout.

BABIP

Batting average on balls in play. Measures how many of a batter's balls in play go for hits.

ISO

Isolated Power. Slugging percentage minus batting average. A computation used to measure a batter's raw power.

AVG

Batting average. Hits divided by at bats.

OBP

On Base Percentage. A measure of how often a batters reaches base. Roughly equal to number of times on base divided by plate appearances.

SLG

Slugging Percentage. A measure of the batting productivity of a hitter. It is calculated as total bases divided by at bats.

OPS

On base plus slugging. THe sum of a batter's on-base percentage and slugging percentage.

wOBA

Weighted on-base average. Measures a player's overall offensive contributions per plate appearance. wOBA combines all the different aspects of hitting into one metric, weighting each of them in proportion to their actual run value.

Exit Velocity

The speed of the baseball as it comes off the bat, immediately after a batter makes contact.

Hard Hit Rate

A measure of contact quality from Sports Info Solutions. This stat explains what percentage of batted balls were hit hard vs. medium or soft.

Barrels/PA

The percentage of plate appearances where a batter had a batted ball classified as a Barrel. A Barrel is a batted ball with similar exit velocity and launch angle to past ones that led to a minimum .500 batting average and 1.500 slugging percentage.

Expected BA

Expected Batting Average.

Expected SLG

Expected Slugging Percentage.

Sprint Speed

The speed of a runner from home to first, in feet per second.

Ground Ball %

The percentage of balls put in play that are on the ground.

Line Drive %

The percentage of balls put in play that are line drives.

Fly Ball %

The percentage of balls put in play that are fly balls.
Advanced Batting Stats
Loading Advanced Batting Stats...
Games By Position
Defensive Stats
Loading Games Played by Position...
Loading MLB Defensive Stats...
Batted Ball Stats
Loading Batted Ball Stats...
Stats Vs Upcoming Pitchers
Our full team depth charts are reserved for RotoWire subscribers.
Subscribe Now
Recent RotoWire Articles Featuring Corey Dickerson
See More
Past Fantasy Outlooks
2022
2021
2020
2019
2018
2017
2016
2015
2014
2013
2012
Corey Dickerson held a near full-time role in 2016-2018 of an average of 570 plate appearances, but then battled injuries. Especially in 2019, Dickerson landed on the 60-day injured list twice for shoulder and foot injuries. In 2021, Dickerson came off another injury-riddled season with six home runs, 43 runs, 29 runs, and six steals combined with the Marlins and Blue Jays. Dickerson typically provided a solid batting average with a .271 BA in 2021 compared to .283 for his career. Although Dickerson doesn't thrive via hard-hit metrics, he still boasts an above-average barrel rate of 7.5%. The healthy 23.1% LD% and .327 BABIP help keep the batting average afloat. Monitor Dickerson's landing spot and health, but he'll provide a healthy batting average with double-digit home runs and a handful of steals. Dickerson might land in a platoon role with a career .708 OPS against lefties.
Dickerson was one of the few Marlins who did not play over his skis en route to their surprise postseason appearance. He's a great lesson in looking at component average exit velocity. Historically, Dickerson's average exit velocity appears low, but his groundball velocity is lower than average while his flyball velocity is above average. Last season not only was Dickerson's exit velocity on flyballs down, but his groundball percentage skyrocketed at the expense of line drives, suggesting he topped the ball even more than usual. Dickerson suffered a drop in both average and power, posting the least productive season of his career. There's no way of telling how the in-season delay in Miami affected Dickerson's ability to get in a groove, but his history merits a mulligan. Dickerson has always flown under the radar in fantasy and this year will be no different.
Dickerson surprised many by hitting .300 for a second consecutive season, as it was long thought his ability to do that was anchored to him hitting in Coors Field. He has now done it in as many seasons away from Coors as he did in Colorado. Injuries cut into his overall production last season; he was on pace to have a career year around the injuries which limited him to just 78 games. Dickerson has cured his issues against lefties that plagued him earlier in his career enough that he is at least league average in those situations. After signing a two-year deal with the Marlins, Dickerson appears likely to play nearly every day in 2020, and the Marlins announced that they are moving in the center-field and right-center-field fences in Miami this season. Dickerson has the skills to be a player that provides you with a 200% return on your draft-day investment as long as you don't reach for him.
Dickerson adopted a contrarian approach, putting more balls in play, knowingly at the expense of power. After analyzing video, Dickerson began choking up while adjusting his stance based on the type of pitcher, allowing him to catch up to fastballs at a highly increased clip. The result was indeed a sharp decline in whiffs with a steep drop in HR/FB. Curiously, the rest of Dickerson's underlying metrics were like the previous season, including hard-hit rate, exit velocity and launch angle. In fact, his launch angle ticked up a degree, running anti to hitting fewer homers. While Dickerson stated he was pleased with his new swing, his 2018 wOBA and wRC+ were identical to 2017. That said, it's possible the next step is for Dickerson to add pop with the altered stroke. After winning the Gold Glove, there's less of a chance he falls back into a platoon, making Dickerson an intriguing play with a new batting average floor plus power upside at an affordable price.
On the surface, it appears Dickerson figured out how to hit lefties, as he sported a higher OPS in 2017 when batting without the platoon advantage. However, it takes about 1,000 plate appearances for a lefty swinger against southpaws before he owns the split. Including last season, Dickerson isn't even halfway to that threshold, so assuming he continues to hit left-handers is risky. That said, Dickerson's gains were in average as he hit just three of his 27 homers with a lefty on the hill. Dickerson remains what he was heading into last season -- a power bat with batting average dependent on BABIP (mid-70s contact rate). His success against lefties will likely afford him a chance to play close to every day with Pittsburgh following a February trade, but he could platoon if those gains don't hold. Despite hitting high in the order, Dickerson's run production is likely to fall short of other similar hitters, as the Pirates' offense does not project to be especially prolific with Andrew McCutchen gone.
Dickerson proved he wasn't just a Coors Field mirage in his first season in Tampa, as he equaled his career high with 24 homers while reaching the 70-RBI mark for the second time in his career. His walk rate also saw a slight boost to 6.0 percent, while his contact rate essentially held steady. The 27-year-old provided plenty of optimism for 2017 by finishing the season on a high note, slashing .291/.328/.527 with six homers and 18 RBI over his last 110 at-bats. Dickerson was a prolific source of extra-base hits, tallying a whopping 63 overall, including 36 doubles. Having had a full season to acclimate to American League pitching and his new home digs, Dickerson could be primed for another step up fantasy-wise in 2017.
Plantar fasciitis and rib fractures limited Dickerson to just 65 games in 2015, his first season as an Opening Day starter in Colorado. He enjoyed a good deal of success when healthy, slashing .304/.333/.536 in 234 plate appearances and managing 10 home runs in the truncated campaign. Dickerson already has 39 home runs in 925 career plate appearances, shy of two full season's worth of at-bats. His fantasy outlook for 2016 took a hit with the late-January trade to Tampa Bay, as he now faces a likelihood of being platooned in addition to the downgrade in home park. That said, the park factor downgrade may be a bit overblown, as the Trop hasn't been a wasteland for left-handed power, and the AL East as a whole is generally favorable for left-handed power hitters. Dickerson does enough with the ball when he hits it that his 21.4% career strikeout rate has been a non-issue, and he can easily reach 20-plus home runs if healthy for a full season no matter where he plays. Don't expect to see Dickerson run much, though, as he wasn't overly aggressive on the basepaths even before the foot injury last season.
Though he opened the season in a reserve role, Dickerson might have been the Rockies' offensive MVP by the end of it. When injuries to Michael Cuddyer and Carlos Gonzalez opened up playing time, Dickerson took full advantage, smacking a team-leading 24 homers, adding a dash of steals, and batting .312, a mark that would have placed him fourth in the NL had he logged 24 more plate appearances to qualify. Likely locked into a starting role for 2015, Dickerson won't fly under the radar this season, but he isn't necessarily a safe bet to fully replicate his production, either. Dickerson saw a 363-point drop in OPS on the road last season and was mediocre against lefty pitching, posting a .308 OBP while striking out in more than a quarter of his 98 plate appearances. The latter deficiency puts him at risk of slipping back into a platoon role with Drew Stubbs, potentially hurting his counting totals. Dickerson will carry the most utility in formats with daily lineup moves, where he can be better optimized when the park and pitcher handedness favor him.
Dickerson had always been regarded as a quality prospect in the Rockies' system during his previous seasons in the minors, but it wasn't until he compiled an otherworldly .371/.414/.632 line at Triple-A Colorado Springs that legitimate hope sprouted that he could be an everyday big leaguer. He got his first crack at meaningful duty with the Rockies in the second half, maintaining the 7.5% walk rate he showed at Triple-A while batting .263 and showcasing encouraging gap power. What was somewhat concerning for Dickerson was his vast difference in home/road splits, as he slashed just .231/.268/.308 away from Coors Field. That issue is certainly not unique to Dickerson, but it's something that might be significant enough for Charlie Blackmon to win the starting left field job, limiting Dickerson to fourth-outfielder status.
For what Dickerson might have sacrificed in the power department in moving away from a cushy home ballpark at Low-A Asheville, he more than made up for it as an all-around offensive threat, batting a collective .304 and trimming his strikeout rate between stops at High-A Modesto and Double-A Tulsa. Dickerson picked up right where he left off in the regular season with a scintillating Arizona Fall League, and seems well positioned to see significant time at Triple-A Colorado Springs heading into this season. The Rockies' crowded outfield mix will probably prevent him from seeing any time in the big leagues until September, but another excellent season in the minors will surely put him on the team's radar for 2014.
While it's easy to fixate on Dickerson hitting 32 homers last season, we should also not look past the huge home/road split he had at Low-A Asheville last season. Dickerson hit 26 of his 32 homers at home, and had a OPS .620 points higher there (1.262 vs. .642). Let's see how the Rockies' eighth round pick in the 2010 draft fares at higher levels and in more neutral parks before we get too excited about his potential.
More Fantasy News