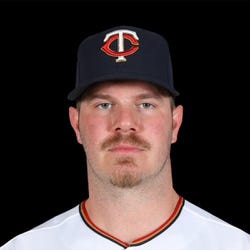 2023 Fantasy Outlook
There was no outlook written for Dylan Bundy in 2023. Check out the latest news below for more on his current fantasy value.
#

Overall
$Signed a one-year, $5 million contract with the Twins in December of 2021. Twins declined $11 million team option for 2023 in November of 2022.

ANALYSIS
An $11 million option was excessive for the righty, who posted a 4.89 ERA in 140 innings this season and struggles to miss bats with his low-velocity stuff. Bundy should get another chance to vie for an MLB roster spot somewhere next spring, but he'll likely begin the 2023 season as nothing more than a fifth or sixth starter.
Read More News
Pitching Stats
Loading Pitching Stats...
2022
2021
2020
2019
2018
2017
2022 MLB Game Log

Calculate Stats Over Time
Just click on any two dates.
Scoring
FanDuel
DraftKings
Yahoo DFS
FantasyDraft
Head2Head
Loading Pitching Game Log...
2021 MLB Game Log

Calculate Stats Over Time
Just click on any two dates.
Scoring
FanDuel
DraftKings
Yahoo DFS
FantasyDraft
Head2Head
Loading Pitching Game Log...
2020 MLB Game Log

Calculate Stats Over Time
Just click on any two dates.
Scoring
FanDuel
DraftKings
Yahoo DFS
FantasyDraft
Head2Head
Loading Pitching Game Log...
2019 MLB Game Log

Calculate Stats Over Time
Just click on any two dates.
Scoring
FanDuel
DraftKings
Yahoo DFS
FantasyDraft
Head2Head
Loading Pitching Game Log...
2018 MLB Game Log

Calculate Stats Over Time
Just click on any two dates.
Scoring
FanDuel
DraftKings
Yahoo DFS
FantasyDraft
Head2Head
Loading Pitching Game Log...
2017 MLB Game Log

Calculate Stats Over Time
Just click on any two dates.
Scoring
FanDuel
DraftKings
Yahoo DFS
FantasyDraft
Head2Head
Loading Pitching Game Log...
Minor League Game Log

Calculate Stats Over Time
Just click on any two dates.
Loading Minor League Pitching Game Log...
Pitching Appearances Breakdown
How many pitches does Dylan Bundy generally throw?
What part of the game does Dylan Bundy generally pitch?
% Games Reaching Innings Threshold
% Games By Number of Innings Pitched
Left/Right Pitching Splits
BAA
K
BB
H
HR
Since 2020

vs Left

.240
94
38
128
18
Since 2020

vs Right

.262
156
41
163
31
2022

vs Left

.254
28
9
63
7
2022

vs Right

.284
66
19
88
17
2021

vs Left

.238
32
16
35
7
2021

vs Right

.263
52
18
54
13
2020

vs Left

.217
34
13
30
4
2020

vs Right

.196
38
4
21
1
More Splits

→

View More Split Stats
Home/Away Pitching Splits
ERA
WHIP
IP
K/9
BB/9
Since 2020

Home

5.07
1.35
136.2
7.2
2.8
Since 2020

Away

4.73
1.16
159.2
7.9
2.1
2022

Home

4.26
1.30
57.0
5.4
1.7
2022

Away

5.31
1.27
83.0
6.5
1.8
2021

Home

6.75
1.48
42.2
8.0
3.4
2021

Away

5.44
1.25
48.0
8.6
3.4
2020

Home

4.38
1.30
37.0
9.0
3.6
2020

Away

1.88
0.70
28.2
11.0
0.6
More Splits

→

View More Split Stats
Stat Review
How does Dylan Bundy compare to other starting pitchers?
This section compares his stats with all starting pitcher seasons from the previous three seasons (minimum 120 innings)*. The bar represents the player's percentile rank. For example, if the bar is halfway across, then the player falls into the 50th percentile for that stat and it would be considered average.
* Exit Velocity, Barrels/BBE %, Balls Hit 95+ MPH %, and Spin Rate are benchmarked against 2019 data (min 120 IP).
See here for more exit velocity/barrels stats
plus an explanation of current limitations with that data set.
K/BB

Strikeout to walk ratio.

K/9

Average strikeouts per nine innings.

BB/9

Average walks per nine innings.

HR/9

Average home runs allowed per nine innings.

Fastball

Average fastball velocity.

ERA

Earned run average. The average earned runs allowed per nine innings.

WHIP

Walks plus hits per inning pitched.

BABIP

Batting average on balls in play. Measures how many balls in play against a pitcher go for hits.

GB/FB

Groundball to flyball ratio. The higher the number, the more likely a pitcher is to induce groundballs.

Left On Base

The percentage of base runners that a pitcher strands on base over the course of a season.

Exit Velocity

The speed of the baseball as it comes off the bat, immediately after a batter makes contact.

Barrels/BBE

The percentage of batted ball events resulting in a Barrel. A Barrel is a batted ball with similar exit velocity and launch angle to past ones that led to a minimum .500 batting average and 1.500 slugging percentage.

Spin Rate

Spin Rate is the rate of spin on a baseball after it is released. It is measured in revolutions per minute (rpm).

Balls Hit 95+ MPH

The percentage of batted balls hit that met or exceeded the 95 MPH threshold.

Swinging Strike

The percentage of pitches that result in a swing and a miss.
Advanced Pitching Stats
Loading Advanced Pitching Stats...
Loading MLB Defensive Stats...
Recent RotoWire Articles Featuring Dylan Bundy
Past Fantasy Outlooks
2022
2021
2020
2019
2018
2017
2016
2015
2014
2013
2012
Bundy finished last season on the 60-day injured list with a shoulder strain. He struggled before the season-ending injury as he had a 6.06 ERA and 1.36 WHIP in 90.2 innings. Bundy had the best season of his career in 2020, when he logged a 3.29 ERA, 1.04 WHIP and 72 strikeouts in 65.2 innings. Minnesota signed him as reclamation project and he'll compete for a spot in the starting rotation. His 2020 strikeout rate (27.0%) and walk rate (6.4%) stand out as career outliers, but show his upside. He currently sits near the top of Minnesota's rotation depth chart, but the team is likely to bring in more veterans making Bundy more of a fifth starter candidate.
Few players benefited from a change of scenery as much as Bundy did in 2020. After a series of mediocre campaigns in Baltimore, the right-hander excelled in his first season with the Angels, posting a career-best ERA (3.29), strikeout rate (27.0%) and walk rate (6.4%) en route to a ninth-place finish in AL Cy Young voting. Perhaps most impressively, Bundy ranked eighth among qualified pitchers with a 0.69 HR/9 -- only two seasons removed from placing dead last in the category by a considerable margin. Playing home games at a more favorable ballpark was a factor, but it's also worth noting that Bundy has pitched to notable dropoffs in opponents' barrel rate, exit velocity and hard-hit percentage since the disastrous 2018 campaign. He no longer throws heat but has adjusted by better mixing up his pitches. The results in 2020 were impressive; the next test is to see if they can hold up over a full season.
In the year of the home run, Bundy of all people lowered his home-run rate. That said, 1.6 per nine innings (down from 2.2 HR/9) is still going to lead to some damage. Bundy got the strikeouts, but that is where his fantasy value ended because the team he pitched for and the ballpark he pitched most of his games in did him no favors. Bundy throws his fastball 50% of the time, and while it has above-average spin, it has below-average velocity these days. Still, Bundy keeps hitters off balance and did a good job of limiting hard contact last year. A change of scenery following a December trade to Anaheim makes Bundy instantly more attractive for fantasy players, as he goes from one of the more hitter-friendly parks in baseball to a more neutral environment, though Angels Stadium has played more favorably for left-handed power in the last two years since they lowered the right-field home-run boundary.
There isn't a clearer example of control (throwing strikes) versus command (throwing where you want) than Bundy. He has good control as exhibited by 7.2% and 7.3% walk rates the past two seasons, below the 8.5% league average. His stuff is good as evidenced by an above-average 12.7% swinging-strike rate, fueling a solid 24.5% strikeout rate despite a 92 mph average fastball. Then there's the homers: 41 of them in just 171.2 innings. While a flyball pitcher of Bundy's ilk is prone to homers, and an 17.8% HR/FB likely includes some bad luck, Bundy's poor command was the primary reason for extreme gopheritis. A .316 BABIP for a flyball pitcher is another example of too many meatballs. So long as he remains in Camden Yards, Bundy will sport a high home-run rate. To be fantasy relevant, especially in mixed formats, he needs to counter the launch angle era with better command. He has the stuff, so if the price is right, he's worth a stash.
The "Verducci Effect" has been debunked, but a 60-inning spike in workload from year-to-year, as Bundy saw from 2016 to 2017, is still a bit troubling. That's especially true with a player with Bundy's injury history; he's undergone Tommy John surgery and dealt with shoulder troubles since being drafted fourth overall in 2011. He posted a 2.89 ERA over the first two months, and a 21.8 percent strikeout rate and 7.3 percent walk rate overall last season. Bundy turned in his best career start on Aug. 29 -- a one-hitter with 12 punchouts -- before ultimately succumbing to a hamstring strain. While lefties slugged .452 against Bundy, he held right-handers to a .222/.282/.392 line, and there was little difference in his home/road splits. He's lost some velocity and remains a big injury risk, but at least if he's a bust, he won't sink you given the modest cost.
Bundy is a great reminder of why we have to be careful with prospect arms. He sped through the minors and debuted in his first professional season (2012). He then missed all of 2013 following Tommy John surgery and has been on the slow return ever since. After just 65 innings combined in 2014-15, his 2016 outlook was hazy at best. He was out of options and didn't have enough innings built up to be a full-time starter. He relieved in the first half and started in the second. His workload was managed, slowly escalating his pitch count into the 90s. His velocity as a starter dropped from July to August, but jumped back up in September. He's platoon-neutral, has a devastating hammer curve and showed flashes of what made him a top-100 prospect. The next step will be to curb the homers (1.9 HR/9 as a starter).
How the mighty have fallen. It seems like a lifetime ago when Bundy was the top pitching prospect in the game and making his debut with the Orioles as a teenager. Tommy John surgery and shoulder issues have derailed his career and held him to just 63 innings since 2012. Bundy was pretty good in limited activity at Double-A last season, never throwing more than 65 pitches in a game. He was shut down in May with the shoulder issue, then began a fall throwing program and appeared in two Arizona Fall League games before having to be shut down with a strain in his forearm. The complicated thing with Bundy is that he has to be kept on the 25-man roster on Opening Day or risk being exposed to waivers. Bundy's prospect star has fallen, but other teams would gladly vulture Bundy away if given the chance. If he can get healthy, the Orioles would probably slot him in the middle of their bullpen in an effort to keep him healthy for a full season before stretching him back out heading into 2017.
Bundy was forced to spend most of 2014 recovering from Tommy John surgery, but he was able to make nine rehab starts in the low minors down the stretch before getting shut down in August after straining a lat muscle in his throwing shoulder. At times, the young righty was brilliant and on other days he struggled in his rehab outings, but those numbers are fairly irrelevant to his long-term outlook. The Orioles will find a spot for Bundy in the major league rotation this season, but it's not abundantly clear when or for how long, as he pitched 105.1 innings in his first professional season in 2012, and obviously hasn't approached that level since. This is not a mid-rotation starter, at least not if he avoids further setbacks, and is able to get most of his former velocity and control back. Bundy is a 6-foot-1 brick house of fine-tuned filth, and it will soon be time for him to actualize his destiny of heading up a big league rotation.
An elite prospect entering 2013, Bundy experienced elbow issues at the conclusion of spring training, which resulted in Tommy John surgery at the end of June. He'll be on the mend to begin the year but should return to minor league action around midseason. However, there is a very small chance that he contributes for the Orioles in 2014, especially considering the careful approach the organization took with his workload and development before the injury. The goal for Bundy will be to crack the big league rotation in early 2015.
Bundy should start the season as the top prospect on most boards after a season in which he made it all the way to the Orioles as a 19-year-old. Working on a 125-inning limit for the season, Bundy rifled off 30 scoreless innings to start the year at Low-A before advancing to Double-A in time to make a few appearances. The Orioles emptied the bullpen in marathon extra-inning games down the stretch and promoted Bundy, who made two September appearances. He throws three different fastballs, a curveball and a changeup. During his September callup, his fastball averaged 94 mph, his changeup registered at 86 mph, but he did not throw much in the way of the curveball. Look for Bundy to start the season in Double-A, while a late-season promotion is possible if he continues to breeze through the minors.
Bundy is the newest addition to the organization as the No. 4 overall pick in the 2011 MLB draft. He won High School Player of the Year honors from Gatorade and Baseball America after going 11-0 with a 0.25 ERA and 158:5 K:BB over 71 innings for his Oklahoma team. He owns a high-90s fastball and a big curveball and is already one of the best pitching prospects in baseball. The Orioles give him a 40-man roster spot upon signing in August, so Bundy could move through the system quickly despite being a high school product.
More Fantasy News