This article is part of our Collette Calls series.
I want to start off this recap of my draft by touching on the news of the sudden passing of Rays radio broadcaster Dave Wills. He first joined the team in 2005 but I did not get to know him until I started doing part-time media work five years later. He was incredibly approachable and helped me feel comfortable in the pre-game dugout media scrums and the media dining room rather than treat me as some social media stat nerd. We began to talk advanced analytics early on because he wanted to better understand the front office's decision-making process and how he could better communicate the concepts to the average fan over the airwaves on broadcasts. He always said his goal on a broadcast was to educate and entertain, and he meant it because it was written on the whiteboard in the booth as I vividly recall when I last visited the booth this past April when I was in town with my kids to watch a game against Oakland. When I moved away from the area, that relationship continued over texts and DMs in-game to the point where he called me the associate producer because I would supply him with some in-game data points as I listened to the broadcast from North Carolina or wherever my business travels would take me before conditions changed in 2020. He and Andy Freed worked side by side for 18 years and had such a wonderful chemistry on the air. Baseball has lost one of its best storytellers and ambassadors for the game. I hope I can only continue to write about the game as passionately as he called and enjoyed the game of baseball. Please consider reading Jayson Stark's tribute to Wills as I felt it best encapsulates everything he was in and out of the booth
In some ways, it feels like we are resuming somewhat of a sense of normalcy to life. This past weekend was the first in-person industry expert league draft since this time three years ago when everyone attended First Pitch Florida 2020 in the Clearwater area with varying levels of concern of something that escalated quicker than Corbin Carroll stealing a base. I also began the creation of this particular recap from 24,000 feet, which long-time readers will recall was once the norm for me rather than the exception. I have no desire to return to my Diamond Medallion status on Delta Airlines as my road warrior days are absolutely behind me, but this past weekend was one of three out-of-state trips for me to either participate in or auctioneer a draft in March. It truly was nice to be back together in person for an industry auction after doing so many remotely over the past three years.
I made up my mind on how I wanted to approach LABR a couple of weeks back as I considered both the market conditions as well as the rules of LABR. Enough has been said about the rule changes this season and the likely impact they will have on offense, so with that in mind I wanted to put a heavier focus on pitching than I normally do in leagues. LABR rules also throw in a unique consideration in that you are not allowed to bench underperforming pitchers; you must carry them or cut them. The only time you are permitted to take someone out of your lineup is if said player is demoted to the minors or placed on the injured list. Such conditions place an extra premium on pitchers because late-draft flyers can really hurt you. The in-season FAAB options are few and far between given every roster also has a six-man reserve list cutting into the available roster. The top available names for our first round of FAAB at the end of this month for starting pitching include Josh Fleming, Chris Flexen and Dylan Bundy. Welcome to the barren wasteland that is free agent starting pitching in a single-league format. I felt better about my planned draft plan after reading this piece at Fangraphs by The Birchwood Brothers which came to an interesting conclusion of some success spending 40 to 50 percent of your budget on pitching with a stars and scrubs approach and two mid-pack or better closers. That gave me the confidence to fly down to Florida and execute a plan built around a 58/42 split budget and the following dollars allocated to each roster spot: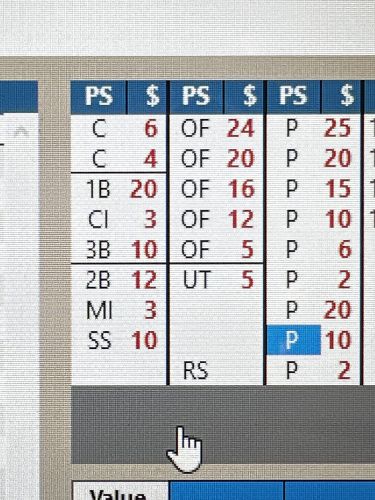 Every spot on that list had at least three names of players I considered attainable for that draft spot. I like putting values in each dollar spot with a little wiggle room in the utility spot to move dollars around as needed and to help me stick to my plan and keep me from going off the rails in an auction.
That budget kept me on target all of one trip around the table until I had to change it on the fly after making some observations in the first round. Before I get into my specific team, I want to look at the 12 players which preceded my plan-altering purchase of the 13th player nominated. Each of the player tables in the rest of this article will show my value for the player as well as the value RotoWire lists as well as values from the Fangraphs auction calculator using Steamer, ATC, as well as The Bat values based on a 67/33 overall budget split. Players on my roster with asterisks are those which I either wrote up in the Bold Predictions series or in the Value in the Scrap Heap column this winter.
The First Trip Around The Table
Based off my budgeted plan, I had no intention of pursuing any of the higher-priced names I expected to go early in the event, but I was also keeping an eye on how the prices were working out. Seeing both Ramirez and Rodriguez both go for slightly under my projected values (which had a stars and scrubs fudge factor built into the price) got my attention. When both Ohtani and Bichette came in under the price, I decided it may be time to change the budgeted plan based on the early dynamics. I took Varsho up to $23, but was not willing to go $25 when all but Witt Jr. had come in under my values. Luckily I did not have to wait long to roster my first player.
The First Six
| Player | Nom | Pos | My $ | Price | Diff | RW$ | STM$ | ATC$ | TB$ | AVG$ |
| --- | --- | --- | --- | --- | --- | --- | --- | --- | --- | --- |
| | 13 | OF | 42 | 38 | -4 | 31 | 34 | 34 | 32 | 33 |
| | 22 | SP | 25 | 26 | 1 | 19 | 25 | 25 | 25 | 24 |
| | 31 | CL | 22 | 20 | -2 | 20 | 17 | 18 | 16 | 18 |
| | 34 | CL | 14 | 11 | -3 | 12 | 15 | 14 | 12 | 13 |
| | 57 | OF | 23 | 20 | -3 | 18 | 19 | 20 | 22 | 20 |
| | 69 | OF | 19 | 19 | 0 | 18 | 16 | 16 | 16 | 17 |
I did not participate in the initial Tucker bidding but jumped in when it stalled at 37 because I was not going to let a hitter go at a projected five-dollar discount at that phase of the evening. Dusty Baker currently says Michael Brantley will hit second for Houston, but Brantley could also get hurt walking to the plate in a hurry to beat the pitch clock. I believe that second spot is where Tucker's destiny lies, and he could have a huge year if he is in fact elevated in the lineup. I truly did want to stick to the budget, and truth be told, I would have passed on Tucker if someone had said $39. Nobody did, so it resulted in me making some on-the-fly adjustments to my dollar allocations per position to make it work. Budgets and plans are great, but flexibility is even better and you have to allow yourself the opportunity to adjust if you see something happening early. The rest of this tier went about as expected once pricing settled down, although I was surprised the room let me have Fairbanks at $11 given I haven't shut up about him all winter and that Jeff Erickson (not in the draft) blames me for the reliever's ADP surge this winter. Fairbanks has missed an average of 82 games over the past two seasons, but I was very impressed by the work he did once he finally took the mound later in the summer. It was not my intention to roster two thirds of the Angels in the outfield, but at those prices and how stacked the top half of that lineup is, I don't mind it one bit. More on the pitching later.
The Next Six
| Player | Nom | Pos | My $ | Price | Diff | RW$ | STM$ | ATC$ | TB$ | AVG$ |
| --- | --- | --- | --- | --- | --- | --- | --- | --- | --- | --- |
| | 81 | 2B | 12 | 14 | 2 | 13 | 13 | 12 | 10 | 12 |
| | 89 | SP | 16 | 18 | 2 | 13 | 15 | 14 | 13 | 14 |
| | 93 | 1B/3B | 2 | 2 | 0 | 8 | -2 | 1 | 1 | 2 |
| | 103 | C/1B | 6 | 4 | -2 | -2 | 5 | 5 | 5 | 3 |
| | 104 | SP | 14 | 16 | 2 | 16 | 14 | 14 | 11 | 14 |
| | 128 | 1B | 16 | 16 | 0 | 16 | 19 | 18 | 17 | 18 |
Wong was at the top of my list for desired second baseman since he is now projected to leadoff most games in front of the potent top half of the Seattle lineup. That lineup spot, as well as his stolen base acumen, should pay off well, and I was happy to get him at the average market price. Gilbert was in that bucket of pitchers I was looking at for my second rotation spot and I should have let him go and certainly would have if someone else said $19. I like George Kirby more in that rotation, but Kirby had just gone for $20 two nominations prior to Gilbert and Robbie Ray went for $18 to James Anderson, so the price for Gilbert was fair given what happened around him. Dalbec was someone I threw out at the price in hopes the rest of the league would just turn up their nose at him because I valued his positional flexibility and power upside even though it may never come to fruition. He was at the top of my list for CI with the dollar amount I planned for the spot, so that made me happy. Bethancourt was another versatile player option, but not one I had at the top of my list. Bethancourt was the 9th catcher nominated and none of then had gone for less than $8, so I got the first cheap catcher off the board since I wasn't going to adjust my budget at the position unless Daulton Varsho somehow came at a market discount. Lynn was the bid I would like to do over because Drew Rasmussen went for $16 right after him and Brady Singer went $15 just a few picks later. I guess I should be happy with the volume a healthy Lynn can provide, but he was a lower option on my list at that position. Bell came at precisely the price I had budgeted for him and what I had hoped he would go for as the cleanup hitter for what could be a very exciting Cleveland lineup.
The Next Six
| | | | | | | | | | | |
| --- | --- | --- | --- | --- | --- | --- | --- | --- | --- | --- |
| Player | Nom | Pos | My $ | Price | Diff | RW$ | STM$ | ATC$ | TB$ | AVG$ |
| | 132 | UT | 4 | 5 | 1 | -1 | 3 | 4 | 3 | 2 |
| | 140 | 3B | 16 | 14 | -2 | 11 | 21 | 17 | 11 | 15 |
| | 153 | SS/OF | 6 | 5 | -1 | 9 | 1 | 6 | 11 | 7 |
| | 188 | OF | 8 | 6 | -2 | 11 | 4 | 8 | 9 | 8 |
| | 203 | SP | 7 | 9 | 2 | 6 | 5 | 8 | 11 | 8 |
| | 211 | CL | 4 | 1 | -3 | -1 | -5 | -2 | -2 | -3 |
This round of the event was all about needs. Garver was someone that had in my consideration for utility now that he has caught multiple games in the spring. I only need him to get to five games in-season for LABR to move Garver to catcher and get more value for the pick. Shea Langeliers went for the same price some 40 nominations prior to Garver coming out, so I figured $5 was my max price on things and that is exactly how it worked out. That gave me a second catcher, in theory, even though I had yet to actually roster someone who qualifies there. The Diaz purchase was all about fixing my batting average, which was not looking strong at that phase in the draft, though rostering Dylan Moore shortly afterwards (Go UCF!) offsets some of those gains. Both players will bring dual eligibility, as Diaz will gain first base by the second week of the season, and that flexibility is invaluable in the LABR format. McCormick was a second add for some speed and he also offers some offensive upside even if he rarely pulls the ball for power. Eflin was another name in the bucket of pitchers I liked for the dollar spot and I felt better about the price after watching Tyler Mahle go for $10 and Lance McCullers also go for $7 shortly after my selection.
Finally, that brings up the Barlow pick, which looks a bit odd on the surface. You may recall I mentioned Barlow in my Scrap Heap article earlier this winter saying this:
Barlow came into the 2022 season as a lower-tier closer option who many viewed as the last option to roster saves before deciding to punt the category. He ended up losing the job over the summer while pitching through injuries and required surgery in the offseason to fix an issue which was leading to the blisters which plagued him. Barlow, despite all that, was still able to get good whiff rates off his slider and four-seamer, but the expected stats suggest he was more lucky than good. The closing situation in Texas comes down to a recovering duo of Jose Leclerc and Jonathan Hernandez as well as lefty Brock Burke, who could get a shot since the pen has two other lefties in the fold. A healthy spring could put Barlow back in the closer role to begin the season since he has been there and done that while the others lack that experience on their resume.
I had the honor to interview Eno Sarris (+ stats) and Nick Pollack (PLV) about their pitching systems on Saturday just before the draft and in my research for the presentation, noticed this nugget in the Texas bullpen:
Barlow nearly swept the board in the Texas bullpen, and that's despite the issues he had last year which required surgery. This video clip perfectly sums up my emotions when I was able to get Barlow for crickets and be told by two different Eno Sarris hands that I was number one:
The Final Five
| | | | | | | | | | | |
| --- | --- | --- | --- | --- | --- | --- | --- | --- | --- | --- |
| Player | Nom | Pos | My $ | Price | Diff | RW$ | STM$ | ATC$ | TB$ | AVG$ |
| | 216 | C | 0 | 2 | 2 | 6 | 1 | 2 | 3 | 3 |
| | 222 | SP | 3 | 3 | 0 | -3 | 2 | 0 | -1 | -1 |
| | 233 | SS | -1 | 3 | 4 | 0 | -9 | -8 | -7 | -6 |
| | 244 | SP | -2 | 2 | 4 | 0 | 0 | 0 | 0 | 0 |
| | 252 | OF | 2 | 6 | 4 | -7 | 1 | 1 | 1 | -1 |
Given what was left of the catcher pool at pick 216, getting Naylor at $2 was just fine with me. He may not open the season with Cleveland, but I have reserve insurance for that possibility and I would be able to swap out that option by the rules until Naylor is ready. Boyd is someone I mentioned at the PitcherList PitchCon a few weeks back, as I was very impressed with what he did in his short time in the Seattle bullpen. His 11:1 strikeout to walk ratio this spring buoys my optimism. Garcia was my top middle infield target as I expect him to force his way into the situation after stealing 39 bases and hitting 11 homers between Double-A and Triple-A at the age of 22. Bradley was not an intended target, but I also was not willing to let him go for $1 given his upside, but my last Ray, Lowe, absolutely was.
Nobody in baseball has been more successful than Josh Lowe in stolen base success rate over the past two seasons, as he's swiped 54 bags in 56 attempts for a 96 percent rate. If we tack on 2019, he is 88 percent successful in that time. The Rays have added nothing this winter, so it's my belief that they've been using Durham as a laboratory for what they could do with the running game. Should Lowe be able to get playing time, he could be a surprise 25+ steal candidate. My price was simply because it was my final $6 of the event and I viewed him as the best option for my team.
The Reserves
My final budget went 156/104 as the early adjustment for Tucker forced me to look at other options. The bullpen came out exactly how I wanted it while the rotation looks good even though it doesn't have all the names I had hoped it would. I will need this staff to do the heavy lifting in the standings because my offense has some issues. I'll hopefully be able to leverage a bulk of my FAAB dollars on in-season hitting or use the trade market given James Anderson's team and mine look like a rather perfect trade pairing.
I want to end this article much like it started, as I learned of the passing of a college friend from cancer while putting the final touches on this piece. Tim was the guy who got me into fantasy baseball 30 years ago as we both worked in the Burger King kitchen on the night shift while in school and passed the time talking a lot of baseball. I knew his wife before they had even met, and they allowed me the privilege of DJ'ing their wedding in Orlando. 15 years ago, Tim introduced me to the hellscape which is Twitter, which helped launch me into the situation I find myself in today: privileged enough to be invited to industry leagues and seminars to match wits with others and to help educate and entertain aspiring or avid fantasy baseball players. My heart goes out to his wife, Hope, and their two kids Nick and Bella, because Tim was truly one of the best people I've had the pleasure of knowing as an adult. He was a maker, a giver, and even two weeks ago was still encouraging me with my nascent bread-making skills while he knew the end was near. Be that type of person to your friends in a day and age that is begging for more positivity.