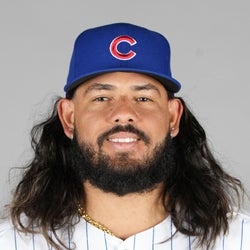 Rest-of-Season Projections
2023 Fantasy Outlook
Injuries and a position split limited Alfaro to 82 games last season, his lowest total since 2017 (aside from the shortened 2020 campaign). The veteran backstop recorded a franchise-record five walk-off hits, but in spite of the memorable moments he finished with an uninspiring 90 wRC+. Alfaro has demonstrated the ability to smash a baseball (his max exit velocity has ranked within the top 4% of players leaguewide five of the past six seasons) and can run surprisingly well for a catcher (his sprint speed was in the 85th percentile among all players last year), yet he hasn't emerged as an impactful big-league or fantasy producer. That's largely due to his tendency to swing at everything and miss quite frequently -- among players with 200 or more plate appearances last season, he ranked eighth-worst with a 35.8 K% and dead last with a 21.7% swinging-strike rate. San Diego non-tendered Alfaro in November, and he latched on with Boston on a minor-league deal. Reese McGuire and Connor Wong currently project as the Red Sox's top catchers to open 2023, but neither has established themselves as a reliable big-league backstop. It's a favorable landing spot for Alfaro, and he could carve out relevance as a low-average, power-punching backstop, though his strikeout woes may limit his opportunities.
Read Past Outlooks
$Signed a one-year, minor-league contract with the Red Sox in January of 2023. Released by the Red Sox in June of 2023.

Officially released by BoSox
ANALYSIS
Alfaro exercised the opt-out clause in his minor-league contract earlier this week, and the Sox have now officially granted him his release. The 29-year-old catcher and corner outfielder should find interest on the open market after posting a shiny .320/.367/.520 batting line across 191 plate appearances with Triple-A Worcester.
Read More News
Batting Stats
2022
2021
2020
2019
2018
2017
2022 MLB Game Log

Calculate Stats Over Time
Just click on any two dates.
Scoring
FanDuel
DraftKings
Yahoo DFS
Loading Batting Game Log...
2021 MLB Game Log

Calculate Stats Over Time
Just click on any two dates.
Scoring
FanDuel
DraftKings
Yahoo DFS
Loading Batting Game Log...
2020 MLB Game Log

Calculate Stats Over Time
Just click on any two dates.
Scoring
FanDuel
DraftKings
Yahoo DFS
Loading Batting Game Log...
2019 MLB Game Log

Calculate Stats Over Time
Just click on any two dates.
Scoring
FanDuel
DraftKings
Yahoo DFS
Loading Batting Game Log...
2018 MLB Game Log

Calculate Stats Over Time
Just click on any two dates.
Scoring
FanDuel
DraftKings
Yahoo DFS
Loading Batting Game Log...
2017 MLB Game Log

Calculate Stats Over Time
Just click on any two dates.
Scoring
FanDuel
DraftKings
Yahoo DFS
Loading Batting Game Log...
Minor League Game Log

Calculate Stats Over Time
Just click on any two dates.
Loading Minor League Batting Game Log...
Left/Right Batting Splits
OPS
PA
HR
RBI
AVG
Since 2021

vs Left

.752
158
7
21
.263
Since 2021

vs Right

.604
427
4
49
.238
2023

vs Left

0
0
0
0
0
2023

vs Right

0
0
0
0
0
2022

vs Left

.773
71
4
10
.269
2022

vs Right

.630
203
3
30
.238
2021

vs Left

.735
87
3
11
.259
2021

vs Right

.581
224
1
19
.238
More Splits

→

View More Split Stats
Home/Away Batting Splits
OPS
PA
HR
RBI
AVG
Since 2021

Home

.570
321
5
39
.220
Since 2021

Away

.737
264
6
31
.276
2023

Home

0
0
0
0
0
2023

Away

0
0
0
0
0
2022

Home

.524
149
3
20
.197
2022

Away

.842
125
4
20
.307
2021

Home

.610
172
2
19
.239
2021

Away

.644
139
2
11
.250
More Splits

→

View More Split Stats
Prospect Rankings History
Advanced Batting Stats
Loading Advanced Batting Stats...
Games By Position
Defensive Stats
Loading Games Played by Position...
Loading MLB Defensive Stats...
Batted Ball Stats
Loading Batted Ball Stats...
Stats Vs Upcoming Pitchers
Recent RotoWire Articles Featuring Jorge Alfaro
See More
Past Fantasy Outlooks
2022
2021
2020
2019
2018
2017
2016
2015
2014
2012
Jorge Alfaro now holds outfield eligibility with the Padres. Alfaro's peak season came in 2019 with 18 home runs, four steals, and a .262 batting average. Since 2019 Alfaro battled with COVID-19, oblique, concussions, hamstring, knee, and calf injuries. That explains the 411 plate appearances with seven home runs, ten stolen bases, and a .240 batting average in 2020 and 2021. Plate discipline remains a concern with a career BB% of 4.3% and 33.8% K% based on the awful 48% O-Swing%. Amongst hitters with 1,000 plate appearances since 2016, Alfaro holds the second-worst O-Swing%. Alfaro possesses an above-average 9.7% Barrel% with a maximum exit velocity in the top 4% of the league. However, the 52.4% GB% remains a concern. Playing time is the question since the Padres also have Austin Nola and Victor Caratini, but Alfaro could earn time at DH or outfield as a second catcher in 15-team leagues.
Alfaro had settled in as a solid mid-tier catcher through the end of 2019, with his strong exit velocities generally offsetting his high whiff rates, leading to a .266/.320/.423 slash line, a perfectly adequate mark for a backstop. His 2020 campaign was a very disappointing one. Limited to just 31 games in part due to a battle with COVID-19, he struggled to a .226/.280/.344 line while hitting just three homers. Small-sample caveats apply, but his struggles appear to have been deserved rather than mere reflections of bad luck. His typically high K% jumped back up to an untenable 36.0%, and he seemingly forgot how to lift the ball, with his launch angle falling to just 2.8 degrees. Toss in some poor framing and you get a rather unimpressive year. Alfaro could certainly turn things around in his age-28 season, but a career .262 hitter who's topped out at 18 homers isn't a hot commodity even at catcher.
Alfaro didn't appear to be hurt by the tougher home park in his first season in Miami, posting the same .262 batting average and 95 wRC+ that he recorded the season prior. His growth in his second full season showed up in his home run total, which increased from 10 to 18, and in his strikeout rate, which fell from 36.6% to a still-high 33.1%. It's fair to wonder if he can keep recording respectable batting averages while striking out that much, especially given that it took a .364 BABIP to get him there last season. He's always been a high-BABIP player due to his hard contact, though, with a .385 mark for his career. Statcast does suggest he overachieved a bit, but not as much as one might think, giving him an xBA of .246. Alfaro isn't an elite catcher, but he'll have no competition for starts next year and easily clears low offensive bar at the position, making him a fine fantasy option.
Alfaro couldn't repeat the impressive offensive performance from his 29-game rookie season, but he still produced a solid .262/.324/.407 line with 10 homers in 377 plate appearances, totally acceptable for a catcher. Combined with strong framing numbers, the 25-year-old appears to be well on his way to being an average or better starting catcher. The underlying stats provide reason to be cautious in the near term. His strikeout rate of 36.6% ranked third-worst among all hitters who came to the plate at least 350 times, beating only Chris Davis and Mike Zunino, and his batting line was propped up by a clearly unsustainable .406 BABIP (the highest among the same group). Alfaro does hit the ball very hard, but no one can keep up a BABIP that high. According to Statcast's xBA, he deserved to hit closer to .220. He has room to keep growing, but it may be a gradual process with only incremental improvement in 2019.
While he is reminiscent of Gary Sanchez in terms of prospect fatigue and raw power, the red flags in Alfaro's offensive profile are much more significant than anything attached to Sanchez in his final offseason on prospect lists. If Alfaro were not on the 40-man roster and out of minor-league options, he would be in line to repeat Triple-A this season. Those roster-management issues will force the Phillies to keep him in the majors in 2018, where his pitch recognition issues and lack of patience should lead to below-replacement-level production. Throw out his impressive numbers in the majors -- his .420 BABIP and 33:3 K:BB illustrate that he was operating at a completely unsustainable level. He still possesses plus-plus raw power, but his ceiling is likely what Mike Zunino did last year (.251/.331/.509 with 25 home runs in 124 games). Unfortunately, like with Zunino, there will be a few years where his average and OBP are unpalatable before he reaches that level, so rostering him in dynasty leagues during the lean years will require extreme patience.
The Phillies sent Alfaro back to Double-A Reading at the start of last season after he missed a significant amount of time in 2015 with an ankle injury. Alfaro was able to stay mostly healthy (outside of an oblique issue) and put together a solid season. Like many of the hitters playing for Reading, Alfaro's overall stat line was buoyed by his hitter-friendly home park. He hit .318 with nine home runs and an .855 OPS in 211 at-bats at home, but just .249 with six home runs and a .705 OPS in 193 at-bats on the road. He also struggled against lefties, hitting just .213 with one homer and a .585 OPS in 80 at-bats last season. The Phillies gave Alfaro a cup of coffee in September, but he doesn't appear to be part of their plans behind the plate in 2017. He needs more time in the minors to continue to refine his offensive game.
Acquired as part of the deal that sent Cole Hamels to the Rangers last season, Alfaro was limited to 194 at-bats due to an ankle injury that he suffered in June. He projects to have plus power with above average speed for a catcher, but there is a lot of risk associated with the profile. Last season, before getting hurt, Alfaro struck out 61 times in 49 games with just nine walks, illustrating his flawed approach. Despite having an elite arm behind the plate, Alfaro has some work to do as a receiver, which could keep him in the minors longer than anticipated. He made a late-season appearance with the Gulf Coast League Phillies and then picked up extra at-bats playing in the Venezuelan Winter League. Look for Alfaro to return to Double-A to start the year, with the chance to reach Triple-A by midseason if he gets off to a good start. The shine is not as bright as it once was with Alfaro, but he is still a top-10 prospect at his position.
The hype around the toolsy backstop has been building for a few seasons, yet he did not advance to Double-A Frisco until the final month of 2014. Coming off a 18-homer/18-steal 2013 season (primarily at Low-A Hickory), there seemed to be no limit to what Alfaro could eventually accomplish at the big league level. His power continued to show in games last season, and he belted 13 home runs with a .261/.318/.440 slash line in 437 plate appearances at High-A Myrtle Beach and he added another four big flies in 99 plate appearances after a late season promotion to Double-A. However, the speed that had some dreaming of a 30/20 season some day, was nowhere to be found last season. He had six steals in 11 attempts at High-A and did not attempt a steal with Frisco. Alfaro, who is still just 21 years old, should join the Rangers in 2016 and has the potential to hit .265 with 25 home runs and 10 steals in his prime, making him an elite prospect at a scarce position.
Alfaro enters 2014 as one of the best fantasy prospects in all of baseball behind the plate, though there are still plenty of areas where Alfaro needs to improve to realize his vast potential. He spent most of the year at Low-A Hickory, hitting .258/.338/.452 but drawing just 28 walks against 111 strikeouts. Alfaro did play better in a brief stint against advanced competition in the Arizona Fall League (.386/.438/.500 in 19 games), and he's expected to begin the year at High-A Myrtle Beach before a promotion mid-year to Double-A Frisco if his production warrants it. There's a 25-homer, 15-steal skill set at his peak if things go well, but 2014 will be a major test for him.
Alfaro's short-season debut went well when you consider he was playing against players three years his elder in some cases. His .300/.345/.481 line looks good on paper, but there are still some troubling plate discipline issues. He'll make his full-season debut in 2012.
More Fantasy News