This article is part of our Collette Calls series.
Three years ago around this time, I had just taken the train from Boston to New York for the Tout Wars draft only to learn on the way there from my work trip that we were shutting it all down and drafting online. I can still vividly remember sitting in my hotel room somewhere in midtown and using my ironing board as my computer desk so I could use my HDMI cable to set up my hotel TV as a second monitor in order to feel some sense of community in what would rapidly become a very isolated world. Fast forward three years and we're finally back together in Manhattan doing all the different Tout Wars drafts and celebrating winners of previous years. I am typing this up while sitting on the periphery of the NL Tout Wars draft, across from Erik Halterman. It feels good being back amongst friends, meeting some of the new faces this season and enjoying a variety of weather in the city while either walking or commuting between the World Trade Center area and midtown, as I found the sweetest of hotel bargains that made it worth the extra time.
Just two weeks ago, some of us were gathered in West Palm Beach for First Pitch Florida and the LABR drafts. I do the AL-only format in both LABR and Tout, which presents challenges because the dynamic duo of Glenn Colton and Rick Wolf do the same, as does Larry Schechter. The leagues are not wholly identical; LABR is a standard 5x5 league format with classic rosters, while Tout Wars is an OBP league which drops one outfield spot and adds a swing role that can be either a hitter or a 10th pitcher. The challenge for me is the pitching formats are identical, leaving me with the decision of whether to devise two disparate strategies to construct my pitching staff or double down on the same strategy in both leagues. If I believe strongly enough to do it once, I should have no issue continuing the strategy as long as the prices are right. You will see some familiarity in my pitching staffs and the budgeting strategy I utilized to construct both staffs.
The Original Plan
It is pretty obvious what the plan was here: build a similar pitching staff while changing things up on offense. The plan was to attempt to get Daulton Varsho at catcher and one of Julio Rodriguez or Kyle Tucker as the foundational players of the offense. I would then look for power at the corners and values up the middle, while chasing as much speed as I could in the outfield. I was only going to waver from this plan should a value come up that was too good to pass up. That situation did not come up in the room as quickly as it did at LABR (more on that later).
First, the picture of the final roster (all rosters here):
Catchers
C1 Target: Daulton Varsho
C2 Targets: Christian Vazquez, Christian Bethancourt, Jorge Alfaro, Cooper Hummel
Budgeted $30; Spent $17
I did not want any $1 catchers on the team, but I'm not happy with this outcome. Varsho went to Andy Andres, who went with a very aggressive stars and scrubs approach with his team and beat me to the odd-numbered swim lane on the bidding. I was the runner up on Melendez and Perez, and then found myself mainlining Hopium and believing Grandal could once again become the OBP beast he was before 2022 happened. It has to happen for that price to be worth what I ended up paying for him. Most of the other catching prices went higher than expected, so I don't feel as bad about the price, especially since I was able to get Bethancourt's upside as well as add Mitch Garver at utility, who becomes a third catcher once he gets his fifth game behind the plate this season. This too was a similar strategy to LABR, where I ended up with both Bethancourt and Garver.
Corner Infield
1B Targets: Josh Bell, Josh Naylor, Andrew Vaughn, Jose Miranda, Triston Casas, Spencer Torkelson
3B Targets: Anthony Rendon, Yandy Diaz, Jose Miranda
CI: Jace Peterson, Gio Urshela, Bobby Dalbec
Budgeted $35; Spent $37
I ended up with the last option on my list for first base as I saw the prices for my preferred targets go above what I was willing to pay. Torkelson has been extremely impressive this spring and I'm on board at this price to see if he can close the gap between his potential production and his actual production. The targets at third base were ranked by preference as I continue to go after Anthony Rendon in drafts given how wonderfully insulated he is in the Los Angeles lineup with Taylor Ward, Shohei Ohtani, and Mike Trout in front of him and Hunter Renfroe's bat behind him. A healthy Rendon could drive in 100+ runs once again and the risk/reward at his current market price continues to be too good to ignore. I nominated all three targets at the corner but got none of them and instead make a rookie mistake.
Isaac Paredes was put up for nomination and I looked at Chris Blessing seeing he had both a high remaining budget left and had no players at the corner positions. We got into a back and forth as I pushed things up until he dropped out once I said $12. That was $3 more than I projected as the draft began, but his inflated value at the time in the draft was $11 by my numbers. I don't mind Paredes on the roster because he qualifies at three positions, which has extra value in a mono league when it comes to picking up free agents, as roster flexibility allows you to look at multiple positions rather than being limited by the position of the player who needs replacing. It was another reminder that if you are going to push someone, you need to be comfortable with that player on your team. Paredes' three positions and his major-league employer made me feel better about rostering someone I wasn't targeting at this position coming into the draft.
Middle Infield
2B Targets: Jonathan Schoop, Nick Gordon, Michael Massey, Adam Frazier, Christian Arroyo
SS Targets: Oswald Peraza, Aledmys Diaz, Maikel Garcia
MI Targets: Brandon Drury, Elvis Andrus, Isaac Paredes, J.P. Crawford
Budgeted $35; Spent $36
I purchased Whit Merrifield as my second speed player in the draft both for the price and the roster flexibility. I put him in the outfield when I rostered him but then moved him to the middle infield spot once the prices on the the other players in this group went $2 or more above what I had budgeted for them. Diaz was the only player in this pool who ended up on my roster at the position where I was hoping to acquire him. Diaz qualifies at three positions and should hit in a run-producing spot in the Oakland lineup, even if his team doesn't produce many runs. Wong wasn't someone I had budgeted for or targeted in my initial plans, but he became an in-draft target because I needed speed and runs and found him to be the most desirable option thanks to his projected role, leading off for Seattle and setting the table for the most expensive player on my roster.
Outfield
OF1 Targets: Julio Rodriguez, Kyle Tucker
OF2 Targets: Ramon Laureano, Esteury Ruiz, Whit Merrifield, Manuel Margot
OF3 Targets: Nick Gordon, Oscar Colas, Adam Frazier, Nate Eaton, Akil Baddoo
OF4 Targets: Kevin Kiermaier, Will Brennan, Josh Lowe, Bubba Thompson, Jarren Duran
Budgeted $65; Spent $53
The first outfield target did not take long to materialize, and Doug Dennis got Kyle Tucker $4 cheaper as a consolation prize as apparently only three of us were willing to spend big on one bat and Andy Andres targeted Aaron Judge as his big guy. Merrifield was drafted as an outfielder, but then I took forever to fill the rest of the spots because I was targeting speed-based outfielders and the desired targets mostly went above my budget. I wish I would have been more aggressive with spending at this role, but targeting a specific skillset led me to pass on bargains in a desire to add more speed. Rostering Thompson, Baddoo and Oswaldo Cabrera in the outfield could give me some steals to complement the others on the roster, but they also need to get and/or stay in the lineup to have the most impact. I'm looping Lowe in here even though he is my swing guy because I chose him over Jose Siri for my final hitting spot, much to the surprise of Mike Podhorzer who was in a similar position and was expecting a bidding war with me on Siri.
Starting Pitching
SP1 Targets: Shane McClanahan, Cristian Javier, Robbie Ray, Luis Castillo
SP2 Targets: Joe Ryan, Luis Severino, George Kirby, Luis Garcia
SP3 Targets: Lance Lynn, Pablo Lopez, Jeffrey Springs, Drew Rasmussen
SP4 Targets: Brady Singer, Chris Sale, Reid Detmers, Nathan Eovaldi, Jon Gray
SP5 Targets: Tyler Mahle, Patrick Sandoval, Zach Eflin, Nick Pivetta, Hunter Brown, Michael Kopech
SP6 Targets: Ken Waldichuk, Kyle Bradish, Matthew Boyd, Clarke Schmidt, Shintaro Fujinami
Budgeted $83; Spent $88
This, to me, was the story of the draft. I went into the draft with a strong desire to prioritize starting pitching This is how the starting pitching went early on in the auction:
In that grouping, the only true value was the extreme risk/reward with deGrom, whom I haven't been able to bring myself to roster this entire winter. Kopech, coming off an outstanding outing earlier this week, saw his price double from LABR two weeks ago. Then Carlos Rodon came out and went $10 to Mike Podhorzer because everyone else in the room decided that the recent forearm strain was too much of a risk. In Tout Wars, managers can cash in players before the All-Star Break in July for a 100% rebate, so Podhorzer would be able to get $100 in FAAB should Rodon's injury become more serious, and I'm still struggling to understand how we all let that happen. It was a harbinger of things to come, as pitching bargains continued to come in with Doug Dennis once again eschewing starting pitching for an all-reliever staff. Tout has no innings minimum and he won the league in commanding fashion last season with a similar approach. Here are a few of the bargains which came after Cortes:
| Pitcher | Valuation | Tout $ | LABR $ | Delta |
| --- | --- | --- | --- | --- |
| | $18 | $10 | $28 | $18 |
| | $21 | $16 | $18 | $2 |
| | $15 | $13 | $18 | $5 |
| | $15 | $16 | $20 | $4 |
| | $13 | $12 | $16 | $4 |
| | $15 | $10 | $12 | $2 |
| | $15 | $14 | $17 | $3 |
| | $12 | $7 | $15 | $8 |
| | $5 | $6 | $11 | $5 |
| | $11 | $4 | $9 | $5 |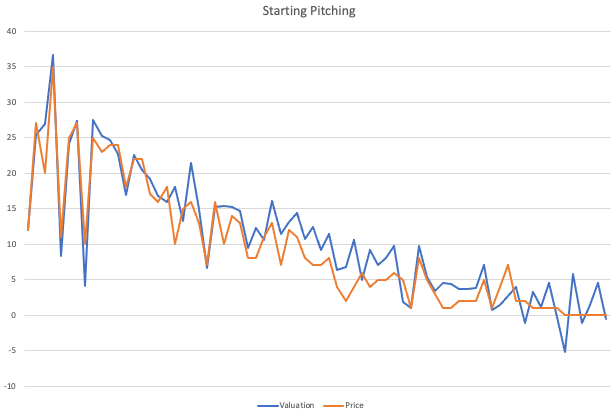 Those who sat back and waited to fill their starting pitching spots found several bargains, including me who jumped in on both Bassitt and Rasmussen. I filled five of my six starting pitching spots by my 12th win. I went slightly over budget only because I had $7 for my final roster spot, and once Matthew Boyd was nominated at $3 and was the last guy I desired, I went ahead and threw the remainder of my budget there to close out my roster.
The Bullpen
CL1 Target: Duh
CL2 Targets: Reynaldo Lopez, Jorge Lopez, Dany Jimenez, Matt Moore
CL3 Targets: Joe Barlow, Erik Swanson, Michael King, Bryan Baker, Matt Brash, Chris Martin, Ron Marinaccio
Budgeted: $22. Spent $23
Duh means there was one target: Pete Fairbanks. I have drafted seven teams this winter and I have Fairbanks in nine leagues. I began the offseason rostering him for $3 in XFL and closed out auction season with a $16 price as I competed with Doug Dennis. I knew Doug would be my primary competition given his affection for all relievers, and I would have dropped out had he gone one more dollar because I already felt queasy going $16 on someone with such risks. Then again, if Fairbanks is adding a splitter now, he could be a blast to watch pitch this season:
Reynaldo Lopez was my preferred target for the second reliever spot becuase I believe he will emerge victorious for the primary closer role in Chicago until Liam Hendriks is ready to return to the mound. If you look at the Pitching+ data from the bullpen last season, it's easy to see why:
Lopez is the only other reliever with better than average stuff and location in the bullpen and I believe he will play a prominent high-leverage role. Finally, I gladly took Joe Barlow back on my team for the same reasons I put out there in my LABR recap.
Overall, I feel very good about my pitching staff and I better given how much I spent on it. My offense will need some in-season help, which I hope to be able to acquire via trade since I begin the season down $180 in FAAB due to finishing 18 points below the 60-point threshold last season. I need Wong to hit leadoff against righties and not ninth, while I need Thompson to hit the ground running and not bequeath the role back to Leody Taveras (oblique) once Taveras comes off the IL. Lowe getting into a regular rotation in the Tampa Bay outfield/DH situation would be very helpful, and Garver getting five games at catcher would help me out as well. I'm pleased to have four multi-positional players early in the season to allow me some flexibility in pursuit of free agents and eventually trade targets, but I can ill-afford to have even one regular guy miss significant time with injury. Rendon is just as likely to drive in 100 runs this season as he is to miss 100 games, and the $17 I spent at catching could get rapidly ugly if last year's decline for Grandal was the new norm given how much playing time he could have this season.
This heavy emphasis on pitching is the linchpin of the entire operation in both Tout Wars and LABR. Given there are five familiar faces on both pitching staffs, it's quite likely that both teams will have a similar place in the standings by season's end. I just hope one or both finishes in an unfamiliar place for me, since I have never won either league.