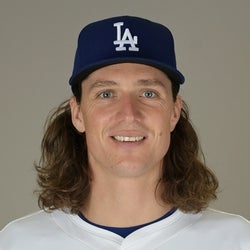 2023 Fantasy Outlook
Glasnow pulled two surprises on fantasy managers in 2022: he made it back earlier than expected and he signed a contract extension to stay in Tampa Bay a bit longer. Last winter, it was expected he would likely miss all of 2022 and there was even talk of the club trading the pitcher as he headed into what would be a costly arbitration hearing. Instead, he was able to make it back for two late appearances in September and signed a two-year deal for $30M during the recovery process to potentially stay with the club through 2024. The two outings looked like the guy we saw before the elbow gave out in 2021, but the sample size was too small to see how the typical command struggles that beset TJ recoveries will impact Glasnow in 2023. He absolutely has ace stuff, but it is understandable if you decide to pursue safer options and lower ceilings with your first or even second pitcher. It is tough to overlook the fact he has never thrown more than 140 combined innings in any professional season.
Read Past Outlooks
$Signed a two-year, $30.35 million contract extension with the Rays in August of 2022.

Glasnow pitched 3.2 scoreless innings, allowing two hits and a walk while striking out seven in Monday's loss to the Red Sox. He did not factor into the decision.
ANALYSIS
Glasnow was stretched out a little further Monday, tossing 64 pitches while blanking the Red Sox over 3.2 frames. The right-hander returned from the 60-day injured list to make his season debut Wednesday and will now be a significant part of the Rays' pitching staff in the postseason. Over his two outings, he's allowed one run on four hits and two walks while striking out 10 batters over 6.2 innings.
Read More News
Pitching Stats
Loading Pitching Stats...
2022
2021
2020
2019
2018
2017
2022 MLB Game Log

Calculate Stats Over Time
Just click on any two dates.
Scoring
FanDuel
DraftKings
Yahoo DFS
FantasyDraft
Head2Head
Loading Pitching Game Log...
2021 MLB Game Log

Calculate Stats Over Time
Just click on any two dates.
Scoring
FanDuel
DraftKings
Yahoo DFS
FantasyDraft
Head2Head
Loading Pitching Game Log...
2020 MLB Game Log

Calculate Stats Over Time
Just click on any two dates.
Scoring
FanDuel
DraftKings
Yahoo DFS
FantasyDraft
Head2Head
Loading Pitching Game Log...
2019 MLB Game Log

Calculate Stats Over Time
Just click on any two dates.
Scoring
FanDuel
DraftKings
Yahoo DFS
FantasyDraft
Head2Head
Loading Pitching Game Log...
2018 MLB Game Log

Calculate Stats Over Time
Just click on any two dates.
Scoring
FanDuel
DraftKings
Yahoo DFS
FantasyDraft
Head2Head
Loading Pitching Game Log...
2017 MLB Game Log

Calculate Stats Over Time
Just click on any two dates.
Scoring
FanDuel
DraftKings
Yahoo DFS
FantasyDraft
Head2Head
Loading Pitching Game Log...
Minor League Game Log

Calculate Stats Over Time
Just click on any two dates.
Loading Minor League Pitching Game Log...
Pitching Appearances Breakdown
How many pitches does Tyler Glasnow generally throw?
What part of the game does Tyler Glasnow generally pitch?
% Games Reaching Innings Threshold
% Games By Number of Innings Pitched
Left/Right Pitching Splits
BAA
K
BB
H
HR
Since 2020

vs Left

.168
102
17
43
7
Since 2020

vs Right

.199
122
34
59
15
2022

vs Left

.214
4
0
3
0
2022

vs Right

.100
6
2
1
1
2021

vs Left

.139
54
8
19
4
2021

vs Right

.205
69
19
36
6
2020

vs Left

.200
44
9
21
3
2020

vs Right

.200
47
13
22
8
More Splits

→

View More Split Stats
Home/Away Pitching Splits
ERA
WHIP
IP
K/9
BB/9
Since 2020

Home

2.84
0.95
69.2
14.1
2.5
Since 2020

Away

3.39
1.06
82.1
12.6
3.5
2022

Home

0
0
0
0
0
2022

Away

1.35
0.90
6.2
13.5
2.7
2021

Home

1.65
0.80
43.2
13.6
1.9
2021

Away

3.65
1.06
44.1
11.6
3.7
2020

Home

4.85
1.19
26.0
14.9
3.5
2020

Away

3.45
1.09
31.1
13.8
3.4
More Splits

→

View More Split Stats
Stat Review
How does Tyler Glasnow compare to other starting pitchers?
This section compares his stats with all starting pitcher seasons from the previous three seasons (minimum 120 innings)*. The bar represents the player's percentile rank. For example, if the bar is halfway across, then the player falls into the 50th percentile for that stat and it would be considered average.
* Exit Velocity, Barrels/BBE %, Balls Hit 95+ MPH %, and Spin Rate are benchmarked against 2019 data (min 120 IP).
See here for more exit velocity/barrels stats
plus an explanation of current limitations with that data set.
K/BB

Strikeout to walk ratio.

K/9

Average strikeouts per nine innings.

BB/9

Average walks per nine innings.

HR/9

Average home runs allowed per nine innings.

Fastball

Average fastball velocity.

ERA

Earned run average. The average earned runs allowed per nine innings.

WHIP

Walks plus hits per inning pitched.

BABIP

Batting average on balls in play. Measures how many balls in play against a pitcher go for hits.

GB/FB

Groundball to flyball ratio. The higher the number, the more likely a pitcher is to induce groundballs.

Left On Base

The percentage of base runners that a pitcher strands on base over the course of a season.

Exit Velocity

The speed of the baseball as it comes off the bat, immediately after a batter makes contact.

Barrels/BBE

The percentage of batted ball events resulting in a Barrel. A Barrel is a batted ball with similar exit velocity and launch angle to past ones that led to a minimum .500 batting average and 1.500 slugging percentage.

Spin Rate

Spin Rate is the rate of spin on a baseball after it is released. It is measured in revolutions per minute (rpm).

Balls Hit 95+ MPH

The percentage of batted balls hit that met or exceeded the 95 MPH threshold.

Swinging Strike

The percentage of pitches that result in a swing and a miss.
Advanced Pitching Stats
Loading Advanced Pitching Stats...
Loading MLB Defensive Stats...
Our full team depth charts are reserved for RotoWire subscribers.
Subscribe Now
Recent RotoWire Articles Featuring Tyler Glasnow
Past Fantasy Outlooks
2022
2021
2020
2019
2018
2017
2016
2015
2014
Glasnow was pitching at a Cy Young level in 2021 before Major League Baseball ceased looking the other way on how pitchers were enhancing their grips. Two starts into the new era, Glasnow left the mound for good and eventually needed Tommy John surgery to fix his elbow. The right-hander was outspoken in the media about how he felt going from some grip to none without any real lead time contributed to his injury. He will not throw a pitch in 2022 for Tampa Bay, so his value is in keeper league formats only. The mantra should be that pitchers take two full years to pick up where they left off, so even keeper league managers should prepare for a bumpy first half of the 2023 season.
At 6-foot-8, Glasnow has struggled at times with his mechanics and command. He's been inconsistent during his time in the majors between Pittsburgh and Tampa Bay (career 4.43 ERA, 1.34 WHIP) and has also battled a few injuries, most notably shoulder trouble in 2016 and forearm tightness in 2019. What's not in question is his physical ability. When things are going right, Glasnow is among the most dominant pitchers in the game with a 97-mph fastball and a curveball that ranks in the 92nd percentile in terms of spin rate. His stuff is so naturally filthy that he can get hitters out even when he isn't hitting his spots. The right-hander's 2020 ended on a sour note as he gave up a whopping nine homers in 28.2 postseason innings, and those struggles will be fresh in the minds of drafters this spring. It's understandable to be hesitant given his history, but a bet on the talent here could pay big dividends.
The sky is the limit for Glasnow, though there are a couple of obstacles. At 6-foot-10, he must focus to repeat his mechanics. If 2019 is an indication, Glasnow is on his way after registering a 6.1 BB%, the lowest of his career at any level, albeit in just 60.2 innings. This segues to durability. After a May 10 start, Glasnow was sporting a tidy 1.86 ERA and 0.91 WHIP with 55 punchouts and only nine walks in 48.1 innings. He left that game early with forearm tightness and didn't return until Sept. 8. The club was cautious the rest of the way, with Glasnow totaling just 12.1 frames in four starts plus two more for seven frames in the ALDS. Glasnow should be fine heading into 2020, but even if he remains healthy, his workload is likely to be monitored. Glasnow's velocity and spin rate are elite, and he's open-minded about analytics. This adds up to an ace; just don't pay for innings he likely won't deliver.
Last year was, in effect, two separate seasons for the hard-throwing righty. Pittsburgh is a big believer in establishing the fastball low in the zone to generate groundballs. That approach requires good command of the strike zone, which Glasnow simply does not have yet. This led to a 56% groundball rate and a 14% walk rate with the Pirates. Tampa Bay wants pitchers to use the fastball up in the zone to change eye levels for the secondary stuff. Batters have a tougher time laying off high heat, especially heat with Glasnow's ride to it. That explains how he was able to cut his walk rate nearly in half, but he also saw his home-run rate double after the move, partly because of the move to the AL East. Further complicating matters is the fact 96.4% of his pitches for the Rays were either fastballs or curveballs. Few pitchers can consistently go deep relying on just two pitches, no matter how good those pitches are. Indeed, he averaged just five innings per start.
During his ascent through Pittsburgh's farm system, Glasnow made a name for himself as a premier prospect. With a fastball that hovers around the 95 mph, a changeup and a curveball, Glasnow consistently fooled batters and turned in K/9s above 9.0 at each level. That dominance has yet to translate to the majors, as he posted a 7.45 ERA and 1.91 WHIP over his first 12 starts last season. His control was seemingly gone, as threw for a 50:29 K:BB over that span, and those struggles resulted in a demotion to Triple-A Indianapolis in mid-June. Glasnow found his groove with Indy, posting a 1.93 ERA, 0.96 WHIP and 140:32 K:BB over 15 starts. However, he wasn't any better after returning to the big leagues in September (9.39 ERA, 2.74 WHIP). Until he shows something at the highest level, Glasnow will remain merely a lottery ticket -- an arm with upside but without the track record to warrant a substantial investment in single-season drafts.
Glasnow's success in the minors didn't translate to Pittsburgh during his initial run in the big leagues. He gave up 11 earned runs in 23.1 innings split between four starts and three relief outings. His biggest weapon -- fastball velocity -- varied greatly. After coming to the Bucs with a mid-to-upper 90s heater, Glasnow averaged 93.5 mph and occasionally dipped into the high 80s. He spent time on the DL with both shoulder and triceps discomfort, factors which likely contributed to inconsistent velocity. His walk rate (5.0 BB/9) remained high and the Pirates tried to teach him a slide step on the fly to help contain the running game. A reluctance to throw a recently-adopted changeup basically made him to a two-pitch pitcher. If he can stay healthy and remain confident through the inevitable struggles young pitchers face, then the 6-foot-8 righty could move into the top half of Pittsburgh's rotation in 2017.
Glasnow added to his reputation as a strikeout phenom in 2015, even though his 11.2 K/9 rate was actually the lowest in three minor league campaigns. He missed six weeks with an ankle injury but pitched well enough to earn a promotion to Triple-A Indianapolis, where he registered a 2.20 ERA in 41 innings. A 4.8 BB/9 mark forced general manager Neal Huntington to tap the brakes on talks of a big league debut, but a good start to 2016 will likely punch his ticket to PNC Park after the Super 2 arbitration date passes in early June, if not sooner.
Along with the injured Jameson Taillon, Glasnow ranks atop Pittsburgh's impressive list of pitching prospects. The 6-foot-7 righty built upon an impressive 2013 at Low-A with a standout season for High-A Bradenton last year. Working primarily worked off a high-90s fastball and sharp-breaking curve, Glasnow recorded 157 strikeouts in just 124.1 innings. He gave up only 74 hits but walked 57. Fortunately, the control improved year over year, from 4.9 BB/9 to 4.1 BB/9. Although the 21-year-old struggled in his lone playoff appearance and wasn't particularly dominant in the Arizona Fall League, he'll get a bump up to Double-A in 2015. While it's unlikely the organization promotes him to the big leagues before 2016, he could see time with Triple-A Indy this summer. His ceiling remains as high as anyone in Pittsburgh's farm system.
Glasnow exploded onto the scene in 2013, striking out 164 batters in 111.1 innings for Low-A West Virginia. The 20-year-old righty throws a 95 mph plus fastball and sharp curveball from a 6-8, 215 frame. His numbers include a 2.18 ERA and 1.04 WHIP. A 4.9 BB/9 could hold Glasnow back against more advanced hitters, but he's athletic enough for his size and has time on his side to project improvement. He'll make the jump to High-A in 2014, and if he finds a way to harness his control, he could advance quickly through a typically-conservative Pittsburgh farm system.
More Fantasy News