This article is part of our NBA Mock Draft series.
With the NBA Draft less than three weeks away, rumors and speculation are beginning to heat up. Will Minnesota pull the trigger on Anthony Edwards? Can Golden State move the No. 2 pick? What are the best fits for LaMelo Ball, Obi Toppin and Deni Avdija?
We'll have to wait until Nov. 18 for the final answers to those questions, but in the meantime, here's a look at how Nick Whalen and James Anderson believe Round 1 could shake out.
Note: Picks were made in alternating fashion with team needs and past draft trends in mind
1. Minnesota Timberwolves
Anthony Edwards, G, Georgia
Relative to past drafts, this is not an easy spot. Pairing Edwards with KAT and D'Angelo Russell could be a disaster from a leadership, effort, and culture standpoint. However, it's the most likely outcome, as this specific front office won't want to draft over D'Angelo Russell by taking LaMelo Ball, even though Ball would be my pick at 1. I think Minnesota would trade down or out if the right offer is there, but I don't think it will be. - Anderson
2. Golden State Warriors
James Wiseman, F/C, Memphis
The Warriors' preference is to trade this pick, but if the right package isn't there, they could do worse than landing the best big man in the draft. Wiseman is a tantalizing athlete with the tools to be more than a lob-catching rim-runner, but he'll need to add strength and prove he can play a more disciplined style on both ends. - Whalen
3. Charlotte Hornets
LaMelo Ball, G, Illawarra Hawks
I don't think Charlotte will pass on whoever falls to 3 out of Edwards, Wiseman and Ball. Ball would give the Hornets a high-end passer at the 1 that would give them an offensive identity they currently lack. While the fit with Devonte' Graham would be problematic on defense, the Hornets are too far from contention to pass up the best player available. Terry Rozier would be on the trade block as an overqualified sixth man in this scenario. - Anderson
4. Chicago Bulls
Deni Avdija, F, Maccabi Tel Aviv
Avdija's size and playmaking are the attraction for a team that relies heavily on two high-usage guards for scoring. Defensively, he goes against the stereotype of the slow-footed Euro wing. But on the other end, Avdija's jumper is a significant concern. He hit a respectable 33.6 percent of his threes for Maccabi but barely cleared 50 percent at the free throw line. - Whalen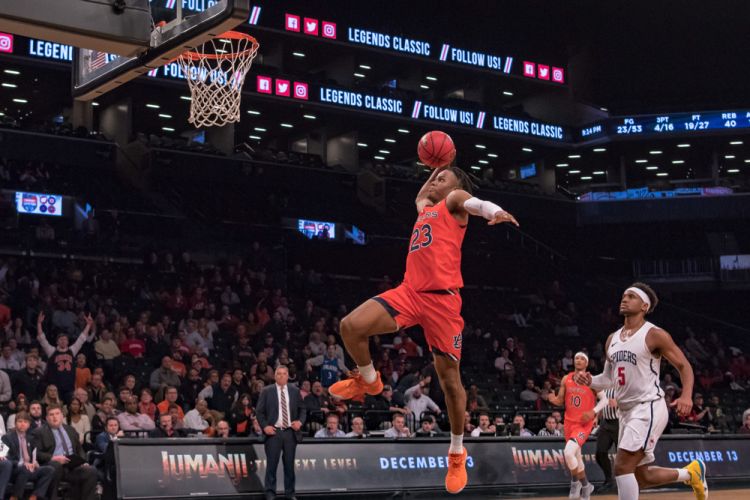 5. Cleveland Cavaliers
Isaac Okoro, G/F, Auburn
Cleveland's defense has been historically bad over the past two seasons, so I think they'll look to get at least a competent defender with this pick. Okoro has a high defensive ceiling as a Marcus Smart type that can comfortably check positions 1-4. His jumper is currently broken, but his work ethic is strong. He is an active cutter and is adept at scoring in transition and on broken plays. - Anderson
6. Atlanta Hawks
Obi Toppin, F, Dayton
Toppin could very well come off the board at No. 5 to Cleveland, but I think he's a better fit with a team like Atlanta that can slide him in as a complementary piece. Set to turn 23 in March, Toppin's age is somewhat of a concern, but he's arguably the most polished offensive player in the draft. The question is whether he'll be able to hold up defensively against NBA wings. - Whalen
7. Detroit Pistons
Killian Hayes, G, Ulm (France)
This has been a rumored landing spot for Hayes because he is a long-term, high-upside prospect who already has a great relationship with Sekou Doumbouya from their days in France. The Pistons aren't going anywhere soon, so they can -- or at least should -- take a longview approach. Hayes' three-point shot would really need to pop for him to be a top-15 PG, given his lack of high-end athleticism. - Anderson
8. New York Knicks
Tyrese Haliburton, G, Iowa State
One of my favorite prospects in the draft, Haliburton is a high-floor guard with excellent size and impressive efficiency numbers at the college level. His jumper isn't exactly a carbon copy of Ray Allen's, but it goes in consistently, and Haliburton flashed improved playmaking as a sophomore at Iowa State. Long-term, Haliburton could function as a primary ball-handler or a two-guard who can both spot up and create off the dribble. - Whalen
9. Washington Wizards
Onyeka Okongwu, F/C, USC
Another team that desperately needs defensive help, Washington figures to enter next season with Rui Hachimura and Davis Bertans (assuming he re-ups) as the two frontcourt building blocks, so they really need a rim protector to back those guys up. Okongwu doesn't strike me as a truly dominant defensive big, but he might be in that next tier down -- maybe 1.8 blocks per game at peak -- and he can finish lobs on offense. - Anderson
10. Phoenix Suns
Patrick Williams, F, Florida State
Right now, much of the appeal with Williams lies in his physical gifts. At 6-8, 225 with a 6-11 wingspan, Williams is well ahead of most of his peers from a strength perspective. While he'll probably never be a lead option at the NBA level, Williams can do a little bit of everything offensively. On defense, his effort and physicality jump out, but he's a little too thick to move as fluidly as you'd like on the perimeter. - Whalen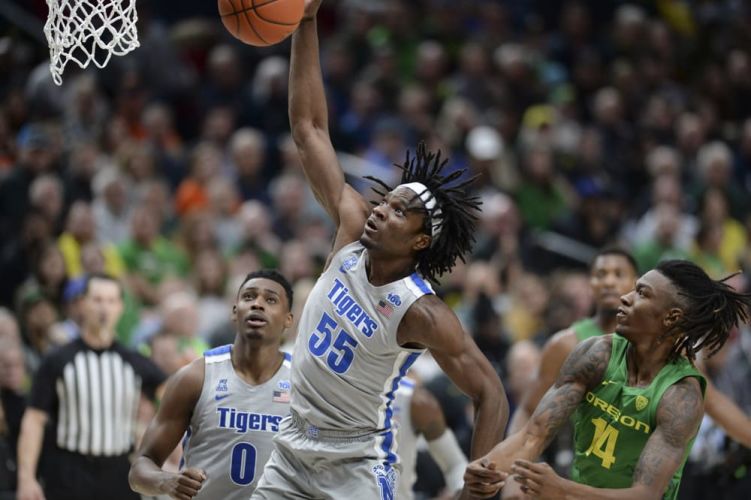 11. San Antonio Spurs
Precious Achiuwa, F, Memphis
The Spurs have gone for length and athleticism in the first round with Dejounte Murray and Lonnie Walker in recent drafts, and Achiuwa fits that trend. He also fills a need. The Spurs' best young players are all wings or guards and overlapping roles is already a concern, so I think they'll go with a big if there's one they like. Achiuwa is the best big available, capable of switching onto smaller players while playing the 4 or the 5 on offense. - Anderson
12. Sacramento Kings
Aleksej Pokusevski, F/C, Serbia
I really tried to put myself in the mind of the Kings with this one. Does Pokusevski make the most sense? Absolutely not. But neither did Jimmer Fredette or Georgios Papagiannis or even Marvin Bagley, for that matter. Pokusevski is the ultimate boom-or-bust option for the Kings, who took a step back as an organization last season. The 18-year-old likely won't be ready for a significant role right away, but he has an incredibly intriguing offensive skill set for a 7-footer with a 7-3 wingspan. Physically, though, he's considerably thinner than players like Kristaps Porzingis, Mo Bamba and Jarrett Allen were when they entered the league. - Whalen
13. New Orleans Pelicans
Aaron Nesmith, G/F, Vanderbilt
The Pelicans have a crowded depth chart, so I think they'll go with the best player available that can fill a 20-minute role off the bench without much development. That's Nesmith, who also happens to be a good fit next to Zion Williamson. Nesmith shot 52.2% from three on 8.2 attempts per game as a sophomore, so he should stretch the floor from day one, and he's good at attacking closeouts. He is a quality defender who guards 2's and 3's. - Anderson
14. Boston Celtics (via MEM)
R.J. Hampton, G, New Zealand Breakers
The Hampton-to-Boston momentum seems to be building of late, and it's fairly easy to see why. While Hampton struggled as an 18-year-old playing overseas, he has a strong pedigree as a star at the high school level. Hampton may not be ready to give the Celtics 15 or 20 good minutes per night right away, but he would be a perfect develop-on-the-fly player for one of the best teams in the East. - Whalen
15. Orlando Magic
Devin Vassell, G/F, Florida State
With a long wingspan and defensive switching potential, Vassell seems like a classic John Hammond pick. Evan Fournier (player option) could be on the way out, in which case Vassell would play a lot as a rookie. He is a 3-and-D wing with shades of Mikal Bridges, but I'm growing more bearish on him because of a weird shooting motion and 72 FT%. He is a role player all the way, so he needs to be a knockdown shooter. - Anderson
16. Portland Trail Blazers
Josh Green, G, Arizona
I'm a little higher on Green than most, but I really think he can develop into a starting-caliber NBA two-guard. At 6-6 with a 6-10 wingspan, he has prototypical size for the position, and he's excellent as a spot-up shooter. Green isn't the guy a team runs its offense through, but I could envision him topping out as an Eric Gordon-level scorer if things break right. - Whalen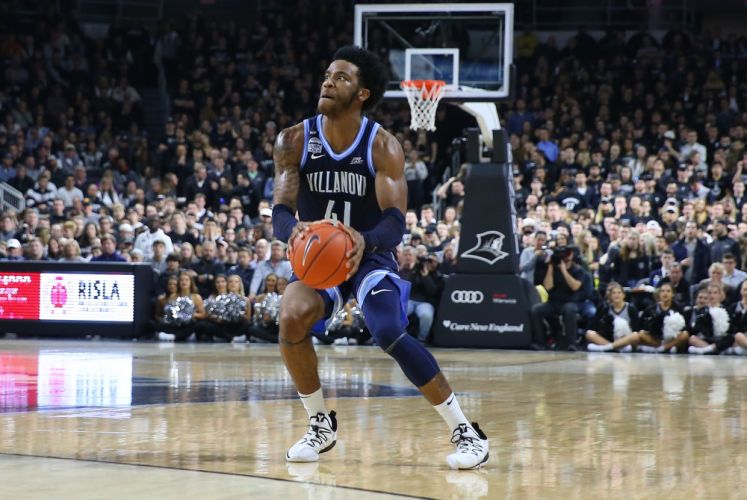 17. Minnesota Timberwolves (via BKN)
Saddiq Bey, F, Villanova
Minnesota is trying to enter win-now mode (famous last words), and Bey is ready to be a part of an NBA rotation. I get some tweener vibes — he could obviously check 3's and 4's in college, but his lack of high-end athleticism could make that a challenge in the NBA. His 1.4 steals + blocks per-40 minutes is a bit of a red flag. That said, he's a solid fit at the 4 next to Karl-Anthony Towns and should embrace a supporting role. - Anderson
18. Dallas Mavericks
Jalen Smith, F, Maryland
The Mavs like big men who can shoot, and that's what Smith brings to the table. He's nowhere near Kristaps Porzingis' level as an athlete, but Smith hit 37 percent of his threes last season, all while giving the Terps 15.5 points, 10.5 rebounds and 2.4 blocks per game. Defensively, Smith has some limitations, but effort is not a concern. - Whalen
19. Brooklyn Nets (via PHI)
Desmond Bane, G/F, TCU
Bane is a four-year player, but he is rising up draft boards because he's easy to plug into any NBA rotation. A 6-foot-6 Fred VanVleet is basically the idea. His 3.9 APG undersell his skill as a passer. He can guard 2's and 3's while being a catch-and-shoot option with the starters and a playmaker on a second unit. Bane is very mature and very aware of his future role, which is key to fitting on this Nets team. - Anderson
20. Miami Heat
Tyrese Maxey, G, Kentucky
The Heat have quickly become the new Spurs when it comes to blind faith in their development process. On paper, Maxey would be an excellent fit for a team in need of a long-term replacement for Goran Dragic, whether he's back next season or not. Right now, Maxey is not a reliable jump-shooter, but the foundation of an above-average shot looks to be there. Either way, he's a feisty enough defender to stick in a rotation. - Whalen
21. Philadelphia 76ers (via HOU)
Tyrell Terry, G, Stanford
The 76ers' lack of shooting may be the most well-known team weakness in the league, so Terry is a great fit if they're not insistent on getting an upperclassmen who is ready to help right away. Terry has the most shooting upside in this class — he could be on off-the dribble bomber some day. That said, he is undersized (6-2, 160 pounds) and would be hunted mercilessly in a playoff series. - Anderson
22. Denver Nuggets (via HOU)
Cole Anthony, G, North Carolina
This time last year, Anthony was considered a possible top-five pick, but an up-and-down year at North Carolina marred by injuries likely pushed him out of the lottery. One of the best pure scorers in the draft, Anthony is great off the dribble and has an incredibly tight handle. However, his ability -- and general willingness -- to create for others has been called into question. For Denver, the thought is that Anthony -- who has some Jamal Murray in his game -- could eventually replace Monte Morris, should he depart in free agency. - Whalen
23. Utah Jazz
Kira Lewis Jr., G, Alabama
While Lewis is one of the best point guards in this class, he would come to camp as the clear backup on almost every team in the league, so it's tough to say where he'll land. He would be a strong backup for Utah and would be the long-term Mike Conley replacement. Dennis Schroder is a pretty good comp for what Lewis could be in a couple years if all goes well. - Anderson
24. Milwaukee Bucks (via IND)
Malachi Flynn, G, San Diego State
The Bucks are in as much of a win-now mode as possible, and Flynn -- a three-year college player -- should be able to help right away. A jack-of-all-trades type at San Diego State, Flynn averaged 17.6 points, 5.1 assists and 1.8 steals, while shooting 37 percent from three as a junior. It was clear in the postseason that Milwaukee is in need of more playmaking, and that's what Flynn brings. - Whalen
25. Oklahoma City Thunder (via DEN)
Jahmi'us Ramsey, G, Texas Tech
This is an upside pick for a roster that needs upside. Ramsey may never be more than a bench scorer, but there's a little Gilbert Arenas in his game, so I think the ceiling is pretty high if everything clicks. He plays with confidence and swagger on offense but needs to improve as a passer. The big question is whether he will play with effort on defense, because the physical tools are there for him to be a good, switchable defender. - Anderson
26. Boston Celtics
Theo Maledon, G, ASVEL (France)
After taking Hampton at 14, Boston goes with another young, developing prospect in Maledon. While the two are similar in size, Maledon is a much different player. He's a much better shooter than Hampton but doesn't offer nearly the same athleticism or quickness. At 6-4 with nearly a 6-9 wingspan, Maledon projects as at least an average defender at the NBA level. - Whalen
27. New York Knicks (via LAC)
Elijah Hughes, F, Syracuse
You can never have enough shooting, and the Knicks have no shooting, so they should probably take a shooter. Hughes is a better shooter than his 34.2% mark last year suggests, as he was miscast as a primary option. Ideally, he is operating in a Danny Green type of low-usage, off-ball role while being a switchable wing defender. - Anderson
28. Los Angeles Lakers
Robert Woodard, F, Mississippi State
Like most teams in this range, the Lakers should be in search of a player who can contribute right away. Enter Woodard, who has excellent size for a wing (6-7; 7-1 wingspan) and hit nearly 43 percent of his three-point attempts at Mississippi State last season. Woodard isn't a great one-on-one scorer, but rarely is that something the Lakers would ask him to do. - Whalen
29. Toronto Raptors
Ty-Shon Alexander, G, Creighton
Alexander just seems like a Raptors pick. He's a smart, relentless defender capable of forcing turnovers in the backcourt while checking 1's or 2's. He is also a very capable spot-up shooter, although shooting off the dribble isn't a strength. Alexander needs to tighten up his handle, but as things stand, he has some Avery Bradley potential. - Anderson
30. Boston Celtics (via MIL)
Daniel Oturu, C, Minnesota
Back-to-the-basket players like Oturu have been all but phased out of the league in recent years, but I think he has a chance to stick. While Oturu dominated the Big Ten mostly via post-ups, he hit almost 37 percent of his 52 three-point attempts. He's not exactly Kevin Durant, but Oturu is a much better ball-handler than most players with his size and body type. - Whalen