This article is part of our Team Previews series.
Washington Football Team

Washington snuck into the playoffs last year as a 7-9 division champ, finishing fourth in points allowed and 25th in points scored. It's hard to find a team with fewer weaknesses in its projected starting lineup, but the whole thing rides on a 38-year-old QB with a penchant for throwing picks.
Offseason Moves
Key Acquisitions
Shouldn't have trouble with Taylor Heinicke or Kyle Allen.
Reunites with OC Scott Turner after signing for three years, $34.5M.
Missed most of 2020 with concussion symptoms.
Has 41 pass defenses in 59 NFL games, yet only three picks.
Late bloomer had a huge junior season and ran a 4.47 40.
Unlikely to start but should provide another deep threat.
Key Losses
Departure is offset by the Jackson signing.
Went 5-1 as the starter, but also threw eight INTs and only six TDs.
A Look Under the Hood
Head Coach: Ron Rivera (Year 2)
Offensive Coordinator: Scott Turner (Year 2) - Air Coryell scheme
Defensive Coordinator: Jack Del Rio (Year 2) - 4-3 scheme
2021 Vegas Projected Wins: 8 (T-19th)
2020 Record: 7-9
2020 Points Scored: 335 (25th)
2020 Points Allowed: 329 (4th)
2020 Point Differential: +6 (14th)
2020 Run-Play Rate: 37.8 percent (26th)
2020 Offensive Snaps: 1,051 (8th)
2020 PFF O-Line Ranking: No. 6
Projected 2021 Depth Chart
QB: Ryan Fitzpatrick / Taylor Heinicke / Kyle Allen
RB: Antonio Gibson / J.D. McKissic / Peyton Barber / Jaret Patterson
WR1: Terry McLaurin / Dyami Brown
WR2: Curtis Samuel / Cam Sims
WR3: Adam Humphries / Steven Sims
TE: Logan Thomas / Temarrick Hemingway / John Bates
O-Line: LT Charles Leno / LG Wes Schweitzer / C Chase Roullier / RG Brandon Scherff / RT Samuel Cosmi (RotoWire Rank: No. 16)
Kicker: Dustin Hopkins
Top Storylines
Target Sharing
There's nothing wrong with sending 134 targets to a player like Terry McLaurin, but it isn't a great sign when Logan Thomas and J.D. McKissic get 110 apiece, more than doubling their respective career totals. That's what happened last season, when the targets kept flowing even as Thomas limped to 6.1 YPT and McKissic to 5.4 YPT. Washington threw 601 passes on the year, despite starting noodle-armed QBs and deploying a rotating cast of No. 2 and 3 receivers who would be No. 5s on other teams.
Fortunately, 2021 should look different, thanks to offseason additions Curtis Samuel, Adam Humphries and Dyami Brown. The 25-year-old Samuel is the main attraction, following his mini-breakout (1,051 total yards, five TDs) in Carolina last year. He and Humphries, a slot specialist, should take over a bunch of the short passes that went to Thomas and McKissic in 2020. Plus, Samuel has shown some ability to get open downfield – a skill that should have more value with Ryan Fitzpatrick at QB – though McLaurin still is the main deep threat.
The new crowd looks especially problematic for McKissic, who figures to lose more backfield snaps to Antonio Gibson and more slot snaps (all of them?) to Samuel and Humphries. Thomas, on the other hand, at least has a secure starting job, so the decline in target volume shouldn't be quite as steep.
Triumphant in the Trenches
A defensive line led by No. 2 overall pick Chase Young rightfully gets most of the attention, but Washington's offensive line was a strength last year, too, led by guard Brandon Scherff and tackle Morgan Moses on the right side. The left side wasn't nearly as strong, but Geron Christian and Cornelius Lucas both were at least competent at tackle, where rookie second-round pick Samuel Cosmi and free-agent addition Charles Leno (94 NFL starts) also could battle for snaps. Despite cutting Christian and Moses in the offseason, the team returns left guard Wes Schweitzer and center Chase Roullier to the starting lineup.
On the other side of the ball, Washington again will start first-round picks at every spot, with Young and Montez Sweat (team-high nine sacks in 2020) coming off the edge while Daron Payne and Jonathan Allen clog up the middle. Backup end Ryan Kerrigan left Washington to sign with the division-rival Eagles, but the team has a capable pass rusher off the bench in tackle Matthew Ioannidis, who had 16 sacks between 2018 and 2019 before a biceps injury limited him to three games in 2020. Washington finished sixth in sacks (47) last year without a single player reaching double digits, so we could be looking at 50-plus per season as Young (second-year pro) and Sweat (third year) continue to grow.
Galloping Gibson
Antonio Gibson was riding pine for the University of Memphis as recently as 2018, and even during his breakout senior season (2019) he mostly played wide receiver while Kenny Gainwell dominated carries. A 4.39 40-yard dash at 228 pounds at the combine vaulted Gibson into the third round last spring, with conventional wisdom suggesting he'd need some time to develop, perhaps using his wideout experience to contribute on passing downs as a rookie.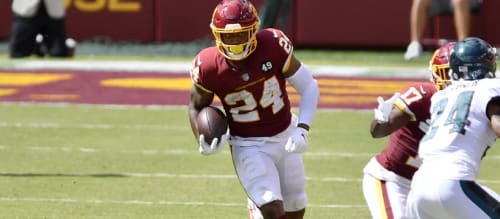 Instead, Gibson quickly emerged as Washington's top runner, leading the team with 170 carries while drawing 66 fewer targets than J.D. McKissic (who also played the slot at times). If not for a toe injury costing him two full games and most of another, Gibson likely would've reached the 200-carry threshold as a rookie, and might've even hit 1,000 rushing yards. What he did nonetheless was impressive en route to 4.7 YPC for the season and 5.2 YPC over his final eight games.
Gibson didn't get much playing time in obvious passing situations, but it's not like he was a liability in that regard, as he finished with 36 catches, two drops and eight broken tackles (fifth most among RBs) on 44 targets. He might not be on McKissic's level as a route runner just yet, but Gibson is bigger, stronger, faster and younger, so a three-down role at some point in the future is no pipe dream.
Barometer
⬆️ Rising: RB Antonio Gibson
The 2020 third-round pick surpassed expectations and finished with 1,042 yards from scrimmage and 11 touchdowns on the ground. Gibson appears to have set himself up for a larger workload in his second pro campaign.
⬇️ Falling: RB J.D. McKissic
McKissic needed a perfect storm to see 110 targets last year, more than doubling his previous high. He still should be the third-down back, but slot snaps will dry up, and new QB Ryan Fitzpatrick likes to throw deep anyway.
😴 Sleeper: QB Ryan Fitzpatrick
Fitzpatrick only seems to get better with time, and this is the most talented roster he's had around him as a starter. He also adds a nice bit of rushing production, including 394 yards and six TDs in 24 games for the Dolphins.
🌟 Pivotal Player: Terry McLaurin
McLaurin has averaged 70.2 yards per game and 9.0 YPT through two seasons, despite catching passes from five different backup-caliber quarterbacks. Ryan Fitzpatrick is no Hall of Famer, but he's much better than Dwayne Haskins and Kyle Allen. Mere competence under center should be enough for McLaurin to reach WR1 fantasy status.
Medical Tent
Samuel hurt his groin during OTAs and was held out of June minicamp. The injury initially was reported to be a mere "twinge," but he started training camp on the PUP list, where he currently sits on the eve of the preseason. Samuel even spent nearly two weeks on the reserve/COVID-19 list. Turning 25 in August, the speedy wideout is coming off a career season and now is signed to a three-year contract that includes $23 million guaranteed. With Samuel away from practice, Cam Sims has been getting another look in the No. 2 WR role.
Coming back from an Achilles tear suffered Week 7 last year, Collins was held out of practice throughout the offseason program. However, he bucked the normal recovery timetable and was cleared to practice at the outset of training camp. Collins is entering the third season of a six-year, $84 million contract, with his $12.5 million base salary for 2021 being the final guarantee in the deal. He could be a cap casualty as soon as next offseason, but for now he'll serve as Washington's starting strong safety.
QB Kyle Allen
Allen was held out of the offseason program after suffering a fractured and dislocated ankle in Week 9 last season. While he took part in the first few sessions of camp, he tweaked his surgically repaired ankle and is inching his way back to the fold. Once he's ready, Allen could compete for the No. 2 QB job with Taylor Heinicke, whose solid showing in the playoff loss to Tampa Bay led to a two-year, $4.75 million contract that includes $1.5 million guaranteed. That's not enough money to lock Heinicke in for the backup role, but it does suggest the team believes he's capable, which might be more than they'd say for Allen.
Job Battle
Offseason acquisition Adam Humphries would seem to be a perfect fit as the No. 3 receiver, a role he's often occupied throughout a six-year NFL career. He's an experienced slot specialist who has already spent two seasons with QB Ryan Fitzpatrick, suiting up together for the Bucs in 2017 and 2018. On the other hand, Humphries is coming off a concussion-plagued 2020 campaign, and it's no sure thing that Washington wants a slot specialist at No. 3.
After all, starters Terry McLaurin and Curtis Samuel both have shown the ability to work over the middle, and the latter even ran 71 percent of his routes from the slot (per PFF) in his final season with Carolina. If OC Scott Turner wants Samuel and/or McLaurin to take most of the slot snaps in three-wide formations, Cam Sims or Dyami Brown would make more sense as the third wideout.
The 6-5 Sims averaged only 4.5 targets in 10 starts last year, but he did finish with 9.9 YPT and a 66.7 percent catch rate. Brown, a rookie third-round pick, is much smaller (5-11, 189) but also faster (4.45 40), and he finished his college career with back-to-back 1,000-yard seasons at UNC. A WR trio of McLaurin, Samuel and Sims or Brown would give QB Ryan Fitzpatrick plenty of options for downfield throws.