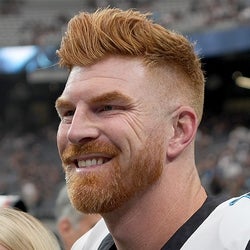 Rest-of-Season Projections
2023 Fantasy Outlook
Dalton signed a two-year, $10 million contract with the Panthers this offseason after spending the 2022 campaign with the division-rival Saints. Despite losing a preseason competition to Jameis Winston, Dalton became New Orleans' starter Week 4 and never relinquished the job. In 14 appearances, he completed 66.7 percent of his passes for 2,871 yards, 18 touchdowns and nine interceptions. With Carolina, the 35-year-old is slated to occupy a full-time backup role, as the team drafted quarterback Bryce Young with the first overall pick this spring. Should the diminutive Young struggle with durability, Dalton represents an experienced insurance policy, but he otherwise doesn't figure to see the field much.
Read Past Outlooks
RANKS
#

Overall
$Signed a two-year, $10 million contract with the Panthers in March of 2023.

ANALYSIS
Dalton has worked with Carolina's first-team offense in practice all week with Young sidelined, so he should be prepared for his first start in a Panthers uniform. The 35-year-old veteran showcased accuracy and efficiency across his 14 starts with the Saints last season, but he now faces the challenge of managing a less proven wide receiver corps headlined by
Adam Thielen
,
DJ Chark
and
Jonathan Mingo
. Considering that Young ranks last among qualified QBs with 4.2 yards per attempt through the first two games of the season, though, Dalton stepping in under center could provide a boost for Carolina's passing offense.
Read More News
NFL Stats
Fantasy/Red Zone Stats
See red zone opportunities inside the 20, 10 and 5-yard lines along with the percentage of time they converted the opportunity into a touchdown.
Loading Fantasy/Red Zone Stats...
Advanced NFL Stats
Loading Advanced NFL Stats...
2023
2022
2021
2020
2019
2018
2017
2016
2023 NFL Game Log

Calculate Stats Over Time
Just click on any two dates.
Scoring
Standard
PPR
Half PPR
FanDuel
DraftKings
Yahoo DFS
2022 NFL Game Log

Calculate Stats Over Time
Just click on any two dates.
Scoring
Standard
PPR
Half PPR
FanDuel
DraftKings
Yahoo DFS
2021 NFL Game Log

Calculate Stats Over Time
Just click on any two dates.
Scoring
Standard
PPR
Half PPR
FanDuel
DraftKings
Yahoo DFS
2020 NFL Game Log

Calculate Stats Over Time
Just click on any two dates.
Scoring
Standard
PPR
Half PPR
FanDuel
DraftKings
Yahoo DFS
2019 NFL Game Log

Calculate Stats Over Time
Just click on any two dates.
Scoring
Standard
PPR
Half PPR
FanDuel
DraftKings
Yahoo DFS
2018 NFL Game Log

Calculate Stats Over Time
Just click on any two dates.
Scoring
Standard
PPR
Half PPR
FanDuel
DraftKings
Yahoo DFS
2017 NFL Game Log

Calculate Stats Over Time
Just click on any two dates.
Scoring
Standard
PPR
Half PPR
FanDuel
DraftKings
Yahoo DFS
2016 NFL Game Log

Calculate Stats Over Time
Just click on any two dates.
Scoring
Standard
PPR
Half PPR
FanDuel
DraftKings
Yahoo DFS
Snap Distribution / Depth Chart
This Week's Opposing Pass Defense
How does the Seahawks pass defense compare to other NFL teams this season?
The bars represents the team's percentile rank (based on QB Rating Against). The longer the bar, the better their pass defense is.
The team and position group ratings only include players that are currently on the roster and not on injured reserve. The list of players in the table only includes defenders with at least 3 attempts against them.

@ Seahawks
Sunday, Sep 24th at 4:05PM
Overall QB Rating Against
102.6
Loading Opponent Pass Defense Stats...
2023 Andy Dalton Split Stats
Loading NFL Split Stats...
How do Andy Dalton's measurables compare to other quarterbacks?
This section compares his draft workout metrics with players at the same position. The bar represents the player's percentile rank. For example, if the bar is halfway across, then the player falls into the 50th percentile for that metric and it would be considered average.
Recent RotoWire Articles Featuring Andy Dalton
See More
Past Fantasy Outlooks
2022
2021
2020
2019
2018
2017
2016
2015
2014
2013
2012
2011
Dalton signed a one-year deal with the Saints in the offseason worth up to $6 million, making him the team's primary backup QB behind Jameis Winston. The veteran signal-caller provides New Orleans with an experienced No. 2 option in the event that Winston is forced to miss time due to injury. With that said, Dalton hasn't played his best football as of late, appearing in eight games for the Bears in 2021 en route to throwing for 1,515 yards, eight touchdowns and nine interceptions.
Dalton took over the starting job last year in Dallas when Dak Prescott suffered a season-ending injury. He was better by most metrics than his final year in Cincinnati in 2019, but that was still little more than merely serviceable. It was enough, though, for the Bears to sign him. And despite then trading up to draft Justin Fields, the team maintains that Dalton is the starter. His supporting cast has potential, but if Dalton couldn't be more than mediocre with all of Dallas' receiving weapons last year, it's hard to have faith he'll be any better in Chicago. And it's not like he's adding much on the ground. Even in two-QB leagues, there are better options.
The writing was on the wall for Dalton in Cincinnati after he got benched in favor of fourth-round rookie Ryan Finley last year, and while the veteran eventually reclaimed the starting job, the reprieve was only temporary after the Bengals nabbed Joe Burrow with the first overall pick in the 2020 draft. Cut loose in April, Dalton quickly signed an incentive-laden one-year deal with the Cowboys to back up Dak Prescott. While the Red Rifle likely hopes he can rehabilitate his image in Dallas after a rough last few seasons and become next year's Teddy Bridgewater, chances are at 32 years old, he'll have to settle for No. 2 jobs from here on out.
Dalton came out of the gate on fire last season, throwing for 12 touchdowns and 289 yards per game while leading the Bengals to a 4-1 start. Of course, it's easy enough to forget that happened, as he dropped to nine touchdown passes and 186.8 yards over the next six games before a thumb injury ended his season. Losing tight end Tyler Eifert to a season-ending ankle injury Week 4 didn't help, and wide receiver A.J. Green's toe injury four weeks later was the death blow for the Cincinnati offense. The season was already lost by the time Dalton joined his teammates on the injured list in late November. The one positive? Wide receiver Tyler Boyd emerged as a legitimate complement to Green, totaling 1,028 receiving yards and seven touchdowns in 14 games (even the team's breakout star couldn't avoid the injury bug). The onslaught of injuries also had the effect of pushing head coach Marvin Lewis and offensive coordinator Bill Lazor out the door, with former Rams assistant Zac Taylor taking over as head coach and bringing in Brian Callahan as his offensive coordinator. The Bengals have one of the league's least experienced coaching staffs, but that might not be a bad thing given how stale the old regime had gotten. Joe Mixon and Giovani Bernard provide plenty of juice for the rushing attack, but the receiver group will be a clear weakness if Green's ankle injury from July doesn't clear up by Week 1.
The Red Rifle fired a lot of blanks last season. Dalton posted a career low in yardage for a full season and his lowest completion percentage and YPA since his rookie season. He was miserable throwing deep, completing just 18.6 percent of his attempts of more than 20 yards, lower than any quarterback with 20 such attempts save for Eli Manning. It wasn't all Dalton's fault, though. He got little help from an offensive line that ranked 21st in sack rate (7.6 percent), as downfield routes didn't have enough time to develop. To remedy that problem, the Bengals traded for left tackle Cordy Glenn and drafted center Billy Price in the first round. The biggest change, though, is the playbook. Offensive coordinator Bill Lazor, who took over in Week 3 after Ken Zampese was fired, spent the offseason installing a new scheme with promises of a fast-paced, field-stretching attack. Better health will help, too. A.J. Green endured a late-season knee injury last year and first-round pick John Ross missed most of the season with a shoulder injury. Now healthy, Ross' game-changing speed figures to be a prime part of the new deep-ball offense. Expecting Tyler Eifert to play a full season, which he's never done, seems foolish, but 6-6 tight end Tyler Kroft turned 12 red-zone targets into seven touchdowns a year ago and figures to be involved again at the goal line. Dalton also has a new quarterbacks coach in Alex Van Pelt, who tutored Aaron Rodgers the last four years. That can't hurt.
Injuries again sabotaged Dalton last season, as his YPA dipped by nearly a full yard from 2015 while his TD passes marked a career low. A.J. Green, Tyler Eifert and Giovani Bernard all missed significant time, playing together just three games (Dalton's YPA in those three was 8.0). Dalton, who lost three games in 2015 to a thumb injury, hasn't played a full season with Green since 2013 when he posted career highs in yards and TDs. The Red Rifle isn't known for a strong arm, but he's accurate throwing deep (8th in completion percentage) and was one of four QBs last season without an interception on attempts of 21-plus yards (min. 20 attempts). This offseason, he worked to increase his velocity, which he might need after the Bengals drafted receiver John Ross ninth overall. Ross posted the fastest 40 time (4.22) in Combine history and gives the Bengals a deep threat to draw defensive attention from Green and help Eifert get open underneath. Second-round pick Joe Mixon should not only improve the running game but also should contribute as a skilled receiver out of the backfield. Dalton also offers value as a runner -- only Cam Newton has more rushing TDs among QBs since 2012. Improved offensive line play (41 sacks last year, seventh most) would help, but Dalton looks set for a bounce-back campaign, provided no injuries.
Poor Andy Dalton just can't catch a break. On pace for the best season of his career and with the Bengals looking like possible Super Bowl contenders, Dalton broke his thumb in Week 14 against the Steelers, ending his campaign and scuttling the team's title hopes. Before the injury, however, he showed tremendous growth, posting career highs in completion percentage and YPA while being one of three QBs in the league (Russell Wilson, Carson Palmer) to post QB ratings above 100 on both short routes (15 yards or less) and longer passes. Dalton doesn't have ideal height for a pocket passer, but he's athletic and mobile enough to avoid pressure and has the arm strength to stretch the field, and his decision making and ability to read defenses have become excellent. Dalton has some new secondary targets as free-agent Brandon LaFell and second-round pick Tyler Boyd replace Marvin Jones and Mohamed Sanu behind A.J. Green. Highly-regarded OC Hue Jackson left in the off-season to become head coach of the rival Browns, but Dalton's long-time QB coach Ken Zampese is stepping in as the new OC, so there shouldn't be much change in the gameplan. Assuming he can stay healthy (2015 was the first season in which he didn't play 16 games), Dalton seems poised to build on last season's performance.
Dalton saw a steep drop in production, falling from the No. 3 fantasy QB in 2013 to 18th last season. Injuries certainly played a part, with A.J. Green, Marvin Jones, Tyler Eifert and Giovani Bernard missing 37 combined games (and limited in others). But the bigger problem was, as expected, less volume under new offensive coordinator Hue Jackson, whose run-focused gameplan passed just 52.4 percent of the time (28th in NFL), compared to 57.1 percent under former OC Jay Gruden from 2011-2013. That led to a career-low attempts for Dalton, who lost 105 passes from 2013. And a career-high completion percentage couldn't make up for the loss in volume, either, as the Red Rifle's 20-yard completions dropped from 56 to 33, his 40-yard completions from 15 to seven. His 19 touchdowns were one fewer than he had as a rookie, ranking 17th in the league after he was third the year before with 33 scores. The emergence of running back Jeremy Hill ensures another season of run-first offense, but Dalton could be more productive if he improves his decision-making. His interception percentage has increased each year, peaking at 3.5 percent last season to leave him with an ugly 19:17 TD:INT ratio.
Dalton was a breakout fantasy quarterback in 2013, reaching the 3,700-yard mark for the first time while increasing his passing touchdown total from 27 to 33, so he'll probably be drafted shortly after the obvious QB1 candidates in many leagues this year. There's a pretty good chance that the 2013 season might go down as the best of Dalton's career, however, especially in fantasy terms. Offensive coordinator Jay Gruden and his pass-happy offense have gone to Washington, leaving the more run-oriented Hue Jackson in charge of the Cincinnati playcalling. In his two seasons with the Raiders (2010-2011), Jackson's offenses averaged just 507.5 pass attempts per year, whereas Dalton attempted 586 last season. Given that Dalton increased his interception percentage in each of his three years and the Bengals spent a second-round pick on Jeremy Hill, Jackson will have reason to scale back the Cincinnati passing game in 2014, and Dalton (7.0 career YPA) probably doesn't have the playmaking skill necessary to remain in QB1 territory in 12-team leagues. With a strong running game and elite wideout in A.J. Green, however, Dalton has a high floor ideal as a fantasy backup.
Dalton showed significant improvement from 2011 to 2012. His completion rate increased by more than four percentage points, helping the quarterback throw for nearly 300 more yards and seven extra touchdowns. Dalton's efficiency also improved from 6.6 to 6.9 YPA. The Bengals also made an effort to upgrade their offense through the draft, adding tight end Tyler Eifert in the first round. He'll team with Jermaine Gresham to bolster Cincinnati's attack over the middle of the field, hopefully taking pressure off of playmaker A.J. Green. In the second round, the Bengals drafted running back Giovani Bernard. The youngster should immediately see a significant role, giving the Bengals an instant upgrade over Benjarvus Green-Ellis. Remember, this is a team that averaged only 4.1 YPC in 2012. With greater efficiency in the running game, Dalton should have more opportunities to find Green downfield. Plus, Dalton can give you something on the ground. He's not going to run for 50 yards a game, but the quarterback rushed for four touchdowns in 2012 and can provide an extra point or two each week with his legs.
Dalton was everything the Bengals hoped he would be, finishing his rookie year with 3,398 yards (6.6 YPA), 20 touchdowns and 13 interceptions passing while running for 152 yards and a touchdown. His poise greatly exceeded that of many veteran quarterbacks, and his fantasy value is pointed upward as the Bengals figure to give him more passing responsibilities in 2012. Wideout A.J. Green is the sort of talent who could become the best in the league, and he's backed up by the promising trio of Jordan Shipley and rookies Mohamed Sanu (third round) and Marvin Jones (fifth round), while the tight-end tandem of Jermaine Gresham and fourth-round pick Orson Charles is highly skilled. The loss of the below-average Cedric Benson at running back is not a concern, particularly with BenJarvus Green-Ellis around to replace him.
On one hand, it's tough to see the former Mountain West star being an immediate hit in the NFL. On the other, he potentially has a favorable situation given Cincinnati's abundance of targets. Fourth overall pick A.J. Green is the most talented of the group, but Jerome Simpson, Andre Caldwell and Jordan Shipley were impressive in 2010, as well. And that's not even considering what 2010 first-round pick Jermaine Gresham might turn into at tight end. If Carson Palmer doesn't return, Dalton will have to beat out Bruce Gradkowski and Jordan Palmer for the starting job. Even if Dalton loses out to Gradkowski, the latter has only started eight games in the last two seasons, meaning that Dalton should keep him arm warm every week.
More Fantasy News