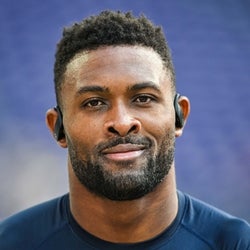 2022 Fantasy Outlook
After back-to-back campaigns with at least 14 sacks, Hunter missed the 2020 season with a neck injury and played only seven games last year due to a pectoral injury. If back to full health, he's one of the top pass rushers in the league. Double check Hunter's position in your league, because in some formats he might be listed as an LB due to the Vikings using more of a 3-4 defense. Hunter probably won't rank high at linebacker, but in IDP leagues where he's DL-eligible, he could be in the hunt for the DL1 distinction. In 2018 and 2019, Hunter posted back-to-back seasons with 14.5 sacks and over 70 tackles.
Read Past Outlooks
RANKS
#

IDP
$Signed a five-year, $72 million contract with the Vikings in June of 2018.

Solid bounce back in 2022
Hunter racked up 65 tackles (46 solo), including 10.5 sacks, and three passes defended while playing all 17 games in the 2022 regular season.
ANALYSIS
Hunter returned to play every game this season after he was limited to just seven appearances in 2021 due to a season-ending pectoral injury. The 28-year-old also finished with double-digit sacks for the first time since 2019 after being paired up with fellow veteran edge rusher
Za'Darius Smith
this season. While this pairing did not result in the most productive overall pass rush for Minnesota, they both finished with 10 or more sacks in 2022. Hunter will now enter the final stretch of his five-year, $72 million contract in 2023.
Read More News
NFL Stats
2022
2021
2020
2019
2018
2017
2016
2022 NFL Game Log

Calculate Stats Over Time
Just click on any two dates.
2021 NFL Game Log

Calculate Stats Over Time
Just click on any two dates.
2020 NFL Game Log

Calculate Stats Over Time
Just click on any two dates.
2019 NFL Game Log

Calculate Stats Over Time
Just click on any two dates.
2018 NFL Game Log

Calculate Stats Over Time
Just click on any two dates.
2017 NFL Game Log

Calculate Stats Over Time
Just click on any two dates.
2016 NFL Game Log

Calculate Stats Over Time
Just click on any two dates.
Snap Distribution / Depth Chart
2022 Danielle Hunter Split Stats
Loading NFL Split Stats...
Measurables Review
How do Danielle Hunter's measurables compare to other linebackers?
This section compares his draft workout metrics with players at the same position. The bar represents the player's percentile rank. For example, if the bar is halfway across, then the player falls into the 50th percentile for that metric and it would be considered average.
Recent RotoWire Articles Featuring Danielle Hunter
See More
Past Fantasy Outlooks
2021
2020
2019
2018
2017
2016
2015
Hunter is one of the league's best defenders and has been for five years, so his season-ending neck injury from 2020 was one of the most disappointing developments of last season. His contract dispute with the Vikings ended once the two sides agreed to a revised deal in June, so the holdout threat no longer looms over Hunter as he hopefully recovers fully from that injury. Hunter hit 70 tackles and 14.5 sacks in each of 2018 and 2019, giving him the upside to finish as the top defensive line IDP if his durability cooperates.
Perhaps Hunter is maxed out or close to it, as last year marked the second season in a row where he reached the 70-tackle, 14.5-sack mark, but if that's the best he can do then IDP owners will gladly accept him all the same. Hunter's ability to provide both standout tackle and sack production gives him a very high floor in addition to his annual DL1 upside, and there's still a chance that he makes more strides yet since he'll be only 26 in late October. With four years of strong production and elite athleticism to work with at 6-5, 252 (4.57 40, 36.5-inch vertical, 130-inch broad jump), Hunter is one of those can't-go-wrong picks even if he doesn't finish the year as the top DL IDP.
Hunter's sluggish 2017 season (45 tackles, seven sacks) turned out to be all noise, and the ball bounced back his way in 2018 to the tune of a career-high 72 tackles and 14.5 sacks on 876 snaps. That's more in line with the start to Hunter's NFL career, when he raced to 18 sacks on 991 snaps in his first two years. Still just 24 years old, Hunter is a candidate to cut out the lows and embark on an era of bankable dominance, with 70 tackles and the league sack title within reach every year until further notice.
Hunter's NFL career was off to a surprisingly fast start before last year, totaling 18.5 sacks in his first 991 snaps, so he almost had to slow down at some point. That was unfortunately last year, when he posted seven sacks on 775 snaps. That's still a totally fine number, especially for a player so young, so IDP owners would be smart to double down on Hunter as he enters his age-23 season instead of shying away based on last year's slight disappointment. With Kirk Cousins in town, Hunter could see his pass-rushing opportunities rise with more leads, too.
Hunter might be technically the third defensive end on Minnesota's depth chart behind Brian Robison and Everson Griffen, but he still profiles as the best of the three. Robison isn't close to Hunter, who's quietly been one of the league's best pass rushers the last two years. Playing just 992 snaps in his two NFL seasons, Hunter is already up to 92 tackles and 18.5 sacks. They might not be sustainable, but those numbers are outrageous. He won't even turn 23 until the end of October, making his potential off the charts.
Hunter worked his way into the defensive line rotation for the Vikings as a rookie during the 2015 season after being picked in the third round of the draft. In 14 games he racked up 33 tackles, six sacks, and one forced fumble coming off the bench behind starting defensive ends Everson Griffen and Brian Robison. Hunter figures to see his role increase even more throughout 2016, as Robison is now 33 years old and could see his snap count dwindle.
Hunter, a 2015 third-round draft pick, is raw and a bit unskilled, but his athletic traits imply considerable upside. At 6-foot-5, 252 pounds, Hunter displayed 4.5 speed. Minnesota might groom him as Brian Robison's long-term replacement.
More Fantasy News