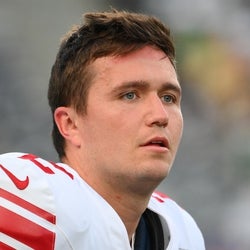 Rest-of-Season Projections
2023 Fantasy Outlook
Lock lost an open quarterback competition to Geno Smith before last season, and Smith played his way into a three-year, $105 million contract. Nevertheless, Lock accepted a one-year, $4 million deal to be the backup in Seattle in 2023. He's only 26 years old and is a fine backup with a career 6.7 yards per attempt and 25:20 TD:INT, but he'll be hard-pressed to find a starting job unless he can prove himself further. If he manages to get playing time in Seattle, however, he's set up well for success with DK Metcalf, Tyler Lockett and Jaxon Smith-Njigba at wide receiver.
Read Past Outlooks
RANKS
#

Overall
$Signed a one-year, $4 million contract with the Seahawks in March of 2023.

Plays well to finish preseason
Lock completed 16 of 25 passes for 150 yards and a touchdown in Saturday's 19-15 preseason loss to Green Bay.
ANALYSIS
The Seahawks held out their starters and let Lock play most of the game before handing things over to
Holton Ahlers
late in the second half. There were no signs of Lock struggling with the knee injury he suffered a week prior, and he's locked in as the No. 2 QB in Seattle heading into a Week 1 matchup with the Rams.
Read More News
NFL Stats
Fantasy/Red Zone Stats
See red zone opportunities inside the 20, 10 and 5-yard lines along with the percentage of time they converted the opportunity into a touchdown.
Loading Fantasy/Red Zone Stats...
Advanced NFL Stats
Loading Advanced NFL Stats...
2023 NFL Game Log

Calculate Stats Over Time
Just click on any two dates.
Scoring
Standard
PPR
Half PPR
FanDuel
DraftKings
Yahoo DFS
2022 NFL Game Log

Calculate Stats Over Time
Just click on any two dates.
Scoring
Standard
PPR
Half PPR
FanDuel
DraftKings
Yahoo DFS
2021 NFL Game Log

Calculate Stats Over Time
Just click on any two dates.
Scoring
Standard
PPR
Half PPR
FanDuel
DraftKings
Yahoo DFS
2020 NFL Game Log

Calculate Stats Over Time
Just click on any two dates.
Scoring
Standard
PPR
Half PPR
FanDuel
DraftKings
Yahoo DFS
2019 NFL Game Log

Calculate Stats Over Time
Just click on any two dates.
Scoring
Standard
PPR
Half PPR
FanDuel
DraftKings
Yahoo DFS
Snap Distribution / Depth Chart
This Week's Opposing Pass Defense
How does the Panthers pass defense compare to other NFL teams this season?
The bars represents the team's percentile rank (based on QB Rating Against). The longer the bar, the better their pass defense is.
The team and position group ratings only include players that are currently on the roster and not on injured reserve. The list of players in the table only includes defenders with at least 3 attempts against them.

vs Panthers
Sunday, Sep 24th at 4:05PM
Overall QB Rating Against
65.0
Loading Opponent Pass Defense Stats...
2023 Drew Lock Split Stats
Loading NFL Split Stats...
Recent RotoWire Articles Featuring Drew Lock
See More
Ryan Pohle analyzes the Thursday preseason DFS slate as Drew Lock figures to get plenty of playing time for the Seahawks.
Year 1 of Geno Smith as the Seahawks' starting QB was a rousing success, and with WRs DK Metcalf and Tyler Lockett and RBs Kenneth Walker and Zach Charbonnet at his disposal, a repeat is in the cards for Smith.
Past Fantasy Outlooks
Lock was part of the Seahawks' return in the deal that sent Russell Wilson to Denver. While he won't make anyone in Seattle forget about Wilson -- if and when he gets a chance this season -- simply being competent probably would be acceptable. He was less than competent in 13 games for the Broncos in 2020 (7.9 passer rating under pressure) and then lost the starting job last season to Teddy Bridgewater. In his six games last year, Lock's 71.2 percent on-target rate ranked 27th (min. 100 attempts). The good news this year is that Seattle boasts two top-notch wideouts to target in Tyler Lockett and DK Metcalf, plus former Broncos teammate Noah Fant at TE. But Lock will be working behind Geno Smith come Week 1 after the risk-averse Pete Carroll, who prefers a run-first offense anyway, announced Smith as the starter at the end of the preseason. Time will tell whether or not Lock finds his way onto the field in 2022.
After missing most of his rookie season to injury, Lock started 13 games last year but did not impress. And that's putting it mildly. He was last in the league for both completion percentage (57.3) and on-target percentage (66.6) and tied for the lead in interceptions (15). Nine of those INTs came under pressure where he had 
7.9 passer rating, the lowest in the league since 2007 when the stat first started being tracked. The team traded for Teddy Bridgewater, who then landed starting job in late August. If Lock ends up re-taking the assignment for any reason as the campaign progresses, he'll be working with a skilled set of receivers behind a solid offensive line. Courtland Sutton, Jerry Jeudy, Tim Patrick and TE Noah Fant are more than capable pass catchers, and speedster KJ Hamler, a 2020 second-round pick, could develop too.
A preseason thumb injury put Lock on injured reserve for 10 weeks last year, but he returned late in the season to go 4-1 in December. The 2019 second-round pick had his moments but was mostly no better than average, with one great game, one bad game and three mediocre games. Lock struggled with accuracy at Missouri (56.9 completion percentage), but last season completed 64.1 percent of his 156 attempts. However, he rarely showed off his strong arm, attempting just 13 passes longer than 20 yards, completing three. Part of that was due to a lack of playmakers, as Courtland Sutton was Lock's only weapon. The Broncos used this year's draft to stock their skill positions. They drafted Jerry Jeudy (4.45 40) with the 15th overall pick, added speedster KJ Hamler in the second round, and in the fourth round took 6-5 TE Albert Okwuegbunam, a college teammate of Lock's. The team also signed Melvin Gordon to strengthen the running game alongside Phillip Lindsay. Lock has a new offensive coordinator this year too in Pat Shurmur, who tutored Daniel Jones in New York to a promising rookie season. At 6-4, 228, Lock is a good athlete, but he probably won't run enough to significantly boost his fantasy numbers.
A second-round pick in this year's draft, Lock won't compete in training camp with Joe Flacco for the starting job, but the rookie could see the field later this year for the Broncos. The team views Lock as its quarterback of the future, and Flacco is 34 years old and on the downside of his career after losing the starting job in Baltimore to Lamar Jackson. The Broncos have no need to rush Lock and seem content to let him develop slowly. At 6-4, 228, the rookie has prototypical size, arm strength and athleticism (4.69 40), but he struggled with accuracy (56.9 completion percentage) at Missouri. Neither quarterback seems likely to get much help from a thin receiving corps with Emmanuel Sanders still recovering from an Achilles injury, though there is some hope for second-year wideouts Courtland Sutton and DaeSean Hamilton to develop alongside rookie tight end Noah Fant.
More Fantasy News