This article is part of our Baseball Draft Kit series.
I was honored to take part in the AL-only LABR (League of Alternative Baseball Reality) auction this past weekend while at First Pitch Florida.
The weekend was fantastic fun. I got to see three Grapefruit League games in a 50-hour span, including the Jordan Walker show on Saturday afternoon and Kodai Senga's stateside debut Sunday. In a weekend full of highlights, one that stands out was hanging with roughly half the AL LABR managers until 2 a.m. after the auction, hearing stories from Greg Ambrosius, Todd Zola, Steve Gardner, Glenn Colton and Rick Wolf about the early years of LABR — this is Ambrosius's 30th and final year in the league.
Of course, the the main event for me was the auction itself. This is my second year in the league and my first year doing the auction in person — last year we did the auction online.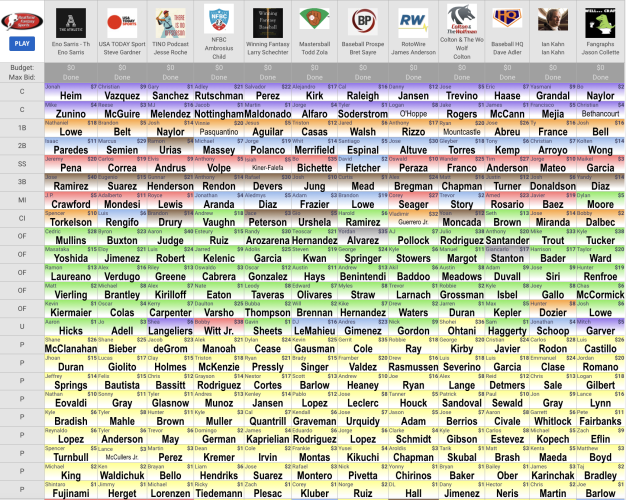 Here's a link to the full auction board, including the reserves.
The main change for me in Year 2 vs. Year 1 was that last year I did much more pre-planning on "getting my guys." This year I stuck to my valuations as much as I felt I could and had a more open mind about which players would be on my team. For instance, I even told some attendees at the conference that I anticpated ending up with one of the very best catchers (Daulton Varsho, Adley Rutschman, Salvador Perez), but they all went for a couple dollars more than I was expecting. I also guessed I'd get Clay Holmes based on the closer prices last year, but he also went for a couple dollars more than I anticipated.
Full roster:
I understand the massive value a player like Gerrit Cole ($35) provides, and I think that was one of the better purchases of the auction among players who went for 30-plus. However, I also love the second/middle tier of starting pitching in the American League, so I was comfortable shopping in that range if guys like Cole, Carlos Rodon, Shane Bieber and Luis Castillo went for more than I had them valued at. (They all did, but not by much.)
Similarly, I would have loved to have gotten Julio Rodriguez or Kyle Tucker, but I also expected them to go for more than I had them valued at. That doesn't mean the people who bought them overpaid, but I really like a lot of the outfielders in the lower auction tiers in the AL — guys like Manuel Margot and Leody Taveras, who I couldn't afford in the end, but also guys like Nick Gordon, Akil Baddoo and Kyle Stowers, who I was able to afford. Because I knew I had roughly a dozen cheap fallback options in the outfield that I probably liked as much or more than the rest of the room, I didn't panic when I was the only person without an outfielder heading into the second half of the auction, although it was a stressful time until I did fill those spots. I could sense others in the room, both opposing managers and spectators, raising their eyebrows at the fact I hadn't bought any outfielders at the first break.
You obviously never know how the bidding will go. For instance, I wanted Vladimir Guerrero, whom I had valued at $36, but I didn't expect to get him for that price when I saw what the other top players were going for. I not only got him, but I got him for $4 cheaper than I had him valued at, likely due to the knee issue that has slowed him in camp. I'm hoping and guessing that this will be a minor problem that won't sideline him to start the season. If he is ready to go for Opening Day, he has a chance to be the best value among any player who cost $30 or more.
I might not be right about the pitchers and outfielders I ended up with, and I wish I had made out a little better, but there was a method to the madness. I would have been surprised if you told me I was the last person to buy a pitcher and an outfielder, but once the chips started falling and I had a bunch of premium infielders and strong second-tier catchers, I used that to my advantage in the nomination process. I nominated about a half dozen catchers and other infielders I felt would fetch the most money, as I was obviously done with those positions but still had my UT spot open so I was able to keep nominating any hitter. This is a good example of getting other managers to spend maximum money via a nomination. As Todd Zola, Ariel Cohen and others will tell you, you're not getting money off the table when you nominate a top player, because those guys always go for a ton, no matter when they are nominated. It's guys like Spencer Torkelson and Cal Raleigh who you can get maximum money spent on by nominating them in the middle of the auction. If players in that value range don't get nominated early enough, they'll go for too little in the end because money will be tight across the board.
The other key use of my nomination power was to put up outfielders and starting pitchers I wanted in the second half of the auction. I might not get them, but at least I would know that I didn't get them, so that I knew how scarce my options were for future biddings.
As I see it, I'm a little light on innings and therefore possibly strikeouts and wins. I'm also light on speed, which was going for a big premium in most cases. With hindsight being 20/20, I would have preferred to end up with a combination of either Javier Baez and Tyler Mahle or Nestor Cortes and Elvis Andrus instead of Corey Seager. I also really wish I had the money to get Kyle Bradish in the endgame, but at that point I thought it was more important to make sure I was getting real outfielders and not settle for replacement-level options at that position.
Let me know in the comments whose AL LABR roster you like best or feel free to ask for my rationale/outlook on any of the players I ended up with.