RotoWire recently passed a significant milestone – 25 years ago on February 16, 1997, the first player news note was written. The very first update was about Roger McDowell. A second update that day was written on Jason Bere. RotoNews.com had launched in January, but added a new system of player news with a searchable database on this date. The original updates can still be viewed on RotoWire.com:
RotoNews later morphed into RotoWire.com and the player news has remained in the same database. Later in 1997, RotoNews added player news for NFL, NBA and NHL. RotoWire now includes player news for more than 17 sports, including sports (esports) leagues (Indian Premier League) and game formats (Daily Fantasy Sports) not even contemplated in 1997.
From Feb. 16, 1997 to Feb. 16, 2022, RotoNews-RotoWire has written 807,755 MLB updates and more than 2.9 million updates among 17+ sports.
Before 1997, there were some web sites and print publications that had nuggets on players for fantasy purposes. However, RotoNews' format of having a "news" and "analysis" (then called "recommends") section for each update has become a standard that even competitors follow. And RotoNews' player news system was the first that featured a searchable database.
An article from USA Today Baseball Weekly on April 16, 1997 below heralds the launch of the RotoNews player news pages (RotoNews didn't even have it's own URL at the time, that would come a few months later).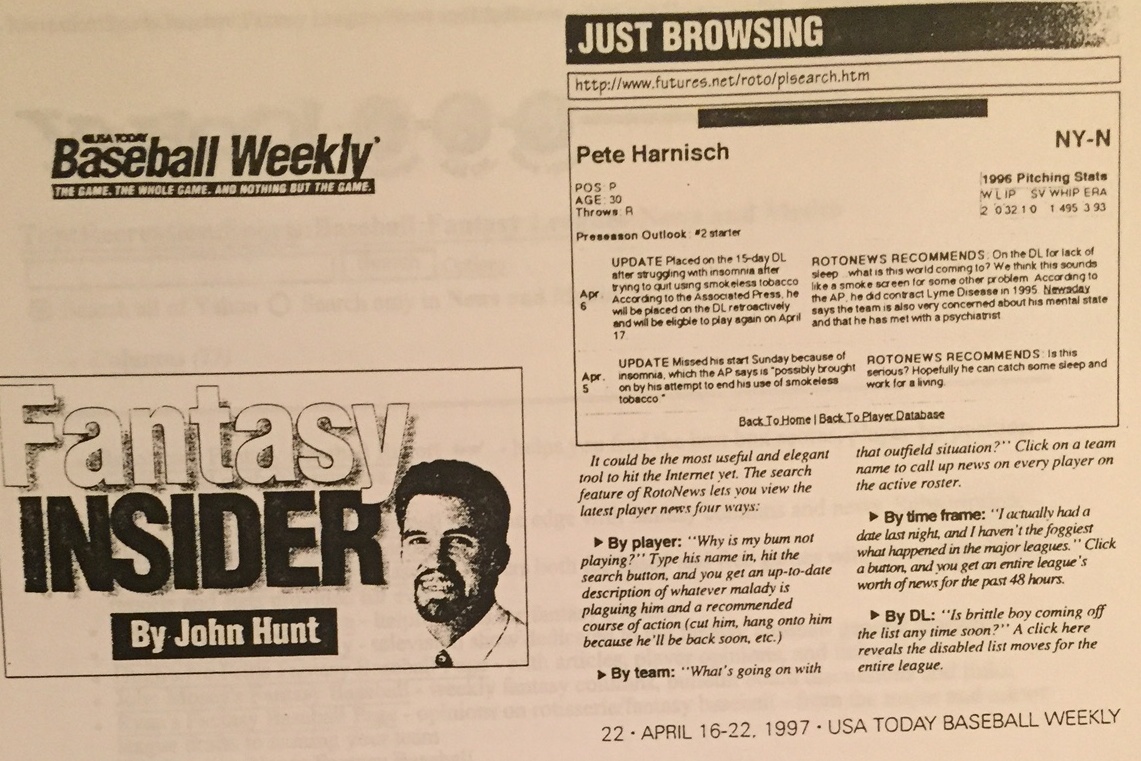 In 1997 we gathered information mostly from print sources, TV and a few online newspapers. With the invention of blogs and then Twitter, the amount of information available on players has increased dramatically. We write many more player notes per player each year as a result. Given those caveats, here are the top 20 most updated MLB players over the past 25 years. It's a mix of big stars and frequently-injured players. Six of the players played in 2021.
RotoWire's Jeff Erickson has authored the most MLB updates with 46,377.
I've chipped in 24,460 MLB player notes since writing the first two and 69,934 overall in all sports.
Thanks to everyone who has read our work the past 25 years on RotoNews, RotoWire or the many partners who utilize our player news (currently ESPN, FoxSports, NFL.com, CBS Sports, FanDuel, Yahoo! Sports, DraftKings, MyFantasyLeague, NBA.com and many more).
Hopefully we'll be able to write more baseball player news updates on actual game action soon. Here's to another great 25 years!
[Most of this was updated from a 20th anniversary blog post, so you can see how much has changed the past five years.]