This article is part of our MLB Observations series.
The second "Beat Chris Liss" NFBC Online Championship took place tonight. It's a 12-team league with a league prize of $1,500 and an overall prize of $125,000. I drafted from the eight spot. Here are the results: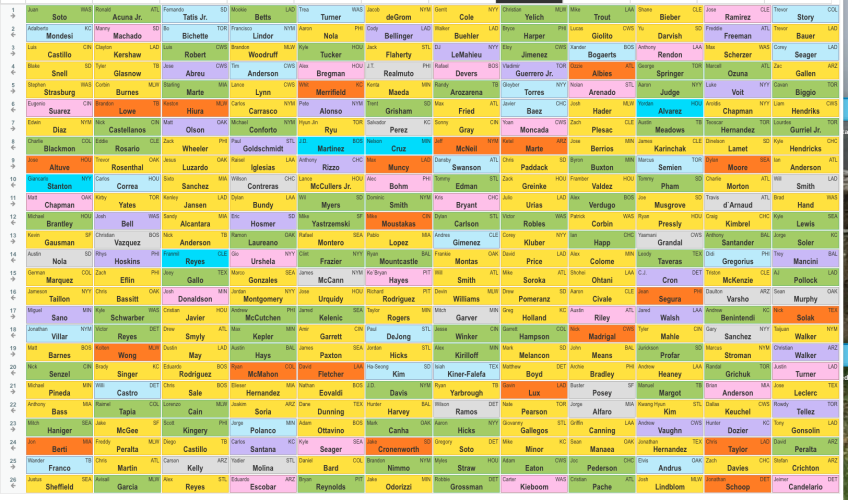 To enlarge image, click here
With the ball getting de-juiced this year and the chance MLB overshoots its intended mark, I wanted to draft at least one hitting heavy team that would thrive in a pitching-friendly environment where useful waiver-wire pitchers are plentiful and hitters scarce. I also happen to like a lot of the pitchers who are available in the middle rounds this year, and they'd be especially useful if the ball stays in the park. As you'll see below, I took it to an extreme, but that was the intent.
1.8 Christian Yelich -- Both Jacob deGrom and Gerrit Cole were gone, so I knew I was going with a hitter. It was Yelich or Mike Trout. You never lose money with Trout, but Yelich was better during the last two full seasons, and he steals bases.
2.5 Bryce Harper -- Once I got Yelich I decided to go all-in on hitting. I had Harper and Francisco Lindor in my queue, but narrowly chose Harper for three reasons: (1) CitiField is a terrible hitter's park; (2) I have Lindor in BCL1; and (3) I liked a few shortstops later in the draft. So Harper it was, even though I'd have gone Walker Buehler were I not doing an extreme strategy.
3.8 Eloy Jimenez -- I thought about Max Scherzer to provide one anchor ace, but Jimenez is a prime power/batting average player, and I was all in on hitting. It did give me three outfielders to start the draft which wasn't ideal for flexibility, though.
4.5 Vladimir Guerrero -- I might have set a new high with this pick, but it was him or Rafael Devers, and Vlad was the guy I wanted more. There was a chance he came back to me if I took Devers, but I didn't want to play that game.
5.8 Gleyber Torres -- I don't hold one poor two-month stretch against him. He's a slugger in his prime, hitting in one of the best lineups in the league.
6.5 Javier Baez -- Another last year's bum I expect to bounce back. A second theme, besides the hitting and ignoring ADP was drafting as many players who were unduly discounted relative to last year.
7.8 Yoan Moncada -- When Sonny Gray went one pick before me, I was committed to another round of hitting. Moncada was also a last year's bum in a good park and good lineup.
8.5 Ketel Marte -- Yet another player who was more expensive heading into last year. Still no pitching through eight rounds.
9.8 Chris Paddack -- I was disappointed to see Jesus Luzardo go a few picks ahead of me, but Paddack was going in the third or fourth round last, he's in a good park and on a good team.
10.5 Zack Greinke -- I like old pitchers and Greinke's peripherals were excellent last year.
11.8 Julio Urias -- I was hoping for Dylan Bundy, but Urias will do. He's still young enough to get better, throws mid-90s and plays on baseball's best team.
12.5 Victor Robles -- For all the hitting I had drafted, my team still didn't have enough speed. Robles, yet another last year's bum, provides that, and he's also a "best-shape-of-his-life" story.
13.8 Corey Kluber -- Who knows whether he'll be healthy, but the Yankees gave him $11 million to find out, so I paid with a 13th round pick.
14.5 David Price -- Another old, former Cy Young Award winner (my third), who's pitching for an elite team.
15.8 Mike Soroka -- He's coming back from an Achilles' injury, not anything with his arm, and he was very good in 2019. He's also on a team that should support him offensively.
16.5 Drew Pomeranz -- I couldn't spend on an early closer with this strategy, so I vowed to get Pomeranz and hopefully back him up with Mark Melancon.
17.8 Greg Holland -- He was the best of the remaining closers mostly because he's the most likely to have the job.
18.5 Garrett Hampson -- He's in the mix for a starting job, and there's so much upside in Coors with his speed.
19.8 Mark Melancon -- I was worried the Hampson pick would cost me Melancon, but it didn't. Of course, if Emilio Pagan gets the job, it's all for naught.
20.5 Matthew Boyd -- I wanted Boyd and Eduardo Rodriguez, but I chose Boyd. Rodriguez's ADP was higher, so there was a chance I could have gotten both had I taken E-Rod first, but as with Guerrero, I didn't want to play that game and risk only getting the guy I wanted less. Boyd struck out 238 batters in 2019, and pitched badly last summer while battling injuries. (One more last year's bum.)
21.8 Gavin Lux -- A swing-for-the-fences pick on a mega-prospect who could be ready this year.
22.5 Nate Pearson -- He's probably a year away if he can ever stay healthy and harness his stuff, but you never know when the light bulb goes on.
23.8 Giovanny Gallegos -- He's my bet to start the year as the Cardinals closer, and if he's good, I'm not sure they force Jordan Hicks into the job when he returns.
24.5 Mike Minor -- Another last year's bum who was good in 2019. I need as many innings and Ks as I can get.
25.8 Adam Eaton -- With Garrett Hampson manning one of my outfield spots and no DH (other than Lux) of which to speak, I wanted a boring veteran in a good lineup.
26.5 Carter Kieboom -- This was probably early, but I still didn't have a corner infielder, and Kieboom is a top prospect in a good park with a starting job.
27.8 Yuli Gurriel -- Another "best shape of his life" story. He's old, but he crushed it in 2019, and he's still got the job for now.
28.5 Elias Diaz -- I was going to wait until Rounds 29-30 to take my catchers, but someone took a third one for God knows what reason, so I had to grab my top remaining choice. Diaz had one decent year, and now he's the likely starter at Coors.
29.8 Amed Rosario -- Yet another last year's bum. He wasn't even on my radar, but it seemed strange he's slipped this far after a bad two months. He also gets a park upgrade.
30.5 Pedro Severino -- He's got a job in a good park, and he's not a zero with the bat.
Roster By Position
1B Vlad Guerrero
2B Ketel Marte
3B Yoan Moncada
CI Yuli Gurriel
MI Javier Baez
OF Christian Yelich/Bryce Harper/Eloy Jimenez/Victor Robles/Garrett Hampson
UT Adam Eaton
SP Chris Paddack/Zack Greinke/Julio Urias/Corey Kluber/David Price/Mike Soroka/Matthew Boyd
Bench: Gavin Lux/Carter Kieboom/Amed Rosario/Mark Melancon/Giovanny Gallegos/Nate Pearson/Mike Minor