This article is part of our MLB Observations series.
The third and final Beat Chris Liss NFBC online championship took place tonight. I drew the third pick. Here are the results.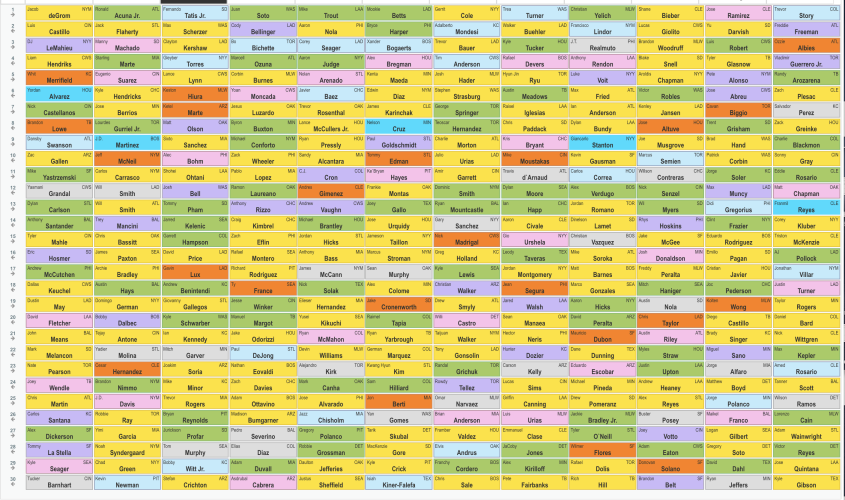 To enlarge image, click here.
This could turn out to be a good team because I took a lot of players with upside, but I was a little sloppy on a few picks, instantly regretting two of them and forgetting about a couple players late who I should have had in my queue. (I figured since I had done so many drafts, including much deeper ones, I could just work off the NFBC draft tool and not have my own customized sheet.) it was still a fun draft, and as I said there's plenty of upside here.
1.3 Fernando Tatis -- I was hoping for Jacob deGrom, but didn't think it would happen. I also like Juan Soto, but he's a little banged up now, and Tatis already played shortstop yesterday after battling a minor injury of his own.
2.10 Max Scherzer -- He's healthy this spring and racking up strikeouts. I felt compelled to take him because in Beat Chris Liss 2, I almost took him in Round 3, but instead opted for Eloy Jimenez because I wanted to push hitting early.
3.3 Clayton Kershaw -- I wanted a Jack Flaherty share, and ADP says I was entitled to it, but it didn't happen. I was happy to take Kershaw. Through two rounds my team already had six Cy Young awards.
4.10 Gleyber Torres -- ADP says I was entitled to Alex Bregman, but to no avail. I'm happy with Torres at this price, but now I have a ton of him, my only two hitters are both shortstops, and it also made for a tough choice in Round 5.
5.3 Lance Lynn -- I instantly regretted this pick. I was torn between him, Corbin Burnes and Randy Arozarena and took Lynn. I would have taken Yoan Moncada, but he left tonight's game with a minor injury, and I already have a lot of him. I don't know what I should have done -- only that I don't feel great about Lynn here when Zack Greinke, for example, goes in Round 8. But that's often the nature of these rounds, lots of so-so guys who don't stand out.
6.10 Keston Hiura -- I sort of wanted Ketel Marte here, but have him in another league and felt he'd be more likely to come back in a few picks. I also like that Hiura hits in a better park and will soon qualify at first base.
7.3 Ketel Marte -- i love batting average, as it's hard to get later in the draft, and I like that he'll qualify at OF soon. This clogged up my middles and utility since I already had Tatis, Torres and Hiura, but with Marte soon moving to OF and Hiura to first, it wasn't a big deal.
8.10 Matt Olson -- I wanted a little more pop, so Olson was the guy.
9.3 Sixto Sanchez -- I missed out on Jesus Luzardo a couple picks earlier, and I already had been shut out on deGrom and Flaherty, so I reached. But this was a bad pick. Sanchez has all-world stuff, but he hasn't put it together yet, and the Marlins will probably baby him. I should have taken Giancarlo Stanton or Sonny Gray. Too much of an impulse pick and not enough ways for this to pan out.
10.10 Alec Bohm -- I don't have him anywhere else, but he's at the right age and in the right park to earn a profit here. Plus I needed a third baseman.
11.3 Shohei Ohtani -- This was also a FOMO pick, but one I don't regret reaching for. He's throwing 99, hitting home runs and stealing bases this spring. I'm happy to have landed a share finally, and this price was fine.
12.10 Josh Bell -- This is a Dalton Del Don player who I never liked, but the park and lineup upgrade is significant, and as I contemplated picking him it just seemed obvious he would have a good year under these conditions after raking in 2019.
13.3 Tommy Pham -- I needed an OF, and I needed some steals. Pham fit the bill.
14.10 Jarred Kelenic -- I needed outfielders, and Kelenic is healthy and raking in spring training again.
15.3 Garrett Hampson -- With Nolan Arenado gone and Brendan Rodgers hurt, I have to think Hampson will play regularly. I also felt I was still a little light on steals, a problem Hampson solved.
16.10 David Price -- The Hampson pick cost me my favorite closer target, Greg Holland, so I took Price. But I forgot about James Paxton, who's throwing in the mid-90s again and went with the next pick.
17.3 Gavin Lux -- I wanted a closer, but none of them jumped out at me, so I pushed it even further. I have Lux everywhere, and I figured why not get a monopoly in case this is the year he makes good on his elite pedigree.
18.10 Andrew Benintendi -- I like that he's in a new location and offers some speed. He's still young enough to reprise his best years with the Red Sox. But this pick was as mistake as will be apparent later on.
19.3 Giovanny Gallegos -- I don't think Jordan Hicks is ready, and Gallegos seems like the logical choice to have the job for the foreseeable future. My first closer, taken narrowly over Diego Castillo.
20.10 Kyle Schwarber -- If my team had a weakness besides saves, which with I was prepared to deal, it was power. My infield had a ton, but my outfield was light. Schwarber, like Bell, is in a better park and lineup, and I think he can hit .240-.250. But because I took Benintendi, instead of Gallegos a round earlier, I missed out on Castillo, who I'm almost sure will be the closer in Tampa. I should have gone Gallegos in 18, Castillo in 19 and Schwarber in 20, as Benintendi wasn't necessary once I had Hampson.
21.3 Ian Kennedy -- I think Kennedy will be the closer, though I'd much rather have the guy on the Rays than on the Rangers.
22.10 Mitch Garver -- I usually wait even longer on catchers, but I wanted a little extra pop.
23.3 Joakim Soria -- He's been bad this spring, but I needed a third option in the event one of both of my guys is out of a job before the season even starts.
24.10 Mike Minor -- I like Minor as a pitcher and was glad to take him here.
25.3 Trevor Rogers -- A good prospect with upside in a good park.
26.10 Bryan Reynolds -- The Rogers pick cost me Omar Narvaez who's been raking this spring, so I took a player who should hit third and play every day.
27.3 Jurickson Profar -- i know it's a crowded depth chart, but the team paid him pretty decent money (three years, $21 million), and injuries will happen. I have a feeling about him.
28.10 Tom Murphy -- He's battled injuries, but when healthy he has some pop.
29.3 Bobby Witt -- I donkeyed my way into him in two leagues already, so why not triple down and see if a call-up is imminent?
30.10 Stefan Crichton -- It's amazing they let me monopolize the crucial Diamondbacks closer battle.
Roster By Position
1B Matt Olson
2B Keston Hiura
3B Alec Bohm
CI Josh Bell
OF Tommy Pham/Jarred Kelenic/Garrett Hampson/Andrew Benintendi/Kyle Schwarber
UT Ketel Marte
SP Max Scherzer/Clayton Kershaw/Lance Lynn/Sixto Sanchez/Shohei Ohtani/David Price
RP Giovanny Gallegos/Ian Kennedy/Joakim Soria
Bench: Gavin Lux/Mike Minor/Trevor Rogers/Bryan Reynolds/Jurickson Profar/Bobby Witt/Stefan Crichton