This article is part of our Rounding Third series.
In terms of the amounts bid, this was the quietest week of the season. There was one $316/$1,000 budget bid in one of my eight leagues, but in the other leagues no player went for more than 16 percent of that team's budget. Personally it was a quieter week for my teams, too. Nowhere was it quieter than in ...
AL Tout Wars

Brent Rooker was my third choice to fill a spot vacated by J.T. Riddle going on the COVID-IL. I also had modest bids in on Ryan O'Hearn and Mike Ford. Hopefully I will be getting Andrelton Simmons and Anthony Rendon off the IL this week.
NFBC Main I
Once again, two parts: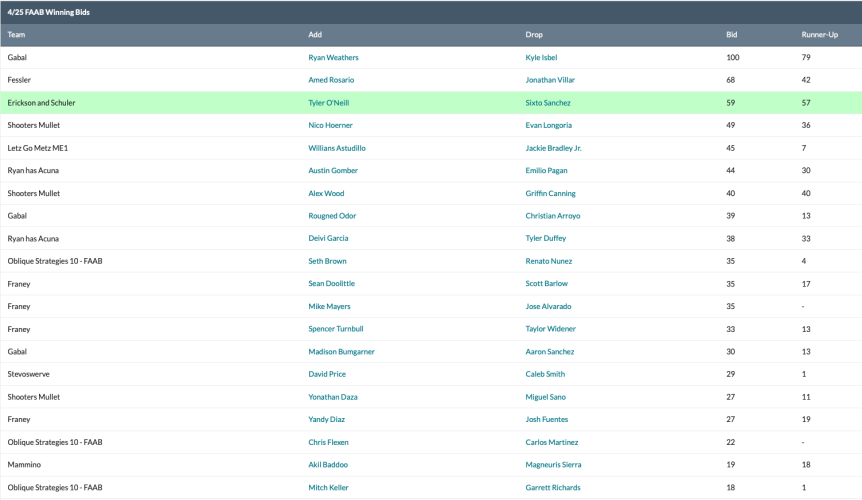 Click here for a larger image.
and
Click here for a larger image.
It was tough cutting Sixto Sanchez after holding out the last two weeks, but the news on him hasn't been great. The latest was that he's "a way's out" from throwing from a mound in game action. I don't think we'll see him until June, and then when we do, what form will it be? He could have a setback with the shoulder, he could be on a limited pitch-count, let-alone an innings count. I can't afford to carry him that long for that uncertain of a pay-off.
Then again, I could find myself in on the bidding on Sanchez in two weeks after cutting him, much like I was with O'Neill!
Main Event II
In two parts: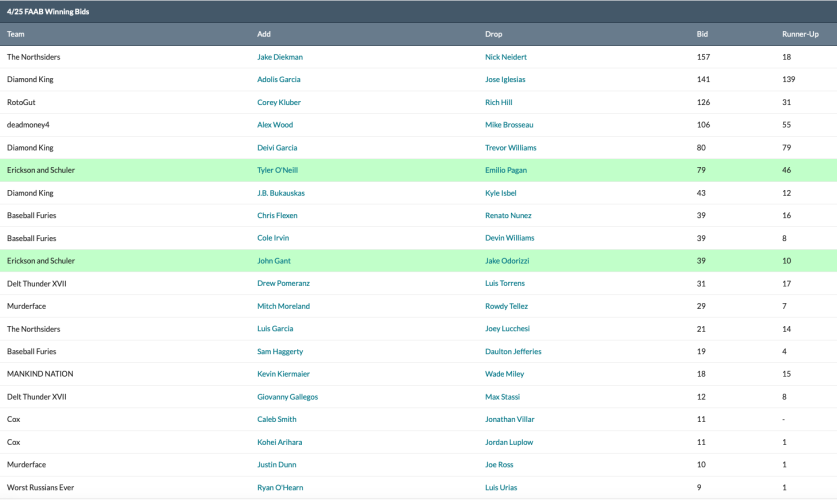 Click here for a larger image
and

Click here for a larger image
Tyler O'Neill and John Gant were my two most common pickups in my Sunday FAAB leagues, with O'Neill getting picked up in both Mains. It's hard to find power/speed guys, and O'Neill has that potential, albeit at the cost of batting average. Nonetheless, I was optimistic about him in draft season and made a point of targeting him now that he's back.
It was tough dropping Emilio Pagan, knowing that he can handle the job if afforded the opportunity. But it's readily apparent that Mark Melancon is holding onto the job as long as he's healthy, and there's no guarantee that the Padres would choose Pagan over Drew Pomeranz should something happen to Melancon. With many free agent pickups, it's tough to remember that you have to make a tough drop.
BJE I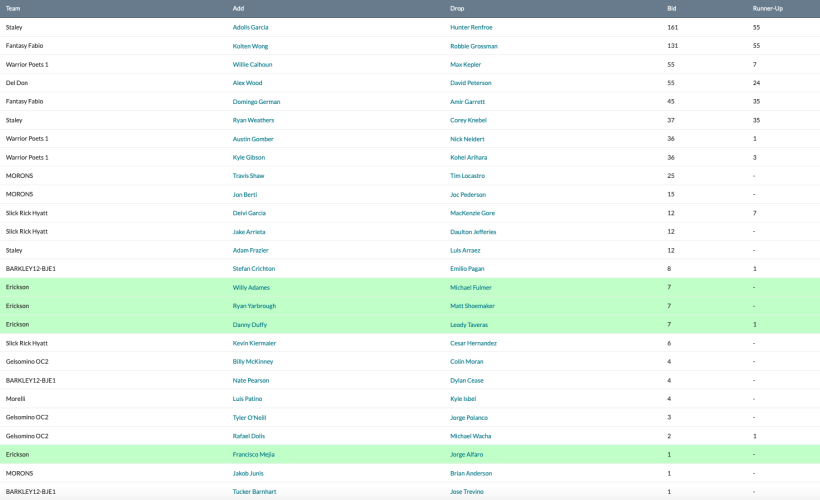 Click here for a larger image.
This team is off to a rough start, almost all on the batting side - being last in batting average, homers and runs in your league is no way to go through life. I've been without George Springer, drafted Leody Taveras and basically have had one catcher all season, but it goes deeper than that. All my Braves (Travis d'Arnaud and Dansby Swanson in particular) are in the throes of a slump that I think that they may emerge from, but it's been tough.
I added Willy Adames to cover for the possibility that Trea Turner needs to sit out Tuesday/Wednesday, along with Starlin Castro, who I also have. Yarbrough and Duffy are for starting pitcher depth - I actually have both on my bench this week, but I like their skills. And I got tired of having a dead spot at C2, so I grabbed Francisco Mejia for Jorge Alfaro.
BJE II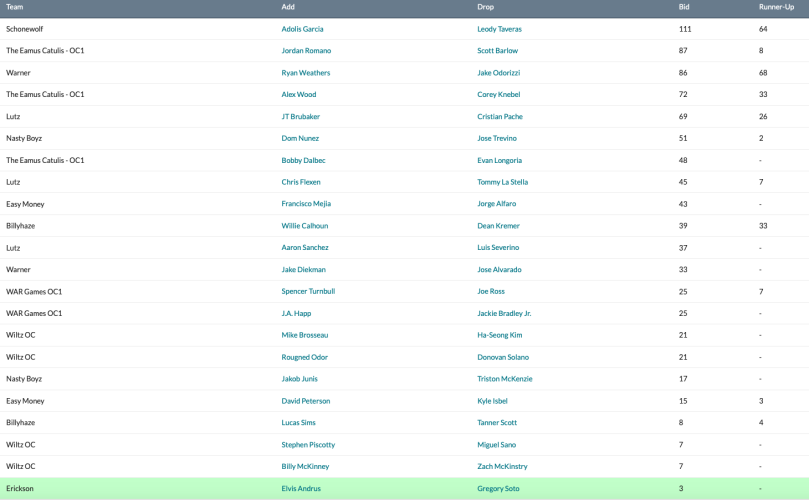 My bids on this mid-tier juggernaut were very modest because I didn't have too many obvious cuts, as most of my bench is carrying red suitcases (injury notifications) right now. Elvis Andrus and his four games to begin the week will go in while I wait out Trea Turner and Mike Moustakas. I have some regret dropping Gregory Soto because he's at least sharing in the saves for the Tigers, but I do have three other closers (Will Smith, Hector Neris and maybe Taylor Rogers - I didn't say they were solid closers!).
TGFBI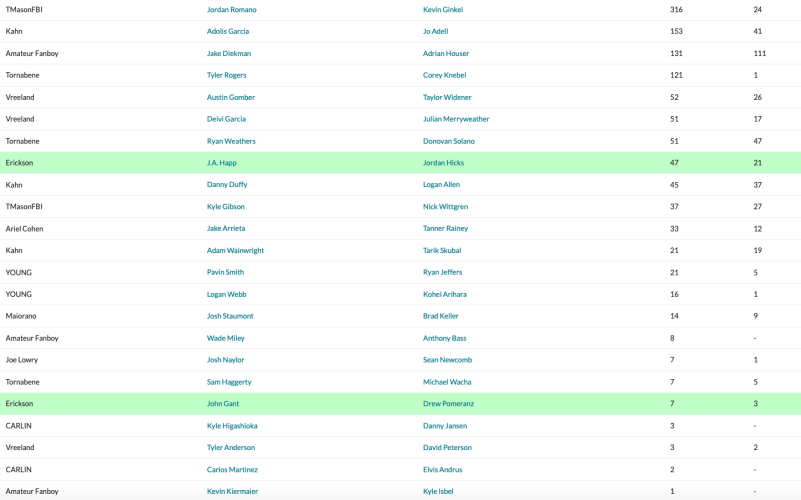 I agonized over these cuts, but I can't keep carrying non-closing relievers, even if they are pitching well. I still am carrying Jose Alvarado who I kept over Jordan Hicks and Drew Pomeranz, because I think he's got a better chance of unseating Neris than the other two over their respective closers. I hope I'm not wrong. J.A. Happ gets to follow his near no-hitter with a start at Cleveland this week, then starts against Texas and Detroit next week, so he's a two-week streamer at least.
LABR Mixed Draft League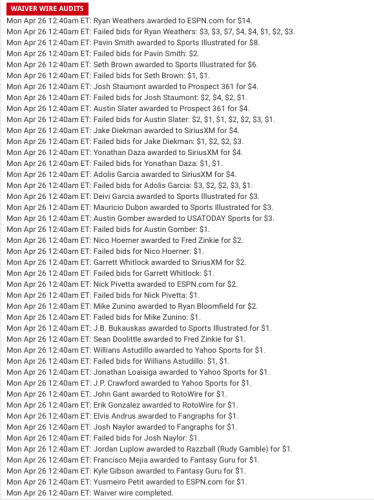 This was a good week for modest bids - the only two players that I went more than $1 for were Ryan Wwathers and Pavin Smith, and their respective $2 bids fell comfortably short. Instead I ended up with Erik Gonzalez to fill an empty corner slot until Christian Walker returns, and John Gant yet again.
RotoWire Staff Keeper League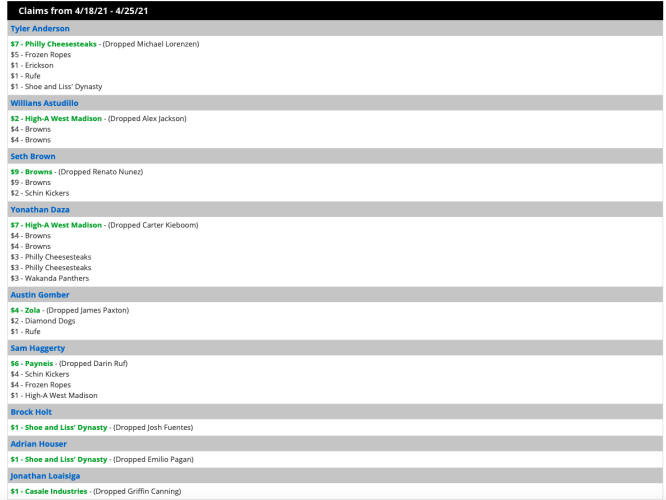 and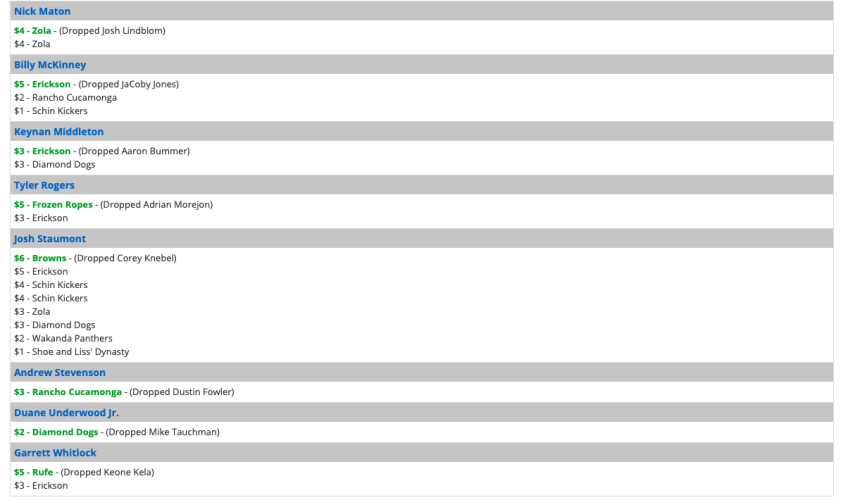 With the lack of progress from Christian Yelich, it looks like Billy McKinney will get a decent run of playing time for the short-term. He's a post-post-post-hype sleeper getting a chance, and I have no illusions that he'll be a long-term keeper, but he'll do in a short-term pinch, at least better than JaCoby Jones. I'm annoyed that I could have had Garrett Whitlock for $1 a week ago but my sloth caused me to be outbid this week. Instead, I settled for my fourth or fifth option in Keynan Middleton. I probably should have bid more on Josh Staumont too, but that the Royals activated Greg Holland so quickly made me think that he could still factor in the saves picture.