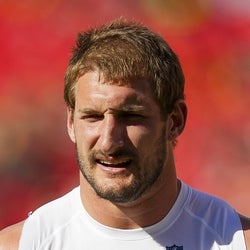 2023 Fantasy Outlook
Acquired from the Bears last offseason, Mack didn't make as significant of an impact as the Chargers might have hoped. However, much of that had to do with the absence of stalwart linebacker Joey Bosa, who missed 12 games due to a groin injury. It's been four seasons since the No. 5 overall pick in the 2014 NFL Draft has registered double-digit sacks but if Mack and Bosa can stay healthy for the majority of the season, the duo should provide the team's defense with a potent pass-rushing combo in 2023.
Read Past Outlooks
RANKS
#

IDP
$Signed a five-year, $135 million contract with the Chargers in July of 2020.

Bosa registered 10 tackles (eight solo), three tackles for loss -- including 2.5 sacks -- and a forced fumble in five games during the 2022-23 regular season.
ANALYSIS
Bosa spent the majority of the season on injured reserve, as he missed 13 straight games after injuring his groin Week 3, an issue he aggravated Week 18. Bosa was still productive in his limited action, especially as a pass rusher. He finished the season with the sixth-most sacks and tied for the fifth-most quarterback hits on the Chargers. While his injury history might be a cause for concern, it's worth noting the 27-year-old has recorded double-digit sacks in every season he's been fully healthy for.
Read More News
NFL Stats
2022
2021
2020
2019
2018
2017
2016
2022 NFL Game Log

Calculate Stats Over Time
Just click on any two dates.
2021 NFL Game Log

Calculate Stats Over Time
Just click on any two dates.
2020 NFL Game Log

Calculate Stats Over Time
Just click on any two dates.
2019 NFL Game Log

Calculate Stats Over Time
Just click on any two dates.
2018 NFL Game Log

Calculate Stats Over Time
Just click on any two dates.
2017 NFL Game Log

Calculate Stats Over Time
Just click on any two dates.
2016 NFL Game Log

Calculate Stats Over Time
Just click on any two dates.
Snap Distribution / Depth Chart
2022 Joey Bosa Split Stats
Loading NFL Split Stats...
Measurables Review
How do Joey Bosa's measurables compare to other linebackers?
This section compares his draft workout metrics with players at the same position. The bar represents the player's percentile rank. For example, if the bar is halfway across, then the player falls into the 50th percentile for that metric and it would be considered average.
Recent RotoWire Articles Featuring Joey Bosa
See More
Past Fantasy Outlooks
2022
2021
2020
2019
2018
2017
2016
For Joey to keep pace with his brother, the elder Bosa needs a career year. He's clearly one of the league's best defenders and has the ability to take over games, but Bosa's career has so far consisted of big production in small samples that fail to scale upward when his playing time increases. Perhaps this is the year he puts it all together, with opponents now forced to account for Khalil Mack on the other side.
If his injury luck cooperates, Bosa could be in for a career year in 2021. He's consistently shown the ability to approach the 70-tackle, 12-sack thresholds when logging about 850 snaps, and if new coach Brandon Staley manages this defense as impressively as he did the 2020 Rams, Bosa could post per-snap production that's even better than his previous standard. Bosa's pass-rushing opportunities should be as frequent as ever if Justin Herbert keeps scoring points, setting up a potential spike in sack production in addition to his typical standout tackle production.
Turning 25 in July, Bosa has already rounded into a clear top-five IDP option on the defensive line. He's settled into an 850-snap role with the Chargers, a workload over which his career per-snap production would project to roughly 66 tackles and 13 sacks. The main thing limiting his upside might be the effectiveness of the Chargers offense - Bosa will only get so many sack opportunities if the Chargers can't force opposing teams to throw the ball. He could just produce that many more tackles in run defense in that scenario, but Bosa would have 70-tackle, 16-sack upside on a good team. Perhaps he can pull it off on a bad team, too.
A holdout in 2016 and a foot injury last year stunted his schedule a bit, but Bosa looks locked in for an All-Pro season in 2019. He's only 24, yet he already has 27 sacks on 1,730 snaps. That would project to about 13.5 sacks on 850 snaps, and his torrid pace at less than 100 percent health last year (5.5 sacks on 316 snaps) indicates Bosa has untapped developmental upside. So long as there are no concerning reports about Bosa's foot this offseason, it's difficult to see what could slow him down.
Bosa has been incredible in his first two NFL seasons, posting 23 sacks in 28 games, including a 16-sack pace when prorated to a 1,000-snap projection. He finished last year with 12.5 sacks on 852 snaps, apparently while playing through a since-repaired dislocated finger. Bosa doesn't even turn 23 until July. You never want to impose unfair expectations, but Bosa is on an obvious Hall of Fame pace right now, and in the meantime there's no reason to suspect he'll do anything but improve.
If there's a young talent capable of pushing Watt and Mack on the defensive line, it's probably Bosa. The third overall selection from last year's draft, Bosa's billing as a 4-3 end was no impediment to immediate success in San Diego's 3-4 scheme, even after a bizarre contract dispute that held him out for the first four games. That Bosa hit double-digit sacks as a rookie on just 562 snaps shows how special he is, and his circumstances should be even better with the Chargers switching to a 4-3 alignment this season.
The surprise third pick of the 2016 draft, Bosa should prove an immediate IDP factor on the defensive line. Regardless of whether most of his snaps are at 3-4 end or on the edge in nickel formations, Bosa is an unusual talent who has the violence to succeed in traffic and the athleticism to evade blockers. The Chargers didn't draft him third overall to let him come along slowly, so expect Bosa to make an impact early in his career. He totaled 37 tackles for loss and 18.5 sacks the last two years at Ohio State.
More Fantasy News