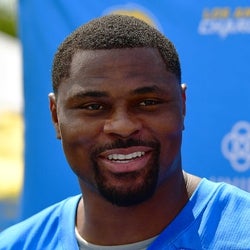 2023 Fantasy Outlook
Acquired from the Bears last offseason, Mack didn't make as significant of an impact as the Chargers might have hoped. However, much of that had to do with the absence of stalwart linebacker Joey Bosa, who missed 12 games due to a groin injury. It's been four seasons since Mack has registered double-digit sacks but if Mack and Bosa can stay healthy for the majority of the season, the duo should provide the team's defense with a potent pass-rushing combo in 2023.
Read Past Outlooks
RANKS
#

IDP
$Signed a six-year, $141 million contract with the Bears in September of 2018.

Mack recorded 50 tackles (33 solo), eight sacks, an additional four tackles for loss, two forced fumbles and two fumble recoveries across 17 games in the 2022-23 season.
ANALYSIS
In his first season with the Chargers, Mack led the team in both sacks and total tackles for loss. However, the 2016 Defensive Player of the Year failed to record double-digit sacks for the fourth straight season. While Mack may not be as dominant as he was earlier in his career, he is still a force to be reckoned with coming off the edge.
Read More News
NFL Stats
2022
2021
2020
2019
2018
2017
2016
2022 NFL Game Log

Calculate Stats Over Time
Just click on any two dates.
2021 NFL Game Log

Calculate Stats Over Time
Just click on any two dates.
2020 NFL Game Log

Calculate Stats Over Time
Just click on any two dates.
2019 NFL Game Log

Calculate Stats Over Time
Just click on any two dates.
2018 NFL Game Log

Calculate Stats Over Time
Just click on any two dates.
2017 NFL Game Log

Calculate Stats Over Time
Just click on any two dates.
2016 NFL Game Log

Calculate Stats Over Time
Just click on any two dates.
Snap Distribution / Depth Chart
2022 Khalil Mack Split Stats
Loading NFL Split Stats...
How do Khalil Mack's measurables compare to other linebackers?
This section compares his draft workout metrics with players at the same position. The bar represents the player's percentile rank. For example, if the bar is halfway across, then the player falls into the 50th percentile for that metric and it would be considered average.
Recent RotoWire Articles Featuring Khalil Mack
See More
Past Fantasy Outlooks
2022
2021
2020
2019
2018
2017
2016
2015
2014
After an injury-plagued 2021, the rebuilding Bears opted to trade Mack to the Chargers for second and sixth-round draft picks. While the six-time Pro Bowler has just 23.5 sacks combined over the past three seasons, he should be a threatening force off the edge opposite of dynamic pass rusher Joey Bosa. Provided Mack is able to stay healthy, it would be surprising if the 31-year-old didn't finish with double-digit sacks.
In four years with the Raiders, Mack averaged 76 tackles and a shade more than 10 sacks per season. However, since coming to Chicago in 2018, he's yet to surpass 50 stops in a campaign, and he's also had back-to-back seasons with single-digit sacks. On top of that, his designation changed from defensive lineman to linebacker in 2020, turning him from an IDP star to a mid-range option with limited upside. Because the drop in production has been sustained for a few years, it's reasonable to believe that Mack won't revert to the level of production from earlier in his career.
Not only did Mack get moved from defensive line to linebacker designation in many fantasy leagues last year, but he followed that up by posting career lows in both tackles and sacks. In the end, anyone who spent draft capital on him had a bust on their hands. Going into this year, positional designation will be paramount, as some leagues are now using edge rushers as a new position, and in that scenario, Mack will have much more value than he would in leagues that designate him as a linebacker. In terms of expected production, he's just 29 years old, so his poor 2019 likely can be classified as more of an anomaly than his new reality. Expecting him to return to double-digit sacks is a reasonable bet, but based on two years of data, don't count on him posting 70-plus tackles like he did in Oakland. Don't forget. Check Mack's positional eligibility in your league before making a final valuation of him on draft day.
At 28 years old, Mack is squarely in the prime of a fantastic career that saw him average 12 sacks and 3.5 forced fumbles per season between 2015 and 2018. After his first full offseason playing on a very talented defense, he could improve upon his first year with the Bears, when he put up 0.89 sacks per contest. The thing to watch for in IDP leagues is whether he's eligible for DL. He's listed as a linebacker by the Bears, in which case he might only be eligible to utilize as a linebacker in IDP leagues. He could still be useful as a linebacker IDP, especially if you start him during one of his multi-sack weeks, but it's generally hard for defensive linemen to keep up with the IDP utility provided by linebacker tackle totals, which Mack can't imitate given his 47 tackles in 2018.
He may not have upside reminiscent of J.J. Watt at his greatest heights, but Mack's production is still decidedly elite, and his consistency can't be overlooked. Not only has Mack never missed a game, but he's surpassed 70 tackles in all four of his NFL seasons, and in his last three years he's averaged 12 sacks per season. You probably can't fault anyone for swinging for the fences and selecting Watt as the top defensive lineman, but the floor appears quite a bit higher with Mack. Following his trade to the Bears, the 27-year-old figures to play outside linebacker in Vic Fangio's 3-4 defense, after switching back and forth between OLB and DE during his four seasons in Oakland.
Mack's arrival changed the DL hierarchy in recent years as he challenged for the top spot. He remarkably eclipsed 70 tackles each of his three seasons, and after a four-sack rookie year he's posted 26 in the last two. The Raiders' offense should remain strong, affording Mack with plenty of pass-rushing opportunities as opponents throw to keep pace, and his reliable 70-tackle production makes him likely to rank no lower than second among linemen even if he has a down year as a pass rusher. Given Watt's injury history, no one can be blamed for preferring Mack.
Watt is the first tier in himself, but Mack is the second tier in himself. After a 76-tackle, four-sack rookie year in 2014, Mack predictably broke out as a pass rusher in 2015, and it should be full speed ahead from here on out. Boasting consecutive years with 70-plus tackles and the potential to push for 20 sacks, Mack just might close in on Watt in the IDP rankings one day. For the time being, it will be interesting to see if Mack's sack production gets even better after the Raiders signed Bruce Irvin in the offseason to further bolster their pass rush.
The Raiders added Mack with the fifth overall pick in 2014 to provide some much-needed pass rush along the edge. He didn't record his first sack until Week 11, and he finished with just four for the season, but those numbers are highly deceiving, as Mack consistently terrorized opposing quarterbacks with hits and hurries. Further, he was one of two defensive rookies to play all 16 games and finished second among all defensive players with 11.5 tackles at or behind the line of scrimmage, according to STATS LLC. With 2015 second-round pick Mario Edwards expected to take some of the attention away from Mack along the strongside, Mack could be in line to emerge as an elite IDP option this season. Because while the tackle numbers may be lacking compared to some linebackers, the sack numbers may spike dramatically.
Just like Clowney's case, prospective owners need to verify that Mack is actually listed as a DL before investing in him as one. Oakland ran a 4-3 in 2013, so Mack is tentatively expected to be listed as an end, in which case he'd have immediate DL1 potential. The fifth overall pick out of Buffalo, Mack has 4.65 speed to go along with a 40-inch vertical and 128-inch broad jump, making him one of the league's elite athletes on the defensive line. The Raiders have LaMarr Woodley and Justin Tuck around to hog some of the DE snaps, but Woodley and Mack can play OLB at times, and Tuck has been known to shift inside on passing downs, leaving several avenues for all three to play at once. The Raiders would be silly not to get Mack on the field as much as possible, considering he made 74 tackles for loss over the last four years and forced 16 fumbles.
More Fantasy News