This article is part of our Sorare series.
If you are a regular daily fantasy soccer player on DraftKings and/or FanDuel, you may have recently heard about Sorare, a (relatively) new fantasy soccer game that uses NFTs (non-fungible tokens) as part of their game. There are some daily fantasy soccer elements and dynasty league traits to Sorare, which is why some DFS players have started playing the game. However, there are some fundamental differences that should be explained before you decide to jump in.
Imagine paying $12 for Mason Mount on FanDuel and then being able to play him in any future contest for that same salary. Or, picture yourself paying $8,600 for James Maddison on DraftKings ahead of a tough match against Manchester City but then being able to "sell" him the following week for $12,000 in salary when he's at home against Watford; both of these are representative of what you can do on Sorare.
Fundamentally, Sorare is a pay-to-play fantasy soccer game similar to daily fantasy sports sites like DraftKings, FanDuel and Yahoo, as well as Fantasy Premier League mini-leagues with monetary buy-ins (these are technically against the rules of the site but are still very prevalent). The major difference between Sorare and the DFS sites is that instead of paying real-money entry fees to enter imaginary-money salary-cap tournaments for monetary prizes, managers use real money to buy digital player cards which are then used to compete for monetary and card prizes in free contests. I promise it's easier than that sounds.
Fantasy managers on DraftKings must create teams of eight players (two forwards, two midfielders, two defenders, one goalkeeper and one utility) who all fit under a $50,000 salary cap, with the salary for each player set by DraftKings and adjusted for each slate based on their recent form and current opponent. The salaries are simply values within the game; they are not the actual cost of playing. Instead, users pay fees ranging from $0.10 to at least $5,300 per contest entry, and there are few limits on how many entries you can have in total. In essence, you pay entry fees whenever you want to play on DraftKings, FanDuel or Yahoo, and you create teams based on their player values and salary caps.
Sorare works differently: instead of paying entry fees for each contest, the cost to play comes from buying player cards and using them to enter free-to-play tournaments, which require you to roster one goalkeeper, one defender, one midfielder, one forward and one utility/extra (outfield) slot. Additionally, there is no salary cap; you can spend as much or as little as you want, with the market deciding how much cards cost because they are distributed via auction (from Sorare) or secondary market (other users). Want to spend $20,000 for a Kylian Mbappe card to be the foundation of one of your teams? You can do that as long as there's someone willing to sell their card for that amount. Or if you prefer to go the cheaper route (most do!), you can try to get his PSG teammate Ander Herrera for $175.
Owning the cards makes the game similar to a dynasty league, where you buy a player and keep them until you either cut them from your roster or trade them to another manager. Once you purchase a card you own it forever, unless you decide to sell it. Because of that, you could theoretically buy five cards to enter SO5 (that's what Sorare calls them) tournaments and play them forever until one of your players retires. Obviously injuries and transfers happen that greatly affect a player's time on the pitch, but the basic concept is that you purchase cards and are able to use them in the game forever without having to spend more money on those cards or on entry fees.
Different tournaments require different cards (usually depending on the geographical region), but another one of the benefits of buying Sorare cards is that you can continue using them in tournaments even if a player transfers to another club (as long as it's to a league covered by Opta). For example, if you purchased a West Ham Chicharito card on the secondary market, you can use the card in any tournament that allows players from MLS to compete.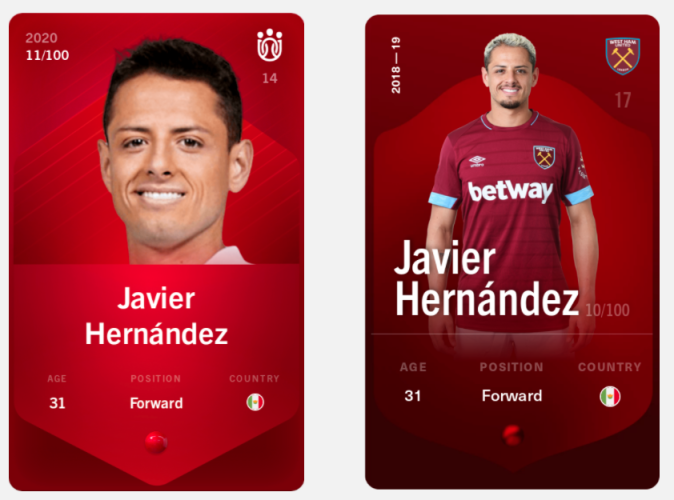 We'll get into more specifics in the future about what tournaments Sorare offers and why it's tough to get by with only five player cards, but given how many questions I've received about Sorare recently, I thought the comparison to DFS and dynasty leagues would provide some relevant context. As always, if you have any questions, please don't hesitate to leave a comment below, reach out to me on Twitter (@RotoWireAndrew) or in our subscriber Discord chat.
The author(s) of this article may play in daily fantasy contests including – but not limited to – games that they have provided recommendations or advice on in this article. In the course of playing in these games using their personal accounts, it's possible that they will use players in their lineups or other strategies that differ from the recommendations they have provided above. The recommendations in this article do not necessarily reflect the views of RotoWire. Andrew M. Laird plays in daily fantasy contests using the following accounts: FanDuel: kingmorland, DraftKings: andrewmlaird, Yahoo: Lairdinho.