This article is part of our Rounding Third series.
We'll cover our eight weekly Sunday FAAB leagues with this article, plus recap the monthly supplemental draft in the XFL this week. Plus, I made a reasonably big trade in Mixed LABR that I'll also discuss in this article.
Tout AL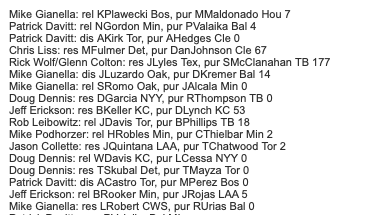 I had the second place bid on Shane McClanahan here, at $133 (with Mike Gianella of Baseball Prospectus bidding $132). My consolation prize was Daniel Lynch of the Royals, who makes his debut Monday against Cleveland and then gets another start this week against the White Sox. Lynch was available in Tout Wars but not later on in the NFBC, where a player has to play at least one game before being eligible as a free agent, unless he was originally drafted. Interestingly enough, my third choice was Martin Perez of the Red Sox, who gets a start against the Tigers this week, and he was won by Patrick Davitt on a $0 bid.
NFBC Main I
Two parts: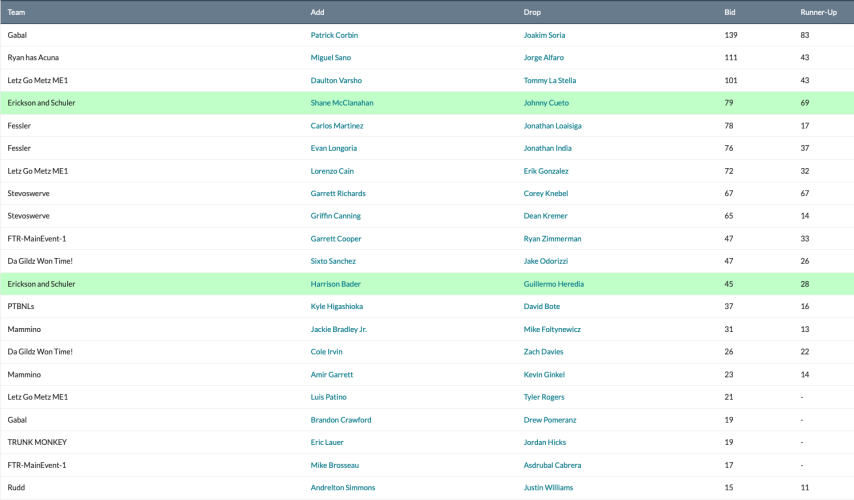 and

Shoe and I were pumped to win the bidding on McClanahan. From our friend, The Ombundsman, Paul Sporer:
We were the "low" winning bid in the 43 NFBC Main Events, and lower than all but two second-place bids, for that matter. That doesn't guarantee success for McClanahan, but I do like the more efficient bid.
Bader happened to be our top hitting target this week, too. It's just too bad that we didn't add a third hitter and flat-out drop Kole Calhoun - I saw the estimate on his injury too late for this week. With Brandon Nimmo not in the lineup on Monday and the news that Alejandro Kirk will be out for an extended period of time, we're down two bats this week.
Main Event II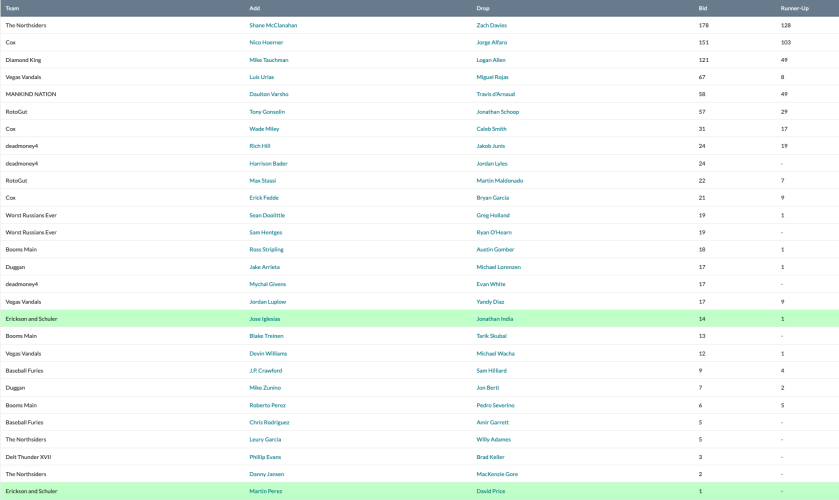 Click here for a larger image.
This set of pickups didn't work out so well - we should have bid more on Tauchman and Urias, though I'm not sure if we gotten to the threshold that would have won their services. Also annoying - for the second time this season, Vlad Sedler jumped in and claimed one of our drops (Tony Gonsolin) after previously winning Stefan Crichton subsequent to our drop. We only bid a nominal amount to reacquire him. This could haunt us.
We're actually going to use Perez this week, and only this week most likely, for his start against the Tigers.
RotoWire Online Championship I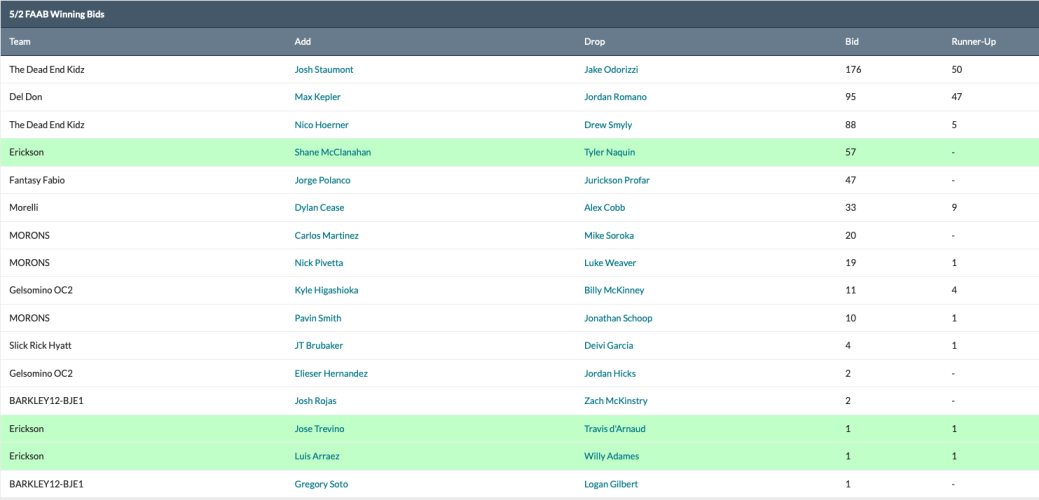 FAAB bidding in 12-team leagues is weird, data point #4,357,104. McClanahan was the subject of contested bidding everywhere except here, where I got him unopposed for $57. Whoops! (But wait until you see the results in my other OC)
Meanwhile, sadly I had to cut Travis d'Arnaud after his thumb injury that will require surgery and a trip to the 60-day DL. I went with Kyle Higashioka as my first choice but only bid $3, as I think the FA catching pool was rather fungible.
RotoWire Online Championship II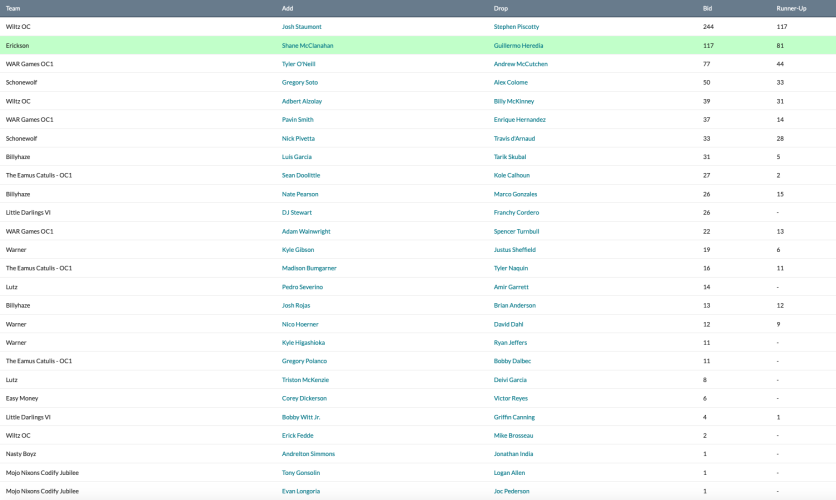 Click here for a larger image
My top two choices were McClanahan and Josh Staumont, in that order, and I bid $117 to try to get one or the other, so I accomplished what I set out to do. I have the good problem of not having readily identifiable drops - at least, as so I think.
TGFBI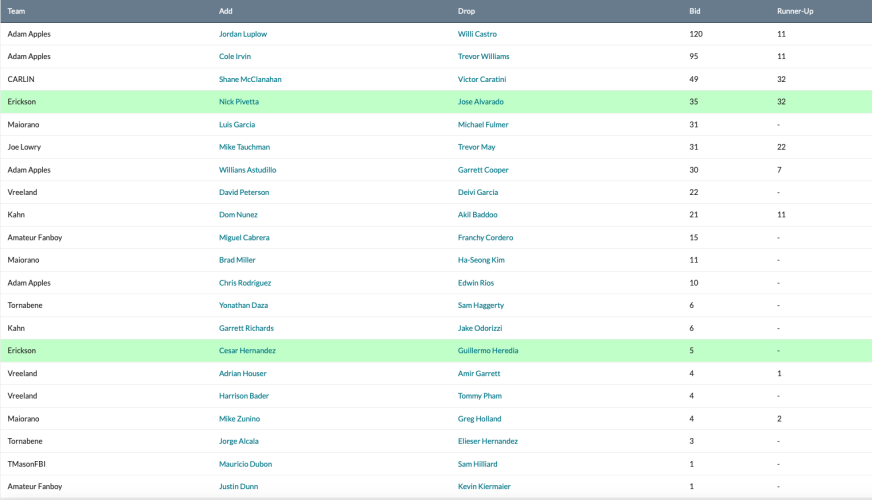 So I sort of screwed this one up - I should have landed McClanahan in 4/5 NFBC-platform leagues, but for some reason mistakenly thought I had a higher bid on him in there already, and not just the placeholder bid that I usually start out with when I'm populating my lists. It was a busier Sunday than usual because of my live XFL supplemental draft that took place an hour before the 10pm FAAB deadline, but I still shouldn't have missed this one. Nick Pivetta is my consolation prize. Hopefully he's that with a good two-step this week, instead of this week's Admiral Ackbar ("It's a Trap!") Pitcher of the Week.
XFL
The XFL is a hybrid between an auction and dynasty league, usually consisting of speakers and attendees from First Pitch Arizona, with the annual auction taking place at FPAZ during the Arizona Fall League, followed by a March supplemental draft to fill out our rosters. It's a 15-team league that uses OBP instead of batting average, and we keep 15 players per team - that includes minor leaguers, not in addition to minor leaguers. A player that you acquired in the auction, as a major leaguer in the March supplemental draft or in the monthly supplemental drafts accelerates his salary by $5 each year. Players acquired as minor leaguers (or college, high school or even foreign league players) in the March supplemental draft are $0 until their first year in the majors, after which they accelerate by only $3 per season - so they take on a pretty obvious premium if they make it.
Instead of a weekly FAAB free agent system, we have monthly supplemental drafts in-season, in which only major league players are eligible to be added, on the first Sunday of each month. This was our first monthly supplemental draft - it goes in snake-draft form.
Round 1
After our 15 keepers and the early December auction, I had what I thought were three closers - alas, they were Taylor Rogers, Alex Colome and Rafael Montero. Thankfully, I knew that the Minnesota signing of Colome meant trouble early on and that at best I had two closers, so I also added Jake McGee in the March supplemental draft. Still, with Montero at best sharing saves, I needed more. I took Kendall Graveman over Yimi Garcia, a decision I could end up questioning for a while, but I figure at worst I have the Seattle saves wrapped up - I just hope not to have them both active each week.
Round 2
There probably are better long-term options than Pivetta available to me, but this was purely for his two starts this week against the Tigers and Orioles.
Round 3
I'm going the cheap catcher route in this league, using two of Yan Gomes, Jacob Stallings and now Jose Trevino depending on the number of games and opponent each week.
Round 4
Yes, I was the one doubting Sean Doolittle this spring, but the Reds' closer job remains wide open, and Doolittle could pick up a few saves here-and-there. I also have Tejay Antone in this league, so I now have a couple of irons in the fire here.
Rounds 5-7
This draft can go on as long as you find value in the free agent pool, and of course, have someone to cut. That's why you see some teams more active than others. I've always found that when rebuilding in this league, it's worth churning extra spots, especially if you can spot a recent call-up that hasn't gotten the minimum playing time yet that changes him from being minor league eligible to having a major league contract. I was fortunate enough to get Zac Gallen that way, and have him at a +3 contract rather than a +5 contract.
LABR Mixed Draft League
Another league, another share of Martin Perez for a one-off start. I don't see what could possibly go wrong this week, do you? I fear that the Gombering will be fierce. I had the secondary bid on Lynch, not that I was close.
The bigger deal for me was making a trade with Tuesday podcast co-host Fred Zinkie. I have three closers, or at least, had three closers in Kenley Jansen, Emmanuel Clase and Ian Kennedy, and am first place in saves to begin the week. Two of those closers were snagged on the waiver wire in Clase and Kennedy, with a big bid on the former. But I'm also stuck using Erik Gonzalez at CR, and am a little light on starting pitching. So it made sense to look for a trade, and Fred is last in saves, so he's a perfect match. We ended up on a pretty simple deal:
I trade: Ian Kennedy
Fred trades: Joey Votto
Kennedy has been amazing so far - 7-for-7 in save opportunities, 2.25 ERA, 16:0 K:BB in 12 innings. His fastball velocity is back up this season after being down in 2020, and he's got a whopping 17.3 Swinging Strike percentage. Fred's getting a really good pitcher and it's possible that I could regret this deal. Of course, some of his price has to be discounted due to trade risk - Texas is going nowhere fast this year, and Kennedy will be an obvious trade commodity if he stays healthy, and there's no guarantee he closes if he gets dealt. Meanwhile, Votto isn't vintage Votto, I get that, but it's not hard for him to be an improvement at a CR spot for me.
RotoWire Staff Keeper League
Two parts:
and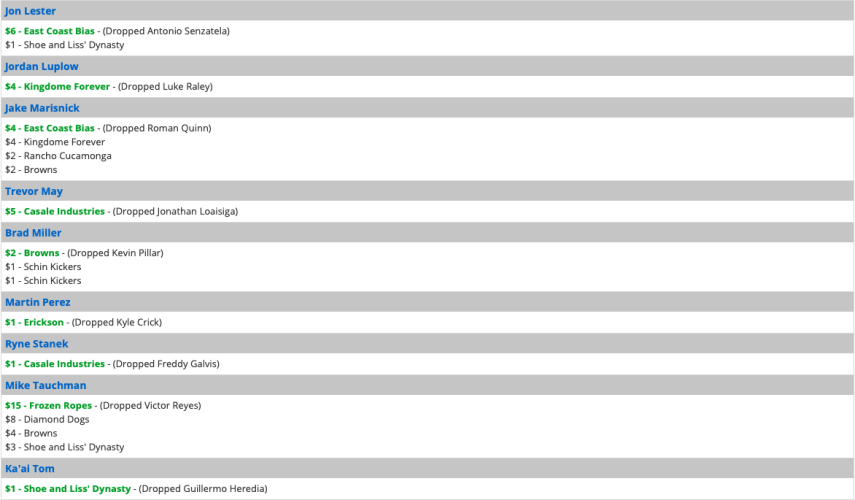 Oh hey, one more share of Martin Perez. This is fine.