This article is part of our Team Previews series.
Seattle Seahawks

The Seahawks took the NFC champion 49ers down to the wire twice in 2019, and Jadeveon Clowney potentially was their only major loss. It's a big one, but they roster DK Metcalf, affording Russell Wilson a second top-tier receiver in the team's run-heavy scheme, which could be in jeopardy due to health issues.
Offseason Moves
Key Acquisitions
Has registered just 1,077 yards and seven TDs over his last 30 games.
Rode high volume to his first 1,000-yard rushing season as a pro in 2019.
The 2015 first-round pick lands with his third team in five years.
Injuries have been an issue, but he's poised to start opposite Shaquill Griffin.
Rangy linebacker should bolster the Seahawks' faulty run defense.
Notched 10 tackles for loss in his final collegiate season.
Key Losses
Tallied only three sacks in an injury-riddled contract year.
Swiss Army knife exchanges one crowded defensive line for another.
A Look Under the Hood
Head Coach: Pete Carroll (Year 11)
Offensive Coordinator: Brian Schottenheimer (Year 3) - West Coast/Air Coryell hybrid
Defensive Coordinator: Ken Norton (Year 3) - 4-3 scheme
2020 Vegas Projected Wins: 9.5 (T-5th)
2019 Record: 11-5
2019 Points Scored: 405 (9th)
2019 Points Allowed: 398 (22nd)
2019 Point Differential: +7 (14th)
2019 Run-Play Rate: 45.7 percent (6th)
2019 Situation-Neutral Pace: 31.79 seconds per play (24th)
2019 Offensive Snaps: 1,046 (10th)
2019 PFF O-Line Ranking: No. 27
Projected 2020 Depth Chart
QB: Russell Wilson / Geno Smith / Anthony Gordon
RB: Chris Carson / Rashaad Penny / Carlos Hyde / Travis Homer / DeeJay Dallas
WR1: Tyler Lockett / John Ursua
WR2: DK Metcalf / Freddie Swain
WR3: Phillip Dorsett / David Moore
TE: Greg Olsen / Will Dissly / Jacob Hollister / Colby Parkinson
O-Line: LT Duane Brown / LG Mike Iupati / C Ethan Pocic / RG Damien Lewis / RT Brandon Shell (RotoWire Rank: No. 26)
Kicker: Jason Myers
Top Storylines
Wilson's Weapons Continue To Improve
Even the Seahawks passed up DK Metcalf twice before selecting him 64th overall in last year's NFL Draft, and they found a stud where others scoffed at brutal agility scores. Although he endured his share of troubles with fumbles and two disappearing acts against the Cardinals, Metcalf finished with a 58-900-7 line on 100 targets. He didn't turn 22 until December, either, so his best days seem to be in front of him.
Meanwhile, Tyler Lockett generated his most prolific season yet by racking up 1,057 receiving yards despite an inconsistent stretch where he surpassed 51 yards just once over the final seven regular-season contests. That makes two potential WR1 candidates, and the addition of Phillip Dorsett could make this offense even more versatile, with all three receivers able to stretch the field. It'll be interesting to see how the three line up, as Lockett has played a bulk of his snaps in the slot, where Dorsett and even Greg Olsen can contribute.
Olsen is an aging tight end whose best days likely are behind him, so the Seahawks emphasized the position in the 2020 draft by selecting Colby Parkinson and Stephen Sullivan. In the end, offensive coordinator Brian Schottenheimer has options that should keep defenses on their toes and provide Russell Wilson even more opportunities to extend plays.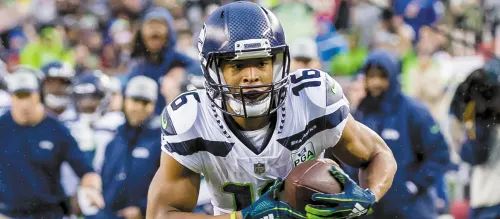 Tyler Lockett has been the Seahawks' top WR for the better part of two seasons. DK Metcalf may threaten that standing in 2020.
Talented Backfield Turns into MASH Unit
A 2018 first-round pick, Rashaad Penny finally hit his stride by combining for 236 yards from scrimmage and three touchdowns in Weeks 12 and 13 last season. Just as the backfield appeared to be shifting in his favor, he tore his ACL on the first snap of the next game. With additional damage reported in the knee, he's expected to be on the PUP list to begin the year.
Backfield mate Chris Carson, who has been the Seahawks' primary ballcarrier the past two seasons, also suffered a serious injury late, fracturing his hip Week 16. While he's on track for the season opener, his medical chart is cluttered, leaving a sense of uncertainty at the top of the depth chart. As a result, the Seahawks addressed the position by nabbing DeeJay Dallas in the fourth round of the 2020 draft and signing journeyman Carlos Hyde to a one-year deal. Hyde has averaged just 3.9 yards per carry over the last three seasons, but another injury in front of him could result in intriguing volume for the seventh-year pro.
Another competitor for RB reps is 2019 sixth-rounder Travis Homer, who showed explosiveness working in tandem with late-season signing Marshawn Lynch after Penny and Carson were knocked out. Lynch remains on the market, but the aforementioned injuries and unknowns otherwise leave Seattle's backfield in flux.
Questionable Defense Loses Its Best Asset
The Legion of Boom is long gone, but watching the Seahawks finish 29th in sacks (28) and 26th in pressures (126) in 2019 was a new low under Pete Carroll. Part of the problem was lacking production, at least in the sack department, from August acquisition Jadeveon Clowney, who managed just three on the season.
Clowney remains in search of a long-term commitment, so the team filled the void by bringing back 32-year-old Bruce Irvin and adding Benson Mayowa. Irvin spent his first four years in Seattle and may have something left in the tank after 8.5 sacks for Carolina last season, while Mayowa had seven sacks in Oakland despite averaging just 21 snaps per game.
The veteran presence gives the unit a steady floor, but it'll need third-year pro Rasheem Green to continue his progression. GM John Schneider also invested his first two selections in this year's draft on linebacker Jordyn Brooks and defensive end Darrell Taylor. In particular, Brooks enters the league after posting 20 tackles for loss in his senior season at Texas Tech.
Even without getting to the QB, though, the Seahawks defense often bailed itself out with a whopping 32 turnovers. The latter is tough to depend on, but it made a concerted effort to shore up the secondary by trading for CB Quinton Dunbar, who should beat out Tre Flowers for the starting gig.
Barometer
⬆️ Rising: WR DK Metcalf
All agility concerns were overblown, as the big-bodied wideout averaged 15.5 YPC and 9.0 YPT on his 100 targets as a rookie. Metcalf could push Tyler Lockett to be Russell Wilson's No. 1 receiver this year.
⬇️ Falling: TE Will Dissly
A second straight season ended early for Dissly, as he ruptured his Achilles in Week 6. Compound his injury concerns with the additions of Greg Olsen and other TEs in the draft, and it's tough to get excited about Dissly.
😴 Sleeper: RB Carlos Hyde
If Chris Carson suffers another injury while Rashaad Penny is sidelined, it may be Hyde's job to lose. Hyde's past inefficiencies don't guarantee him anything, but there's volume that comes with being Seattle's No. 1 back.
🌟 Pivotal Player: Russell Wilson
Wilson's career has been defined by overcoming the odds, and he again was entrenched in an offense that ran the ball more than 26 other teams in 2019. Nevertheless, he produced an MVP-caliber season with a third straight 30-plus touchdown campaign. The offense runs through him, and DK Metcalf's versatility boosts Wilson's ceiling further.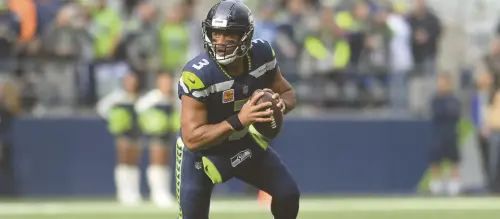 The ever-elusive Russell Wilson has the pieces in place for yet another top-10 scoring offense.