This article is part of our Team Previews series.
Tampa Bay Buccaneers

Tom Brady and his teammates overcame the steep challenge of an unusual 2020 and developed enough chemistry to secure the franchise's second Super Bowl title. With the organization focusing on continuity this offseason, the Buccaneers have a legitimate chance to repeat if good health prevails.
Offseason Moves
Key Acquisitions
Capable vet is a younger, less worn version of the departed LeSean McCoy.
Prospect will be mentored by a cadre of elite edge rushers.
After a prolific senior year, he could be Tom Brady's heir apparent.
Versatile lineman enters pros with 33 college starts on his resume.
Speedster joins a crowded wide receiver room.
Likely destined for special teams with established ILBs in front of him.
Key Losses
Valued locker room presence had only 25 touches last season.
His exit creates a vacuum of depth on the offensive line.
A Look Under the Hood
Head Coach: Bruce Arians (Year 3)
Offensive Coordinator: Byron Leftwich (Year 3) - Air Coryell scheme
Defensive Coordinator: Todd Bowles (Year 3) - 4-3 scheme
2021 Vegas Projected Wins: 11.5 (2nd)
2020 Record: 11-5
2020 Points Scored: 492 (3rd)
2020 Points Allowed: 355 (8th)
2020 Point Differential: +137 (4th)
2020 Run-Play Rate: 38.2 percent (23rd)
2020 Offensive Snaps: 1,017 (23rd)
2020 PFF O-Line Ranking: No. 27
Projected 2021 Depth Chart
QB: Tom Brady / Blaine Gabbert / Kyle Trask
RB: Leonard Fournette / Ronald Jones / Giovani Bernard / Ke'Shawn Vaughn
WR1: Mike Evans / Tyler Johnson
WR2: Chris Godwin / Scotty Miller
WR3: Antonio Brown / Jaelon Darden
TE: Rob Gronkowski / O.J. Howard / Cameron Brate
O-Line: LT Donovan Smith / LG Ali Marpet / C Ryan Jensen / RG Alex Cappa / RT Tristan Wirfs (RotoWire Rank: No. 3)
Kicker: Ryan Succop
Top Storylines
Continuity a Plus for the Offense
After the headline acquisition of Tom Brady a year ago, questions abounded for the Buccaneers on his side of the ball. Those questions actually started with him, as there was speculation surrounding which Tom Terrific the Bucs were getting after a subpar end to his legendary Patriots tenure. There were also concerns about how much chemistry he'd be able to build in a new offensive system and with a limited amount of on-field preparation before the season. It took some time, but Brady and friends really seemed to start clicking after a Week 13 bye and didn't look back en route to winning the Super Bowl.
The front office smartly prioritized retaining as much of that roster as possible, and ensured Chris Godwin, Antonio Brown and Rob Gronkowski all returned to the fold. That sets up the intriguing scenario of Brady, now a 20-game veteran of coach Bruce Arians' aggressive scheme, working with the same cast of characters for a second straight season. Naturally, it's worrisome news for the rest of the NFC, as Tampa Bay already managed to rank in the top 10 with 384.1 yards per game during the 2020 campaign. Additionally, Brady also gets back tight end O.J. Howard, whom he connected with on 11 occasions for 146 yards and two touchdowns before the tight end went down with an Achilles injury Week 4.
How Will the Backfield Shake Out?
Last season, Ronald Jones built on a solid 2019 campaign, narrowly missing 1,000 yards on the ground due to a pair of absences. The third-year pro still averaged 5.1 yards per carry and scored seven rushing touchdowns on his way to 978 yards, and he added a serviceable 28-165-1 line through the air.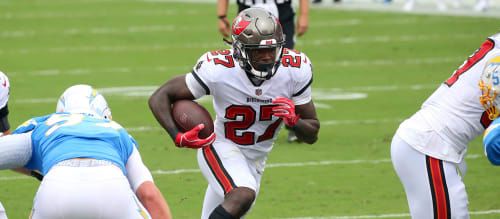 However, Jones' playoff debut was delayed following an ill-timed quadriceps pull during pregame warmups prior to facing Washington in the wild-card round, affording Leonard Fournette a spot start. Fournette responded with 132 total yards and a rushing score in that contest, and provided efficient performances as a runner and pass catcher for the remainder of the Buccaneers' title run. He even outpaced Jones in snaps and carries in each of the three postseason games in which they played together. Therefore, while the official company line could center around a training camp competition, the team may be pulling for Fournette to take charge of a near three-down role and limit Jones to the eight-to-10-carry range as a change-of-pace option.
The Bucs have a new third-down back in Giovani Bernard, who recorded 30-plus catches in all eight of his years with the Bengals. Plus, 2020 third-round pick Ke'Shawn Vaughn must be accounted for. In the end, however, a one-two punch of Fournette and Jones is the expected outcome for Tampa Bay's backfield.
Defense Wins Championships
Going into 2020, there was little doubt coordinator Todd Bowles' defense would aggressively pursue the quarterback and serve as a force against the run. But how well the back end would hold up when the front seven sold out to rush the passer was an open question. As it turned out, the answer was good enough to help the Bucs win it all.
In fact, Tampa Bay surrendered 23.6 fewer passing yards per game last season than in 2019, an improvement that brought the average down to 246.6. The Bucs also ranked just outside the top 10 with 7.0 yards per pass attempt allowed, racked up 48 sacks and stymied opposing ground attacks to the tune of a league-low 80.6 rushing yards per game.
Much like he did with pending free agents on offense this offseason, GM Jason Licht endeavored to keep the band together on the other side of the ball, re-signing inside linebacker Lavonte David, pass rusher Shaquil Barrett and lineman Ndamukong Suh. Licht also inked sack artist Jason Pierre-Paul to an extension.
Having run-stopping juggernaut Vita Vea – who missed 13 games between the regular season and playoffs with a leg fracture – available for a full campaign would make the trenches even more formidable. Finally, the secondary features second-year strong safety Antoine Winfield, a Week 1 starter as a rookie after a standout training camp.
Barometer
⬆️ Rising: WR Chris Godwin
Godwin is heading into his prime at 25 years old, and his 16 total games of on-field work with Tom Brady in 2020 should pay dividends. The Penn State product has extra motivation, too, as he plays this season on the franchise tag.
⬇️ Falling: RB Ronald Jones
Jones saw Leonard Fournette thrive in a quasi-lead-back role in the postseason. The pair may be headed for a dreaded timeshare to start the year, but lasting impressions eventually could allow Fournette to separate from Jones.
😴 Sleeper: TE O.J. Howard
Howard has been besieged by injuries during his four-year career, with a torn Achilles last October the most serious. He had a nice rapport with Brady before going down and has the raw talent to ascend in the coming campaign.
🌟 Pivotal Player: Tom Brady
The Buccaneers' fortunes are dependent on the health and play of the man under center. Brady has more cumulative skill-position talent at his disposal than in most of his two decades in New England, but it's difficult to envision this team making another deep postseason run without the future Hall of Famer available.
Medical Tent
QB Tom Brady
The recent revelation that Brady played through an MCL tear all of last season and finally underwent surgery to repair the problem after the Super Bowl serves as a reminder of the signal-caller's legendary competitive spirit. The future Hall of Famer didn't let the procedure deter him from partial participation in June minicamp, and knowing Brady's mental makeup, it arguably would be an upset if he wasn't involved from Day 1 of training camp as the Buccaneers begin prep for the defense of their second title.
TE O.J. Howard
The unfortunate combination of untapped potential and injury have been central themes in Howard's career. Yet to play 16 games in any of his four campaigns, he currently is completing a recovery from his most serious setback, an Achilles tear. When Howard was felled early last season, he'd already flashed an uncommonly quick rapport with Brady dating back to camp practices. If coach Bruce Arians' June assessment that his talented tight end was nearly ready to go proves accurate, Howard should have ample opportunity to build on that initial chemistry before the season starts.
Brown underwent arthroscopic knee surgery in the second half of May, sidelining him from June minicamp. While the procedure carried a 3-to-4-week recovery timeline, he didn't participate in the initial practices of training camp, indicating the Buccaneers may be easing him into his first camp with the team. Notably, Brown had only half a season and the playoffs to familiarize himself with Brady in Tampa, as well as with Arians' offensive scheme. Brown will look to practice in full sooner than later and get some preseason reps to ensure he hits the ground running, literally and figuratively, this year.
Job Battle
Does one take coach Bruce Arians at his word when he says he'll give both Ronald Jones and Leonard Fournette ample opportunity this season, particularly on early downs? That's a key question for fantasy managers, considering Fournette served as the clear lead back during Tampa Bay's four-game postseason run and is a more accomplished receiver and formidable pass blocker than Jones.
It's certainly possible a split akin to the one used in the three playoff games the pair played together – Fournette garnered 45 carries to Jones' 35 – is one that's commonplace in 2021. Conversely, it's worth noting Fournette logged 15 or fewer rushes in each of his regular-season appearances and topped out at 17 totes in the aforementioned three-game sample.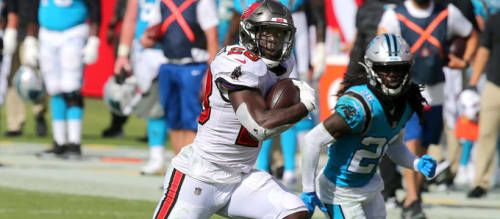 Arians further muddled the situation by labeling each back a "co-starter" during June minicamp, but it's a virtual certainty some type of season-opening hierarchy is established through training camp or preseason play. The fact Fournette now has the benefit of a full season and subsequent offseason under his belt in Arians' system also is noteworthy as a potential advantage, considering he signed just before Week 1 last September.