Twenty-two fantasy baseball players from around the country have stepped up to the plate over the past two seasons. Only two have beaten Clay Link.
I hate that I did that. I'm sorry.
The truth is, the Beat Clay Link league, part of the NFBC's RotoWire Online Championship, is no League of Death. In fact, it's probably easier to win than most NFBC leagues. The National Fantasy Baseball Championship is home to the best, most diligent and dedicated players on the planet and I'm still trying to get on their level myself.
It's an honor to be able to rep RotoWire in one of these leagues and I love being able to meet new players, hone my craft and perhaps -- if I catch some breaks -- chase the overall.
By "the overall" I'm referring to the overall prize component of the RotoWire Online Championship. You can win $1,000 just by winning your individual 12-team league, but if you have a strong-enough team, you could also push for the grand prize, which is set at $25,000 for the 60-game season.
So needless to say there is a ton of incentive to put forth my best effort, not just in terms of prep leading up to the draft, but also every Sunday in FAAB bidding.
Let's see how I did Tuesday night.
(12-team, 5x5 rotisserie scoring, 14 active hitters, nine active pitchers)
1.8 Trea Turner
I was hoping and praying I would get Turner on one fantasy team. The dream of a No. 1 overall finish is still very much alive with Turner given his stolen-base upside, and the durability concerns are in theory mitigated by the 60-game season (fewer chances to get hit by a pitch, jam a finger on a base, pull a hammy sprinting out of the box, etc.). Of course, he has a track record and one relatively minor injury could be a devastating blow in a short season, but Turner is a bit of a unicorn in today's game and I'm glad to have him leading one of my teams, especially one with a chance at an overall prize.
2.5 Justin Verlander
Verlander was passed over earlier in the second round for Max Scherzer and then Shane Bieber. I respect those fantasy players' decisions, but I have Verlander firmly ahead of those two again. After the extended time off following mid-March groin surgery, Verlander appears healthy and ready to. He was already up to five innings all the way back on July 15, so I expect him to cut it loose right out of the gates.
3.8 Rafael Devers
This was an unexpected windfall. What can I say? I got lucky here.
4.5 Xander Bogaerts
I've said several times that Eugenio Suarez is the most underrated player in the game, but perhaps it's Bogaerts. Bogaerts is obviously in a much bigger market than Suarez, but Bogaerts was an all-world hitter last year and yet oftentimes falls behind players like Gleyber Torres, Ozzie Albies, Javier Baez and Bo Bichette. Those are all great players and Bogaerts does not provide the speed of those aforementioned names, but Bogaerts is a better hitter than all of them. He has the rate stats and the supporting cast to pile up runs and RBI at an exceptional clip, even with Mookie Betts gone. Bogaerts is one of the best building blocks you can cement onto your roster.
Bask in Vlad's glory:
Guerrero brings a sky-high ceiling and I'd argue a very high floor as well despite a lack of track record. I admit I got carried away with Vlad last year, but so long as he avoids a long-term injury, I think there's virtually no way this is a bad pick in the fifth round.
6.5 Nick Castellanos
Yoan Moncada was still on the board here. Passing him over quite literally put a knot in my stomach, but I already had a third baseman and I already had a corner, which meant I'd have to fill my UT spot with Moncada. Meanwhile, I had zero outfielders. This could come back to haunt me in a major way, but I felt Castellanos was the only choice here given my team build to that point. I needed another rock-solid anchor and I'm confident Castellanos' power will play up in Great American Ball Park.
7.8 Kenley Jansen
In my 15-team Main Event draft Sunday, the closer inflation was off the charts, but it wasn't so bad here. In fact, I was pretty thrilled with this seventh-round price on Jansen. I was in a fortunate spot amidst the closer run, getting Jansen after Liam Hendriks and Taylor Rogers and before the dropoff to the Ken Giles/Raisel Iglesias tier.
8.5 Zac Gallen
Not an ideal No. 2 starting pitcher on paper, but he could very well be a great fantasy No. 2. We'll see. Hey, he's officially their No. 3 starter now. Officially.
9.8 Mike Soroka
I knew I needed to pair a No. 2 like Gallen up with a strong No. 3. Soroka does not have a ton of strikeout upside, he's hurt by the universal DH and the Braves are going to limit him to 2-4 innings the first few times out. Regardless, I think this is an arm you want on your team. I'm betting on continued growth from a 22-year-old who has already shown great aptitude for pitching at the highest level of professional baseball.
10.5 Yasmani Grandal
I'm not usually the guy who pays up at catcher, and I do not consider this "paying up" really in the 10th round. I felt he was a great fit and I recognize the boost a plus catcher can provide to a fantasy team.
11.8 Andrew Benintendi
While I did not draft Benintendi back in March, I was pretty happy to land him here. I was burned bad by him last season and I guess the heart needed more time.
12.5 Kyle Hendricks
I prefer the idea of rostering Soroka OR Hendricks and not both, but Hendricks is always too good of a value to pass up.
13.8 Kwang-Hyun Kim
This is a leap of faith in the beat writers and the reports coming out of Cardinals camp. Risky, and nothing is official, but if Kim is indeed the primary closer, I get a pretty nice No. 2 closer in a good situation.
14.5 Ryan McMahon
Love McMahon this year, and you can usually get him right before the big dropoff at second base. Add third-base eligibility as a bonus and first-base eligibility as well in Yahoo leagues.
15.8 Joe Musgrove
I'm back on my B.S. with Musgrove. It didn't take much, I admit, as I've always liked the skills. With Musgrove, it's not hard to see some Blake Snell 2018 upside at this draft cost if everything clicks under the new regime there in Pittsburgh.
16.5 Khris Davis
The discipline to hold off on filling the UT spot early paid off in a pretty big way here, if I may say so myself. Davis crashed into an outfield barrier last year and struggled as he played through discomfort. Before that, we all joked about how he'd hit .247 with 40 homers every year like clockwork. I'll take that, prorated of course, in the 16th round even if he does not seem like as sure of a thing anymore.
17.8 Nick Senzel
Let's go. The pedigree is there, the playing time should be there. He just needs to stay on the field to have an impact.
18.5 Dylan Cease
I may be reading this the wrong way, but it seems the White Sox may do something like a four-inning piggyback situation with Cease and Reynaldo Lopez against the Twins on Sunday:
That makes for a rather tough lineup call in a 12-teamer with Cease right off the bat, as he obviously would not have a chance to earn a win if he starts and is limited to four innings. I'll probably start him. Cease said he's feeling confident and I want those innings anyway, even if a win is a bit of a long shot.
19.8 Yadier Molina
Who is your ideal second catcher in a 12-team mixed? Tell me in the comments below. I think mine is Omar Narvaez, but Molina is fine. The guy can still hit a little bit when healthy.
20.5 Christian Walker
The news on Walker has been positive. In fact, it looks like he will be available to go right away on Opening Day after being diagnosed with a groin strain earlier in summer camp.
21.8 Aaron Civale
Get Civale on your fantasy team. I do my own research, but I also listen to smart people from around the industry and there is palpable buzz surrounding Civale.
22.5 Brian Anderson
He was behind another outfielder on my cheat sheet, but the added 3B-eligibility led me to take Anderson. Anderson is underrated and should be a fine fourth outfielder.
23.8 Seth Lugo
It's my belief that Lugo is a top-10 reliever in baseball. He's the kind of arm you want on your team anyway, and then factor in the possibility he gets saves and he makes for a great "bench piece" -- I drafted him to my first bench spot, but Lugo will be in my starting lineup right away this weekend and could remain there permanently.
24.5 Randal Grichuk
Cheap power. We talk about it all day, but what Grichuk can provide over the Joc Pederson types is everyday playing time. The Blue Jays let him be for the most part.
25.8 Tyler Rogers
I have a hunch that Rogers is going to lead this team in saves. Take that for what it's worth, but it's incredibly difficult to pick up the ball out of the submariner's hand and I think they will go to him a ton. Perhaps Rogers even ends up leading the league in appearances.
26.5 Joey Votto
If Walker turns out to be truly OK, Votto may be an early cut, but he gives me everyday at-bats as a fallback and who knows what else.
27.8 Stephen Piscotty
Piscotty seems to be headed in a positive direction. Don't forget about him.
28.5 Chris Taylor
The 2B/SS/OF eligibility extends my bench, and with Gavin Lux off the major-league roster for now, there's a much better outlook for playing time.
29.8 Matt Barnes
Brandon Workman is iffy and Barnes is another reliever who you can plug in here or there for now and see what happens.
30.5 Miles Mikolas
After getting a bunch of relievers, I felt I probably did need some volume. Mikolas is not a sexy fantasy choice but he projects for innings and a decent two-step the week of Aug. 3 (@DET, vs. CHC).
See the full board below: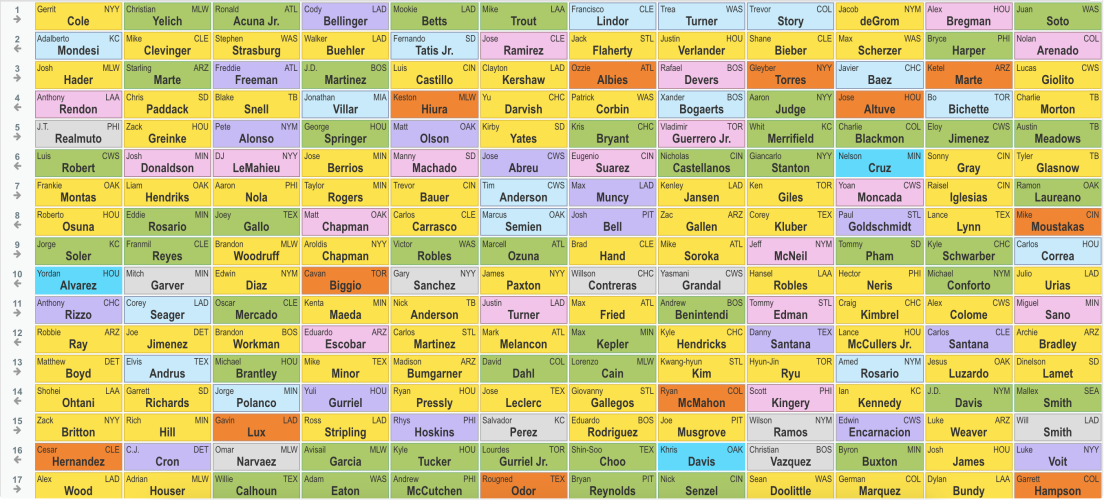 What do you think? Let me know in the comments.