This article is part of our Rounding Third series.
Tuesday night marked the first major fantasy industry draft of the calendar year for me, with the annual LABR 15-team Mixed Draft League. I've had some recent success in this league, winning in 2021, though I finished fifth last year with 90.5 points, a mile behind USA Today's Steve Gardner, who ran away with the league. I'd blame the fact that we drafted during the lockout and my subsequent injuries, but weirdly enough, all of my competitors drafted under the same constraints. So I guess I just didn't draft as well. Here is the final standings page: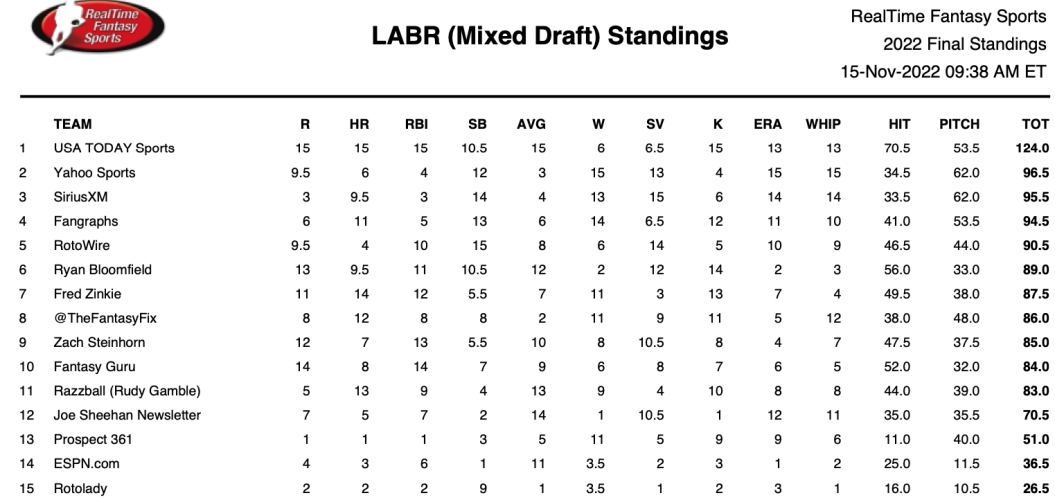 This year, we were blessed to have a normal offseason - no lockout, no pandemic restrictions or previously shortened seasons, no Happy Fun Ball the previous year - we should finally have a regular offseason to prepare for our drafts. Except ... Major League Baseball is instituting a slew of rules changes, they are refocusing umpires' collective attention on balks and sticky stuff, there's the World Baseball Classic this year, there's major changes to three ballparks, and there's now a more-balanced schedule. So there's still a lot of new variables to account for in our planning.
For this draft, I drew my favored eighth spot in the order, the same spot as I had drawn two seasons ago when I won. Hopefully that's not where the parallels end! Though it's worth noting that my draft approach this season is markedly different from 2021, when I began the draft with pocket aces and then six consecutive hitters. I enjoy drafting from the eighth slot, even though I don't think it's the best slot for the first round - the benefits from drafting in that slot accrue over the course of the draft. I tend to be a 'value' drafter closer to the agnostic side of the agnostic vs. genius scale, one that Chris Liss and I have explored frequently over the years on our radio shows and podcasts. I'm more likely to take the player who drops relative to his ADP than to set a new highest level for a player on a pick, though not exclusively so. The middle spots in the draft provide more opportunities to draft that in that manner. Because there are at most only 15 picks between one selection and the next, one is less vulnerable to a run on a position or a stat. Moreover, those players at the ends are under more pressure to anticipate those runs and act accordingly, thus letting those value picks fall. Moreover, I feel more engaged in the full draft when I have less time to wait between picks.
I'll be brief with my discussion of my draft picks, in small part because Fred Zinkie, Joe Sheehan and I did a livestream of the first 2.5 hours of the draft, which covered us well into 20+rounds. Here's the link to watch the livestream, and you can also just listen to it by search for LABR Live Draft wherever you listen to RotoWire podcasts:
And here are the full draft results: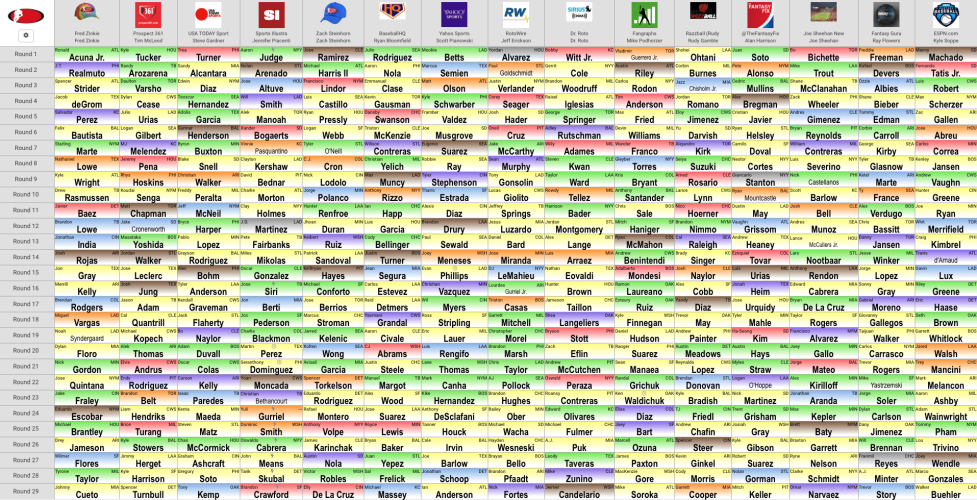 (Click Here to view a full page view of the board)
Here's my team:
1.08 - Yordan Alvarez: We were awarded our draft slots a week before the draft, and Alvarez immediately became a target for me at 1.8. I understand he's not going to run, but he's atop every meaningful hard-hit Statcast metric and firmly ensconced in the middle of the Astros' excellent lineup. I actually thought that I wouldn't see him reach the eighth pick until Tuesday's report that he has recurring soreness in the left hand that forced him to miss time last season. Instead of a snap-call, I agonized over the pick, but still grabbed him over Shohei Ohtani and Freddie Freeman.
2.8 (23) - Paul Goldschmidt: In retrospect, I wish I would have taken Marcus Semien here over Goldschmidt, and locked in a little more reliable speed. Goldschmidt had seven stolen bases last year and 12 the previous year, but prior to that he had three consecutive single-digit seasons. I don't think I paid full price from last year's magical run, but I might not have baked in enough regression either.
3.8 (38) - Justin Verlander: I'll rapidly concede that Verlander will regress from his astounding Cy Young 2022 season. He's not going to win 18 games, post a 1.75 ERA or 0.83 WHIP again. But what does regression from Verlander look like in his first season with the Mets? I have him with 14 wins, 3.14 and 0.90 WHIP, which seems to be in line with most projection systems. I like him better than the starters that went immediately after him (Brandon Woodruff, Carlos Rodon and Shane McClanahan), as I think his floor is higher, even if his strikeout ceiling is a little lower.
4.8 (53) - Corey Seager: Once again, I took a pure hitter over possible stolen base producers, or a second starting pitcher. In this instance, I don't think I passed up an obvious alternative, unless I wanted to go with Seager's teammate Adolis Garcia, but I think Garcia's batting average downside is enough to stay away from him here.
5.8 (68) - Josh Hader: This is a stand-alone league, so closer prices are cheaper here than they are in the NFBC. Moreover, if you use NFBC ADP (which is awesome, both in terms of quality information and the ability to sort through it) and you sort by 15-team leagues, you're going to get a lot of data from Draft Champions leagues, which are 50-round leagues with no ability to acquire players by weekly FAAB. All this is to say that I think I got Hader at or around value, though it was nice to get him as the fifth closer drafted instead of the third. Hader fixed his midseason woes with a splendid September, and that's the pitcher that I think I'm getting here.
6.8 (83) - Oneil Cruz; 7.8 (98) - Jake McCarthy - As alluded above, I didn't have a lot of stolen bases early on, so it was time to get to work on finding some speed with some hope of getting other stats along with hit. Obviously Cruz and McCarthy come with some risk, as does most anyone else that runs in this range. If I wanted to go with safer options in this range, I could have paired Starling Marte and Willy Adames with these pair of picks.
8.8 (113) - Sean Murphy: Perhaps this was another tactical mistake. I love Murphy's bat in Atlanta, and a number of the other top catchers had already been taken off the board here, but I tried to play chicken with starting pitchers and missed out on Robbie Ray (once again, immediately taken after my pick by Scott Pianowski), followed later by Clayton Kershaw, Blake Snell and Kyle Wright, all of whom I would have been happy with. Because I didn't get Ray's strikeout rate, I had to make up for it in volume by taking a string of pitchers next.
9.8 (128) - Tony Gonsolin; 10.8 (143) - Lucas Giolito; 11.8 (158) - Jeffrey Springs; 12.8 (173) - Jesus Luzardo: Each of these starters carry question marks, but taken collectively, I'm happy with the quadrant that I acquired here, particularly Giolito in the 10th round. I think he's a classic buy-low starter, with the weight of Tony La Russa managing the team long gone. He retained the ability to miss bats even during the course of an awful season last year, and I try to look for that skill when identifying bounceback candidates. Because I went with Gonsolin in the ninth round, and he gets fewer strikeouts than others in his range, I had to make a point of getting other starters with strikeout upside in Springs and Luzardo.
13.8 (188) - Daniel Bard: I was targeting Pete Fairbanks for this slot, but Jen Piacenti from Sports Illustrated cruelly plucked him from my loving arms four picks before me. Bard brings all the risks that a Rockies closer typically has, but at least I know he has the job going into the season.
14.8 (203) - Jose Miranda: I love how Miranda improved so much at the plate after getting called back up in May, with above-average StatCast metrics across the board. That he has dual-eligibility at first and third comes in handy.
15.8 (218) - DJ LeMahieu: Meh, I'm not in love with this pick, but he qualifies at first, second, and third, and there's some hope of a bounceback. I'll blame the toe fracture for his second-half struggles. Here's another instance where going with Goldschmidt over Semien in the second round bore bitter fruit, as I don't have too many good late second base targets. Early drafts are good for identifying your personal tiers, and help better prepare you so you don't get stuck in a spot like this.
16.8 (233) - Lourdes Gurriel Jr.: As mentioned in our player outlook for Gurriel, he's now a batting-average stabilizer, without too much speed or power upside. I'm really selling this pick, eh?
17.8 (248) - Triston Casas: Casas is a Poor Man's Vinnie Pasquantino - great batting eye and exit velocity metrics, but the comparison stops when facing left-handers, whom he struggled against in the minors. But he's going to play, and likely will bat in the middle of a Red Sox lineup that isn't as potent as you might think.
18.8 (263) - Garrett Mitchell: I drafted Mitchell for his speed, but the two spring training homers he hit Saturday hint at his power capability.
19.8 (278) - Christopher Morel: Morel has above-average hard-hit metrics and sprint speed, but struggled to make contact on a regular basis with his first taste of Major League pitching. Late in the season he showed some signs of coming around in that respect, but he's going to have to battle to play every day. It also helps that Morel qualifies at second base.
20.8 (293) - Brandon Marsh; 21.8 (308) - Chris Taylor; 22.8 (323) - AJ Pollock; I'm light in the outfield, so I took three more outfield-eligible players, though Taylor also qualifies in the infield. Marsh has a nice speed upside, plus is in a good lineup and a great ballpark.
23.8 (338) - Brandon Hughes: I took a stab at the Cubs' closer job here, but I think this was a mistake. Even if I couldn't have gotten him later, it cost me two starting pitchers I had my eye on - Kyle Bradish and Roansy Contreras. I think I needed those starters more than I needed a potential third closer.
24.8 (353) / 25.8 (368) / 26.8 (383) / 27.8 (398) / 28.8 (413) - Bailey Ober, Michael Wacha, Hayden Wesneski, Brayan Bello, Brandon Pfaadt: I tend to carry extra starting pitchers on my reserve roster, especially early in the season when there are more unknowns both in terms of job battles and in terms of performance. Wacha in particular seems like a good streaming candidate.
29.8 (428) - Nick Fortes: Once Logan O'Hoppe went before me in the 22nd round, I decided until the last round to fill my second catcher slot. I don't think there's much to distinguish the remaining catchers, so I might as well wait. Fortes has some power upside, and a chance to unseat Jacob Stallings as the Marlins' starting catcher.
---
Despite the missteps mentioned above, I think this is a competitive draft. I'll need to hit on a few free agents and trades, especially if some of my starting pitching lottery tickets don't work out. What do you think?