This article is part of our MLB Observations series.
The American League Tout Wars auction took place today. It's a 12-team AL-only $260-budget auction league with the 23 roster spots, but with a couple quirks: We use on-base percentage instead of batting average, and instead of five outfield spots we have four and a swingman slot which can be a second utility or a 10th pitcher.
Here are the results: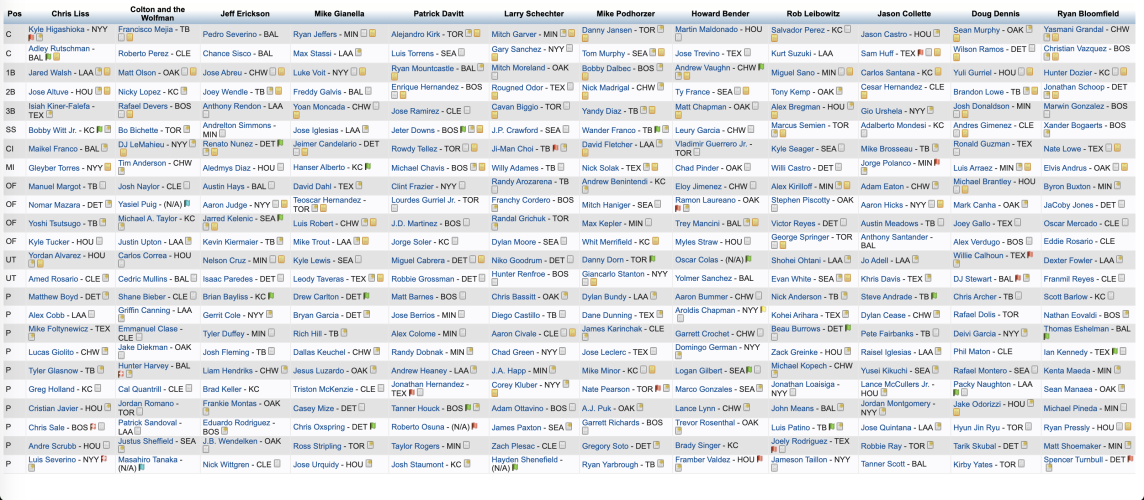 To enlarge image, click here.
And reserves:

Click here to enlarge.
My Picks (in order of acquisition):
$10 -- Bobby Witt, Jr, SS, Royals-- This was a strange first buy. I have no special insight into Witt. Someone brought him up for $5, and I knew $6 was a good price. But he got pushed up to $9, and I kept going. It sounds like the team wants to keep him in the majors, and if that were a done deal he'd probably have gone for $16 or so, given the power-speed combination.
$29 -- Lucas Giolito, SP, White Sox -- I wasn't interested in Giolito per se and was just moving the bidding along when he stuck at $29. The same thing happened to me last year with Gerrit Cole at $37, and I won the league. Giolito is at minimum a $35 player in an AL-only format.
$33 -- Kyle Tucker, OF, Astros -- I was aggressive here because my strategy is to spend two-thirds to three-quarters of my budget on star players and wait until bargains arrive later in the draft, and I hadn't spent enough money. Tucker fit the bill, though this was full price.
$27 -- Tyler Glasnow, SP, Rays -- He has to say healthy, but I'm getting a Randy Johnson-when-he-finally-put-it-together vibe.
$28 Gleyber Torres, SS, Yankees -- He was a target. A player in his prime hitting in the middle of a loaded lineup.
$22 Jose Altuve, 2B, Astros -- I like Altuve to bounce back this year, and this was a decent price for an everyday player even if he only has a handful of steals. If he hits leadoff or runs more, it's cheap.
$24 Yordan Alvarez, UT, Astros -- I didn't mean to buy three Astros, but I like Alvarez who just needs to stay healthy to vastly out-earn his cost. The utility-only qualification is less of a negative in this league with the extra swing man spot.
$11 Greg Holland, RP, Royals -- Holland was a target. He's more locked into the role than far more expensive closers, and I always prefer the veteran warhorses with experience.
$12 Jared Walsh, 1B, Angels -- I have no idea if this was a good buy, but I needed a corner, and apparently Angels Stadium is now a hitter's haven for lefties.
$6 Cristian Javier, SP, Astros -- Total accident. I assumed he'd go for $10-$12, so I brought him up at $6, and he stuck. I'm good with the discount though.
$8 Isiah Kiner-Falefa, 3B, Rangers -- He's ostensibly the starting shortstop, but he qualifies at a corner spot. He steals a few bases too.
$9 Matthew Boyd, SP, Tigers -- I like Boyd, who was pitching hurt last year, to bounce back. I probably should have let him go at $8, but pushed it to $9 out of stubbornness. I'm fine with it, but it was slightly undisciplined.
$7 Amed Rosario, SW, Indians -- He only qualifies at SS, and he made three errors in his outfield debut, so he could wind up in a utility role. And $7 was probably an overpay. But if Rosario sees even 400 at-bats, he'll have double-digit homers and steals. It also clogged my swing spot because I already had three middle infielders and a DH.
$10 Manuel Margot, OF, Rays -- He's a good source of steals and is having a strong spring. It was a lot of money for this stage of the auction, but that was the going rate.
$4 Chris Sale, SP, Red Sox -- I was surprised when this bid stuck. If Sale makes it back even by August 1st, this is too cheap, especially with a DL slot in which to stash him.
$10 Maikel Franco, 3B, Orioles -- This was my last real bullet -- I was left with a $4 max-bid after this, but Franco should start and could easily hit 30 HR in that park.
$2 Luis Severino, SP, Yankees -- See, Sale, Chris.
$1 Kyle Higashioka, C, Yankees -- I was looking for a $1 catcher, and he was one, Gary Sanchez is a poor defender, too, and Higashioka will hit in a good lineup.
$2 Yoshi Tsutsugo, 3B/OF, Rays -- He'll be in the outfield rotation, could hit 20 homers if he gets the at-bats and is now taking reps at first base.
$1 Adley Rutschman, C, Orioles -- Mega-prospect could be up in May or September. Worth the gamble at this point.
$2 Nomar Mazara, OF, Tigers -- Former prospect should have a chance to compete for at-bats in a below-average Tigers outfield.
$1 Alex Cobb, SP, Angels -- I got sniped on Ian Kennedy, whom I expect to close for the Rangers, so I settled for Cobb who was good once, has gained velocity and should win a rotation spot.
$1 Mike Foltynewicz, SP, Rangers -- He has his velocity back and should win a rotation spot.
R Carlos Rodon, SP, White Sox -- He's competing for a rotation spot and throwing well this spring. Plus I needed extra pitchers with Sale and Severino on my DL.
R Julio Teheran, SP, Tigers -- I once said I'd rather live in Tehran than roster Teheran, but here I am, taking him in the reserve round. Teheran's velocity has also been up this spring.
R Josh Lowe, OF, Rays -- A speedy prospect who could take over once Kevin Kiermaier inevitably gets hurt.
R Zack Collins, UT, White Sox -- He could win the backup catcher job and see work at 1B/DH. Moreover, it's not like Andrew Vaughn has the DH job locked up.
Roster By Position: