This article is part of our Rounding Third series.
The bidding market for closers was robust last week, and while in some leagues Emmanuel Clase was still available and I thought he would fetch big bids, I thought that the remaining closers might be a little more affordable. Apparently I need to adjust my expectations still, at least as far as it pertains to the NFBC. Here are this week's results in eight leagues, adding the RotoWire Staff Keeper League this week.
AL Tout Wars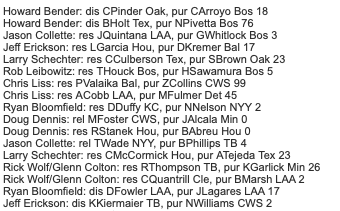 I enjoy playing in "only" leagues, but my biggest frustration with them is to find adequate playing time from hitters on the waiver wire when things go wrong. Tout Wars tries to alleviate some of that crunch by requiring only four outfielders, allowing you instead to put in two UT hitters, or even a 10th pitcher in the "swingman" spot, which I did last week. But even after that, I was still down an outfielder with nobody available on my bench to swap in when Kevin Kiermaier shockingly got hurt on Monday. Alas, this week I got outbid on Kyle Garlick and Juan Lagares, which is a sign that I didn't properly plan for outfield attrition in the first place. Instead, I landed Nick Williams on my roster. This is a temporary stab at a solution. I also "won" Dean Kremer for his two starts (vs. Seattle, at Texas) this week. The big bids this week were with Zack Collins (Chris Liss, $99) and Nick Pivetta (Howard Bender, $76).
NFBC Main 3/25
There were so many add-ons this week that I had to use two screenshots to capture them all: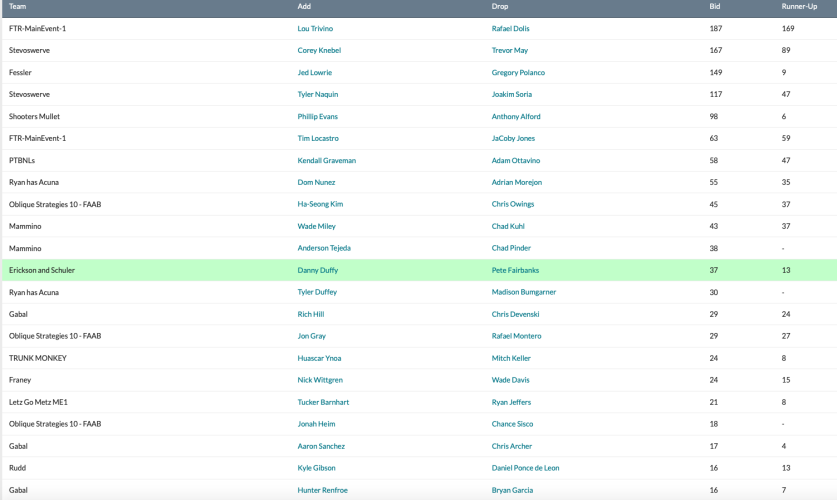 (click here to enlarge)
and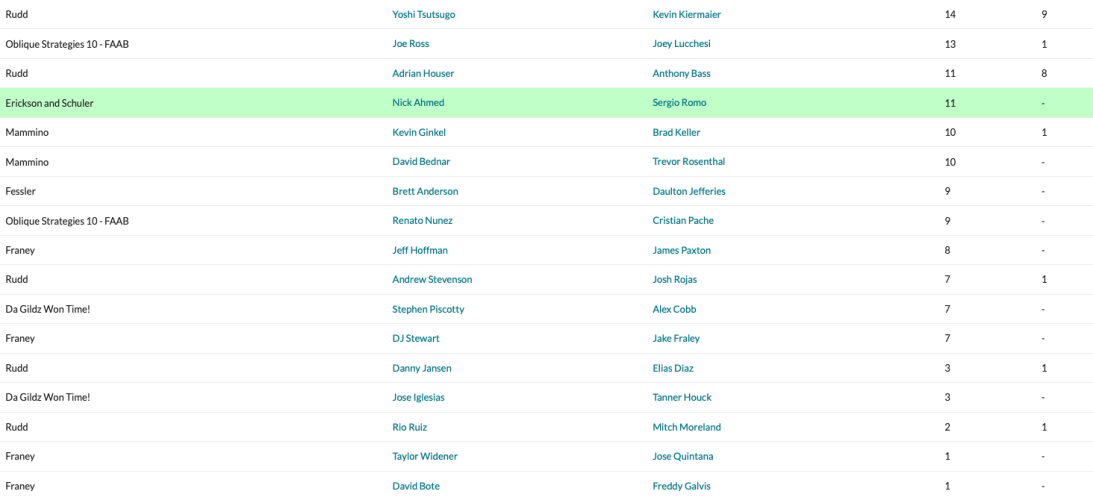 (click here to enlarge)
We had an $89 bid in on Lou Trivino on the A's and didn't come close. He's likely to get the first save chance for them, but at this point we haven't seen it because the A's haven't had a save opportunity. But given their usage of Jake Diekman in earlier innings than the ninth this week and comments from manager Bob Melvin suggesting he'll turn to Trivino, Trivino might have the best chance. Danny Duffy has two home starts this week, though the matchups (vs. LAA and TOR) aren't great. I thought that Corey Knebel's price might have decreased following a strong outing from Kenley Jansen on Sunday, but that wasn't the case.
Main Event 3/27
Once again, a story in two parts: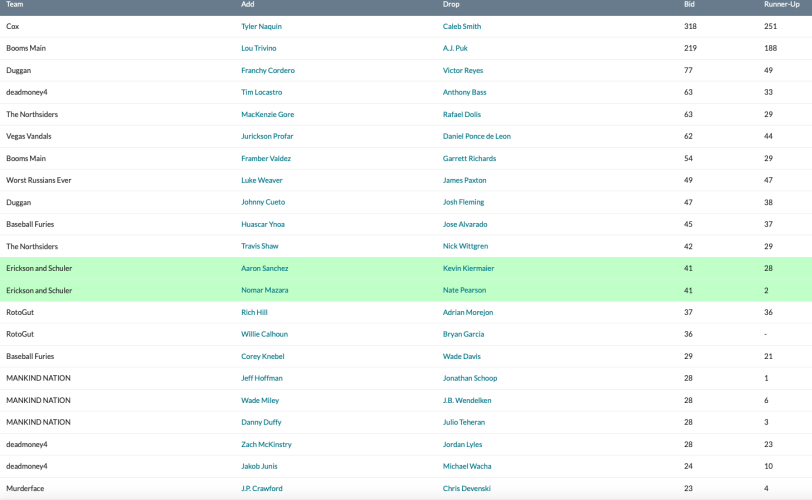 (click here to enlarge)

(click here to enlarge)
The bidding once again was spirited for Trivino, but the big story here was the price for Tyler Naquin's stats. I was pretty circumspect on Naquin - I think we have a pretty well-defined level for him, and last week was just his best week, nothing more. There's going to be weeks when he starts 2-3 games, making him awfully frustrating. Once Jesse Winker is fully healthy (and yeah, I get it, he may never be), Winker and Nick Senzel are still going to take most of the starts away from Naquin. Clip and save this so that you can post "this didn't age well" at me later, it's ok, I can handle it.
Aaron Sanchez has two starts this week, home against the Reds and then at Miami, and then as a bonus next week's start is home against Miami, so at least he's (hopefully) useable for two weeks. We overbid on Nomar Mazara unfortunately - see also our Sunday night podcast where Scott Jenstad and I discussed the lack of great OF's to bid on - which might explain why I was so far away from the market rate on Naquin.
Beat Jeff Erickson I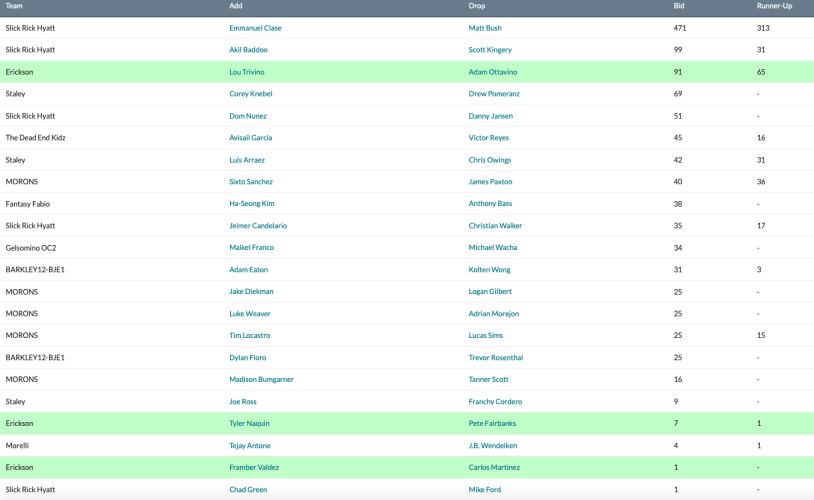 (click here to enlarge)
And here you can see the difference between the 15-team leagues and the 12-team leagues. Sometimes "circumspect" still equals "winning bid," I guess. I had the $313 bid on Clase, which still wasn't close.
Oh yeah - this team is out to an awful start, but I still don't hate it. In fact, I liked it enough to stash Framber Valdez for the second half of the season. We'll see if I can remain patient enough to wait it out.
Beat Jeff Erickson II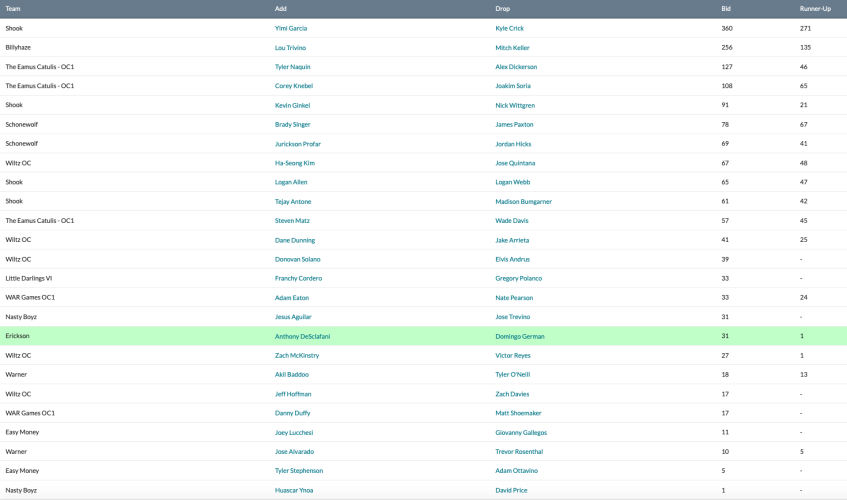 (click here to enlarge)
Here I got shut out on all of my top reliever bids (Trivino, Yimi Garcia, Jose Alvarado, Knebel) but did get my top starting pitcher bid on Anthony DeSclafani. Recency bias for the win! But his next two starts are against the Marlins. I really hope I'm not jinxing myself with the "stream against the Marlins" mentions.
TGFBI
(click here to enlarge)
Despite getting "second-placed" on all of my bids in this league last week, my bids were pretty tame again here, yet I got my third-ranked RP bid (Wade Davis) and highest-ranked SP bid (Wade Miley), at least in terms of how much I bid. I'm wading into the streaming market, and hoping that they don't throw too many wide ones. Or something. Miley gets the Giants and Indians - not great, but not terrible streaming opportunities.
LABR Mixed Draft League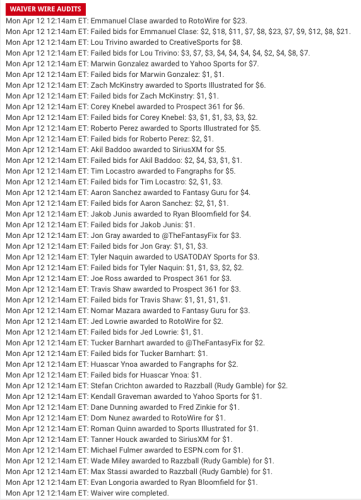 (click here to enlarge)
As previously alluded, bids in LABR should come in lower as a percentage of our FAAB budget, given the lack of granularity and the ability to trade FAAB dollars. Thus, I suppose I shouldn't be surprised with winning the bid on Emmanuel Clase at $23, I still thought that this was a "keep 'em honest" bid that one. And if you look at the number of bids and the bid amounts on him, I was definitely not overpricing the market at least. There's no guarantee that the job is solely his or that he'll hang onto it, but I think there's a definite gradation difference between him and the other newly minted closers that we've seen this season.
I also landed Jed Lowrie to upgrade my MI/UT situation, and yes, it hurts to type that. Plus I also added Dom Nunez to replace Francisco Mejia at catcher. I need to stop replacing catchers now.
RotoWire Staff Keeper League
The RotoWire Staff Keeper League is an 18-team mixed salary cap (auction) league with seven-man reserve rosters and 10-man minor league rosters. There are no $0 bids, no IL slots, and we have a $100 FAAB budget for the season. FAAB dollars are traceable here, unlike in LABR.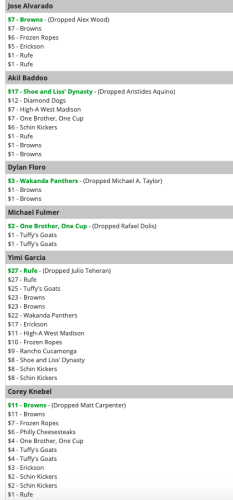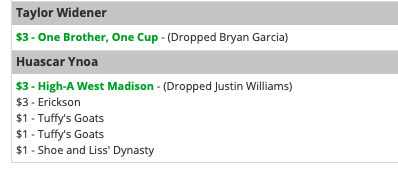 Last week I got shut out on all my bids, and this week I got shut out on all but one of my bids, losing out on Huascar Ynoa on the basis of being higher in the standings than RotoWire's Peter Schoenke. Ynoa had a great first start against the Nationals and has two starts this week against the Marlins (here we go again) and the Cubs. Instead, I got Wade Miley, so I look forward to re-titling next week's article "The Week that Wade Miley Eliminated Three of My Teams."
Who did you land this week? Where did you miss out?