This article is part of our NBA Observations series.
We're in the midst of Week 18 of the fantasy basketball season, which means the playoffs are underway in a number of leagues. Hopefully you checked out our postseason strategy guide before setting your lineups, but either way this promises to be yet another unpredictable week as some teams jockey for playoff position, while others (not going to name any names but looking at you, Detroit and OKC) go to extreme lengths to preserve their lottery odds.
Thankfully, COVID-related absences have been on a sharp decline over the past several weeks, but the league continues to be ravaged by injuries. Several big names -- including Donovan Mitchell, Damian Lillard and Jimmy Butler -- have landed on the shelf within the last few days, leaving fantasy managers without key contributors at the worst possible time.
In this week's trip around the league, we'll check in on those injuries, as well as highlight the biggest newsmakers in the world of fantasy basketball.
Big-Name Injuries Piling Up (Again)
In a season that's become increasingly marred by key players missing significant time, the cycle continues in Week 18.
Damian Lillard, Donovan Mitchell and Jimmy Butler are among the All-Stars who have already missed multiple games, while Myles Turner (foot) looks to be facing an extended absence. On top of that, Kevin Durant (thigh) will not play Tuesday night against New Orleans, and it's possible he could be looking at yet another multi-game absence as the Nets play on the second half of a back-to-back Wednesday at Toronto.
Davis Close, LeBron Still 'Weeks Away' from Return
Following Monday night's loss to the Jazz, coach Frank Vogel provided updates on his pair of superstars. Vogel confirmed that Anthony Davis was able to do some on-court work Monday morning, as he continues to "build up" before making his return, which could come as soon as Thursday night in Dallas.
Vogel stopped short of declaring that Davis will play Thursday, noting that he's still concerned about the big man's conditioning. "The biggest thing is conditioning right now," Vogel said. "He's healthy. But having not played and not really being able to ramp up his physical on-court activity over the last two months, it's going to take some time before he gets his wind under him and obviously, that's the biggest thing. Because if his legs aren't under him, we don't want him to be at risk for re-aggravation of the injury or another injury."
If Davis, who's been out since mid-February, is ultimately held out Thursday, his return would almost certainly come Saturday (at Dallas) or Monday (at Orlando). Of note for fantasy managers: Vogel told the media Davis will face a restriction of roughly 15 minutes for at least his first two games back in the lineup.
While most of the attention is focused on Davis' long-awaited return, LeBron James remains "weeks away" from getting back on the court. James has been able to do some "light work" in recent days, per Vogel, but the Lakers will exercise extreme caution with the reigning, four-time Finals MVP.
If James were to miss two more full weeks, he'd have only seven games to ramp back up before the start of the postseason. And in that final seven-game stretch, the Lakers play three back-to-back sets.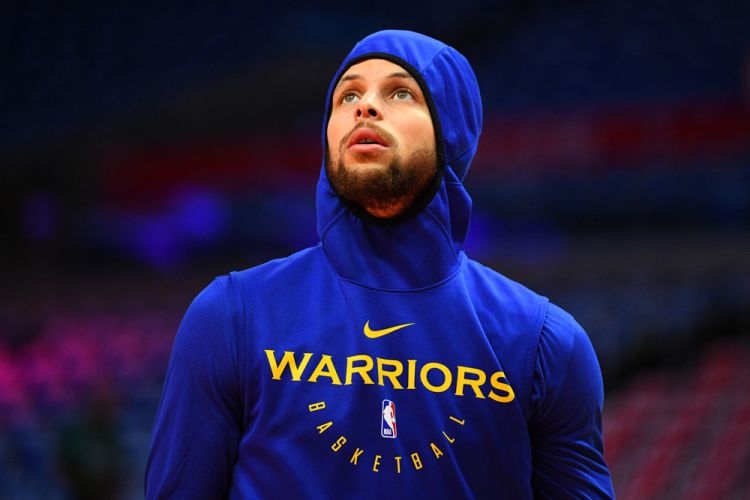 Can Anyone Slow Down Steph?
In short, the answer lately has been absolutely not. Fresh off of another monster game Monday night in Philly, Curry remains in the midst of the best individual stretch of his career. In the last 11 games, he's averaging 40.0 points (!!), 6.1 rebounds, 4.5 assists and a mind-boggling 7.1 made threes per game on 49.7 percent shooting. Curry has at least 10 threes in four of his last five games, hitting 46-of-83 attempts in that stretch. Ludicrous numbers.
It goes without saying that Curry is the number-one-ranked fantasy player since the start of April, but he's still a fairly distant second behind Nikola Jokic, who put up a casual 47-15-8 line Monday night, in full-season value.
Good News out of Charlotte
The Hornets, the NBA and fantasy managers alike received excellent news Monday night, as LaMelo Ball has been cleared to return to basketball activities. The No. 3 overall pick played his last game exactly a month ago, and there's hope that he'll be back on the court within 7-to-10 days. Optimistically, that could mean Ball makes his return as soon as next Tuesday against Milwaukee.
If that's the case, Ball could play in as many as 12 more games, which would push his regular-season total to 53. Given the commanding Rookie of the Year lead he'd established before the injury, 53 would likely be enough for Ball to capture the award.
On Monday night, Ball was re-installed as the favorite at Bet MGM, swiftly moving from +170 to -250. Anthony Edwards moved from -139 to +180, while Tyrese Haliburton dropped from +200 to +600. Translation: Ball is back in the driver's seat.
Speaking of Haliburton, the 21-year-old looks to have hit the proverbial rookie wall over the last few weeks. He bottomed out with just three points and two assists in 16 minutes against Dallas on Sunday, scoring fewer than 10 points for the fifth time in nine games. During that stretch (beginning April 2 against the Lakers), Haliburton is averaging just 9.7 points, 5.0 assists, 1.9 rebounds, 1.4 steals with an ugly 41-32-70 shooting line. His workload, which has now declined in five straight games, will be something worth monitoring.
Odds and Ends