This article is part of our NBA Roundtable series.
Welcome to the latest edition of the RotoWire NBA Roundtable!
As play resumes following the All-Star break, the RotoWire NBA staff answers a six-pack of questions dealing with second-half breakouts, Blake Griffin in Brooklyn, surprise fantasy breakouts and much more.
Name a player who didn't meet your expectations in the first half of the season but you're still bullish on heading into the second half?
Alex Barutha: Jusuf Nurkic. The Trail Blazers were in many blowouts early in the season when Nurkic was healthy, which limited his playing time. His per-36-minute numbers from this season actually line up pretty well with his numbers from the past few seasons. I'm banking on him getting healthy and having a more normalized role.
Mike Barner: I still think better days are ahead for Buddy Hield. He's averaging nearly three fewer points per game this season, thanks in large part to him shooting 39.1 percent from the field. He's never shot worse than 42.6 percent, so if he catches fire in the second half, he could be a difference maker, especially in three-pointers.
Joe Bartel: This is probably cheating, but I'm still incredibly high on Michael Porter. The injury situation really has marred what I thought would be a breakout campaign. The third-year forward was starting to find his own within the Nuggets' offense over the last six games, averaging 17.0 points, 10.5 rebounds and shooting better than 50 percent from deep in that stretch.
Ken Crites: Jimmy Butler, simply due to games missed. He can't miss as many games in the second as he did in the first half, can he? He's still the engine that makes Miami go, despite the lack of threes.
Jeff Edgerton: Assuming his recent injury isn't serious, I'm still all-in on Devin Booker. Chris Paul has stolen some of his thunder in Phoenix, but as they try to solidify a top seed I'm hopeful that Booker can turn things around after a relatively mediocre first half of the season.
Nick Whalen: I'm holding Jusuf Nurkic in two leagues in hopes that his first few weeks were just an anomaly. He didn't look anything remotely like the player we saw in the Orlando bubble, and even though he's coming back from a serious injury, it's hard to imagine he could play any worse the rest of the way.
With
Blake Griffin
landing in Brooklyn, is there any hope he can salvage some fantasy value over the second half of the season?
Barutha: I think there's a chance he'll be worth rostering in 12-team formats, but I wouldn't bank on it. Better shooting percentages and better rebounding wouldn't be surprising given team context, but I think his minutes will be relatively limited, maybe somewhere in the 20-25 range.
Barner: Unless you're in a deep league, I wouldn't consider adding Griffin. He's likely going to come off the bench and play center in small lineups. With so many talented scorers around him, he doesn't have much upside.
Bartel: It depends on what your expectations are for Griffin. There's no chance he'll get close to his pre-season ADP, but it's not like Jeff Green has really made a case for 30 minutes a night, so by default I think Griffin is going to get plenty of playing time. There's simply not enough shots available for Griffin to provide much, from an offensive perspective, but I do think he'll get a fair amount of rebounds and assists to be a viable option in deeper leagues.
Crites: No. He's now a 6-foot-9 shooting guard with bad knees who turns 32 next week. He'll have a blast winning in Brooklyn, but the stats will be wildly inconsistent.
Edgerton: Unless there's a marked change in his play, I don't see an avenue where gets enough minutes to be relevant. A Durant injury could certainly alter that outlook, but otherwise I doubt he'll average more than 20-25 minutes.
Whalen: There will be nights when Griffin turns back the clock and reminds us why he was an All-NBA player two seasons ago, but on the whole I don't think he'll be worth rostering in standard leagues. The Nets' needs are on the defensive end, and Griffin doesn't really offer anything there. When his knees are right, he can still score, rebound and pass, but Brooklyn has three All-World guys who already do those things.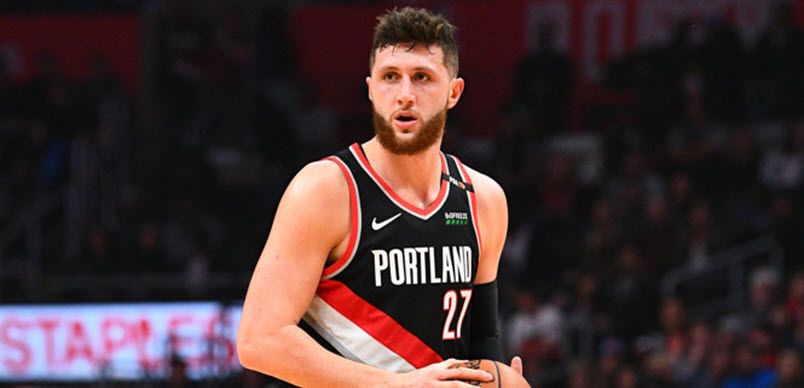 Barutha: I think it's either Jusuf Nurkic or Caris LeVert. I mentioned Nurkic already, so I'll elaborate on LeVert. When he's ready to play, LeVert will be the third option on the Pacers, and he'll likely be a huge driving force of the offense with the second unit. Ultimately, I don't think his role will change much from his time in Brooklyn this season, where he averaged 18.5 points, 6.0 assists, 4.3 rebounds and 1.1 steals.
Barner: I'll go off the board and say CJ McCollum. He was on pace to have the best season of his career before suffering his foot injury. He scorers a ton, provides plenty of assists, has been better than normal in steals and has shot for high percentages both from the field and at the free-throw line. What else can you ask for?
Bartel: The answer is probably Caris LeVert, but I don't think he's going to be the same guy we saw with the Nets until late in the season. If he is slow out of the gate, it opens the door for someone like Marcus Smart to pile together enough counting stats to be the "winner" of this scenario.
Crites: Marcus Smart returns tonight. This season is all about games played and Smart will have an advantage in that regard over some of the other names above. I want to say LeVert or Jackson, but we still have no idea when they're actually returning. And when that day comes, will Memphis really push Jackson? I doubt it -- at least not for a couple weeks. I suspect when LeVert returns, he'll be ready to play every day. But this season is so crazy, who knows.
Edgerton: LeVert. His game-changing skills with the Nets are well-documented, and he'll aptly fill the hole that Victor Oladipo left in Indiana's offense. A lot of the other names will eventually reap benefits, especially Jackson, but LeVert's return could be the most transformative.
Whalen: If everything breaks right, then Nurkic is the answer. But both LeVert and Hunter could be significant additions for managers who've been stashing them on IR. Had it not been for the injury, Hunter would've been in the Most Improved Player race, while LeVert has the offensive tools to challenge Malcolm Brogdon for the title of No. 2 option behind Domantas Sabonis. I'm a little less optimistic about Jackson, who's clearly encountered some roadblocks in his recovery. It's now been seven months since he underwent surgery, and it sounds like he's at least a few more weeks away from making his debut.
With the fantasy trade deadline approaching, who is a player you're looking to either sell-high or buy-low on?
Barutha: With trade rumors continuing to swirl around Kyle Lowry, I think trying to sell high would be a good idea. If he gets dealt, it would be to a contender, and I could see his role being reduced -- not dramatically, but enough for it to meaningfully impact his fantasy production.
Barner: The time is now to unload Gary Trent Jr. He's been excellent with McCollum out, mostly because he's averaged 36 minutes per game in a starting role. He was only averaging 24 minutes when he was coming off the bench, so expect his numbers to be on the decline when McCollum is back.
Bartel: See above: Porter, Michael. You don't get punished for bad defense in fantasy leagues and I think there's a clear need, from the Nuggets perspective, to have Porter flourish if they want to be serious contenders in the Western Conference.
Crites: D'Angelo Russell should be a buy-low candidate, especially considering the late-March return date. He's supposed to start on-court activities this weekend.
Edgerton: Some guys I would be looking to deal: Kelly Oubre, Enes Kanter, Jonas Valanciunas, Malcolm Brogdon. Conversely, if I could make a deal for some of the injured returnees -- Jusuf Nurkic, Jaren Jackson Jr., De'Andre Hunter, Caris LeVert -- for cheap, I would be interested.
Whalen: I would be looking to part ways with Kyle Lowry, Robert Covington, John Collins, Gary Trent, John Wall, Thaddeus Young and Al Horford. As far as buy-lows, a few guys to target are Cole Anthony, De'Andre Hunter, Tyler Herro, Jakob Poeltl, and, in deeper leagues, Saben Lee/Dennis Smith Jr.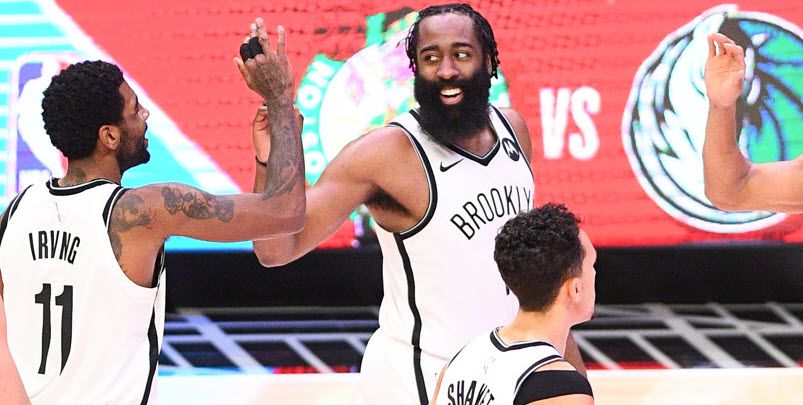 Predict the 2021 NBA Finals matchup and winner.
Barutha: Lakers vs. Nets; Lakers in 7. I'm relatively confident in the matchup, but I think it becomes a toss-up in the Finals between these teams. LeBron has beaten a team with all-time offensive firepower before, but he was much younger then.
Barner: Lakers vs. Nets; Lakers in 6.
Bartel: Lakers vs. Nets; Lakers in 5. It's just the bitter midwest sports fan in me talking, but LA will win everything and always. It's Thanos-level inevitable.
Crites: Lakers vs. Nets; Lakers in 7. As currently constructed, who on the Nets stops Anthony Davis?
Edgerton: Suns vs. Nets; Nets in 6.
Whalen: Lakers vs. Nets; Nets in 6
Barutha: Terry Rozier (25). His ADP was outside of the top 100 on Yahoo, CBS and Fantrax. Fantasy managers assumed that his role would fall by the wayside with Devonte' Graham and LaMelo Ball set to emerge as young(er) guards. However, Graham has struggled, and it seems Ball's presence has actually helped Rozier but taking the defensive focus off of him.
Barner: The fact that Rozier is shooting 49 percent from the field blows my mind. Last season, he shot a career-best 42.3 percent. I had no idea this was coming.
Bartel: I wanted to cop out and say it's a tie between Jerami Grant and Terry Rozier, but I road the fence way too hard in the third question, so I might as well give a definitive answer: it's Rozier. If you'd have told me at the beginning of the season that LaMelo Ball is a shoo-in for the Rookie of the Year award and averaging almost 29 minutes a night, I would have assumed Rozier was probably droppable in shallower leagues. This is probably more of a knock on Devonte' Graham than praise for Rozier, but the ex-Boston Celtic has been incredibly impressive. What he's doing should be mostly sustainable considering Graham will likely be working off of the bench for most of the second half.
Crites: Scary Terry shooting 49 percent from the field is just crazy! He was a 39.% career shooter before the year began, and that's over five seasons.
Edgerton: Rozier by a mile. You'd expect Gordon Hayward to be the Hornets player in this spot, but the extended absence of Devonte' Graham has only helped Rozier stay in the spotlight.
Whalen: LaVine climbing all the way up to No. 6 is wild, but for me it has to be Randle. He's always been a steady points/rebounds producer who offers around 3.0 assists per game, but he's now up to 5.5 assists, while also becoming an elite three-point shooter (4.6 3PA/G; 40.8% 3Pt) and hovering above 80 percent at the line. I'm not proud to admit this, but coming into the season, I was on the record saying Randle's minutes should go to Obi Toppin.