This article is part of our Sweeping the Floor series.
One of the benefits of a RotoWire subscription is being able to get a statistical overview of a full gameweek using specific stats of a fantasy format. For example, if you want to see all of the DraftKings scores from a particular week, you can do that by using our DFS trends page, which not only shows overall scores from DraftKings, FanDuel and Yahoo, but you can also parse out the goals, assists and clean sheets to see highest floor points, which are important for cash games. Here's a look at the DraftKings scores from this past weekend: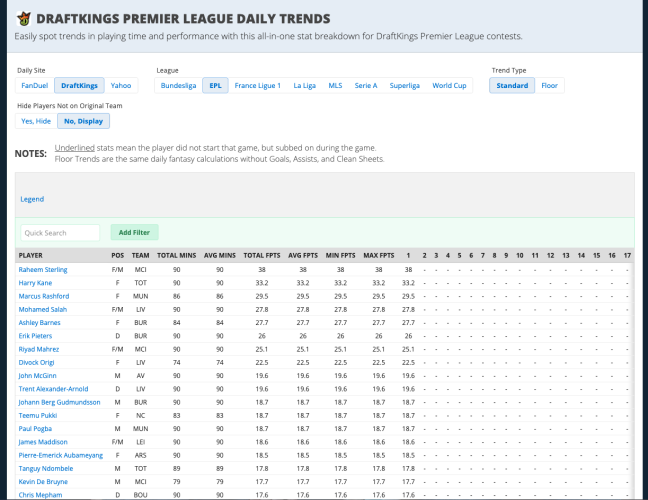 Obviously it'll fill out more as the season progresses, but this gives you a good idea of how players did each week. It's also worth pointing out that these scores are for the entire gameweek, meaning all the matches from each weekend and not just a specific slate.
For those who like to dive deeper, you can use our player stats page to get an even more detailed breakdown, showing the specific stats that helped lead to those points. If you sort the gameweeks down to a specific one (like Gameweek 1 for this past weekend), you'll not only get the stats for each player, but also the opponent, whether it was home or away, formation used and specific position. And, of course, you can choose only the specific stats associated with the site you're playing on: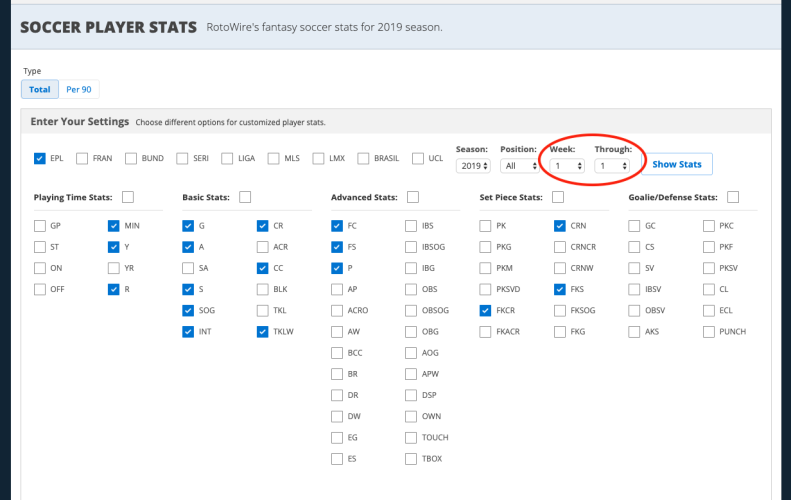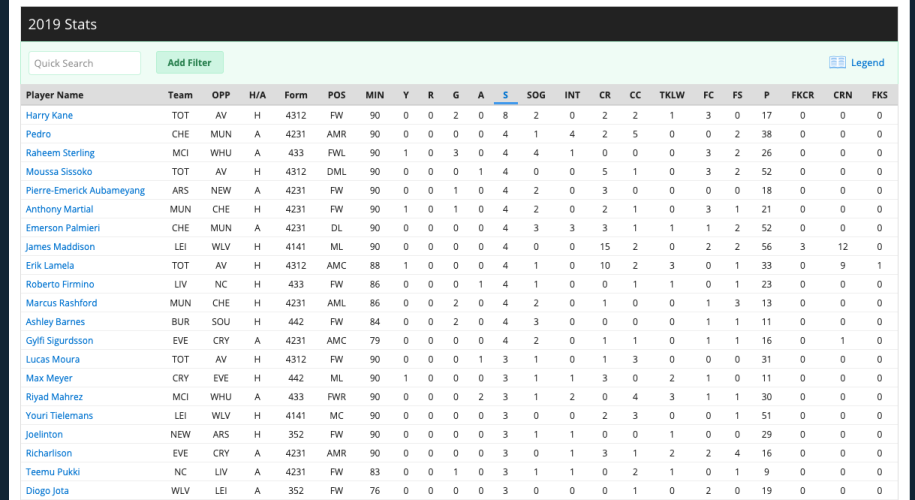 You can sort by individual statistic, if you're so inclined, and I added in corners, free-kick crosses and free-kick shots to help determine who took set pieces for each side. I take this all one step further by downloading the data (you can export an Excel file or a CSV) and uploading to Google Sheets were I can calculate the specific fantasy points and floor points for each player. Here's a full breakdown of every player who was on the pitch for at least one minute last weekend with their corresponding DraftKings fantasy points and floor points (three notes: 1. I ignore yellow and red cards; 2. the stats on RW are updated with any corrections, so they may be slightly different from what DraftKings shows because their stats close when slates are paid out; 3. all columns are sortable):
If you are not a RotoWire subscriber but would like to join, just click here to see our subscription options (the DFS trends page requires a DFS subscription along with a soccer one, which costs as low as $5.99 per month). Or, if you'd like to check everything out first, just visit rotowire.com/soccertrial for 10 free days on the site, no credit card required. And if you're wondering what else you get, here's the beginning of a thread I tweeted a few weeks ago with a number of benefits to a RotoWire Soccer subscription:
The author(s) of this article may play in daily fantasy contests including – but not limited to – games that they have provided recommendations or advice on in this article. In the course of playing in these games using their personal accounts, it's possible that they will use players in their lineups or other strategies that differ from the recommendations they have provided above. The recommendations in this article do not necessarily reflect the views of RotoWire. Andrew M. Laird plays in daily fantasy contests using the following accounts: FanDuel: kingmorland, DraftKings: andrewmlaird, Yahoo: Lairdinho.