This article is part of our Rounding Third series.
It's Tout Wars weekend here in New York, the 26th year of the series of leagues for Tout. I've played in the league for over 20 years, exclusively in the AL-only league for over a decade now. My track record in the league isn't great; I've only won the league once, with a few other close calls that have come up short in recent seasons. Doug Dennis from BaseballHQ.com won the league last year with a strategy that punted wins and strikeouts, as he didn't roster a starting pitcher. Tout Wars doesn't have an innings minimum requirement — it's always been our contention that doing what Doug did is a legitimate strategy, and to be successful in pulling it off, one needs to thread the needle and be nearly perfect in the other eight categories to pile up enough points to win. Well, Doug did exactly that: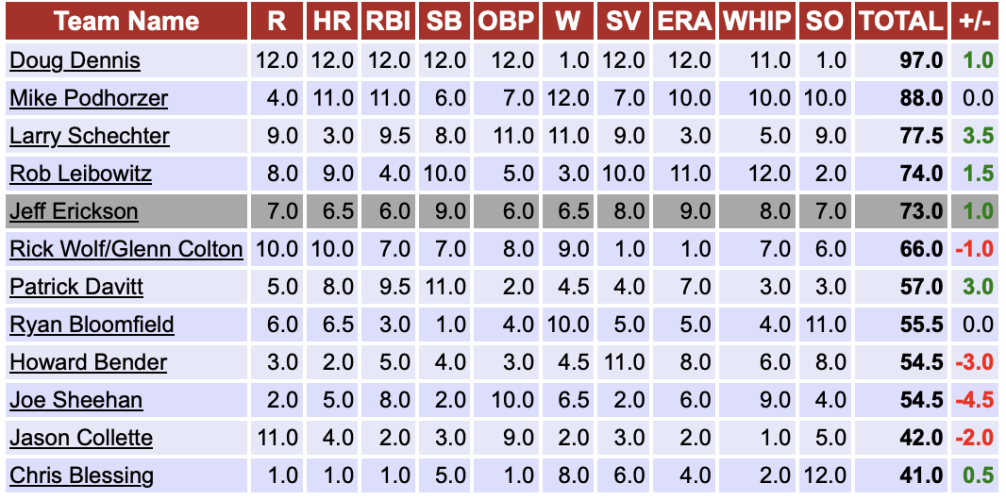 Doug won every hitting category as well as saves and ERA, losing just one point in WHIP while finishing dead last in wins and strikeouts, and still won the league going away. In 2021, Mike Gianella (who is now in one of Tout's Mixed Leagues) tried a similar strategy and came up just short. In the past I had dismissed the possibility of this strategy working, thinking that punting two categories was too difficult to pull off. Clearly I was wrong. Not only was the plan viable, but the extent that it worked is noteworthy. Note how Doug didn't merely win the offensive categories, but he obliterated the field: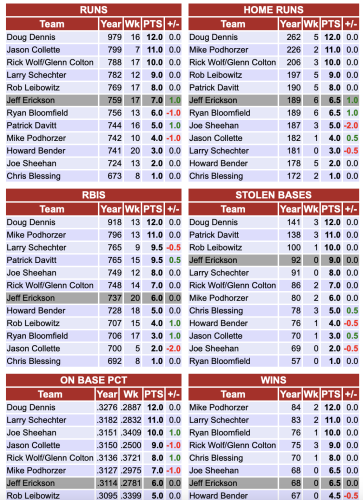 It gets even worse for us, as Doug didn't even pay top dollar on closers to beat us out on saves, nor did everything go right for him at the draft table. He spent $14 on Scott Barlow, which worked out great for him, but he also spent $12 on Matt Barnes, which didn't work at all. But it was no problem for him, because he also bought Paul Sewald ($8), Garrett Whitlock ($6) and Clay Holmes ($1!) in the auction. Not only was the draft strategy fruitful, but it was also anti-fragile! Even on the hitting side, he had some misses — Michael Conforto, who was unsigned at draft time and thus available to anyone, went for $19, and Cavan Biggio ($12) was also a bust. But a $31 Aaron Judge and $3 Jeremy Pena were huge profit sources, and his other big-ticket items (Jose Ramirez and George Springer) paid off reasonably enough.
So how does one counteract Doug's strategy, which looks to be eminently repeatable? One option is to mimic his strategy and lessen his advantage. That's what happened in the early 2000's after Ron Shandler won three leagues in a row with his LIMA Plan — if you can't beat him, join him! After his opponents got tired of Ron beating them (and, um, me), in subsequent leagues, multiple players ran with a similar plan. It's noteworthy that the LIMA Plan is similar to Doug's in the respect that it minimizes the expenses spent on pitching in order to overwhelm the hitting categories. Others running a similar plan did indeed slow Ron down, but if I recall correctly, I don't think those mimers won, either, so it was a bit of a Pyrrhic victory.
Nobody in the league attempted to run Doug's exact plan, but it's worth noting others did run strategies with similar hitter/pitcher allocations. He spent $64 on his pitching staff (compared to $61 last year), but two teams actually spent less, with Mike Podhorzer investing $60 on his pitching staff and Andy Andres spending $47! Overall, the league spent $2,131 of a total $3,120 budget (but really, $3,112 total spent) on hitting, as opposed to $2,077 last season. It's about a 1.5% increase in hitting spending. At the very least, it should be harder for Doug to dominate the hitting categories.
We didn't really do a great job of pricing up his top targets, though. Once again, he landed Scott Barlow ($15) and Paul Sewald ($12), plus he also added Andres Munoz and Jhoan Duran for $12 apiece, and both are perfect targets for his strategy. This is where his approach affords him the ability to roster non-guaranteed closers with great skills at full price, though, as he doesn't concern himself with chasing wins and strikeouts. I'm not sure that there's a way to prevent him from getting those pitchers without risking strikeouts and wins ourselves.
You can see the full results of this draft and the other Tout Wars drafts here. Meanwhile, I'll discuss my roster the rest of the way. This is my squad:

Last season I felt as if I never could get enough at-bats, so this year one adjustment I made was to tone down the higher end of my batter buys, while still not compromising my pitching too much. I still didn't spend enough on hitting, however, twice getting stuck on pitchers where I liked the player at the price in question, but it radically altered my budget allocation. I didn't expect to land either Triston McKenzie or Jose Urquidy but thought that they were good buys even after accounting for some starting pitcher devaluation league-wide.
The other interesting aspect is that I had the most spots filled in the draft for the longest time. We reached the first break and I had already rostered 16 of the 23 available slots, and had $29 remaining to spend. I guess it follows that if you're fishing in the mid-tier waters and finding that the fish are biting, then it makes sense that I'd catch a lot early on.
Among the players on my roster, Melendez, Vaughn, Hernandez and Jimenez were absolutely targets, as was Jeffrey Springs. I kind of fell into Kenley Jansen and Felix Bautista — as I said at the draft table, a week ago there's no way I'd pay that price for Bautista, but I'm buoyed by his recent outings in spring training that the health concerns that delayed his spring training are no longer present. Obviously I'm taking a gamble on Jarred Kelenic and hoping that his spring training performance is somewhat meaningful. I liked hearing on the drive home today on the GM's Corner on SXM Fantasy when Mariners GM Jerry DiPoto said the team was encouraged by which pitches that Kelenic was swinging after and which pitches he was letting go. That's a skill Kelenic didn't have in the past.