This article is part of our NBA Mock Draft series.
With the 2021 NBA Draft just two days away, it's time to dig deep, read up, study tape and put forth some predictions as to what will transpire at Barclays Center.
As of now, Cade Cunningham remains the heavy favorite to go No. 1 to Detroit, but the Pistons have made it very clear -- almost suspiciously clear -- that they are still evaluating every option. Cunningham seems to be on his own tier at the top, followed by Jalen Green and Evan Mobley -- widely expected to go 2 and 3 in some order. After the top three, the draft could really open up, though Gonzaga star Jalen Suggs is widely regarded as the No. 4 prospect in the class.
Even as it feels like things are beginning to crystallize, the NBA Draft always has a way of surprising fans and evaluators alike. With that in mind, let's take a look at how the first 14 picks could play out Thursday night:

1. Detroit Pistons: Cade Cunningham, G, Oklahoma State
By all accounts, the Pistons are doing their due diligence on Jalen Green and Evan Mobley, but it would still be a major surprise if Cunningham isn't the first name out of Adam Silver's mouth on Thursday night. Cunningham may not be a can't-miss superstar on the level of past No. 1 picks like Anthony Davis, Zion Williamson or LeBron James, but he's not far behind that group. At the very least, the Pistons are getting an All-Star-caliber playmaker with very few concerns about his overall profile.

2. Houston Rockets: Jalen Green, G, G League Ignite
With Cunningham off the board, the Rockets are choosing between Green and Evan Mobley at No. 2. As far as missing out on the top pick goes, Houston is still in a great spot to land a potential superstar. Green and Mobley are obviously very different players, but they both have similar upside, so Houston can't really make the "wrong" pick. Breaking the tie is the fact that Houston has a bigger need for backcourt talent, as Eric Gordon could be on the way out and the John Wall experiment didn't exactly work out last season. Either way, the goal is to land a future top-15 guy -- not necessarily a player who will help the Rockets win immediately.

3. Cleveland Cavaliers: Evan Mobley, C, USC
After Houston takes Green, the Cavs are thrilled for Mobley to fall into their lap. Houston's biggest need is at guard, while Cleveland's is in the frontcourt after taking two guards and a wing in the top 10 of the previous three drafts. The Cavs do still have Kevin Love and restricted free agent Jarrett Allen, but Mobley is talented enough to trump both of those players when it comes to allocating resources. Cleveland is likely staring at another losing season in 2021-22, but Mobley is a major step toward finally righting the ship in the post-LeBron era.

4. Toronto Raptors: Scottie Barnes, F, Florida State
Even if a trade materializes, the top three players -- in some order -- feel relatively set in stone. Toronto's pick at No. 4 is where things could get interesting. Jalen Suggs would be my preferred pick here, but the draft rarely plays out as it should. Rather than taking Suggs, Toronto gambles on the upside of Barnes -- a rangy, 6-9 wing with an elite frame and a unique skill set. His shooting touch remains a question mark, but Barnes is perhaps the best -- and certainly the most versatile -- defensive player in the draft, and his passing is well-above-average for his age and physical profile.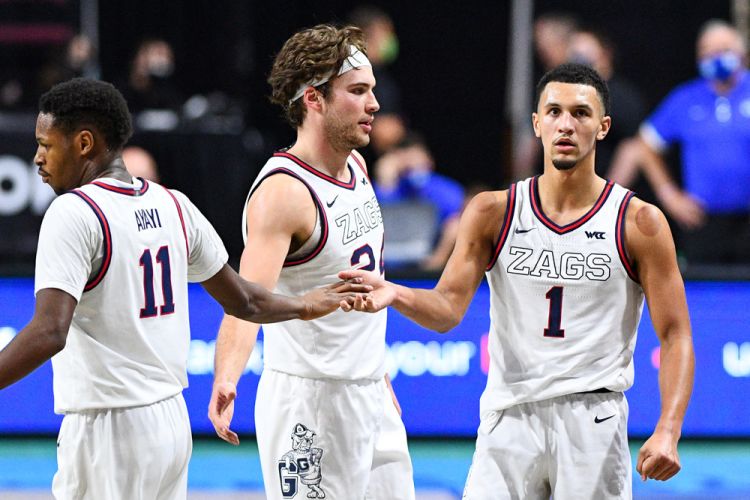 5. Orlando Magic: Jalen Suggs, G, Gonzaga
Orlando would've happily snagged Barnes at five, but the Magic are even more thrilled to get Suggs in the door. I see Suggs as the highest-floor prospect in the draft not named Cade Cunningham. He's a good-not-great shooter, but that's really the only knock on the 19-year-old, who averaged 14.3 points, 4.5 assists and 2.8 steals last season at Gonzaga. Suggs' ceiling may not be quite as high as that of Green or Mobley, but he has virtually everything in his profile that teams covet in a modern NBA guard. In some recent drafts, Suggs would be very much in the No. 1 overall pick conversation.

6. Oklahoma City Thunder: Jonathan Kuminga, F, G League Ignite
For much of the draft process, Kuminga was considered part of the consensus top-five prospects at the top of the board, but he's lost some ground in recent weeks. While Kuminga's blend of strength, size and athleticism is tantalizing, his decision-making has been called into question, as has his focus on the defensive end. Kuminga feels like a classic boom-or-bust prospect, but if there's any team willing to swing for the fences in this draft, it's the Thunder.

7. Golden State Warriors: James Bouknight, G, UConn
As Kuminga's stock has dropped, Bouknight's has moved in the opposite direction as draft-night approaches. Not long ago, Bouknight was discussed as a late-lottery prospect, but he's used the pre-draft process to build his stock to the point that he'll almost certainly be a top-10 pick. Bouknight has a tendency to force difficult shots, but he may be the most polished one-on-one scorer in the draft, and the Warriors desperately need an infusion of scoring off the bench.

8. Orlando Magic (via CHI): Moses Moody, G/F, Arkansas
The Magic always seem to target versatile, long-armed defenders, so why not target another in Moody? As a freshman at Arkansas, Moody put up 17.4 points per game and shot 37.9 percent from the field. Scoring doesn't project to be his go-to skill in the NBA, but Moody has enough offensive talent to keep opponents honest while providing excellent on-ball defense on the other end.

9. Sacramento Kings: Franz Wagner, F/C, Michigan
Sacramento is in desperate need of frontcourt help, and even if Richaun Holmes comes back, Wagner's outside shooting and playmaking provide a nice change of pace. Non-elite-athletes are rarely seen as high-upside picks, but Wagner bucks that trend. As a 19-year-old who's reportedly grown two inches over the last several months, Wagner's unique blend of high-IQ defense, passing and shooting could make him a steal for the NBA's worst defensive team in 2020-21.

10. Memphis Grizzlies (via NOR): Josh Giddey, G/F, Adelaide (Australia)
Giddey has been linked to Memphis for quite some time, and Monday's trade up from 17 to 10 would imply that the Grizzlies definitely have someone in mind. It's possible Giddey could be gone by the time Memphis is on the clock, but if he's not, count on the Grizzlies pulling the trigger on the 18-year-old with elite court awareness for his age and size (6-8).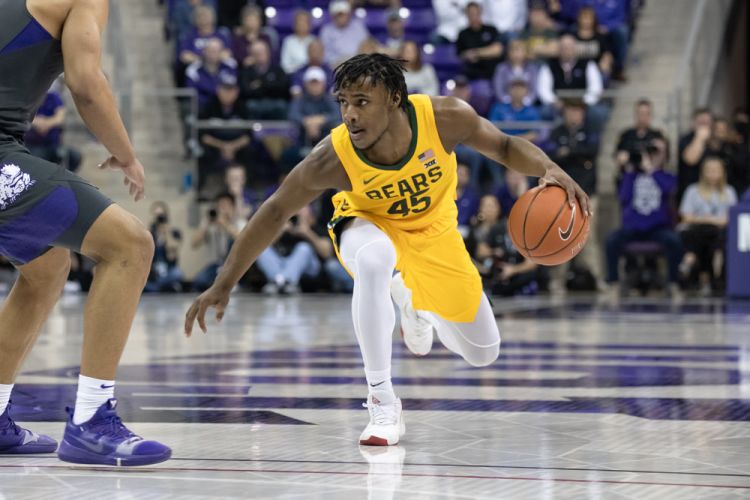 11. Charlotte Hornets: Davion Mitchell, G, Baylor
They may have more pressing needs up front, but at this point in the draft, Mitchell is simply the best player available for the Hornets. With LaMelo Ball and Terry Rozier meshing well in Year 1, Devonte' Graham could be on his way out the door, and while Mitchell has similar size, he's an infinitely better defender who shot nearly 45 percent from three at Baylor last season. The big question is whether Mitchell's shooting numbers were a one-year anamoly.

12. San Antonio Spurs: Alperen Sengun, C, Besiktas (Turkey)
As cliche of a Spurs pick as this may be, Sengun makes sense for a franchise that may be finally entering a rebuild for the first time in three decades. The 18-year-old is a throwback big man with incredible footwork and touch inside of 15 feet, but he's slightly undersized and carries the questions you'd expect him to carry on the defensive end. Even so, Sengun has too much Domantas Sabonis in him for the Spurs to pass.

13. Indiana Pacers: Trey Murphy, F, Virginia
One of the truly elite spot-up shooters in the draft, Murphy couples his marksmanship with great length and smarts on the defensive end. He's not the sexiest or most exciting player in the draft, but the Pacers will be thrilled to land a player who could be their version of a better-defending Cam Johnson.

14. Golden State Warriors: Corey Kispert, F, Gonzaga
It's very possible Kispert hears his name called a few spots higher, or even in the top 10, but the best shooter in the draft falling to Golden State at 14 would be a godsend. Kispert's stock cooled off a bit after a disappointing showing in the National Championship Game, but he's a proven commodity with back-to-back seasons shooting 44 percent from three. The Warriors may prefer to flip Nos. 7 and 14 for another star, but coming away with Kispert and Bouknight would be a huge victory.