This article is part of our NBA Observations series.
Although not necessarily indicative of fantasy sports production, advanced metrics are valuable for measuring player performance. It helps paint the picture of how players make their impact. A proper understanding of shot type efficiency, frequency and contextual factors can help yield smart decisions -- whether you're a couch GM or a real one.
In this article, I'll be looking at five of the top fantasy assets from last season, as well as a player with top-5 upside. Diving it on their player profile by the numbers, we can see how superstars separate themselves from the rest.
Stat Index
221 players logged at least 500 possessions last season.
Among those 221 players with at least 500 possessions, Pat Connaughton, Joe Harris, Jeff Green, Hamidou Diallo and Reggie Bullock barely hit the threshold.
A possession is defined as a FGA, TO, or foul drawn. Points per possessions (PPP) is a player's points scored divided by a player's possession used. It's an acute measurement, one possession at a time.
Overall, the league average PPP was 1.012. That includes everything from transition turnovers to offensive putback dunks.
Possessions+Assists has its own category (sometimes referred to as PPP+A). Points per shot (PPS) also has its own metric.
PnR possessions = Any half-court action with a ball screen for the ball handler.
Let's dive in.
Of all 34 players to log 1,500 possessions, Jokic led with 1.151 PPP. Jimmy Butler was second with a 1.134 PPP. They had 1.28 and 1.07 PPS, respectively. Of all players to log 1,000 possessions, only Lauri Markkanen surpassed Jokic in PPP, booming for 1.166. Markkanen finished with 1.17 PPS, which is logical given that 45.5% of his total FGA came from beyond the arc, whereas only 14.9 percent of Jokic's shots were 3PA. Only 11.5% of Butler's shots were threes, which resulted in a lower PPS ceiling. The league-average 2P% was 54.8%, while the league-average 3PA was 36.1%.
The aforementioned Jimmy Butler earned free throws on 21.9% of his possessions and turned the ball over on just 8.7%. Both stats helped him trim the gap to Jokic in terms of PPP. The big man posted a 15.9% FT frequency along with a 15.8% turnover rate.
Butler being comparable to Jokic merited an explanation. The case in point: In addition to being the greatest passing center of all time, Jokic is an offensive dynamo.
Speaking of offensive dynamos, Doncic fuels the Mavericks through pick-and-roll mastery and isolation dominance. No guard isolates more. Only eight players in total logged 300-plus iso possessions, with Doncic's 471 ranking second overall. Doncic's 1.110 PPP is unmatched for his volume. In terms of isolation possessions, three-point bombing Damian Lillard (1.175 PPP on 285 possessions) iso-legend DeMar DeRozan (1.157 PPP on 281 possessions) and teammate Kyrie Irving (1.235 PPP on 289 possessions) are the only comparable examples.
Meshing two "iso-dominant styles" in Luka and Kyrie is an understatement. Personally, I thought this duo operated decently well in crunch time last season. Overall, as long as Luka and Kyrie are comfortable in the offense, the chemistry will develop. Dallas needed another star, and being able to stagger Luka minutes with Kyrie is nice. They also profile a one of the slowest offenses in the league, which should spare them the burden of some defensive possessions.
A worthwhile note on Doncic: His ball-dominant style is taxing. The 24-year-old was rumored to be battling a quad issue throughout the summer, but there hasn't been much concrete reporting. His durability is a genuine added risk.
Embiid is the only player that isolates more than Luka Doncic, logging 486 iso possessions in total. His 1.037 PPP ranked 16th among all players with 100 such possessions, one spot above Cam Thomas and one below Immanuel Quickley. Embiid shot 48.9% on his isolation looks, which ranked 8th overall (Doncic was 18th at 45.3%) and 2nd among bigs, trailing Zion Williamson's off-the-charts 60.5% clip on 122 possessions.
Embiid attempted 51% of his shots in the midrange and 37% at the rim. Among bigs, his rim frequency ranks in the 37th percentile, while he leads all centers in midrange frequency. That limits his efficiency compared to paint-dwelling bigs, although Embiid's interior foul drawing likely levels it out (shot chart via Bucket List):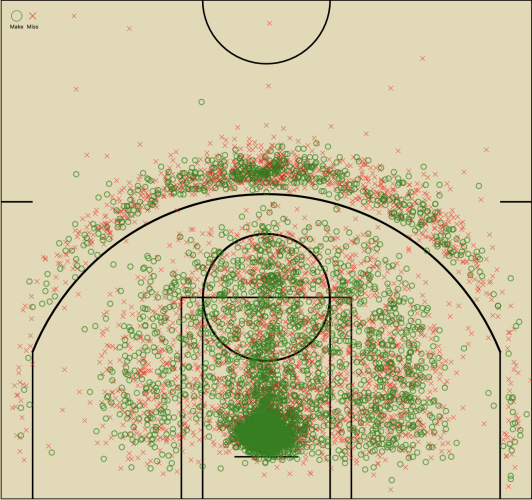 Defensively, Embiid's 1.7 blocks and 1.0 steals per game were strong box score marks. He ranked eighth in blocks per game and in the 73rd percentile in steal rate among centers, per CleaningTheGlass.
Last season, Gilgeous-Alexander joined Dwyane Wade and Michael Jordan as the only guards in NBA history to average over 30.0 points, 5.0 assists, 1.0 steals and 1.0 blocks in a season. The game moves in slow motion for him offensively. Gilgeous-Alexander's instincts, craftiness, handle and size enable him to do it all. He's a future MVP.
The 25-year-old is a ball screen assassin. Once a switch or any type of separation is created, Gilgeous-Alexander will beat defenders to his spots. Specializing in the lane and throughout the shallow midrange, Gilgeous-Alexander (51.0 FG%), De'Aaron Fox (51.2%) and Bradley Beal (50.6%) were the only three guards to shoot over 50.0% from the field on at least 15.0 shots per game last season.
Gilgeous-Alexander spent 29.0% of his possessions as a pick-and-roll ballhandler while averaging 1.021 PPP. He ranked in the 72nd percentile in frequency and 84th percentile for effectiveness. The ultimate factor in Gilgeous-Alexander's efficiency is his foul-drawing prowess. Drawing a shooting foul on 16.9% of his possessions, only Giannis Antetokounmpo, Jimmy Butler and Joel Embiid posted higher frequency among qualifiers. For comparison, Fox ranked 17th by drawing fouls on 12.0% of his shots. Beal drew fouls on just 9.3% of his shots.
Antetokounmpo will turn 29 in December, but he hasn't lost a step yet. "Losing a step" is well worth monitoring for Antetokounmpo because his shot is not improving. Antetokounmpo shot just 31.8% from five to 18 feet away last season and connected on just 27.5% from three. Both figures worsened since 2021-22, when Antetokounmpo hit 40.9% of his mid-range shots and 29.3% of his threes.
Fortunately, Antetokounmpo shot 69.4% at the rim last season while getting there on 63.5 percent of his possessions. That aligns with his 68.7 FG% from 2021-22. Antetokounmpo's 841 possessions at the rim led all players in 2022-23. Antetokounmpo's attacking is fully on display in transition. His 527 transition possessions also led the league.
Free-throw shooting is another notable trend:
| | | | | |
| --- | --- | --- | --- | --- |
| Year | FT% | FTA/game | % of possessions fouled | % of transition possessions fouled |
| 2021-22 | 72.2% | 11.4 | 20.1% of possessions | 29.5% of transition possessions |
| 2022-23 | 64.5% | 12.3 | 20.5% of possessions | 30.4% of transition possessions |

The Bucks are running it back, so Antetokounmpo's production should remain similar, but it's clear that his performance is extremely reliant on creating physical advantages.
Who ascends to join them?
Stephen Curry and Jayson Tatum join the above cast to form the top-7 players in our overall fantasy rankings.
Outsiders cracking the top-7 will be a tough ask, as some of the next tier comes with baggage this season. Age and team circumstance affect Kevin Durant. Health plagues Anthony Davis. Damian Lillard's trade request has no clear resolution. Tyrese Haliburton has no baggage, but he still needs to take a scoring leap. Each of these players could be excellent, but their avenues to ascend are limited. Which leads me to:
Young's usage was off the charts last season. Accumulating 1,916 possessions as a pick-and-roll ballhandler and facilitator, Young led the league in volume for the fourth consecutive season -- including 2019-20 when he only played 60 games. Last season, Jalen Brunson was second with 1,383 possessions! Young's usage is king.
The 25-year-old's career-worst 33.5 3P% on 6.3 3PA per game was a concerning figure last season. However, Young can certainly shoot, evident through his historical sample size as well as connecting on 46.3% of 97 catch-and-shoot threes last season.
The true culprit: Young connected on just 32.7% of 5.0 pull-up threes per game. Pull-ups accounted for 79.4% of his total 3PA. Young canned 37.0% of 6.9 pull-up threes per game in 2021-22. He's due for sizable improvement, and expecting a bounce-back is aided by a Quin Snyder-curated offense.
Young posted a career-best 10.2 assists and 1.49 AST/TO ratio last season. Although he shot just 54.2 percent at the rim (20th percentile among guards), Young's floater and short game yielded a productive 46.7% clip. His profile remains similar to his 2021-22 fringe top-5 fantasy campaign -- even if he never quite reaches that lofty bar.