This article is part of our Baseball Draft Kit series.
Most things seem insignificant right now in light of what's going on in the world. This especially so, but I wanted to write a bit about the Tout Wars Head-to-Head points mixed auction from Sunday, March 15.
Let's start with the participants aside from myself. It's a great group:
Ian Kahn (defending champion)
Now, the scoring. It's a head-to-head points league, but the scoring was changed this year. This is how the scoring looks for 2020:

You can read the full Tout Wars Constitution here.
This scoring shakes things up considerably. The first thing all head-to-head points players should do before their draft is read the rules and plug their unique scoring settings into software.
Of course, I'm going to shill for our draft software, available for both Windows and Mac. But regardless of which software you use, you have to at least plug the scoring settings in and see how they change up the player pool. I used our RotoWire Draft Kit '20 app for iOS.
This is what the dollar values looked like after I plugged those scoring settings in: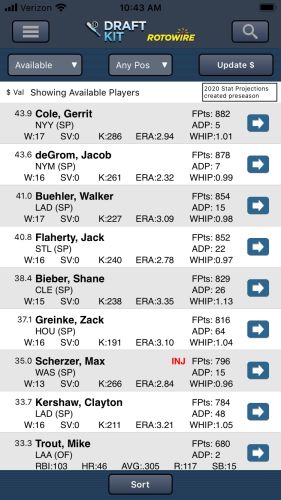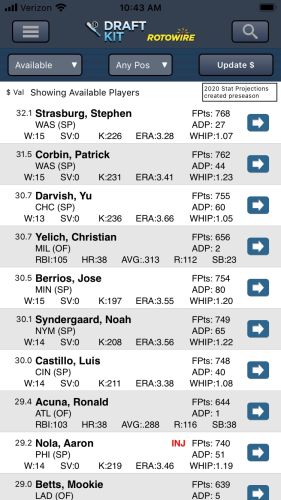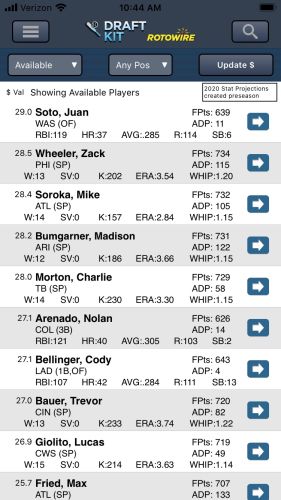 You'll notice:
-The top 8 players were starting pitchers
-11 of the top 12 players were starting pitchers
-12 of the top 15 players were starting pitchers
-22 of the top 30 players were starting pitchers
So, regardless of how I have the top starters ranked, I know that this league greatly inflates the value of starting pitching. Similarly, looking at the relief pitchers, I know that relievers lose value in this format: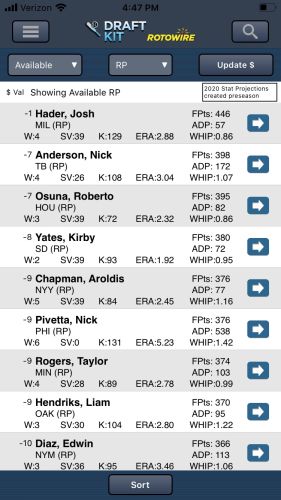 The reason for this is simply because if 1 Out = 1 Point, the most valuable commodity is innings. Relief pitchers, even with saves being worth 5 Points and holds being worth 3 Points, will not be worthwhile on the whole as they do not rack up enough innings to put up the kind of points even back-end starters do on a consistent basis.
Now, with the Major League Baseball season delayed beyond two weeks, and a shortened season seeming more and more likely, the top starters will not be able to accumulate those massive point totals in 2020, but they will still be the among the highest point scorers on a week-to-week basis. Yes, some closers will sneak into the weekly leaderboards, but for the most part, they will be a detriment to your overall scoring.
With that, I knew I wanted to spend a lot on elite starting pitching and make do on offense. I was thinking I would end up with perhaps 50% of my budget spent toward pitching, as I did when the rules were more like this in 2018, but I ended up skewing way more toward pitching than I ever have in my life.
Final Budget Split: $96 hitting/$164 pitching
I bought three of the first 10 players put up for nomination:
-Gerrit Cole (won at $42)
-Vladimir Guerrero (won at $19)
-Walker Buehler (won at $42)
I'm used to spending a lot early in a fantasy baseball auction, but I'm also used to slowing down and managing things somewhat carefully, as to avoid too many $1 players at the end.
Not here. I just felt like the starting pitching prices were falling too low, so I kept pushing them higher and ended up with:
-Jose Berrios (won at $28)
-Yu Darvish (won at $29)
At this point I'm a little mad at myself as I'm thinking my offense will be unsalvageable. But soon it became clear that the room at large was spending big early, so I decided to go full on with stars and scrubs. I knew there would be a ton of great bargains to be had late, and a ton of viable options available for $1 in this 12-team mixed league.
When it came to dollar days, I had a large queue built up, and I started with the players that while I was fine to roster, I was also fine losing to a $2 bid.
I nominated Cesar Hernandez for $1 and David Peralta for $1, knowing I had other 2B and OF options I liked just a little more sitting in my queue. I get them both.
Then I test my luck with Dylan Carlson, and he sneaks through for a buck.
I got up-bid several times but landed most of my targets in dollar days, which is a hell of a rush -- watching the clock tick down to zero followed by a fist pump.
As it turned out, two of my "fallback" options in the auction made it to me in reserves: Nick Senzel and Yoshi Tsutsugo. If Carlson had been up-bid, or Corey Dickerson, I would have nominated those guys.
Aside from those two hitters, I grabbed four more starting pitchers in reserves: Homer Bailey, Kevin Gausman, Anibal Sanchez and Spencer Howard.
This once again gets back to the rules: you can change your lineup every Friday and cycle in starting pitchers, so you want to have several SPs on your bench.
While I know I will lose on offense some weeks, I think I have enough on offense to complement the pitching, so I expect to go 4-2 most weeks (two points in the standings for winning hitting, two points in the standings for winning pitching, two points in the standings for most overall points in a week).
This is how the final team shook out: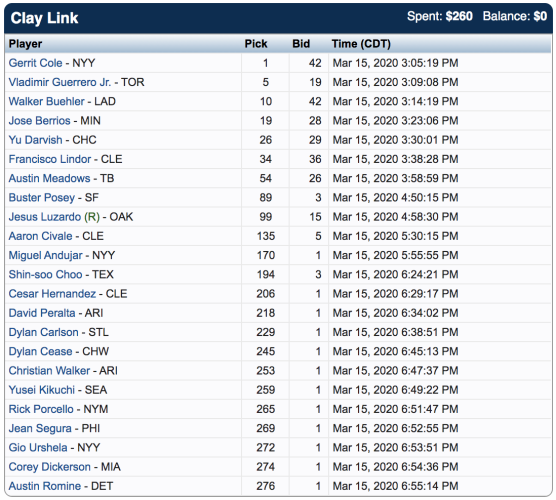 Reserve picks: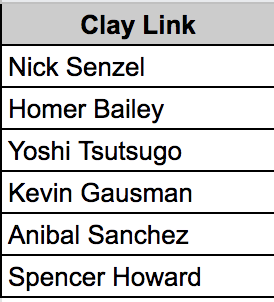 How did I do? Let me know in the comments or on Twitter @claywlink.