This article is part of our NBA Roundtable series.
Welcome to the latest edition of the RotoWire NBA Roundtable! This week, the NBA staff weighs in on draft-season misses, Giannis' free throw struggles, the MVP debate, and more.
Whether it was someone you targeted or a player you completely ignored, what was your single biggest whiff during draft season?
Alex Barutha: I have zero shares of LaMelo Ball. I thought his percentages would be awful and he wouldn't be good enough to see 30-plus minutes regularly. Boy, was I wrong. He's ranked 52nd on a per-game basis in eight-cat leagues right now. It looks like he's going to be an All-Star sooner than later.
James Anderson: I didn't take Julius Randle in any leagues and I didn't consider taking Julius Randle in any leagues, so that definitely qualifies as a big whiff. I didn't exactly know how this Knicks team would function since they seemed to have a lot of similarly mediocre players, and perhaps I just avoided all Knicks as a way of not having to dig deeper into the situation.
Mike Barner: I wanted no part of Gordon Hayward based on his injury history, so I don't have him anywhere. He's only missed one game and is thriving with the Hornets, so I missed out there. I'm not regretting it, though. I tried to mitigate risk in the early rounds given all of the uncertainty that COVID-19 was already going to bring.
Jeff Edgerton: For me, it was more about whiffing an entire strategy. I won a H2H league last year with a "go big or go home" strategy by blowing two-thirds of my salary on Giannis Antetokounmpo and James Harden. I allowed myself to be lured into a more balanced approach and ended up overpaying for a lot of mid-rounders, with the biggest whiff being Jusuf Nurkic.
Ken Crites: Not rostering Jaylen Brown on all of my teams. I knew he'd improve and enjoy more touches with Hayward gone. But I mismanaged a couple of drafts and auctions and lost out on him. I kick myself about twice a week for this.
Joe Bartel: I just never imagined this type of success from Fred VanVleet. While the vindictive Bucks fan in me will always see him as the guy destroyed my hopes of Wisconsin sports ever capitalizing on the absurd amount of talent the state has generated over the past 20 years, it's hard to dismiss VanVleet at this point. He has more blocks than LeBron James and Nikola Vucevic while ranking fourth in the NBA in made 3-pointers. How is that possible?
Giannis Antetokounmpo's fantasy value makes a significant leap if FT% is eliminated as a category. At this point, how do you evaluate Giannis as a fantasy commodity? Is there any hope he can salvage his free throw shooting, and would you recommend drafting him?
Barutha: In roto leagues, you can't draft him in the top 10. The free throw percentage hit is just too much. Unless we see meaningful improvement at some point this year, we will definitely have to re-evaluate what kind of fantasy commodity he is heading into 2021-22.
Anderson: Considering he's shown an ability to hit free throws at a solid clip in the past, I don't think we can foreclose on Giannis returning to that level. It seems like a mental block, which theoretically could go away at any point for an unknown reason -- he's shooting 73% from the line over the last four games, which is probably just a small sample, but he's the type of guy who could still flip that narrative pretty quickly. We should assume he'll be a bad free-throw shooter until he proves otherwise, but he could prove otherwise. He's more bankable in terms of availability and production than almost any player in the league, so I don't think people should avoid him at all costs, but you need to know what you're signing up for, and that's a player who will probably really hurt your FT%.
Barner: Giannis is another player I don't have on any teams this season. I wasn't comfortable using a first-round pick on him in roto leagues because of the damage that he can do in the category. I see no reason to draft him in the first round next year, either, but you'll likely need to if you want him on your squad.
Edgerton: In a roto league, you can maybe find a way to offset the free throw percentage. Most people are forced to punt a category anyway, so it's far from a dealbreaker. One has to to expect that he'll bounce back at some point, so you also have to consider what you may be losing out on if he isn't on your roster.
Crites: This is now a five-year decline in FT% for Giannis. But I have faith that with a full off-season he can turn it around. The question is: when does he make free throws a priority? Does he have to miss a pair in Game 7 of the Eastern Conference Finals? No team -- in fantasy or real life -- can afford to have its star player be a big negative at the charity stripe. I'd still grab him in the second round of most drafts, but he's rarely available at that point.
Bartel: The free throw shooting is going to be an issue, no doubt. But this is the same type of problem we had with Andre Drummond who was/still is a legitimate fantasy asset if you plan around it accordingly. Of course drafting Giannis becomes worth it at some point -- it's likely just a matter of fading him a bit lower than we've seen him over the past two-plus years.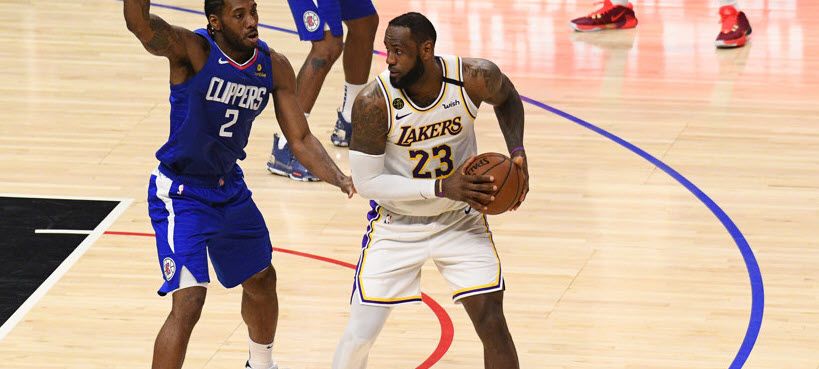 Does LeBron James deserve to be the current MVP favorite? If not, who would be your pick if the season ended today?
Barutha: No. I think this is Jokic's award right now. I don't care that the Nuggets are only 12-11. Jokic has no help on his team compared to the other top candidates (LeBron, Giannis, Embiid, Kawhi). Defenses know all they have to do is stop Jokic to win games, and he's still averaging 27.5 points on 57/40/85 shooting, 11.5 rebounds, 8.5 assists and 2.3 combined steals-plus-blocks. LeBron shouldn't get a special bump because he's old, or we'll be giving him more MVPs in the next five years than we did in the last five years.
Anderson: I think people should be aggressively betting on LeBron at +300. I'm not saying he will definitely deserve the award statistically, but he's getting the award if he maintains this pace.
Barner: I'd go with Nikola Jokic at +500. He's having a monster season, and if the Nuggets can grab a top-six seed in the West, it's going to be difficult to argue against giving him the award at the end of the season. James is obviously a unique player, but so is Jokic based on what he's able to do at his position.
Edgerton: I think the Lakers barely squeak into the playoffs and possibly miss them altogether without LeBron. The same can be said for Doncic, Jokic, Durant and Giannis, but even with Anthony Davis, I see the Lakers as the worst of these teams without their franchise player. That's a pretty good example of "valuable."
Crites: Yes. It's a no brainer. He still hasn't missed a game, which boggles my mind.
Bartel: I guess if the season ended today, sure. It's incredible that he's continuing at this pace given the minutes he's compiled throughout his career, and the fact James hasn't missed a game this season matters to me (and voters) more than some might care to admit. An MVP award for James in 2021 would likely be more of a career accomplishment type of deal, which I'm also fine with. That being said, I still believe Nikola Jokic or even Luka Doncic will make a run at the award by the end of the season.
Which eight-category ranking (total value) is the most surprising, relative to your preseason expectations: Zach LaVine (5), Myles Turner (13), Anthony Davis (21), Trae Young (23) or LaMelo Ball (31)?
Barutha: LaMelo (see answer to question one).
Anderson: I'll say LaVine. That's pretty elite territory for a shooting guard who is an awful real-life defender. His jump from 4.2 to 5.3 assists per game is probably the most surprising aspect of his statistical performance. I liked him fine pre-season, but wasn't aggressive about building around him, which was obviously a mistake.
Barner: Ball being this good this early is pretty surprising. He didn't seem to be in a great spot to produce right away coming off the bench behind Terry Rozier and Devonte' Graham, but he's still had a huge impact. He's even shot for a higher percentage from the field than I expected, although he's still not a huge asset in that regard.
Edgerton: Aside from Anthony Davis, I think they are all a little surprising. We all know the kind of numbers LaVine can produce, and LaMelo is just freakishly good. I would have to say Turner is the biggest shocker.
Crites: Zach LaVine. The per-game improvements in assists (4.2 to 5.3) and rebounds (4.8 to 5.3) are nice, but who expected LaVine to shoot 51.2 percent from the field? Add to that a seven-percentage-point improvement at the line and, boom, you get first-round value.
Bartel: If you'd have told me both Gordon Hayward and Terry Rozier would be having career years at this point in the season, I'd have thought there was no way Ball would be putting together the type of numbers he has now. Of course, that's because I would have also assumed Devonte' Graham would still be a thing, but regardless the No. 3 overall pick has put together a truly great fantasy season, despite seeing just six games with 30 or more minutes prior to the start of February. Special shoutout goes to Myles Turner, too -- mainly because I just want to brag about catching the center's Defensive Player of the Year odds at +4000. Did I actually bet on it? No. Does that decision keep me up at night? Yes.
How would you evaluate Zion Williamson's fantasy season thus far? Has your opinion on his fantasy ceiling or floor changed?
Barutha: Zion gives up in free throw percentage what he brings in field goal percentage, and that will cap his upside as a fantasy player unless he learns to dominate the glass, generate defensive stats, or become a real playmaker. He's still really one-dimensional.
Anderson: He's been healthier than I would have predicted, so that's a big positive. He's probably never going to be the athletic freak he was at Duke -- he just doesn't seem to have that same type of full-court quickness/closing speed, but he's gonna be a monster halfcourt scorer as long as he stays healthy. The main things to track with him over the next couple years are FT%, games played and assists per game. He could end up just being a 27/10 type of guy who barely contributes any threes or assists and hurts your FT%, but there's a lot of room for him to be more than that if he can make the necessary improvements.
Barner: The most encouraging thing for me is that he's been healthy and averaging 33 minutes a game. That's a big improvement from last season. Still, he doesn't hit many threes, shoots poorly from the free throw line, and hasn't done much defensively, which is about what I expected from him. He'll probably always be drafted higher than he deserves to be based on his name alone.
Edgerton: If you watched the Pelicans over the weekend, you saw a seismic shift in their confidence level. Ingram and Williamson have learned how to complement each other's strengths, and I think the sky is the limit for them right now. I am all in for Zion's upside for the second half of the season.
Crites: I was down on Zion at the start of the season and I'm still down on him. At this point, it's fair to wonder if Giannis or Zion will ever have a 75-80-percent season from the free throw line. I doubt it. It's hard to believe Zion posted 2.1 steals and 1.8 blocks per game at Duke. When you look at his build, it's fair to wonder if he'll be able to hold up over the long haul. For every Charles Barkley, there is a John Hot Plate Williams.
Bartel: Anytime I watch Zion play, I'm always amazed by his skillset. A big guy who can move like he does just shouldn't be possible. He's averaging almost 24 points per game while attempting the fewest shots per game of anyone in that vicinity, but scoring alone doesn't win you fantasy titles. From a defensive standpoint, you'd love to see him get more involved. On the other end, I'm surprised at how little he facilitates an offense, compared to what we saw at Duke. I think Williamson has reached the type of floor necessary for the hype he generated, while still having a much higher ceiling that seems achievable with more time under his belt.