This article is part of our NBA Roundtable series.
Welcome to the latest edition of the RotoWire NBA Roundtable! This week, our panel of experts answers six questions on draft misses, stars off to slow starts, Most Improved Player odds, Zion Williamson's fantasy outlook and more.
Now that we're nearly 20 percent of the way through the season, which players have been your biggest misses thus far?
Shannon McKeown: Miles Bridges and Cole Anthony were my two biggest misses by a considerable margin. While I was a fan of each player's skill set prior to the season, I thought Bridges and Anthony would take a backseat to other players on their rosters. Specifically, I expected the presence of PJ Washington, Kelly Oubre, Mason Plumlee, Jalen Suggs and (eventually) Markelle Fultz to negatively impact the breakout potential for both Bridges and Anthony, respectively.
Alex Barutha: There are almost too many to name. It feels like there's a record-high of breakout players. I certainly should have taken more risks on guys who were already relatively established like LaMelo Ball, Ja Morant and Tyler Herro, though their draft-day prices were obviously high.
James Anderson: Jonas Valanciunas, DeMar DeRozan, Domantas Sabonis and Cole Anthony are all top-20 roto players and I didn't target them in any of my drafts. I'll also throw in Evan Mobley, who I kick myself almost daily for not being all over. His poor Summer League turned me off, thinking he'd be more of a developmental project in year one, but he looks like one of the best rookies to come along in years.
Ken Crites: I didn't expect Evan Mobley to do this well. His elbow injury is a real bummer. Mobley was averaging 14.6 points, 8.0 rebounds and 2.5 stocks per game. I really didn't think that was possible with Jarrett Allen, Lauri Markkanen and Kevin Love around.
Paul Martinez: I made a conscious effort to avoid drafting Chris Paul with the expectation that Father Time would finally start catching up to him -- instead, CP3 is leading the league in assists and steals despite a slight dip in scoring. Anthony Davis is another player I thought was being drafted too high, but he's yet to miss a game and is producing at a level similar to his peak seasons.
Mike Barner: I wanted no part of Wendell Carter Jr., but he's actually played well with averages of 13.7 points, 9.9 rebounds, 2.4 assists and 1.8 three-pointers, while shooting 52.1 percent from the field. I faded him because of injury concerns, but when he's healthy like he is now, he's shown upside.
Gabe Allen: I definitely slept on DeMar DeRozan, who is having the best year of his career. I also wasn't expecting a Ricky Rubio revival.
Jeff Edgerton: Like many of us, I totally whiffed on the idea that Talen Horton-Tucker would have a larger role in the Lakers' offense when he returned from injury. Cole Anthony is another player I avoided.
Which players who you drafted with the intent of keeping around have you already had to cut bait on?
Shannon McKeown: I was thrilled to grab Isaiah Roby late in drafts, as I envisioned him being the starting center for OKC this season. Instead, he's struggled to work his way into the Thunder's rotation and there's a good chance he spends a significant time in the G-League.
Alex Barutha: I drafted Thaddeus Young, Chuma Okeke and Goran Dragic. Young is only playing because Poeltl is in protocols. Okeke's role has diminished with Franz Wagner actually being good. Dragic is just not a part of the rotation.
James Anderson: I haven't cut many players at all yet. Of my eight leagues, three are draft-and-hold and three have an IR spot, so there hasn't been much action there. I dropped Juan Toscano-Anderson in a deep keeper league — I originally thought he'd play more than he has. I also dropped Kevin Huerter for Carmelo Anthony in a 14-team league with four-man benches — something I would have thought impossible before the season.
Ken Crites: I've had to drop Chuma Okeke in a few places. I didn't think Franz Wagner would bump Okeke to the bench. Wagner's strong play and Mo Bamba's re-emergence have made Okeke a role player.
Paul Martinez: I had a lot of shares of Larry Nance to start the season, as I expected him to take on a major role for a Portland squad that lacks frontcourt depth. Instead, Nance is averaging the fewest minutes of his career. His per-36-minute stats are about equal to last season, but that doesn't matter if the Blazers continue to give him limited court time.
Mike Barner: I was very high on Larry Nance Jr. coming into the season, but I've already had to drop him in a couple of leagues in which injuries have hit me hard. He's just not playing enough. I wouldn't be surprised if his role increases as the season moves along, though, so I might be adding him back once my health situations improve.
Gabe Allen: It brings me great sadness to say that I've already dropped Robert Covington in a 12-team points league. He got off to a slow start last season and could turn things around again this year. He's still averaging about two threes, one steal and one block, but his rebounding has dropped off considerably compared to the last few years, plus he contributes very little in terms of scoring and assists. At this point, I'm afraid Covington might prove droppable even in category formats.
Jeff Edgerton: Luckily. I haven't had to do much of that, but injuries to LeBron James, Jakob Poeltl and De'Andre Hunter have stung. Those losses make dropping others harder to do.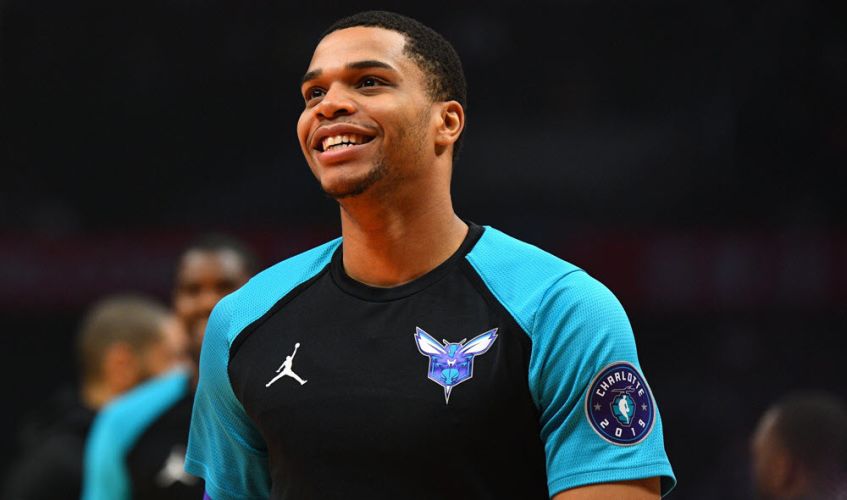 Which early season ranking (8-cat, total value) is most surprising? Jonas Valanciunas (10th), Miles Bridges (15th), Cole Anthony (21st), Harrison Barnes (23rd) or Montrezl Harrell (36th)?
Shannon McKeown: Bridges and Anthony are the default answers, but Barnes also deserves mention. Barnes had an ADP in the 100 range on most popular platforms. I targeted him heavily in that range, but I didn't expect Barnes to put together a career-best campaign at age 29.
Alex Barutha: I think it's between Bridges and Barnes, but I'm leaning Barnes. There were definitely people who drafted Bridges for upside even though his role was unclear going into the season. Barnes had a decent year last season but has been a complete afterthought for a half-decade. You were much more likely to get Barnes at pick 120 than Bridges at pick 100.
James Anderson: It has to be Cole Anthony. I had no interest in him — again reading too much into his poor Summer League. I guess the lesson is to not really pay much attention to Summer League? I've got lots of Miles Bridges exposure and a bit of Harrison Barnes. While I didn't draft Valanciunas anywhere, he's at least played at a really high level in the past, and it's easy to see why he's doing so well with Zion Williamson and Brandon Ingram missing a lot of the season.
Ken Crites: What a pleasant surprise Al Horford has been. Maybe I need to spend some time off in OKC. I can't imagine he'll continue to block 2.3 shots per game, but his other stats seem realistic if he can stay healthy. And, in addition to his current knee injury, you just know Robert Williams will miss more time sooner or later.
Paul Martinez: I have to go with Cole Anthony here. While all the other guys on the list were at least drafted in most leagues, Anthony started the campaign on many waiver wires. His shooting percentage isn't ideal, but he is producing strong across-the-board stats and has yet to experience a prolonged slump.
Mike Barner: It's Bridges for me. After the Hornets added Kelly Oubre Jr. and Mason Plumlee, I didn't think he'd average the 37 minutes per game that he's seen so far. I also didn't envision his usage rate increasing by over six percentage points compared to last season.
Gabe Allen: Valanciunas getting off to a great start for a short-handed Pelicans team and Harrell returning to prominence for the overachieving Wizards are the least surprising of the bunch. Barnes is having easily the best year of his career, but we knew he'd be leaned on heavily in Sacramento and he has previously posted similar numbers in most statistical categories, albeit not during the same season. It's a coin toss between Miles Bridges and Cole Anthony, for opposite reasons. No one expected such significant, volume production from Bridges and no one expected this level of efficiency from Anthony.
Jeff Edgerton: Bridges. Most didn't think he'd be one of the top three producers on his own team, much less the NBA's 15th-best fantasy player.
Which star player's slow start has you most concerned going forward: Joel Embiid, Jayson Tatum, Damian Lillard, De'Aaron Fox, Mikal Bridges, or someone else?
Shannon McKeown: I don't consider Mikal Bridges a fantasy star at this stage of his career, so he's ruled out. Of the remaining players, I'm most concerned about Embiid. Prior to being sidelined due to COVID protocols, Embiid looked slightly hobbled by his knee injury. The extra time off will be good for his knee, but it's pretty clear that we're unlikely to ever see Embiid play much more than 80% of his team's regular season games. The per-game production will be there, but it's hard to invest a top-20 pick on a player who misses at least 15-to-20 games every season.
Alex Barutha: If we're talking over the next 3-to-5 years, Fox is the answer. The lack of improvement in his jumpshot is a red flag -- Ben Simmons has improved his free-throw shooting more than Fox. Also, the Kings drafted two guards recently, and Harrison Barnes is just turning Sacramento into his team. But I think you still have to be worried if you drafted Embiid and Lillard, but mostly because they're both dealing with what are apparently significant injuries that they're playing through. Embiid's knee hurts -- this is par for the course but is clearly worse than usual -- and Lillard has abdomen tendinopathy that's been an issue dating back to the Olympics.
James Anderson: Thankfully I wasn't on any of those guys at cost, except for Mikal Bridges. Since the only one I thought was a good buy was Bridges, that'll be my answer. I'm mostly concerned by his lack of steals. He's averaging just 0.5 steals per game over his last 11 games.
Ken Crites: Fox worries me the most. His turnovers are getting worse, his free throw shooting has been sub-par for five seasons and I have no faith in Sacramento's staff to help him turn it around. The poor free throw shooting makes me think his 41.1 percent from the field might not be an outlier.
Paul Martinez: None of the above. It's very early in the season, and I don't see reason to panic about any of these slow starts. I do worry about LeBron James, though; he's already had two separate injuries that have forced him to miss games and seems to officially be at the stage of his career in which durability will always be a question mark.
Mike Barner: I never draft Embiid because of the amount of games that he usually misses. Obviously, I didn't foresee him contracting COVID-19, but he's already had some reported knee issues. If you have him on your roster, I'd be trying to trade him once he returns from his bout with COVID.
Gabe Allen: Mikal Bridges is a heck of a player in real life, but his role offensively is likely to remain limited, barring injuries to the team's star backcourt duo. For Embiid, Tatum, Lillard, and Fox, at least the opportunity and usage will always be there.
Jeff Edgerton: It's too early to be too concerned, but I actually worry about Deandre Ayton. A lower-leg injury and some tepid performances are worrisome after spending a premium on him in auction drafts.
Based on the latest odds at the DraftKings Sportsbook, which player is the best bet to win the Most Improved Player award?
Shannon McKeown: I agree with Morant and Bridges being listed as the current favorites for MIP, but I would rather invest my money on Dejounte Murray (+2000), Cole Anthony (+2000), Tyrese Maxey (+3000) or LaMelo Ball (+5500), if placing a bet today.
Alex Barutha: Miles Bridges (+300). Last season, he was seventh on the Hornets in field-goal attempts (9.4) and eighth in usage (17.3) among players who saw at least 800 minutes. This season, he leads the team in shots (17.3) and is second in usage (23.8). Obviously, he's converting on those extra shots as well, and he's improved as a playmaker.
James Anderson: I like Lonzo Ball at +7000, Seth Curry at +10000 and Wendell Carter at +10000. I don't think any of them will win, but those odds are quite a bit too long in each case. I think Ja Morant (+200) and Miles Bridges (+300) are the rightful favorites, but I don't see any value at those odds.
Ken Crites: I'm all in on Cole Anthony at +2000. The Magic would be crazy to force Markelle Fultz on this starting unit come January or whenever Fultz returns. Yes, Morant looks great. But at +200, why bother?
Paul Martinez: Ja Morant (+200) is the current favorite, but wasn't he already really good? I'll go with Miles Bridges (+300), who has substantially increased his production in nearly every counting stat and emerged as the top scorer on an exciting Hornets team.
Mike Barner: He's the favorite, but I'd go with Ja Morant (+200). I'm not sure that Bridges will sustain his current playing time throughout the season. Morant is in a prime spot to continue to thrive with the Grizzlies, though.
Gabe Allen: Even though the payout is the least favorable, it has to be Ja Morant. His improvement across the board has been staggering, particularly from beyond the arc.
Jeff Edgerton: I am surprised that Kyle Kuzma (+10000) doesn't have better odds. Miles Bridges (+300) is probably my favorite to win right now.
Zion Williamson is yet to play this season and remains without a clear timetable. Did you target or avoid Zion in drafts, and what are your expectations for him the rest of the way?
Shannon McKeown: I targeted Zion in early drafts, as I felt there would have been more details about his injury if it was considered serious at the time. As the season approached and news became more muddled, I reversed course and avoided Zion at all costs. I'm still optimistic he will return and play the majority of the season, but that becomes less likely with each Pelicans loss. If New Orleans continues to lose 86% of its games, I don't think the team will worry about rushing Zion back to action.
Alex Barutha: I was avoiding Zion almost completely since I was unwilling to draft him before picks in the 60s and he was always scooped up by then. My expectations are extremely low. He's 6-foot-7, 300 pounds (I mean, he could be even heavier at this point -- the footage we saw of him moving around before a game was alarming) and is recovering from a broken foot, and there has not been a single encouraging remark from anyone involved. If anything, we're constantly being deceived about it. I would be shocked to see him before Christmas, especially since the Pelicans are 2-13. He's not bringing them back from that. And how many games is he going to sit out once he returns? If you have him in fantasy, your only hope right now is that he looks like himself after the All-Star break.
James Anderson: I avoided Zion altogether. He's overrated for fantasy because of the FT% in the first place, and considering he's perpetually overweight, he's going to be extremely risky from an injury standpoint until further notice. I have no idea when he'll be back, and even when he is back, he'll be at a high risk of re-injury.
Ken Crites: I avoided Zion like the plague. I've never been a believer and have always worried about his health. If he does return, I expect his numbers to look more like his rookie-season stats.
Paul Martinez: I avoided Zion, in part because of his foot injury and in part because I don't tend to pursue players whose contributions are limited to only a few categories. He's been injured for much of his brief NBA career, and players who start that way don't usually recover to become models of durability. Zion will be a fine source of points, boards, and field-goal percentage when he's on the court, but if I had him rostered on any of my teams, I'd be constantly worried about his ability to stay healthy.
Mike Barner: I did not draft Zion anywhere, which was by design. The Pelicans already have a terrible record, so given his injury concerns, I'm very worried about his fantasy production this season. When he does come back, I'd be looking to trade him. Rest days could be coming as the end of the regular season approaches.
Gabe Allen: I jumped off the old ship of Zion for this fantasy season when it was reported that he wasn't yet running, but was somehow expected to be ready for Opening Night. I wouldn't be that surprised if he comes back at some point this season and looks great because he's amazing, but I'm not expecting it.
Jeff Edgerton: I faded him in some leagues and grabbed him in others. Considering I went higher than most on a guy like Klay Thompson, I'm not too concerned about lengthy absences that could last until Christmas or later. There's no downside to stashing him on IR. If you drafted him, you probably selected some worthy replacements at the position based on his injury status.