This article is part of our NBA Roundtable series.
Welcome to the latest edition of the RotoWire NBA Roundtable. This week, our panel of fantasy basketball experts weigh in on surprise players, the MVP race, adjusting for COVID chaos, championship odds and much more.
Which player would you rather roster on your fantasy team for the next three seasons: Ja Morant, Trae Young, LaMelo Ball or Luka Doncic?
Gabe Allen: It's still Doncic for me, despite his recent regression. I'm expecting his play to improve significantly as the season continues. With that being said, there's certainly a case to be made for any of the four. Young is having his most efficient season while still piling up plenty of counting stats. Ball is probably just scratching the surface of his potential, and his impressive free-throw percentage provides reason for optimism in terms of his future field-goal percentages. And Morant has been amazing, scratching that Iverson itch like no one else, when healthy.
Mike Barner: LaMelo Ball. He's really improved his free-throw percentage, which is an area in which Doncic has struggled and has shown no signs of getting any better. Young doesn't contribute as much in terms of rebounds and he's more turnover prone than Ball has been. Morant likely won't be as significant of a factor as Ball can be with assists.
James Anderson: It definitely wouldn't be Morant, even though he might be the most fun of the four to watch. Before the season, Luka Doncic was the obvious answer, but I think there's a better case for LaMelo Ball and Trae Young. Ball is currently the No. 3 player in that format this season and I wouldn't even say he's outperforming expectations. I'll go with Ball, but Young is a very close No. 2. The free-throw shooting is a big negative for Doncic at this point.
Michael Spero: I'm torn between Doncic and Ball, but I am going to go with Ball, who currently ranks as the 6th overall eight-category fantasy player in just his second season. There is still so much untapped potential in the 20-year-old. Ball seems on a path for superstardom.
Ken Crites: I'll be boring and take Young. But that means I have to look elsewhere for stocks.
Alex Barutha: LaMelo Ball. As much as I like the other three guys, what LaMelo has done this season is extremely impressive, and he's so young that there's clearly room for improvement. He's not a super-efficient scorer right now, but he's shooting over 90% from the free-throw line this season, and his rebounds and steals upside allows him to cover for his poor offensive showings.
Paul Martinez: There's really no bad answer here, but give me Trae. Young is arguably the best scorer among the group, and he has averaged over nine assists per game in each of the past three seasons. While he is the least productive rebounder among the four players, he's an elite free-throw shooter and has worked to improve his field-goal percentage over each of his four years in the league. Doncic may have been my choice if not for his recent admission of weight and conditioning issues, and it wouldn't be surprising to see him -- or Ball or Morant, for that matter -- end up with the top value among this uber-talented foursome.
Jeff Edgerton: Probably Doncic. He has the right combination of youth, size and opportunity I would look for in a dynasty pick.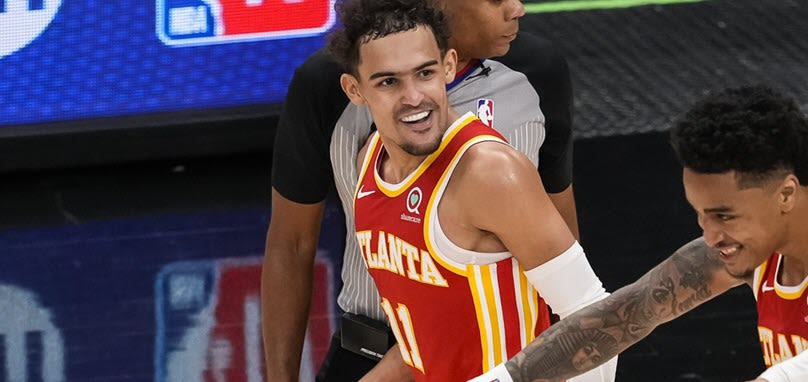 Four players -- Stephen Curry, Kevin Durant, Giannis Antetokounmpo and Nikola Jokic -- have separated themselves from the rest of the pack in the MVP race. If you were casting a vote today, who would get the 5th spot on your ballot?
Gabe Allen: I think it has to be Chris Paul, right? His Suns have the best record in the league despite Devin Booker and Deandre Ayton missing some games.
Mike Barner: I couldn't find Alex Caruso listed, so I'll stay in Chicago and go with DeMar DeRozan (+6500). He's played a crucial role in making the Bulls one of the best teams in the Eastern Conference, often taking over games in the fourth quarter. If he keeps it up and the Bulls snag the number one or two seed, he's a top-five candidate for MVP in my eyes.
James Anderson: Trae Young. We've really got to be careful not to focus too much on team wins for this award, especially given all the COVID absences and how early it is in the season. From an impact standpoint, Young is the fourth or fifth best offensive player in the league. I thought people would stop underrating him after what he did in the playoffs last year, but that doesn't seem to be the case.
Michael Spero: This might be a little bold, but I am going to go with Donovan Mitchell. The All-Star guard is playing on another level for the 21-9 Jazz. In the month of December, Mitchell is averaging 29.1 points, 5.0 rebounds, 2.7 rebounds and 1.1 steals per game while Utah has gone 7-2 in that span. Don't sleep on Mitchell and the Jazz.
Ken Crites: Since Embiid has already missed 11 games and Paul George has fizzled, I'm going with Trae Young. There is plenty of time for the Hawks to get hot and he's their unquestioned leader. I haven't forgotten about their strong playoff push from last year. This roster can do it again.
Alex Barutha: This is tough, but I'll lean toward Chris Paul (+6500) for now. The Suns are No. 1 in the West, and his 10.1 assist to 2.3 turnover ratio is absurd. Plus, he's scoring efficiently and is providing 2.0 steals per game. He's the glue that holds the team together.
Paul Martinez: He won't win it because he's not exciting enough on the court, but Rudy Gobert deserves legitimate MVP consideration. The way he changes the game as a defender is just as valuable as anything any other player does offensively, and he has been the league's top rebounder this season at 15.0 boards per game. Gobert is no slouch on the offensive end, either -- through Tuesday, he was leading the league with an absurd 72.3 percent field-goal rate while posting 15.4 points per game. In addition, the Jazz are hanging tough as one of the NBA's top squads, and no Utah player has been more instrumental than Gobert in ensuring the team's success.
Jeff Edgerton: This is a tough one, but I would have to give Embiid the nod, based on what he may see in the second half. Guys like Tatum, Gobert and even Dejounte Murray are playing well enough for that spot, but I think Embiid would be hard to fade.
Is there anything you think fantasy basketball, as a whole, should change or adopt in order to account for the uptick in COVID-19 absences?
Gabe Allen: League settings are a major variable, and some scoring formats withstand the elements, whatever they may be, better than others.
Mike Barner: END WEEKLY LINEUP LEAGUES! I've always preferred daily lineup leagues. At a minimum, you need to be able to set your lineups Mondays and Fridays.
James Anderson: This is a huge pet peeve for me. Leagues where you can only adjust your lineup every Monday are basically unplayable at this point, and I'm in the top two in 60% of my leagues like that, so this isn't sour grapes. The NFBKC does a nice job with the mid-week lineup moves, and in general, I've found draft-and-hold formats to be the most enjoyable so far this year, because everyone is on an even playing field in terms of players on the roster and you can still field a healthy lineup in most cases, even if you're plugging in guys you never expected to be using.
Leagues with daily lineup changes are the best, but I understand not everyone has time for that. The NFBKC model should be the standard for non-daily leagues. I don't really care one way or the other on the IR spots being a certain size. By far the most important thing the industry needs to do is eliminate weekly leagues. They're just a total crap shoot.
Michael Spero: Fantasy basketball NEEDS protocol spots that act as the same for IR, but for when players end. up in protocols. I don't think there should be a limit to these spots. COVID is becoming a huge problem in the league at this point and I don't think fantasy managers should be penalized for it.
Ken Crites: A few extra IR spots would be nice. Unlimited seems excessive, but a few extra spots would help. Daily lineups drive me crazy – but how about the ability to make Friday pre-game changes for the three remaining days of the week?
Alex Barutha: I think a Best Ball format is the best option. It alleviates the stress of setting a lineup and minimizes how much you get screwed by random absences. Some people like having to set a lineup -- I'm not one of those people. You should be rewarded for building a good overall roster and not penalized for having Player X contract COVID on a Tuesday.
Paul Martinez: I'm mostly shying away from leagues with weekly lineups for as long as COVID-19 remains a threat to shut down players/games (which could be a long time). There's just too much of an elevated risk that a player you lock in early during the week will be unable to play a full weekly slate for COVID reasons.
I'm also in favor of making players in COVID protocols -- or on teams whose games are postponed -- eligible for an IR slot. Add in more IR slots, daily pickups (up to the time of a player's game) and an increased limit on weekly transactions, and active managers should at least be able to field a reasonably full squad.
Jeff Edgerton: In one of my football leagues, we assigned a player's seasonal average to anyone who was affected by COVID. It seemed to work well, and it would work for hoops leagues, as well.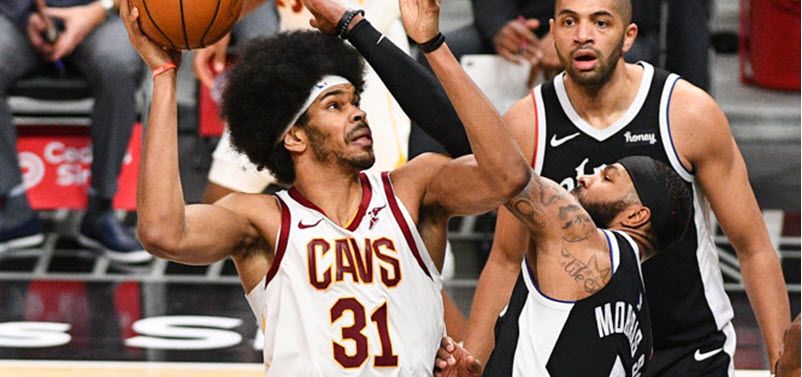 With the halfway point of the season on the horizon, which current ranking* is most surprising: DeMar DeRozan (16th overall), Jarrett Allen (31st), Bradley Beal (55th), Mo Bamba (48th), or Tobias Harris (73rd)?
*8-cat, per-game value
Gabe Allen: Probably Beal, especially considering that the Wizards are somehow still above .500 despite his season-long struggles.
Mike Barner: I'm surprised by Beal's lack of scoring. He's only averaging 23.3 points per game after back-to-back seasons with an average of at least 30.5 points per game. The main culprit for his decline has been his lack of efficiency. Given that he shot a career-high 48.5 percent from the field last season, his 45.6 percent mark this season is disappointing.
James Anderson: Definitely not Tobias Harris. While I'm really surprised by the two centers, I'll rule them out as well, simply because it's really easy for a center to be way more valuable than expected via blocks. I'll say Bradley Beal, even though I was dead wrong about DeMar DeRozan this year. Beal just seemed like a super safe pick. I didn't take him anywhere because I preferred guys like Paul George and Zach LaVine, but I would have happily drafted him in the 20s for the points and usage, but this drop-off in scoring and three-point shooting efficiency is really baffling.
Michael Spero: It's gotta be Bradley Beal. The All-Star guard spent the last three seasons as a top-15 eight-category player but now is all the way done at 50. Beal is also scoring 8.0 fewer points per game this season. However, Beal has started to pick up his play as of late, averaging 27.4 points, 5.6 assists and 4.1 rebounds per game over his last seven contests.
Ken Crites: DeRozan. I really didn't think things would work this well in Chicago. DeRozan, LaVine and Vucevic each seemed too ball dominant to mesh well together. I was wrong. Vucevic is giving up shots. DeRozan is hitting 0.8 threes a game (excellent for him) while shooting 50% from the field, and LaVine is still a stud. DeRozan is even hitting a career-best 89.5 percent of his free throws.
Alex Barutha: Beal. I thought he'd thrive without Westbrook around, but he's fallen off completely. I'm not sure he'll make the All-Star game at this rate.
Paul Martinez: I expected Beal to put up monster offensive numbers this season following Russell Westbrook's departure, but instead his scoring and three-point production have dropped significantly. He's been scoring more robustly of late, and perhaps that will continue throughout the campaign, but it's highly unlikely that he'll get close to a third-straight season at 30-plus points per contest.
Jeff Edgerton: I don't think anyone expected Allen to rank this high, especially with Kevin Love and Evan Mobley in the frontcourt. He has a big piece of the pie in Cleveland despite the competition.
Using the odds at the DraftKings Sportsbook, who is currently the best value bet to win the Most Improved Player award?
Gabe Allen: Tyrese Maxey (+5000). He was barely part of the Sixers' rotation as a rookie but has looked like a future star at times this year. If Philly acquires a solid wing in exchange for Simmons or the team simply rediscovers its early-season form, a rise up the standings would certainly help Maxey's case. I also like Dejounte Murray's odds (+800), especially if the Spurs end up sneaking into the play-in tournament.
Mike Barner: Darius Garland at +1600. The Cavaliers are relevant again and he's a big reason why they've been successful. Not only is he dishing out more assists this season, but he's also improved his percentages from both the field and the charity stripe.
James Anderson: I really like Darius Garland at +1600. He has played like an All-Star so far and is driving a winning offense. That seemed like a possible outcome back when the Cavs drafted him, but it's essentially a best-case scenario for him this season relative to preseason expectations. He's essentially trending towards being a max player.
Michael Spero: If we are looking at it from a value perspective, then I think it is pretty easily OG Anunoby. He was looking like he was going to be in contention for the award before going down with an injury, but he is back in the lineup with plenty of time to go this. I think his odds should be closer to where Herro (+3500) and Edwards (+3500) are, rather than all the way down at +7500.
Ken Crites: I still say it's Cole Anthony (+2500), but he needs to stay healthy. His across-the-board stat improvements are impressive. He's gone from 1.3 treys a game last year to 2.8 this year, while improving his FG%. No one else near the top of the board is a surprise.
Alex Barutha: I'm intrigued by Tyrese Maxey at +5000, though I'd be worried the 76ers trade for a point guard and move Maxey into a reduced role. Still, he went from a 15-minute-per-game backup to a legitimate starter. He improved his shooting efficiency across the board while upping his usage, and he actually improved his assist-to-turnover ratio as well. His numbers aren't gaudy, but he has a legitimate case.
Paul Martinez: Cole Anthony has run hot/cold of late, but he still has a good chance of winning the award. If we're looking purely at statistical improvement, few -- if any -- players have enjoyed as much of a jump in production as Anthony in his second season. He could be passed over because of a poor shooting percentage and a lack of exposure on a poor team, but he has as much of a chance to earn the award as any of the players currently listed ahead of him.
Jeff Edgerton: I said it earlier in the season, and I'm still surprised that he isn't higher, but what about Kyle Kuzma (+15000)? Going from the sixth man in LA to a bona fide starter and second-highest scorer for the Wizards is a huge jump.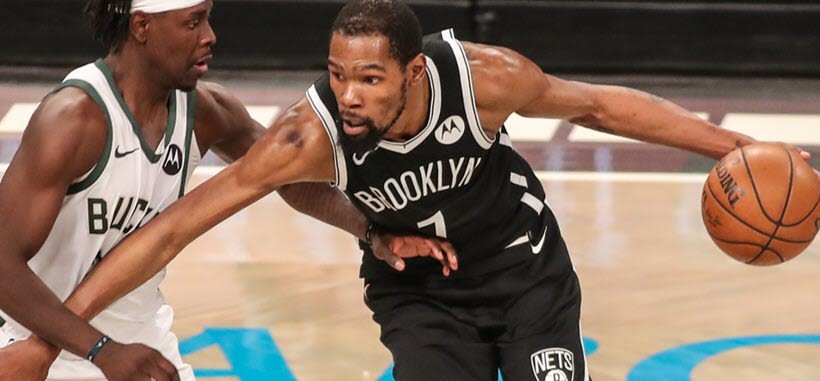 Updated title prediction: Give me your Finals matchup, who wins, and how many games.
Gabe Allen: Back-to-back titles for the Bucks, who will beat the Warriors in a sensational seven-game series.
Mike Barner: Nets vs. Warriors: Nets in 6. If Klay Thompson can return and be 70 percent of the player that he was before his recent rash of injuries, the Warriors have a real shot at coming out of the West. I think Kyrie Irving eventually gets vaccinated before the playoffs start, which will help propel the Nets through the East. I can't see the trio of Durant, Harden and Irving losing a seven-game series, provided they all stay healthy.
James Anderson: I'll stick with my preseason prediction: Bucks over Warriors in 6 games.
Michael Spero: I like going bold: Los Angeles Clippers (with Kawhi Leonard) over the Miami Heat in six games.
Ken Crites: Warriors beat Bulls in six games. Nets can't stay healthy and Chicago shocks the East.
Alex Barutha: Warriors vs. Bucks? I don't even know how to evaluate the season anymore. Bucks in 7.
Paul Martinez: Golden State over Brooklyn in six games. The Warriors have been phenomenal thus far, and we haven't even seen the league's second-best shooter on the court yet. It's going to be tough to beat the incredible Kevin Durant in a seven-game series, but Stephen Curry and the dynamic Warriors have what it takes to do so.
Jeff Edgerton: Last season, I went contrarian against my colleagues who universally picked the Lakers and nailed one side of the bracket with the Suns. Can I do it again? the Warriors get Klay Thompson back and pull away from the Suns and Jazz with a fully healthy lineup to face the Bulls in the Finals, after a seven-game battle against the Suns. Bulls in 6.