This article is part of our Team Previews series.
Indianapolis Colts

The Colts' return to the playoffs in 2020 was keyed by a top offensive line, a deep skill-position group and a defense that was stout against the run and opportunistic versus the pass. The team's overall talent level remains high, but large questions loom at quarterback and in the pass rush.
Offseason Moves
Key Acquisitions
The Colts hope a change of scenery sparks a career revival for the QB.
Will solidify left tackle upon his return from an Achilles injury.
Projects to play with his hand on the ground in Indy's 4-3 scheme.
Profiles as a replacement for fellow undersized tight end Trey Burton.
Key Losses
Exits after one successful season, necessitating the Wentz trade.
Held down the team's left tackle slot for the last 10 seasons.
His departure creates opportunities for Mo-Alie Cox and Granson.
The former Colts starter had provided security as a veteran backup.
A Look Under the Hood
Head Coach: Frank Reich (Year 4)
Offensive Coordinator: Marcus Brady (Year 1) - West Coast Offense
Defensive Coordinator: Matt Eberflus (Year 3) - 4-3 scheme
2021 Vegas Projected Wins: 10 (T-7th)
2020 Record: 11-5
2020 Points Scored: 451 (9th)
2020 Points Allowed: 362 (10th)
2020 Point Differential: +89 (8th)
2020 Run-Play Rate: 44.1 percent (9th)
2020 Offensive Snaps: 1,032 (16th)
2020 PFF O-Line Ranking: No. 7
Projected 2021 Depth Chart
QB: Carson Wentz / Jacob Eason / Sam Ehlinger
RB: Jonathan Taylor / Marlon Mack / Nyheim Hines / Jordan Wilkins
WR1: T.Y. Hilton / DeMichael Harris
WR2: Michael Pittman / Zach Pascal
WR3: Parris Campbell / Ashton Dulin
TE: Jack Doyle / Mo Alie-Cox / Kylen Granson
O-Line: LT Eric Fisher / LG Quenton Nelson / C Ryan Kelly / RG Mark Glowinski / RT Braden Smith (RotoWire Rank: No. 2)
Kicker: Rodrigo Blankenship / Eddy Pineiro
Top Storylines
Can Wentz Turn His Career Around?
Carson Wentz went from being an MVP candidate in 2018 to almost winning the triple crown of futility in 2020, leading the league in sacks (50), tying for the lead in interceptions (15) and ranking third in fumbles (10). He struggled with accuracy, as his 28.4 bad-pass percentage was the highest in the NFL. Plus, he had a league-low 29.5 completion percentage while under pressure. Benched last season after Week 13 in favor of Jalen Hurts, Wentz gets a fresh start in Indianapolis, with the move reuniting him with Frank Reich, the quarterback's offensive coordinator during the peak of his success in Philadelphia.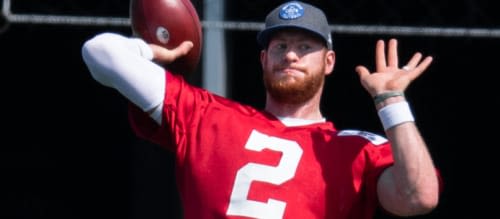 There are reasons to believe the 28-year-old can turn his career around with the Colts. The team features one of the league's top offensive lines, a unit that last season allowed the league's third-lowest pressure rate (17 percent) compared to Philadelphia's fifth-worst mark of 27.8 percent. Moreover, the Colts have a viable running attack, which will deter defenses from focusing on the pass. Wentz also should benefit from working with an improved array of pass catchers. Though T.Y. Hilton may have lost half a step, he remains a deep threat, and Michael Pittman showed promise as a rookie. Additionally, Wentz will have capable short-area receivers in Nyheim Hines, Jonathan Taylor and Jack Doyle.
Taylor Leads Deep Backfield
The Colts entered last season with a crowded backfield, but after Marlon Mack suffered an Achilles injury, Jonathan Taylor was given a larger role. At first, the 2020 second-rounder didn't do much with the opportunity, as he failed to top 68 rushing yards in any game between Weeks 3 and 10. Something clicked thereafter, and the 5-10, 226-pounder became a force, with 729 yards on the ground and nine total touchdowns over his final six outings (including playoffs). Taylor appeared ready to dominate the backfield this year before the Colts re-signed Mack, who was set to be a free agent. Mack rushed for 1,091 yards and eight TDs in 2019, so he again could become a factor, but it's not clear if he'll be at full strength for the start of the regular season.
Neither Taylor nor Mack are outstanding receivers, leaving some work for Nyheim Hines, who has elite speed (4.38 40) and reliable hands (six drops on 215 career targets). The coaching staff also isn't afraid to use Jordan Wilkins when he's hot, as was the case when he had 113 yards from scrimmage and a touchdown Week 8. Still, Taylor is likely to command the majority of carries in 2021, and his fantasy production could skyrocket if he can build upon his serviceable role in the passing game (36 receptions, 92.3 percent catch rate) as well as earn more work around the goal line.
Pass Rush Has Holes To Fill
The Colts had a formidable pass rush last season, ranking sixth in hurry percentage and 12th in sacks. However, that defense lost two of its top three edge rushers when the team didn't re-sign Denico Autry and Justin Houston, who combined for 15.5 sacks. While DeForest Buckner led the Colts with 9.5 sacks as a defensive tackle, the team is counting on young ends to provide additional pressure.
Kwity Paye, whom Indianapolis took 21st overall in the 2021 draft, has the size (6-2, 261) to hold up against the run and boasts athleticism as well, running a 4.57-second 40-yard dash. His total of 11.5 sacks in four years at Michigan was modest, but film showed he was regularly disruptive in the backfield. The starting pass rusher opposite Paye is uncertain, as second-round pick Dayo Odeyingbo may not return from a January Achilles injury until midseason, at best. The Vanderbilt product recorded 5.5 sacks across eight games in 2020 before opting out of the rest of the season.
Veterans Al-Quadin Muhammad, Kemoko Turay and Tyquan Lewis will provide depth at defensive end, but none of them have been impactful getting after the quarterback. Houston remains without a team, and a return can't be ruled out. If he or another veteran isn't added to the mix, however, the Colts' pass rush could be suspect beyond Buckner.
Barometer
⬆️ Rising: WR Michael Pittman
Pittman's rookie season started slowly due to leg surgery and inconsistency, but the 2020 second-rounder could become the team's No. 1 receiver after showing promise with five catches for 90 yards in Indy's playoff loss.
⬇️ Falling: TE Jack Doyle
Often the Colts' third option at tight end, Doyle had just 23 receptions and 33 targets last season. Even with Trey Burton no longer in the mix, the 31-year-old faces competition from Mo Alie-Cox and rookie Kylen Granson.
😴 Sleeper: TE Mo Alie-Cox
Alie-Cox doubled his routes run last year as he finally got more opportunity in the passing game, catching 31 of his 39 targets. His 81.6 percent catch rate showed promise, and at 6-5 he has the frame to make noise in the red zone.
🌟 Pivotal Player: Carson Wentz
The Colts traded for Wentz to replace Philip Rivers, despite the fact that Wentz is coming off a season in which he tied for the league lead in interceptions and lost his starting job. Will significant upgrades in Wentz' offensive line and the receiving talent around him help revive his career? Indy's postseason hopes likely depend on it.
Medical Tent
RB Marlon Mack
Mack suffered a ruptured right Achilles' tendon Week 1 last year and missed the remainder of the season. The running back took things slowly in the spring, working out during voluntary offseason workouts. But he was unable to participate fully until training camp. Assuming he avoids setbacks in advance of Week 1, Mack will play a role in the distribution of complementary carries in Indy's backfield behind Jonathan Taylor.
OT Eric Fisher
Fisher underwent surgery Jan. 29 to address an Achilles tear that he suffered during the AFC Championship Game. His timetable to return to game action isn't clear. Early reports had the tackle pegged to be ready for Week 1, but later ones suggested a return in the middle of the season. In any case, Fisher kicked off training camp on the PUP list.
DT Kemoko Turay
Turay is recovering from February ankle surgery, which followed up on an initial procedure that he underwent back in 2019. The 2018 second-round pick flashed some upside during his rookie year, with 15 tackles and four sacks across 14 contests. Over the last two seasons, he's only managed to suit up for a combined 14 games. However, the Colts may need him back to full strength right away with pass rushing depth a concern.
Job Battle
Questions abound on this front. Is Parris Campbell fully healthy after last year's knee injury? How much of a role does Zach Pascal play in the offense if T.Y. Hilton, Michael Pittman and Campbell are all healthy? Does a younger receiver like Ashton Dulin or DeMichael Harris get into the rotation? Do the Colts maintain a spread-the-ball-around passing offense that tends to involve multiple receivers and tight ends like last season? Or do they narrow the target tree under new quarterback Carson Wentz? Training camp developments will hopefully provide some clues in that regard.